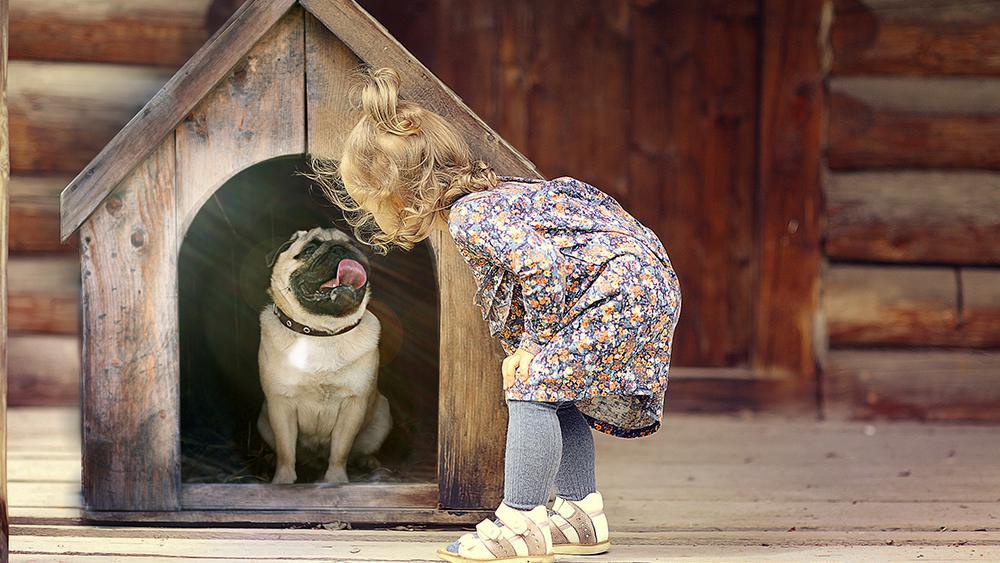 When temperature and humidity soar in hot weather, humans aren't the only ones who suffer. Your furry family members in their thick coats also fall victim to the stifling heat. Dog house air conditioners can help provide a comfortable environment for your pet during these times. 
Prolonged exposure to heat is unsafe for your dog and can pose severe health risks. Young pups, and old dogs with a heart or respiratory disease, and those with thick fur are particularly susceptible to heatstroke. 
A simple dog house may protect your dog from the direct sun. However, it still gets unbearably hot outdoors, especially in the afternoon. This makes it quite hard for your dog to beat the heat without a cooling device. 
We are not the only ones who can benefit from an air conditioner. Man's best friend needs an AC too!
Yes, a dog house air conditioner is a thing, and you would want to install it before it gets difficult for your dog to cope with the rising temperature. 
Let's have a look at why air conditioning is important for your dog, how to choose and install a unit in your dog's house and what to do when air conditioning isn't an option. 
Why Do You Need an AC for Your Dog?
Dogs are covered with fur; some have a thicker coat than others. This helps them keep warm in the winter season. However, it poses a problem when the temperature soars. In addition to thick coats, dogs have fewer sweat glands that are only located under their feet. 
You might have seen your dog panting during summers. As Psychology Today explains it, this is their mechanism to cool down their body. Dogs do not have any sweat glands on their tongue, but panting allows the heat to rise from the chest and evaporate from the moist linings in their lungs. Moreover, the blood vessels located in the face and ears expand to help cool your dog. This allows the blood to flow closer to the surface, where it can cool down rapidly, especially during exercise.
However, with the increasing heat and humidity, the panting action won't work much, which can be pretty exhausting for your pet.
Your dog's average temperature is between 100 F and 103 F. On a hot summer day, it can reach 105 and cause dizziness, nausea, and weakness. Temperature beyond 107 is unsafe for your pet; it can result in a heatstroke which can be fatal.
Humidity control is also essential as dogs cannot cool themselves in high humid environments. As a result, their temperature can skyrocket to dangerous levels.
To protect your furry friend from the harmful effects of summer heat, dog house air conditioning is the ideal solution. In addition to increased temperatures, an air conditioner will also help to tackle high humidity. 
What Is a Comfortable Summer Temperature for Your Dog?
The comfortable summer temperature for dogs is between 75F and 78F. Based on Animal Welfare Act regulations, the indoor temperature for dogs must not rise above 85F for more than four consecutive hours. Also, humidity levels should be maintained between 30 to 70%, while ventilation should also be ensured.
While the range mentioned above is general, several factors affect what constitutes a comfortable environment for your pet. Let's take a look at them:
Coat Thickness
Dogs with thick fur coats tend to get warm more quickly as their fur traps heat. As a result, they tend to prefer cooler temperatures and need to be protected from the harsh heat.
Dogs with thin coats like Dalmatians or French Bulldogs can tolerate warm temperatures. But one downside is that they are susceptible to sunburns, so make sure to put on a light jacket when playing in the sun.
Age & Health
Newborn and elderly dogs feel comfortable in warmer temperatures. The same goes for pets with joint issues or those suffering from some chronic infection.
Size & Weight
Overweight dogs retain more heat and require cooling accessories to stay comfortable during summers. The same is the case for big breeds, as they have a larger surface area that preserves heat.
Factors to Keep in Mind When Choosing Dog House Air Conditioner
While mist sprayers and fans can provide some cooling and relief, an actual air conditioner is the only way to maintain the optimal climate. You have various options to choose from for a dog house with an air conditioner. Here are the things you need to pay attention to:
1. Suitable Type of Air Conditioner 
The best option is to go for a portable and easy-to-use unit. You can also select a system that doubles as a heating unit in winters, so you don't have to replace it when the season ends.
According to Daniel Caughill, co-founder of The Dog Tale, it's best to opt for a dog house with both AC and heater if the house is in a location prone to cold winter weather as well as the summer heat. For example, if you live in an area that gets lots of snow or rain during the winter, your dog is likely to get wet, and its fur won't dry quickly. This can be hazardous if they don't have a warm, dry place to sleep, so a device that both heats and cools the room is excellent.
Portable Air Conditioners –  Known as stand-up or stand-alone AC, it is designed to cool a small space. The portable ACs pull hot, humid air and vent it out through an exhaust hose. The hose can be vented out through a window or by drilling a hole in the wall. Some models provide cooling as well as heating, thus can be used all year round. 
There are also outdoor portable air conditioners. You can keep the unit outside and drill holes to fit the air ducts, which will supply cool air inside the dog house. They make an excellent dog house AC unit as they won't cover up the space inside, and your dog is not likely to interfere with the unit. 
Window Air Conditioners – These units are affordable and quite easy to install. They provide the much-needed blast of cold air that can help your dog beat the heat. In addition to cooling, window AC units can help to reduce high humidity levels. If you don't have the extra floor space inside your dog house, a window AC is a great option. 
If your dog house lacks windows, consider going for a through-the-wall AC. It is similar to window AC but is designed to sit inside the wall instead of a window. These units will require carpentry for installation if you don't have an open space to fit them. Also, you will want to make sure the house is well insulated and doesn't have openings allowing all the cold air to escape.
2. Smart AC Controllers for Your Air Conditioned Dog House 
Temperature control isn't just for humans; maintaining an optimal climate is also important inside the dog house. If your chosen dog house air conditioner comes with an IR remote, you can also opt for a smart AC controller to make it smart and double its features! 
With a smart AC controller, you will never have to worry about your dog house getting too hot or too chilly. You can control all the AC settings from your phone regardless of where you are. Whether you are at work or out shopping, smart AC controllers give you instant control of your AC dog house. You can monitor the temperature and humidity levels and make changes on the go. 
Cielo Breez smart AC controllers have a Comfy Mode that allows you to set a dog-friendly temperature range between 75F and 78F. If the dog house temperature goes above or below this range, the Comfy mode will automatically trigger to maintain the perfect environment.
3. Size & Efficiency of AC for Dog House 
Keep in mind the size of the dog house and ensure that the unit can sufficiently cool off the entire area. You also do not want to go overboard and purchase a unit that is too big. It won't cool efficiently, will take up more space, and waste energy. 
EER and SEER are the rating system that determines how energy efficient your AC unit is. A high EER rating means that your AC unit can cool down space quickly while using less energy. Go for high EER ratings when buying AC for a dog house, similar to how you would do for your home.
Air conditioner sizing is measured in BTUs. At least 2000 BTUs are required for adequate cooling, but the larger the dog house, the larger the size required. Jacquelyn Hooper from The Pampered Pup suggests, "The 'best' depends on how big the dog house is, how cool your vet suggests your dog house should be, and your budget, etc."
4. Material of the AC Dog House 
To ensure your pup's safety while the AC is in use, you'll want to make sure that it's hardy and cannot be chewed on, suggests Jacquelyn from The Pampered Pup. You can also ensure that the AC you choose is be mounted out of the way in your dog house, where your doggo won't be tempted to hike or chew on it. This will protect your unit and your darling pups.
5. Air Conditioner Features
Cooling and heating may be the main functions of an air conditioner, but some brands and models offer various other features. For example, you may want to opt for an AC for a dog house that provides a timer function or a dry mode feature. Some air conditioners even have an auto-shutdown feature.
Things to Consider Before Installing a Dog House Air Conditioner
An air-conditioned dog house can significantly help regulate the temperature to protect your dog from the heat! However, for your dog house AC unit to work effectively, there are certain factors that you should take into account:
1. Material of the Dog House
Most dog houses in the market are made from plastic. This material is durable, inexpensive, and easy to move around.
But in summers, the plastic may do more harm than good. It tends to heat up quickly and can develop cracks under direct sunlight. In addition, AC for dogs won't work in this type of material.
Wood should be your go-to option for summertime. Wood is a porous material that allows air to pass through. As a result, it will provide a comfortable, airy environment for your pet.
You would also want to consider the material on which you are placing your dog house. Putting it on concrete is not a good idea as concrete retains heat. If you're going to put it on a porch with a concrete floor, consider adding an insulating material such as a thick piece of cotton.
If you are placing your dog's house under a tree, consider using grass. Grass acts as an insulating layer and will prevent the dog house from getting heated.  
Tip: There should be a considerable distance between the ground and your dog house for air circulation. It prevents the ground heat from warming up the house. 
2. Location for the Dog House
Choose a spot for your dog house that won't get direct sunlight. Harsh sun rays will heat the dog house quickly and will hinder the functioning of your AC. 
Instead, put it under a tree that is large enough to provide shade. You can also put it on your porch to prevent direct sun exposure.
Moreover, place your dog house parallel to the wind. At night when the temperature drops, you can turn off the air conditioner. Your dog can take advantage of the relaxing breezes, and it will also help with air circulation and ventilation.
3. Location for the Air Conditioner
To prevent your dog from biting or climbing on the AC unit, install it in an area that your dog is not likely to reach. Also, place it near an electrical outlet. If there is no electrical outlet, you can opt for an extension. Make sure the wires are well secured in a box to prevent your dog from chewing on them.
If you think your dog will go near the air conditioner or if there isn't enough space inside the dog house, consider putting it outside. Outdoor portable ACs such as Climate Right or Kwi Kool can be ideal for this scenario.
4. Insulation in Your Dog House
To make the dog house air conditioner work effectively, you need to insulate it properly. An insulating layer can help seal the cold inside and prevent the outside heat from affecting the internal environment. In addition, you can use foam or plywood to fill the dog house and avoid heat transfer.
Installing an Air Conditioner for a Dog House: Quick FAQS
1. Is AC Installation for Dog House a Complicated Process?
Installing AC inside your dog house is a simple process and you can easily do it yourself. In case you don't want to install the air conditioner on your own, opt for dog houses with in-built air conditioners. You will find different sizes of houses, or you can also have customized one according to your dog's requirements.
2. How to Install a Portable AC for Dog House?
If you are going for portable AC, no major installation is required. You just have to place it at a suitable corner inside the dog house. Outdoor portable dog air conditioners should be placed in a secure location outdoors. You would need an opening or window for the exhaust hose. If your dog house does not have any windows, you can drill a hole according to the size of the hose. Then, follow the manufacturer's instructions for making the opening and placing the hose.
3. Does My Dog's House Require a Window AC?
If your dog house has a window or you are ready to create a larger opening, you can consider a window AC. First, make sure the dog house is sturdy enough to hold the unit. You can call a professional to install the AC, or if you're good with tools, then do it yourself. Here's a handy guide on installing a window air conditioner. Now, turn the unit on, and your dog is ready to move in! 
4. Is It Necessary to Seal Crack & Gaps in the Dog House?
After installation, do not forget to apply weather stripping to seal any gaps and cracks around the AC unit. Rubber weather stripping can be used to stop cool air from leaking out. Also, remember to seal the area around the exhaust hose with a sealant if a portable AC is installed. 
Should You Leave Your Dog House AC On?
When you are not at home with your dog all day long, its safety becomes an issue, especially during summers. You are not around to check for signs such as dehydration and nausea. When dogs are left alone in this situation, it can become quite dangerous.
Therefore, consider leaving the dog house air conditioning on to keep it safe from the harsh summer heat. 
The ideal indoor temperature for dogs is between 75F to 78F, so adjust your thermostat to this setting. Leaving the AC on in this setting allows your dog to stay comfortable even when it's scorching hot outside. 
If you have concerns about leaving the air conditioner on in your absence, you can invest in smart AC controllers. With these smart devices, you will be able to monitor and change the temperature using your phone when you're away
Additional Tips to Keep Your Dog Cool in Summer Heat
If installing an AC for a dog isn't an option for you, you can try other techniques to make your pet comfortable during the summer season.
1. Use a Fan for Air Circulation
Fans won't lower the temperature of the dog house, but they help in improving air circulation. During summer, you should switch the fan's direction clockwise for cooling. 
Another option is using an exhaust fan. It works by removing hot, humid air from the space and increasing ventilation.
2. Add Shade to Your Dog House
Direct sunlight can really heat up a dog house. An added covering or a shade can help as a great way to keep it nice and cool. Just make sure to identify where exactly the sunlight falls so you don't miss any spots!    
3. Make Room for Ventilation
It's always best to purchase a dog house with vents. Vents help in air circulation and aid in preventing suffocation. However, if your current dog house does not contain any vent, consider installing one near the ceiling.
4. Use Cooling Beds
Cooling beds offer an easy fix to keep your pet cozy during summers. They are filled with gel or liquid and are designed to remove heat from your pet's body. They can also aid in sleeping. Dogs, just like humans, have trouble dozing off in warm temperatures. Cooling pads can help with comfortable naps.
5. Keep Water Bowls
Place cold water bowls in your dog house. The cold water helps dogs regulate their body temperature. When your dog is out playing, make sure to keep a chilled bottle with you.  
6. Frozen Water Bottles or Damp Towels
Freeze some water bottles and leave them in the dog house to reduce heat intensity. You can also put damp towels underneath the dog house, but you would need to replace them every couple of hours.
7. Get Cooling Jackets for Your Dog
Dog cooling jackets consist of three layers. The outer layer is designed to reflect the heat. Middle layer stores water to keep your pet cool for a longer duration. The inner lining keeps your dog comfortable. It is easy to put on your dog and also has an added sun protection feature.
8. Offer Frozen Treats
You can freeze your regular dog treats or make one yourself. For example, take your dog's rubber chew toy and fill it with soft-boiled chicken or fish. Then, put it in a freezer for some time. It will help your dog cool down and will also provide a fun treat.
9. Mist Frequently
You can mist your dog every couple of hours or use misting fans especially made for pets. Misting fans spew water frequently on your dog and lower its body temperature. When the water evaporates, it leaves a cool and refreshing effect on your dog's body.
Do Dog Houses Need Air Conditioning? 
Heatstroke and dehydration are real threats to dog's safety during summers. With dog house AC, you can make sure that your pet stays safe and comfortable even during a heatwave. In addition to installing a dog house air conditioner, don't forget to make sure that your pet has access to plenty of cool water to stay hydrated all day.