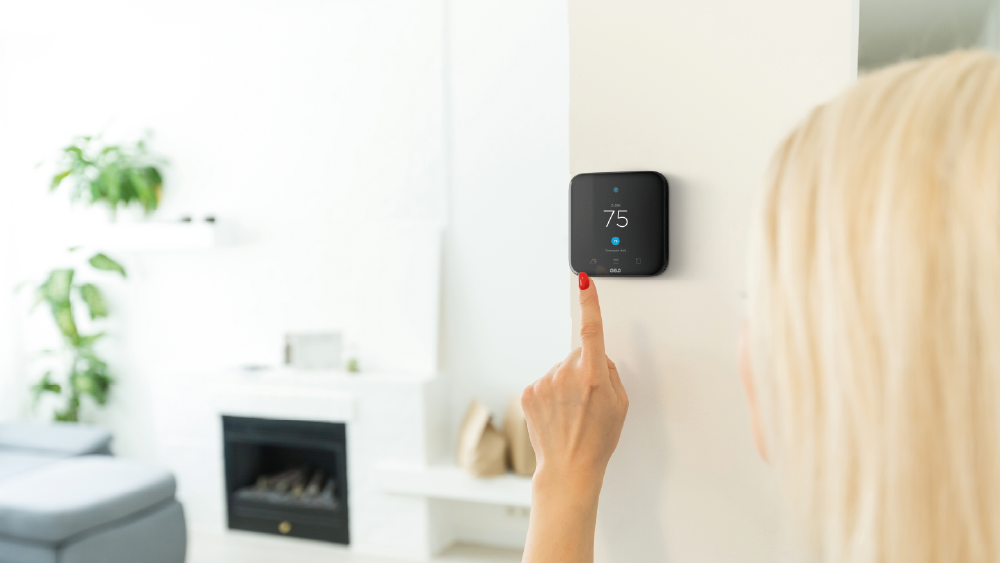 With the drastic increase in electricity bills in the US and extreme weather conditions making it harder to maintain ideal home temperature, smart thermostats are quite possibly the most important devices you can invest in.
Smart thermostats provide greater control over your home's climate. They are easy to use and can be managed remotely with your phone. Over time, they learn your preferences and habits and automatically adjust your home temperature. Plus, smart thermostats help you save money on your bills every month.
If you're looking for a way to make your home more energy efficient with added comfort, consider investing in these smart climate control devices.
Investing in a Smart Thermostat - Pros & Cons
How Does a Smart Thermostat Differ From a Regular Thermostat?
Smart thermostats offer a range of features that regular thermostats don't. They connect your HVAC system to the internet, which means you can control your heating or cooling via your phone.
Some smart thermostats also learn your temperature preferences over time and can adjust themselves accordingly. This means you will never have to worry about blasting the AC at full power when it is completely unnecessary!
In addition, smart thermostats can be programmed to automatically lower the temperature when nobody is home, saving you money on your energy bill. Smart thermostats have numerous advantages over regular thermostats, making them a valuable addition to any home.
Why Should You Invest in a Smart Thermostat?
Here are 12 reasons why smart thermostats are worth it and why every house must invest in one:
1. Save Big on Energy Bills
Smart thermostats do not work magic to lower your bills overnight, but they employ various ways that can help you save money. Programming your thermostat to turn on and off or changing temperature settings at certain times of day helps save energy.
For example, if you know that you're going to be out of the house during the day, you can set the thermostat to turn off while you're gone and turn back on your arrival time. Similarly, once your desired temperature is reached, your thermostat can switch to fan mode to maintain it while saving energy.
With smart thermostats, you can monitor your HVAC energy usage. Being able to understand your consumption patterns helps tailor your usage habits and adjust them to improve your home's energy efficiency.
Some smart thermostats can automatically turn to energy-saving mode when they detect no one's home. They also have a vacation mode that lowers your HVAC electricity usage when you are away for longer durations. Some smart thermostats learn your habits and routine and automatically adjust your heating/cooling schedule to save energy. You also get personalized recommendations on how you can reduce power consumption and what changes are required in your current schedule to lower your bills.
Related: Energy-Efficient Thermostat Settings to Maximize Savings & Comfort
2. Control Your AC From Anywhere, Anytime
Consider this scenario – you have just reached your workplace, and it starts raining heavily. Your home AC is running at 72 degrees. With the outside temperature dropping, your dog would prefer the AC temperature to be a little higher. Using a smart thermostat app on your phone, you can easily amp up the temperature using your phone in no time.
You can not only turn your unit on/off but can also set the perfect thermostat range for your home, turn on scheduling and track your AC usage using global control feature.
Whether you have elderly parents, kids, or pets at home, you can control your AC as per their requirements from anywhere in the world.
Cielo Smart Thermostat
Equip your HVAC system with smart features and achieve the perfect balance between comfort & savings.
Shop Now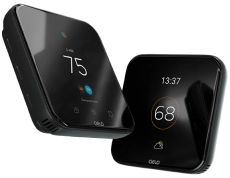 3. Simple to Use
One of the main advantages of a smart thermostat is that you don't have to be tech-savvy to be able to use it.
The mobile app that is mainly used to control the thermostat settings has an easy-to-use interface for trouble-free use. Plus, some smart thermostats come with touch screens, making it really simple to adjust the temperature without fumbling with buttons or switches.
You can also control your smart thermostat with voice commands by integrating them with smart assistants, making it even easier to make adjustments and utilize other functions.
Here's how smart thermostats work and other frequently asked questions. 
4. Location-Based Controls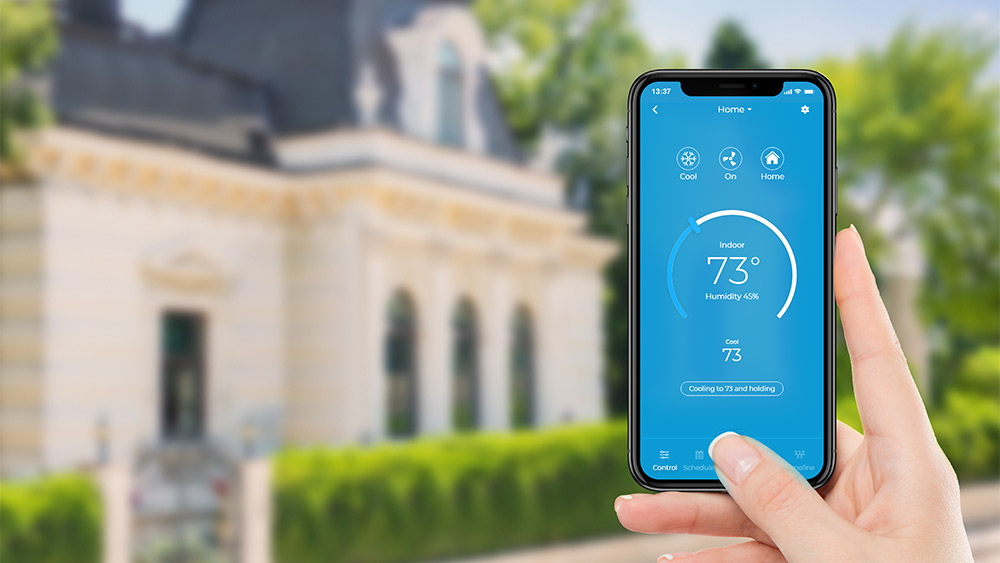 If you have a hectic routine with no fixed schedule, this feature allows for efficient AC use without manually adjusting the settings. Moreover, if you are always forgetting to switch your unit off on your way out, the geofencing feature can be a great energy saver!
To utilize the location-based controls, you first have to set your geofence radius in your thermostat app. It will then work by tracking your location via your phone's GPS (you have to give permission to the app to access the location) and adjusting the settings accordingly.
For example, this mode will turn your AC off when you move a certain distance away from your pre-allocated area and turn it on when you are near your set location.
Geofencing ensures that your system only works when needed, thus reducing AC costs. In addition, some smart thermostats track the location of all the family members and turn to away mode when the house isn't occupied, thus significantly saving on bills.
5. Smart Scheduling
Smart thermostat scheduling is a super convenient feature as it eliminates the need to micromanage your daily AC settings. You can set a daily or weekly schedule depending on your routine.
Set a schedule once, and then forget about it. You don't have to change it every week if there isn't any need; just turn on the repeat mode, and the same schedule will be used the following week. You can even edit a single-day schedule if an unexpected task comes in. Moreover, you can have different schedules for different times on the same day.
For instance, you can have a separate morning schedule where you can set the temperature at 72 F or higher. If you have pets or kids at home, you can have a midday schedule according to their needs. At night you have lower temperature settings of 65 F, which is considered to be the ideal sleeping temperature. This smart scheduling feature that these thermostats provide is surely worth investing in.
6. Learning Ability
Some Wi-Fi thermostats can learn your cooling/heating habits and devise a customized schedule. After using your thermostat for some time, learning thermostats pick up on your preferred temperature for different times of the day and then prepare an auto-schedule for you.
For instance, if you use your AC in cool mode at 65 from 8 am to 9 am every day, your thermostat will learn this and will automatically create a morning schedule. And likewise an evening schedule.
If you use cool mode in the mornings and heat mode in the evenings, it will create a separate program for both modes. They can also learn when you leave and enter your home because they have motion sensors. These sensors enable the device to change your AC mode based on your home occupation.
Another benefit of some smart thermostats is that they can take weather data of your location and adjust your heating and cooling schedule accordingly. They can detect when a cold wave is about to set in where you live or when it's time for spring and make changes based on that. Some even go a step further and make suggestions to your set schedule to help you save on bills.
7. Track Energy Usage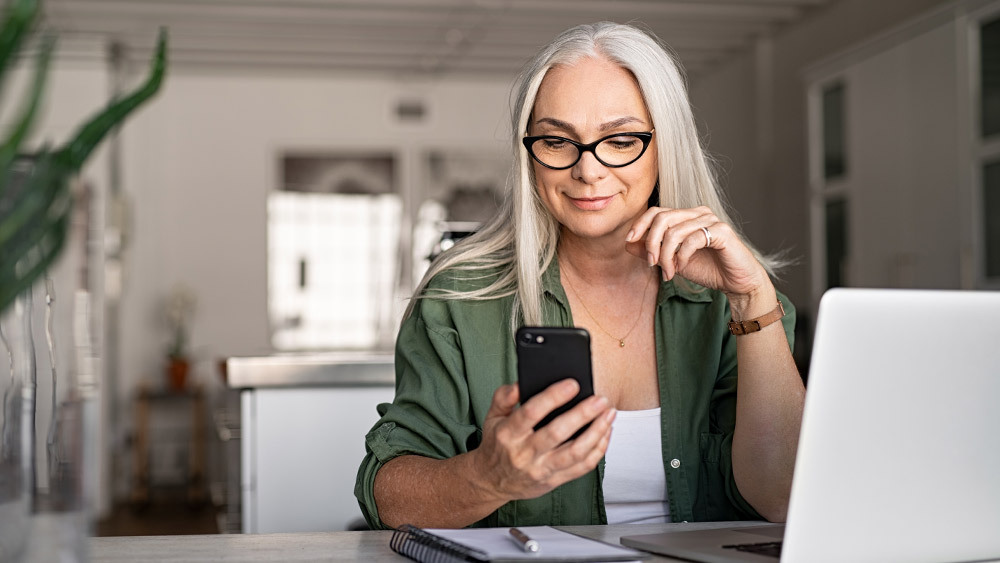 Another reason smart thermostats are worth investing in is because they help you to track your air conditioning usage. You can view your usage history anytime using the app. In addition, these smart gadgets allow you to check when your heating or cooling was turned on and which settings were employed.
Some thermostats also send reports about energy usage on a monthly basis. The report outlines how your energy usage differs from the previous months. It also provides a list of possible causes of increase or decrease in usage. For instance, it may show how energy consumption changed based on weather, your schedule, manual adjustments, etc.
8. Monitor HVAC Issues
Advanced models of Wi-Fi thermostats send you alerts when they detect any issue within your HVAC system. It will send details about what your thermostat noticed and which AC components are likely to have problems.
For example, if your thermostat detects that your unit is taking longer to cool or heat, you will receive a warning that your unit may have issues with weak airflow, frozen coils, or refrigerant leakage.
9. Provide Maintenance Alerts
Air filters are an essential part of your HVAC system as they help remove dust and debris from the and circulate clean air in your home.
However, it's quite easy to forget about their maintenance. This can cause units to run less effectively. Plus, your system can get into lots of other issues, such as freezing of AC coils and reduced AC lifespan.
Fortunately, smart thermostats help you to keep up with your AC maintenance. They keep track of air filter usage and send notifications on your phone when it needs to be cleaned or changed.
10. Offer Protection Against Extreme Weather
As the US deals with an intense heat wave that has gripped several states, your house is susceptible more than ever to the danger of overheating. Smart thermostats have a safety temperature mode that ensures your home stays at your preferred temperature settings irrespective of the outside climatic conditions.
In the safety temperature mode, you have to set your desired temperature range, and it will prevent your home temperature from exceeding the set range.
In the winter months, smart thermostats can also protect your home against cold temperatures. This helps to prevent your pipes from freezing and bursting. Safety temperature will turn on heating when your home temperature reaches your set limit. This is especially useful when you are on winter holidays or have a vacation rental that needs to be protected.
Even if you haven't turned on this mode beforehand, you can simply use your mobile app to switch it on from miles away.
11. Adjust Humidity Levels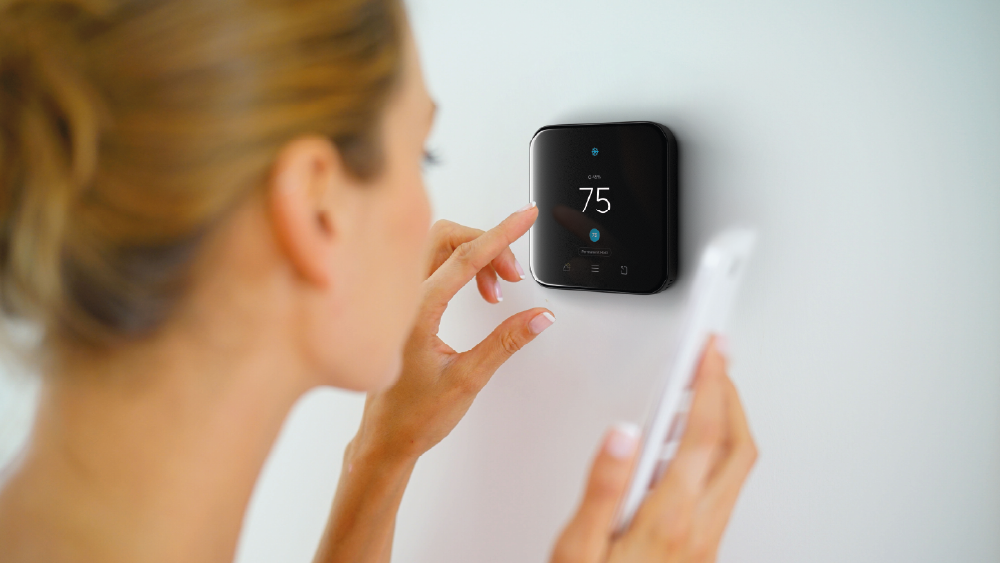 Achieving the ideal humidity levels in your home is no easy task. Higher levels cause mold growth on walls and ceilings, while low humidity leads to cracked floors and furniture pieces.
Besides temperature control, smart thermostats benefit you by helping you manage your indoor humidity levels. Plus, you can use your thermostat app to view your home's humidity levels at any time and make changes on the go. If it is really humid after heavy rainfall, you can turn on your AC in dry mode to lower the air moisture.
Your smart thermostat can also sense when your home's humidity levels have gone up. It will then automatically turn on your AC to control the excessive moisture.
12. Integrate With Smart Home Devices
Another big reason why smart thermostats are worth investing in is that they can integrate with other smart home devices such as Amazon Alexa, Google Assistant, or Apple Siri. This allows you to manage temperature and humidity levels with just your voice. Tell your smart assistant to change your living room temperature to 72 F, and it will instantly be changed.
You also have different morning and evening routines that you can control with Alexa or other smart assistants. For instance, say 'Alexa good morning' to have your home temperature changed to 70 F while your smart lights turn on and the smart coffee machine starts brewing your hot latte.
Disadvantages of Using a Smart Thermostat
While smart thermostats provide numerous benefits, there are some cons that you should also take into account:
Smart thermostats are expensive as compared to regular thermostats. However, smart thermostats are worth investing in as they help you save money on energy bills over time. Plus, you can also get rebates provided by your thermostat company or local government.
If you haven't installed a thermostat before, dealing with different types of wires can be challenging. You may need to contact a professional installer which is quite costly.
Some homeowners fear that there may be a security threat as smart thermostats are connected to the network. To counter any potential threat, most manufacturers release regular updates that address the security flaws to help protect your sensitive information.
Are Smart Thermostats Worth It?
Smart thermostats offer several advantages for homeowners, from reducing energy consumption to automating your heating and cooling. These smart home gadgets make it easy for you to control your home's temperature from anywhere, whether you are on vacation or out grocery shopping. Plus, you can program them to adjust the temperature according to your schedule, ensuring that your house is as cool or toasty as you like.
There are a few disadvantages to using this gadget; however, the pros definitely outweigh the cons. The high price factor can be mitigated through rebates, and newer models have improved security patches. Plus, you can always DIY the installation process.
All in all, the convenience, efficiency, and energy savings that smart thermostats provide are definitely worth investing in.