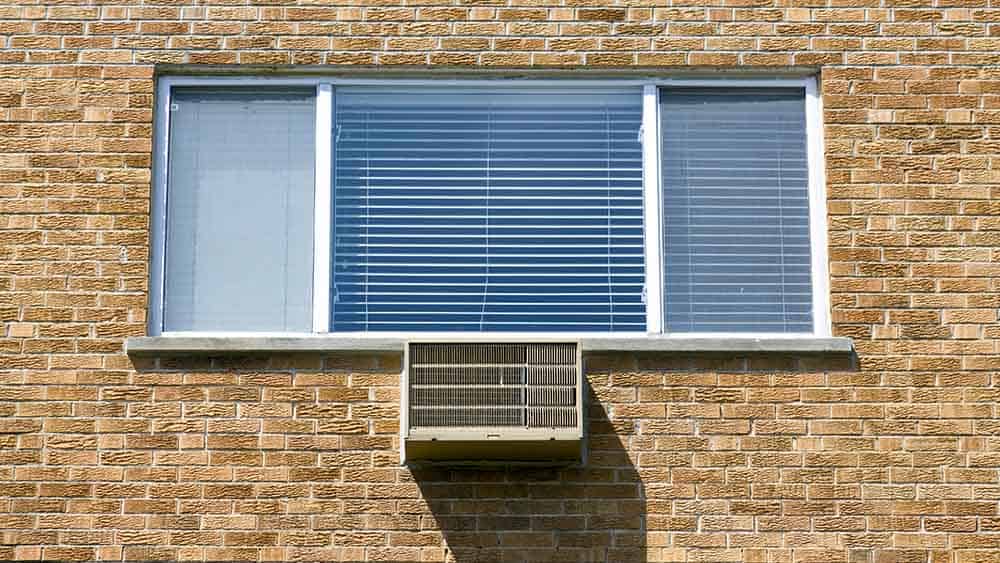 When the mercury rises coupled with high humidity, the home environment becomes unbearable. However, a good air conditioner can be a lifesaver.
You may have central air conditioning, but to cool an entire home, when you only need to cool one area, costs a lot. On some days, you may also need an extra cooling source in addition to your whole house air conditioner. Or maybe you are looking for a cooling option for your windowless room.
In any case, a through-the-wall air conditioner can be a perfect solution for you! It works similar to a window air conditioner but is installed into a hole in the wall, helping you preserve the window space for fresh air and admiring the outside view. 
It can be tough to decide which one will perfectly suit your requirements when purchasing a new unit. In this blog, we've rounded up the best through-the-wall air conditioners in the market and important factors to consider when purchasing a new unit to help you make an informed decision. 
What to Consider When Choosing the Best Through-The-Wall Air Conditioner?
When buying a new air conditioner for your room, the following factors are important to consider: 
1. Air Conditioner Size
Having the right air conditioner size is highly important. A larger than required unit would frequently turn on and off. As a result, it will cool your room too quickly while failing to remove the air moisture adequately. A smaller unit, on the other hand, would struggle to achieve your preferred temperature settings.
The best way to find the right AC size is to determine your room size in square footage and match it with your AC's cooling capacity measured in BTUs. Most wall air conditioners range between 8,000 and 18,000 BTUs. The 8000 BTU unit can cool a 350 sq. ft area while 18000 BTU can cool a 1000 sq. ft room.
This air conditioner sizing chart will help you determine the best size for your room.
2. Smart Controls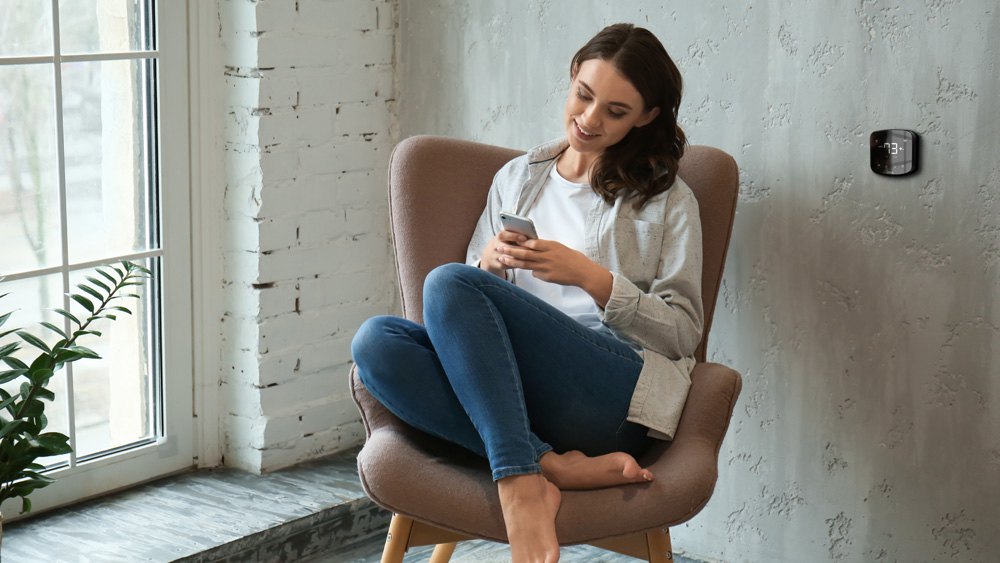 If you want to automate your room climate, you should look for smart features when purchasing a wall unit. You can also go for a budget-friendly unit with fewer features and then pair it with a smart AC controller to give it smart capabilities without breaking your bank.
With a smart AC controller, you can control all your AC settings from your phone and make changes on the go. With daily or weekly scheduling, you can set schedules in advance so that you don't have to micromanage your home climate every now and then. Other features such as geofencing, Comfy Mode, and voice commands also help with hands-off climate control. In addition to comfort, smart AC controllers also help cut down on unnecessary energy usage and save on bills.
3. Installation Location
Wall air conditioners make a perfect cooling solution for areas that lack ductwork, such as a garage or a backyard shed.
When choosing the installation location, make sure there is plenty of space around the exterior side to help the air conditioner draw air into the compressor.
4. Energy Efficiency
The energy efficiency ratio (EER) determines how much cooling/heating a unit provides for a particular amount of electrical energy. The higher the EER, the more efficient a unit is. Through-the-wall air conditioners mostly have a rating between 9 and 11.
Always check the EER ratings before purchasing a through-the-wall AC unit for your room. You will find them on the Energy Guide Label with every air conditioner, which provides all the energy-related information.
In addition to EER ratings, also look out for the Energy Star label. It is the trusted, government-backed label for energy efficiency. Energy Star room ACs are 10 percent more efficient than other models and cost less than $75 to operate per year.
5. Thickness of Your Wall
All through-the-wall air conditioners come with metal sleeves that hold the units in place. The thickness of the wall should be equal to or greater than the depth of the sleeve for proper installation. Most sleeves can fit walls that are 8 inches thick or less.
6. Types of Sleeves
A wall unit can either have a slide-out chassis sleeve or a fixed sleeve that comes with the unit. Removable sleeves make it easier to service or replace the unit.
When replacing your unit, you can use your existing removable sleeve but be sure to buy one that fits the old sleeve perfectly.
7. Electrical Requirements
Most through-the-wall air conditioners use a standard 115V outlet. Some high output models need 230V connections requiring special wiring in your home.
8. AC's Noise Level
As all the components are packed together in one box, they tend to be slightly noisy compared to mini-splits or central ACs that have their compressor outside.
They produce about 50 decibels of sound, which is light traffic noise. Some units have an additional quiet mode in which the unit produces only 30 decibels of sound. If you want to use your AC in a nursery or a home office, go for the unit offering the lowest dB value.
9. Heat Function
In addition to cooling, most through-the-wall units also provide heating options. In heat mode, these units take in heat from the outside and expel warm air indoors. This helps to eliminate the need for two separate heating and cooling units. You can use it to heat your room in mild winter adequately or operate it as a supplement heat source in freezing weather.  
10. Extra Features
When looking for the best wall AC unit, check if you require features such as sleep mode, fan-only mode, touch and voice controls, and remote control.
Fan Only Mode – It circulates air in the room without using the compressor, helping to save on bills.
Sleep Mode – This feature is designed for a comfortable sleep and increases the temperature throughout the night to cater to the natural decline in your body temperature.  It also reduces compressor sound to avoid disturbing your sleep.
Dehumidifier Mode – It runs the fan at a low speed and turns on the compressor in intervals to remove humidity from your room.
Timer Function – It allows you to set your AC to turn on/off after a certain time. Most units offer a 24-hour timer mode.
Antibacterial Air Filters – They help inhibit the growth of indoor air pollutants such as fungus, bacteria, mildew, and other contaminants.
Digital Control – This allows you to change the temperature settings on the LED display.
Adjustable Louvers – They allow you to change the air direction, such as up and down and side to side.  Some models have automatic swing louvers that continuously move the cold air around the room.
11. Room Aesthetics
If you are concerned that the wall unit may not sit well with your room décor, you can try various methods to hide the AC unit. For example, you can try enclosing them in a cabinet or a decorative box when not in use or putting a colorful folding screen on the front side.
5 Best Through-The-Wall Air Conditioners for Your Home
We have compiled a list of the 5 best wall-mounted air conditioners that you can purchase from Amazon. You can check their various features and then decide which one best suits your requirements.
1. Keystone 25,000 BTU 230V Wall Air Conditioner
This keystone Energy Star wall AC is a highly efficient unit with a 12.1 EER rating. It has a staggering 25000 BTU cooling capacity and can cool an area up to 1,500 sq. ft, making it one of the best wall-mounted air conditioners. In addition, it has a built-in thermostat to maintain a pleasant environment. Keystone's wall unit also comes with a follow-me mode to eliminate hot and cold spots in your room. Other notable features include a 24-hour timer, sleep mode, and auto restart.
When purchasing this unit, do take into account that it requires a 230V/20-amp electrical outlet required and will not work with a standard 115V outlet.
When installing this unit, you can use an existing compatible wall sleeve or purchase a new one. 
| | |
| --- | --- |
| Pros | Cons |
| High EER rating | Does not work with a 115V outlet  |
| Follow me mode |   |
| Timer and sleep mode |   |
2. Koldfront WTC8001W 8,000 BTU Through-The-Wall Air Conditioner with Heat
With its 8,000 BTU output, this through-the-wall air conditioner from Koldfront is ideal for a small bedroom, offices, or even a cooling backyard shed. This unit also offers 4200 BTU of electric heating and is one of the best through-the-wall air conditioners with heat.
This through-the-wall unit has a dehumidification capacity of removing 45 pints a day. In addition, it provides multiple fan speeds and offers additional features such as auto-shutoff and energy mode. It also has a sleep mode that will adjust the temperature periodically throughout the night.
It comes with a remote control that allows you to control the air conditioner's settings from across the room. However, if you want to control the temperature settings using your phone, a smart AC controller like Cielo Breez Plus is a preferable option.
| | |
| --- | --- |
| Pros  | Cons  |
| Comes with a remote control | Not effective for large rooms |
| Provides heating function |   |
| Sleep & energy-saving mode |   |
3. Frigidaire FFTA123WA1 Energy Star Through-The-Wall Air Conditioner with 12000 BTU
This Frigidaire Energy Star model combined with SEER ratings of 11 ensures that it effectively cools down your room without breaking your bank. With its 12000 BTU capacity, it can cool down a large 500 sq. feet area.
It includes other features such as a programmable timer, multiple fan speeds, and sleep mode. This Frigidaire unit also has an external thermostat in a remote, making it easy to change the temperature from across the room. With its programmable timer, you can set a schedule to turn on the unit before your arrival. However, you can only turn on and off your wall unit using this feature; it doesn't allow you to set temperature or use other settings. You will have to use a smart AC controller for advanced controls.
In addition to cooling, the Frigidaire wall AC also has a heating function to keep you warm in the winter season.
| | |
| --- | --- |
| Pros | Cons |
| 12000 BTU can cool 500 sq. ft | Noisy operation  |
| Programmable timer  |   |
| Heating function |   |
| Multiple fan speeds |   |
4. LG LT0816CER 8,000 BTU Wall Air Conditioner
The LG 8,000 BTU through-the-wall air conditioner is perfect for cooling rooms up to 330 square feet. It can also heat a room sufficiently with its 8000 BTU capacity, making it one of the best wall-mounted air conditioner heater combo.
This wall unit comes with an LED display and a simple control panel for easy temperature and fan speed adjustments. You can also use a remote control to change the settings without having to leave your bed, workspace, or couch. In addition, it has the ability to remove 2.1 pints/hour.
To make the wall unit last longer, it has a patented gold fin anti-corrosion coating that acts as a protective shield.
| | |
| --- | --- |
| Pros  | Cons |
| LED display | Not suitable for large areas  |
| Remote control  |   |
| Anti-corrosion coating  |   |
| 8000 BTU supplemental heating  |   |
5. Keystone 12,000 BTU 115V Through-The-Wall Air Conditioner
This unit by Keystone is Amazon's bestseller in wall air conditioners. With 10.5 EER, it provides 12000 BTU of cooling capacity and is one of the best through-the-wall AC units for large rooms.
It has electronic controls with a LED display and a temperature sensing remote control that allows you to change the settings from across the room.  
This through-the-wall air conditioner offers 3 cooling and fan speeds, energy saver mode, and auto cool function. Its sleep mode will gradually increase the room temperature after it is activated. This wall unit also has a quiet operation that won't interfere with your sleep. 
| | |
| --- | --- |
| Pros  | Cons  |
| Temperature sensing remote control | Plastic casing isn't durable  |
| Multiple fan speed feature |   |
| Quiet operation  |   |
Top Benefits of Wall AC Units 
Here are some of the top advantages of installing a through-the-wall air conditioner in your room. 
1. Easy Installation
Most through-the-wall units come with a standard installation kit that includes all necessary hardware and instructions. So, you don't need any special tools or expertise to install them. The only challenging part is drilling the hole to the exact measurements.
2. Less Obtrusive 
Through-the-wall air conditioners sit flush against the wall, so they don't take up any extra space in your room. Moreover, you can enjoy fresh air and view from your window.
3. Energy Efficient
Due to installation differences, wall units are more energy-efficient than window ACs. They don't allow the cold air to escape the room because of their even placement inside the wall. 
The Takeaway
Wall AC units are increasingly becoming popular and can be a great way to cool down your home without taking up a lot of space. When buying a new unit, measure the space where you plan to install it and select an appropriately sized model. You'll also want to think about your climate; if you live in a hot or humid area, be sure to choose a unit with a high cooling capacity.  If you want to automate your home climate, pairing your wall AC with a smart AC controller is the best option. Other factors to consider include noise level, energy efficiency, and price. By taking all of these things into account, you can be sure to find the best through-the-wall air conditioner for your home.