Fall is characterized by the cool, crisp air, vibrant burnt orange leaves, and the irresistible aroma of pumpkin spice. However, this magical season can also bring unpredictable weather changes. From cool mornings hot afternoons, to frigid nights, finding the right indoor temperature can be difficult.
At this point, you may be confused about which mode to set on your HVAC system. Do you choose the cool mode when it gets hot and switch to heat during the night? When exactly is the best time to turn on heat? How do you switch from AC to heat on your unit?
Read on to find out how to activate heat mode in your room air conditioners with Cielo Breez smart AC controllers and central HVAC unit with Cielo Smart Thermostat.
HVAC Maintenance Before Changing Modes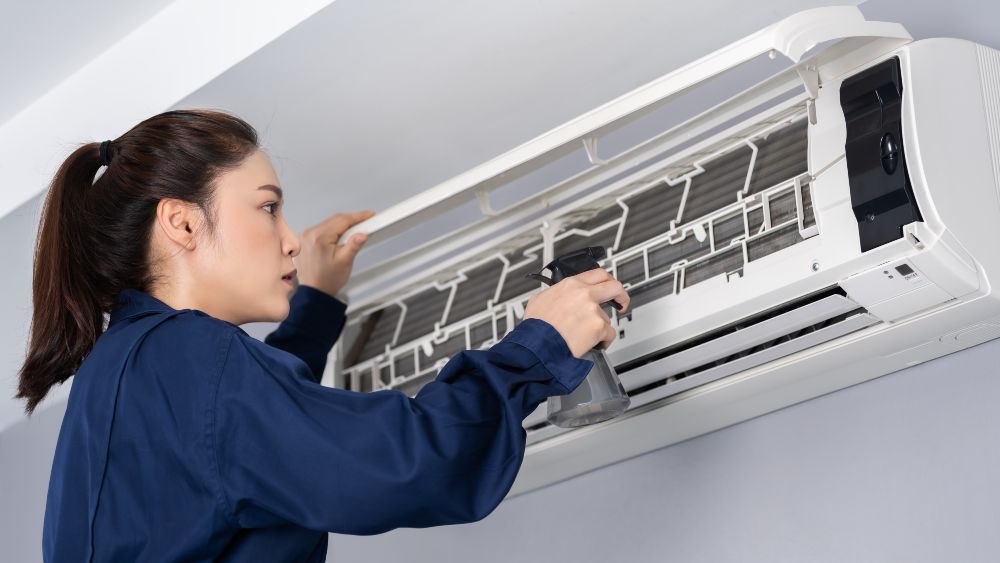 As you gear up for winter, it's important to ensure that your air conditioning system runs efficiently. It's best to schedule your HVAC maintenance before the start of every heating and cooling season.
Related: The Ultimate Spring HVAC Maintenance Checklist
Some maintenance tasks need to be handled by professionals, but there are things that you can do yourself. Changing filters, cleaning the HVAC outdoor unit, and checking your thermostats are some of the tasks that you can easily take care of.
● Change the Filters
AC filters are an integral part of your unit as they filter out harmful pollutants and allergens from the air and prevent them from circulating inside your home.
The dust and debris trapped by the filters need to be removed after a certain period for efficient AC performance. If the filters are not changed regularly, your unit will have to work harder, resulting in decreased efficiency. Plus, you will also notice a decline in your indoor air quality.
For ducted units, it's recommended that you replace the filters every 3 months. Ductless air conditioners also require cleaning AC filters. You can simply remove the front cover to take out the filters. These filters are washable, and you can clean them using soap and water. It's recommended to clean them every 3 weeks and replace them every 3-4 months.
● Clean the Outdoor Unit
HVAC units have an outdoor unit that houses the compressor. It is responsible for compressing the refrigerant and the heat transfer from the air.
If the unit gets clogged by leaves or twigs getting inside the unit, it can affect the heat dissipation process. This can lead to decreased efficiency and high electricity bills.
To ensure it works at its optimum capacity, it is essential to maintain a clear space around it. Remove the debris from the top and sides of the outdoor unit during the seasonal maintenance checkups.
● Clear the Vents
When doing your seasonal maintenance tasks, clean your vents by dusting or vacuuming them. Ensure optimal HVAC airflow by removing any furniture or drapes that may be blocking the vents.
● Check Your Thermostat
Test your thermostat before the start of a new season to ensure optimal working.
Check your thermostat reading using a thermometer. If your thermostat reading is incorrect by a few degrees, try calibrating your thermostat.
You can also reset your thermostat if it's been a while since you performed a factory reset. This helps to remove glitches and any problems you may be encountering.
Related: Thermostat Not Working Properly? 14 Easy Fixes
How to Switch From AC to Heat on Central HVAC System With Cielo Smart Thermostat?
You can change to heat mode on your central system using the on-device controls on your Cielo Smart Thermostat or visit the Cielo Home app.
How to Change the AC Mode Using the On-Device Controls
Go to where your Cielo Smart Thermostat is installed.
Tap on the mode icon on top of the control screen. A list of modes will be displayed – Heat/Cool/Auto/AUX/Off.
Select the heat mode.
The heat mode will be applied, and you can enjoy a cozy home temperature in no time!
Cielo Smart Thermostat
Equip your HVAC system with smart features and achieve the perfect balance between comfort & savings.
Shop Now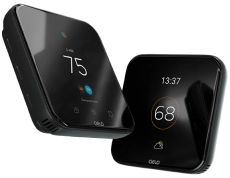 How to Change the AC Mode in the Cielo Home App
Go to the Cielo Home app.
Tap on the Cielo Smart Thermostat.
Tap on 'Cool'. A list of modes will be displayed. Tap on 'Heat' to change the mode.
The mode will be changed to 'Heat' in a second!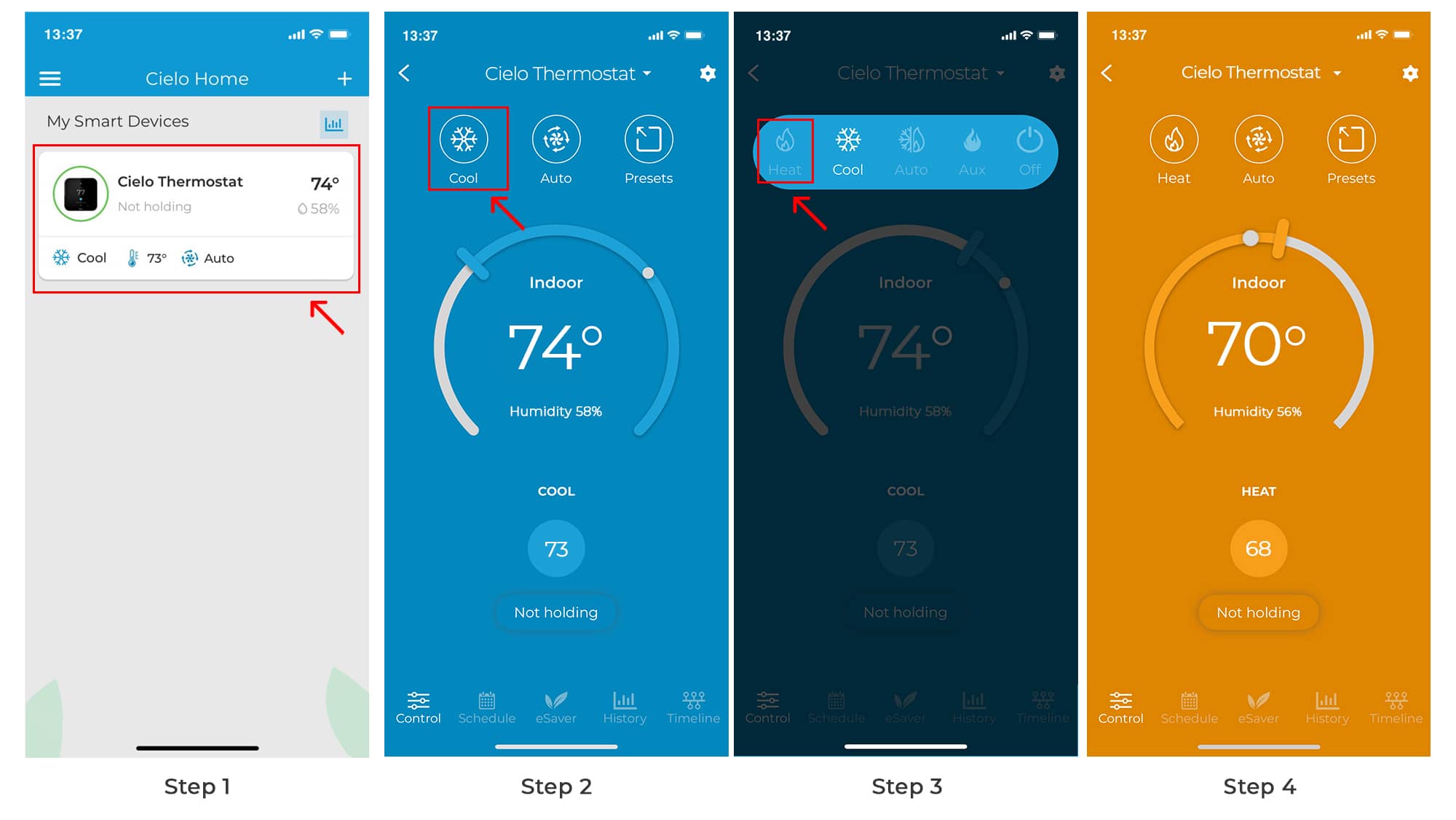 How to Switch Your Mini-Split, Window, and Portable from AC to Heat With Cielo Breez Smart AC Controller?
Go to your Cielo Home app.
Tap on your Cielo device for which you want to change the mode.
Tap on 'Cool'. A list of modes will be displayed. Tap on 'Heat' to change the mode.
It will be changed to 'Heat'. It is that simple!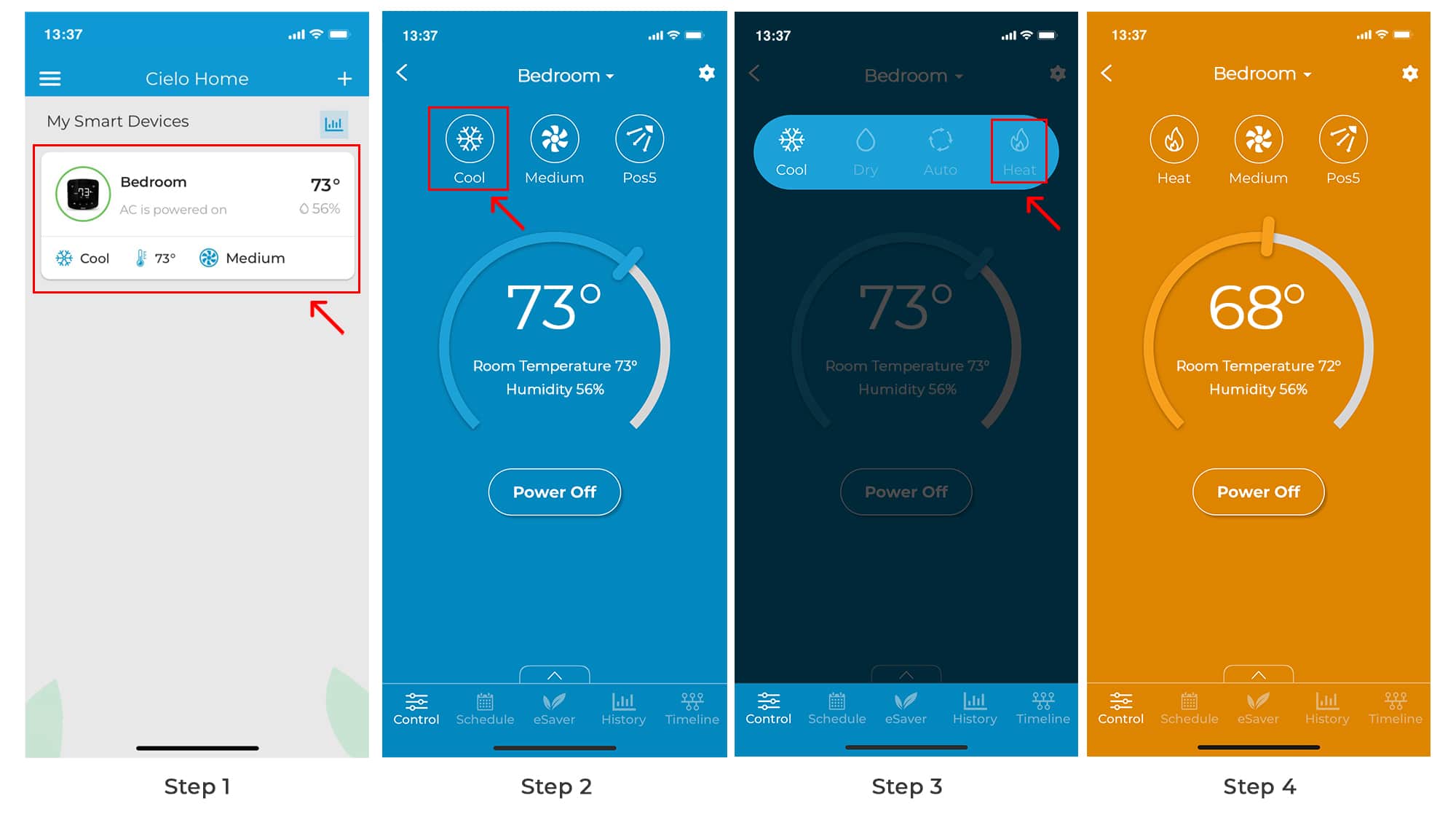 Cielo Smart AC Controllers
Your best choice to make any mini-split, window,
or portable AC smart. Enhance your comfort and savings.
Shop Now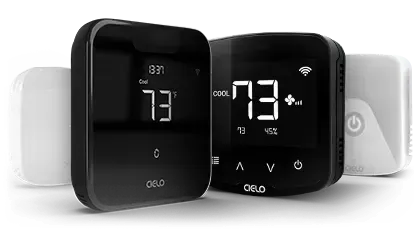 Is It Okay to Frequently Switch Between AC and Heat?
As the fall season is quite unpredictable, you may have to switch between cool and heat mode frequently. But is it okay to switch back and forth between the different modes? Will it have any negative impact on your HVAC unit?
Switching between cool and heat modes frequently is completely okay; however, there are some considerations to keep in mind:
Let your HVAC unit complete its current cycle before switching to another mode. If your unit was running in cool mode, let it run until it turns off itself. In case of a ducted HVAC unit, ensure your thermostat is set to auto; otherwise, it won't turn off. When the cycle is completed, turn the thermostat off and wait for at least 5 minutes. Turn it back on and set your thermostat to heat.
Avoid sudden and extreme changes when switching between heating and cooling. Instead, adjust the temperature gradually, increasing or decreasing it by a few degrees at a time. Allow your system to stabilize at each new setting before making further adjustments. By following this method, you can efficiently achieve your desired temperature without putting unnecessary strain on your system.
For your room air conditioners, take advantage of the Comfy Max mode available on Cielo Breez Max. You can set the room temperature range you feel comfortable at. Breez Max will then intelligently set your AC heat/cool to achieve your desired settings.
In Conclusion
It's important to know how to switch from AC to heat to ensure your home stays comfortable during colder months. It's a simple process that you can easily do in seconds. Before changing modes, it's essential that you perform HVAC tune-ups for efficient operation. Another thing to keep in mind is to let your unit complete its current cycle before changing to another mode. Also, avoid sudden and extreme changes when switching between heating and cooling.