The HVAC market is flooded with a huge variety of home heating systems, under an array of brands, which can make your choice for your next installation extremely difficult. While choosing the best heating system for your home, there are certain factors which you must take into account, such as: the building dynamics, overall heating requirements, size of the system, feature set associated with the system and finally the cost.
Heating systems make up 42% of your utility bills. In this article, I have tried to give you a brief overview of different system types so that before meeting a HVAC pro, you possess the requisite knowledge to be able to make the best decision for you. While this article will help you understand different types of available home heating systems, I still recommend you consult a licensed HVAC professional before making the final choice. Let's dive right in to the world of home heating systems!
Best Home Heating Systems
Types of Home Heating Systems at a Glance:
Central Heating System (Ducted System)
Ductless Heating System
Direct Heating System
Central Heating System (Ducted Systems)

A central home heating system provides warmth to the entire interior of a building or for multiple rooms. The heat generation occurs through a central heat source, which can be any accessible yet secluded location such as a basement or an attic. The generated heat spreads throughout the house through a network of ducts or pipes depending on the type of your central heating system. Ducted systems take a larger space than any other type of heating system.
There are 3 main types of central heating systems:
Furnaces
Boilers
Heat Pumps
Central Heating via Furnaces:

Furnaces use gas, electricity or fuel oil to heat air in one area and distribute it throughout the house via a web of ductwork and vents. This system is also known as a warm air distribution system.
The major parts of the furnace are the control systems such as burners, gas valve, blower, heat exchanger, duct and ventilation system. The combustion gases are vented out of your home through the vents. Furnaces are famous for their high efficiency, long life span, low operating noise, affordability, indoor air quality and more.
Cielo Smart AC Controllers
Your best choice to make any mini-split, window,
or portable AC smart. Enhance your comfort and savings.
Shop Now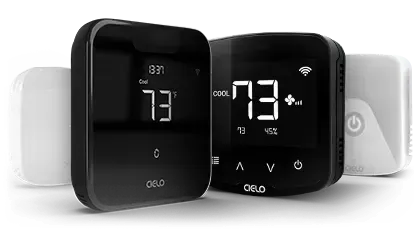 There are a number of furnaces available to choose from:
Gas Furnace
Oil Furnace
Electric furnace
Modulating Furnace
Gas Furnace: One of the most common types of furnaces used by residential users is a gas furnace. Gas jets out with the help of a burner ignite to create hot combustion gas that increases the temperature of the air. That heated air is circulated through the ductwork and vents. These types of furnaces are cost-effective because they use gas as a fuel to heat the air.
Oil Furnace: These types of furnaces require oil to heat the air and then circulate it through the ductwork and vents. They convert oil to heat and are commonly used in cold environments like the northeastern United States. They are not cost-effective because of the usage of oil as fuel.
Electric Furnace: If you don't have a natural gas connection, you can rely on electric furnaces for heating in winters. These furnaces use electric heating elements like metal to provide heat that is circulated in the air. They are inexpensive and smaller than other types of furnaces.
Modulating Furnace: These furnaces cost more than any other furnace. A modulating furnace adjusts the amount of gas that it burns to reach the set target temperature. It allows you to pinpoint the temperature precisely. These systems do not waste energy by continually shutting off and on. They run at lower energy levels making them the most energy-efficient furnaces.
Read this article for a comparison between heat pumps and furnaces.

Central Heating via Boilers:
Boilers are special-purpose water heaters. Unlike furnaces, this system distributes heat in hot water which loses heat as it moves through the radiators or other devices installed in your house. Instead of ducts, the boiler uses pumps to circulate water. The cool water is then reheated in the boiler and the process continues. This system is also known as a hydronic system. The boilers used by residential users are powered up by gas or other natural fuels.
Boilers are controlled by valves that regulate water flow and temperature. Setting up and controlling a boiler is easier than furnaces. The heat produced by the boilers is distributed uniformly throughout the house during winter months. You should choose a high-efficiency boiler for your home. Annual maintenance of boilers is recommended to avoid potential problems.
Central Heating via Heat Pumps:


Heat pumps are in use since decades and are not entirely a new technology. They can provide year-round climate control throughout the year. Heat pumps are two-way air conditioners meaning that they are fully reversible. They keep your home cool during summers and warm during winters with the support of an electric system. Since heat pumps use electricity to move rather than generating it, they are more energy-efficient.
The commonly used heat pumps are of two types:
Air Heat Pumps
Ground Source Heat Pumps
Air heat pumps: Air source heat pumps use air from the environment in winters to keep your home warm while in summers, the heat is rejected to the environment to keep your home cool. These types of heat pumps are installed like any other central air conditioner. Air heat pumps are less expensive than ground source heat pumps
Ground source heat pumps: Ground source heat pump also known as geothermal heat pump draws heat from the ground or the groundwater and spreads it throughout your house. There are used in the regions where the temperature is more constant throughout the year. These heat pumps are installed by a burying hollow coil in a deep trench. A ground source heat pump is a little heavy on the pocket.
Ductless Heating Systems
The ductless heating system, also known as ductless heat pump, does not require a web of ducts and vents to keep your home warm. This system can be installed easily and isn't heavy on the pocket like a central heating system, though you require a separate system for each room. This is a standalone system that has an indoor unit installed inside your house with an outdoor compressor installed outside your house. It is more energy-efficient than the central heating system. The system is installed easily by professionals in less than a day.
The types of ductless heating systems are:
Minisplit Heat Pumps
Window AC with heat
Portable Standing Air Conditioner with Heat
Minisplit Heat Pumps
Minisplit heat pumps are a type of ductless heating system that do not require a web of duct to operate. They provide heating and cooling, both. With sleek and a modern look, they are small in size and can be controlled via a remote control. There are different smart AC controllers available out there in the market that can provide your Mini split heat pumps with smart functionalities and controls.
Window ACs with Heat
If you want to stay comfortable all year-round while cutting on energy costs, Window ACs with heat are the best option for you. They are easy to install, energy-efficient and help you change the air conditioning mode during summers and winters. Like other ductless heating systems, these do not require ducts to operate. There are multiple options out there in the market that can cater to smaller and larger spaces.
Portable Standing Air Conditioner with Heat
If you are not a fan of Window ACs with heat, then a portable standing air conditioner with heat is the best pick for you. The installation is easy and is less expensive than other types of ductless heating systems. Portable standing air conditioners are lightweight and have wheels at the bottom to make transportation easier. They are perfect for small spaces and if you need to move your heater around.
Learn how you can save money when using heat pumps.
Direct Heating Systems
The direct heat system is the conventional way of acquiring heat directly from the heat source. It does not require a web of ducts and vents or an outdoor unit to keep your home warm. This system is perfect for a small space or a room as it has a small heating output.
The types of direct heating system are:
Gas-Fired space heaters
Unvented Gas-Fired Heaters
Electric Space Heaters
Gas-Fired Space Heaters
The Gas-fired space heaters either wall-mounted, free-standing or floor furnaces which lack ductwork and outdoor units. These heaters use propane, natural gas or kerosene. These are portable heaters and are useful for warming a single room. They are low on cost and can be installed without the help of a professional. They are operated manually and have fewer safety hazards than unvented gas-fired heaters.
Unvented Gas-Fired Heaters
The unvented gas heaters do not have vents and are extremely dangerous to use. These conventional heaters have been used and sold for decades. Professionals discourage the use of such heaters due to health and safety hazards. They have been banned in several states of united states including California, Minnesota, Massachusetts, Montana, and Alaska. Without a proper ventilation system, such gas heaters can cause suffocation in the room. It is extremely important to keep them near a window.
Electric Space Heaters
Electric Space heaters use electrical energy to generate heat using metals as heating elements. These heaters are inexpensive to buy but they are not energy efficient as they use electricity to generate heat. Since these are plugin heaters, they convert the electric current from the wall socket directly to heat. Electric heaters can be used for small spaces but do not cater to large spaces. Continuous electric supply is necessary to keep electric heaters running.
Which Heating System is Best for You?
All in all, it depends on you what kind of system you want to choose considering your needs and. Always choose a heating system that is energy efficient, safe, easy to handle and cost-effective for you.
If cost is not a problem and you want to maintain the temperature of your entire house than a central heating system is the best solution for you. However, if you are looking for a cheaper alternative and wish to control the heating for a specific room than ductless heating systems are a great choice! Moreover, they will also keep you cool during summers.