Radiant wall heating systems are an energy-efficient solution that keeps your home warm and cozy while staying out of sight.
Radiant heating systems are far from a novel invention. For as long as humans have known about radiation as a form of heat transfer, it has been used to keep homes warm in the biting cold.
Likewise, radiant wall heating has also been around for quite some time. As early as the 1950s and '60s, people turned to these systems for their efficiency and convenience. However, since these systems ran solely on electricity back in the day, they lost popularity as their cost went up.
Thanks to recent advancements, radiant wall heating systems have made a comeback and are now available in energy-efficient types. But before we discuss that, let's cover some basics like what is it and how does it work?
What Is Radiant Wall Heating?
The term radiant heating is usually synonymous with radiant floor heating systems. But radiant heat panels that fit in the walls or even the ceiling of your home are now commonplace. Like floor heating systems, these other variants have also garnered praise for providing even heating without being noisy in the least!
These heating systems are pretty straightforward, but they're slightly different from floor heating systems. The former consists of electric cables or pipes installed directly into a thermal mass. In the case of wall heating, radiant heat panels made of aluminum are installed inside walls. These panels are then heated to keep your home warm.
How Does Radiant Wall Heat Work?
Radiant heat panels generate and deliver heat to their surroundings through radiant heat transfer. This method transfers heat from hot surfaces (such as the heated walls) to people and objects via infrared radiation. This heat is similar to the heat you feel when you're near a hot stovetop, and you feel the warmth of it.
Like all other systems that work by this principle, radiant wall heating works on a line-of-sight basis. This essentially means that you will be most comfortable when you're close to the panel and when there are no obstructions between you and the wall.
Why Consider Radiant Wall Heating?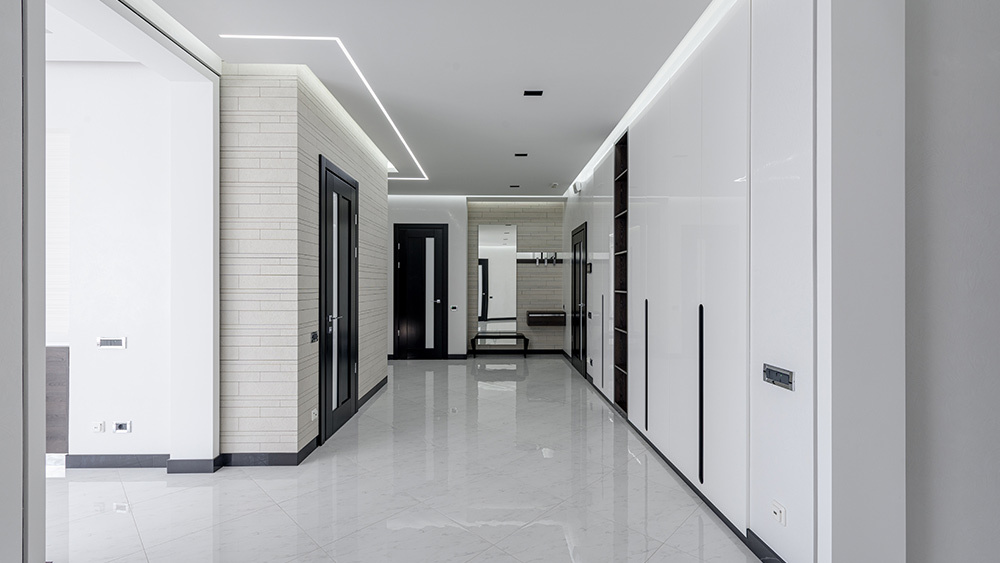 Since floor heating systems are already widely popular, why not just get one of those for your home? Why should you instead consider radiant wall heating?
While it is true that radiant floor heating is indeed more widespread than wall heating systems, it also happens to be more challenging to install. Floor heating systems consist of an extensive layout of pipes or cables under the floor. You will have to rip out and then replace the entire floor to put these in. That requires an immense amount of labor, time, and of course – money.
Radiant wall heating systems are less intrusive and therefore less costly to install. The process involves removing the original drywall, installing the panels, and reinstalling the drywall. These panels aren't very thick, so they don't take up much space, and since they're inside the wall, they aren't an eyesore.
Additionally, according to the US Department of Energy, radiant heat panels also have the "quickest response time of any heating technology." They can also be individually controlled for each room. When combined, these two features make radiant wall heating an excellent choice for saving energy and cost when you have rooms that you don't frequently use.
Where To Install Radiant Wall Heating?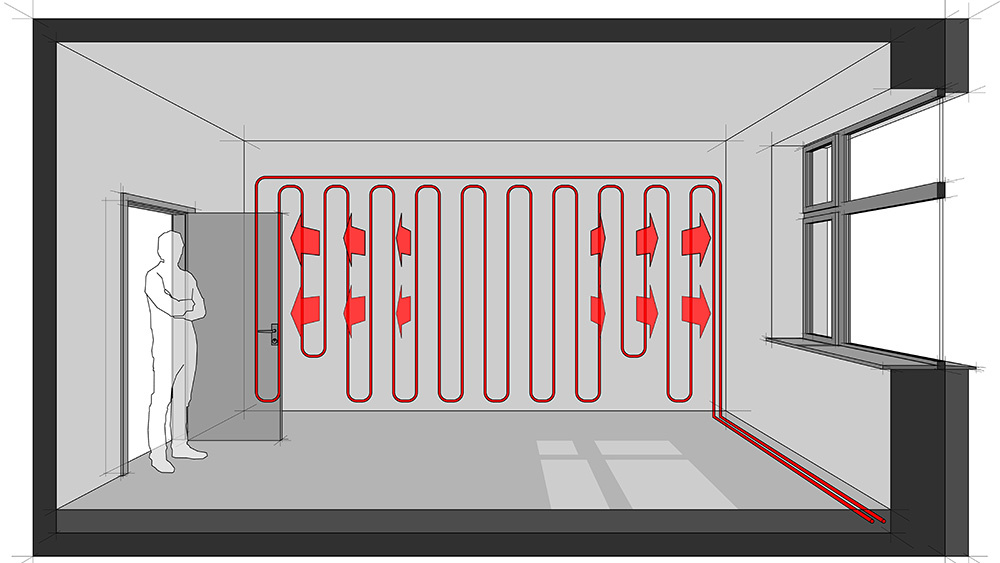 It's usually sufficient to install radiant wall panels in the bottom four-foot section of your walls. However, if you have a room with high ceilings, you can increase this range up to eight feet.
You can install this on any number of walls you want, but it's essential to keep the "line-of-sight" layout in mind. So, pick a wall that you'll be closest to and that will have the least number of barriers around it. Remember not to push your furniture up against the wall where the heating system is because this will lower the system's heating efficiency. Instead, let these furniture pieces float away from the wall.
If you plan on hanging paintings or other things on the wall, proceed with caution. While this shouldn't be an issue if the radiant panels are only in the lower four-foot region, you will need to be more careful with taller installations. To avoid puncturing tubes when nailing picture hangers in the wall with the radiant panels, take a picture of the system before putting the finishing drywall in. This will give you a better idea of where the tubes are. You can then mark their location using a tape measure before drilling holes in the wall.
It's essential to keep in mind that radiant wall heating systems need insulation to keep heat from leaking to the outside of your home. The extent and type of insulation will depend on where you live, but this is crucial for efficiency.
Cielo Smart AC Controllers
Your best choice to make any mini-split, window,
or portable AC smart. Enhance your comfort and savings.
Shop Now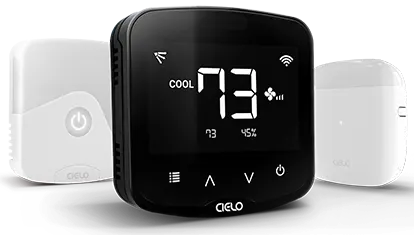 Different Types of Radiant Wall Heating
Radiant heating systems come in two primary types – electric systems that radiate heat through wires and hydronic systems that radiate heat through warm water. While some other radiant systems also use air to transfer heat, this method is not standard in radiant wall heating systems.
1. Electric Radiant Heating Systems
Electrical radiant wall heating systems use electric coils that generate heat as electricity passes through them. The metal coils that this system uses resist electricity, and this resistance is what creates heat. This radiant heating system is the most popular, but it's also pretty costly.
Due to the high costs of electricity, electric radiant wall heating systems are usually added as the supplemental heating system or are run during off-peak electricity usage. Another reason people prefer electric radiant heating systems is because it requires less maintenance and lasts longer than other radiant heat systems.
2. Hydronic Radiant Heating Systems
Hydronic radiant wall heating systems use a boiler to heat water pumped through a network of pipes installed in the wall panels. Since the boiler runs on a fuel other than electricity, this system is cheaper to operate than electric radiant heat systems. However, hydronic systems come with the danger of pipes leaking or bursting inside your walls, making for an expensive repair.
Overall Benefits of Radiant Heating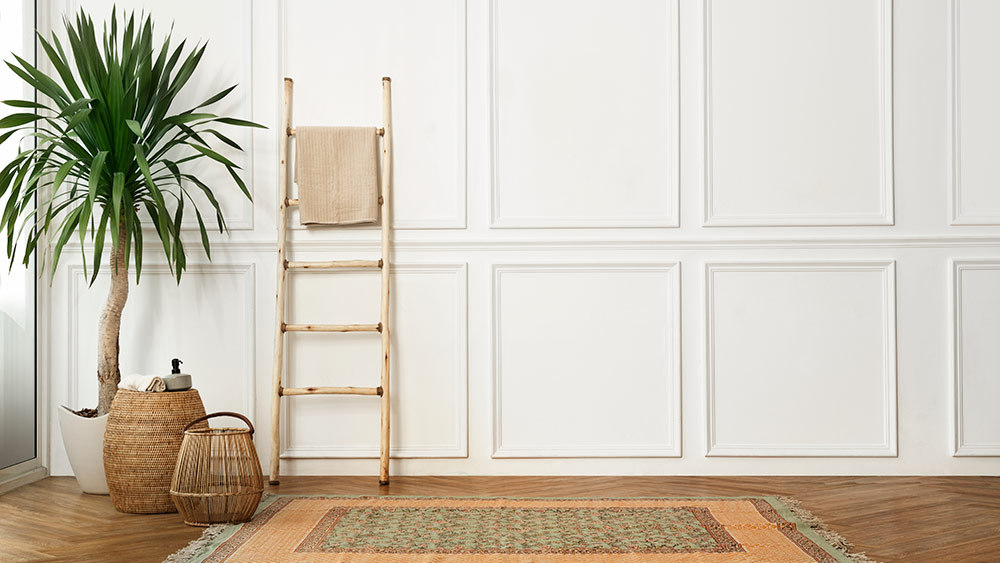 These systems are pretty popular around the country and for a good reason. In addition to being efficient and low cost, these systems have several other benefits that no other system can boast.
Firstly, the heating panels are in direct contact with the walls, so there are no long pathways for the warmth to travel, which can usually result in heat loss along the way. Secondly, radiant wall heating provides you with even and quiet heat, unlike forced air systems. Lastly, since there is no need for ducts or vents to transfer warmth, the heat your home receives is free of allergens, keeping your indoor air quality up to the mark.
Are There Any Drawbacks of Radiant Wall Heating?
Radiant heating systems cost a heavy upfront amount, and in the case of electric radiant heating systems, the operating cost is also very high. While hydronic heating systems have lower running costs, they pose a risk of water leakage. In addition, since this type of heating system is hidden behind the walls, it is difficult to access and repair.   
Final Verdict – Is Radiant Wall Heating the Perfect Solution?
Radiant wall heating is indeed an excellent solution for staying warm and cozy all season long. It's a very efficient system that gives you clean, quiet, and even heating all winter long. It can also be relatively inexpensive to run if you choose to install the hydronic version since gas is cheaper than electricity. So, is this the perfect solution for winters? Yes!