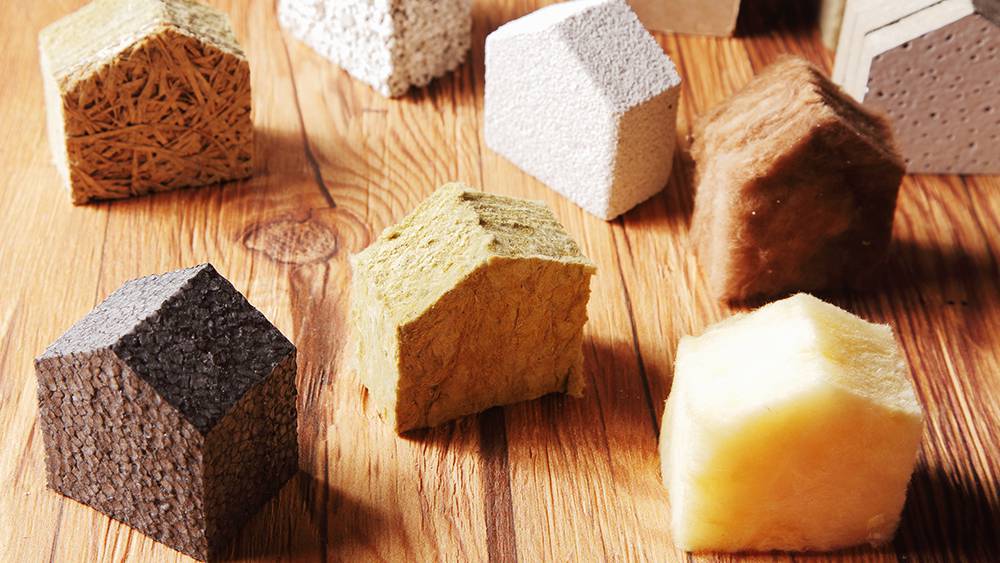 Insulation comes in many forms, and no two types of insulation are made equal. That's not to say that one sort is superior to the other, just that different types are meant for various applications. This means that since insulation acts as a barrier against heat loss in winter or heat gain in summer, some types will do better in specific locations than others. 
But how do you determine what type of insulation suits you best? And why is this decision so important? Let's take a look at some stats to get a better idea.
On average, a US household spends around 46% of its total energy usage on heating and cooling systems. To put that into perspective, if an average family pays $115.49 a month in energy bills, nearly half of that is the cost of running HVAC systems.
According to Energystar.gov, properly insulating your home can lower your heating and cooling costs by up to 15% or your total energy usage costs by up to 11%. While that figure might not seem as impressive on its own, there are other energy-saving techniques that you can use in combination with proper insulation to get even better savings. For example, using a smart AC controller or smart thermostat lowers your energy consumption by up to 25%.
Everything You Should Know About Home Insulation
Important Factors When Selecting the Best Type of Insulation for Your Home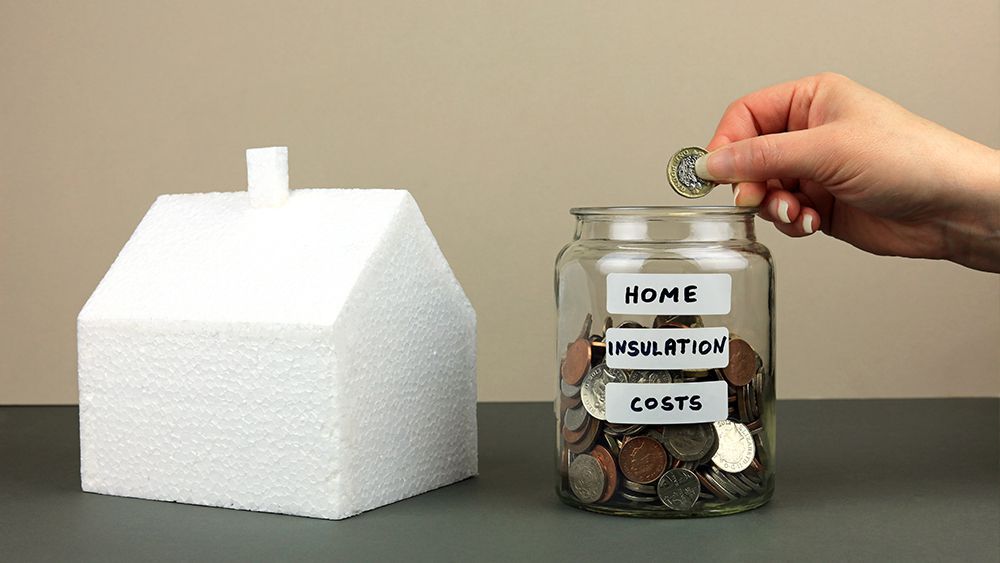 It's important to remember that the effectiveness of home insulation depends on how well it is installed and its suitability it is for your location and climate. Therefore, before going over the many insulation types, it's important to keep these three factors in mind:
1. What Part of Home Are You Insulating?
Different types of insulation are suitable for different parts of your home. For example, if you're looking to insulate a new wall, you can use blanket batts or rolls (discussed below). However, if you're trying to insulate an existing wall, you'd be better off choosing loose-fill insulation (also discussed below) because that would be more cost-effective.
2. What Is the Required R-value of Your Area?
R-value of different insulation types helps determine its overall resistance to conductive heat flow. The greater the R-value of the insulation material, the more effective it is. R-value recommendations can vary based on your climate and location.
3. What Is Your Budget?
If you plan on insulating a large part of your home, the cost difference between the various types of insulation can drive well into hundreds of dollars. While keeping cost in mind, it's also important to remember that most insulation pays for itself in the long run. The energy savings in your heating and cooling bills along with health benefits that some of the costlier insulation forms provide will be worth all the money.
You'll also want to consider other factors, such as the longevity of the insulation material, ease of installation, the amount of recycled content in the material, and its impact on the air quality. Another important factor is flammability. Some types catch fire more easily than others. We'll discuss this factor in detail with each type.  
Cielo Smart AC Controllers
Your best choice to make any mini-split, window,
or portable AC smart. Enhance your comfort and savings.
Shop Now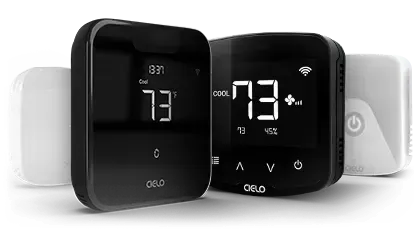 7 Types of Insulation Materials
Depending on the abovementioned factors, here are all the different types of insulation you can choose from. Of course, each kind comes with its unique pros and cons and is suitable for varying purposes.
1. Blanket Batt Insulation and Roll Insulation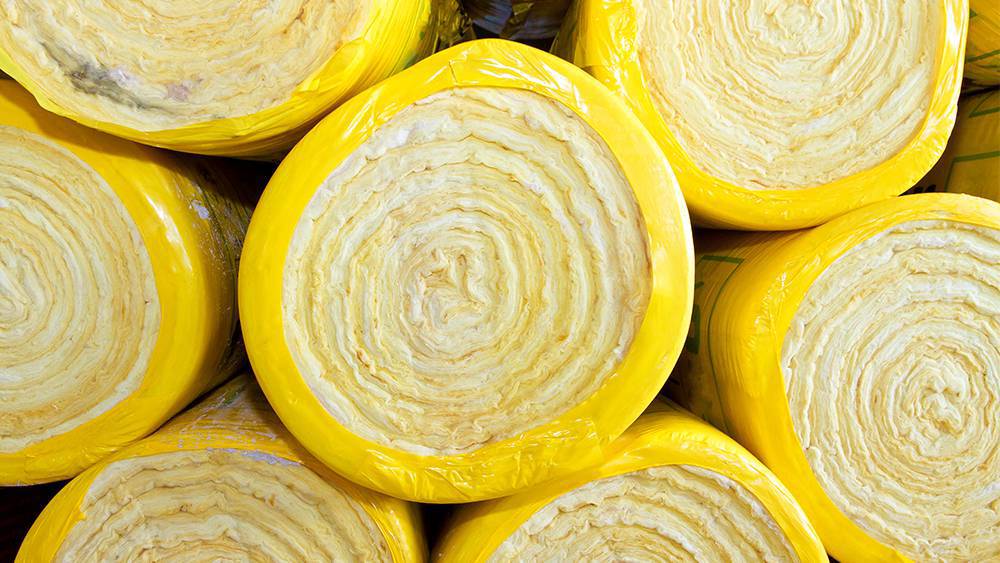 The most common type of insulation is in the form of batts or rolls. These blankets can be made of fiberglass, natural fibers, mineral wool, and plastic fibers, although the most common type is fiberglass batt insulation. It can come with or without kraft paper or foil-kraft facing, which serves as a vapor barrier and air barrier. Many old types of insulation were in the form of batts and rolls.
Pros: Fiberglass batt insulation is easily available and has wide utility. You can install it in ceilings, as attic insulation, crawl spaces, and unfinished floors. It is also quite affordable and pretty simple to install, and you can DIY it. Other forms of batt insulation also have similar benefits.
Cons:  Batt insulation comes in pre-cut sizes, and readjusting will often cause compression, thus reducing effectiveness. Another downside is that batt insulation can have a very low R-value per inch (between 2.9 – 3.8), so you'll need plenty of layers to attain your desired R-value.
2. Foam Board or Rigid Foam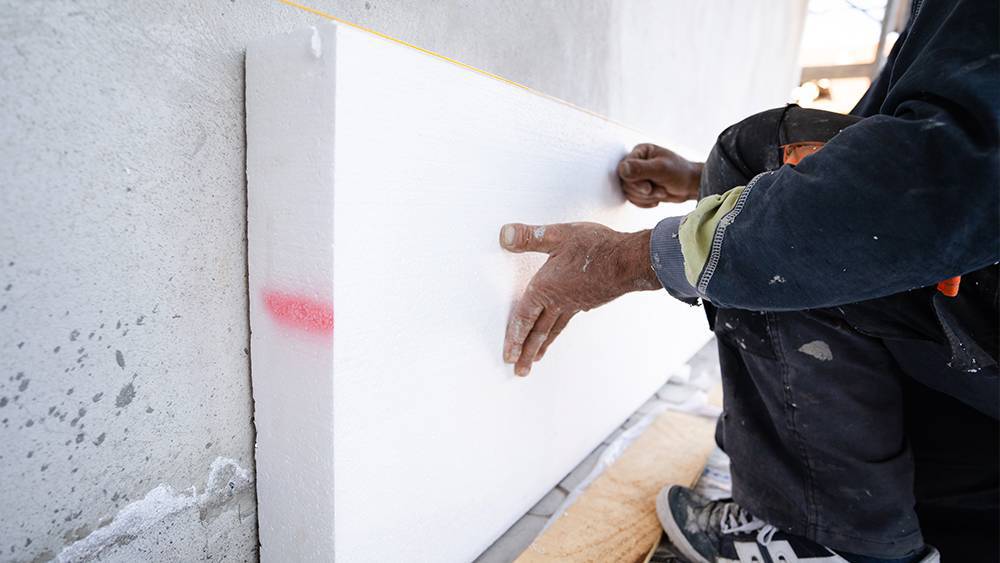 Foam board and rigid foam insulation are a lot sturdier than banket rolls or batts. You can find insulation foams in many different materials and thicknesses. As a result, their utility is quite extensive, and these can be applied in almost any part of your home. They are effective as wall sheathing (both internally and externally), as roof insulation, in attic hatches, and also as foundation insulation while constructing.
Rigid foam insulation has further three types: polyisocyanurate, extruded polystyrene, expanded polystyrene. Their R-values per inch are around 6.5-6.8, 5, and 3.8, respectively.
Pros: Foam board insulation offers nearly double the R-value of any other insulation material for the same amount of thickness. They help reduce heat conduction through wood and steel studs. Moreover, they're stronger, water-resistant, easier to work with, and permeable to water vapor.
Cons: Installing foam board insulation can be quite costly on existing walls. You will have to tear down the wall and build it from scratch with its insulation. So, for pre-constructed homes, you're better off choosing from the other types of insulation materials.
3. Insulated Concrete Forms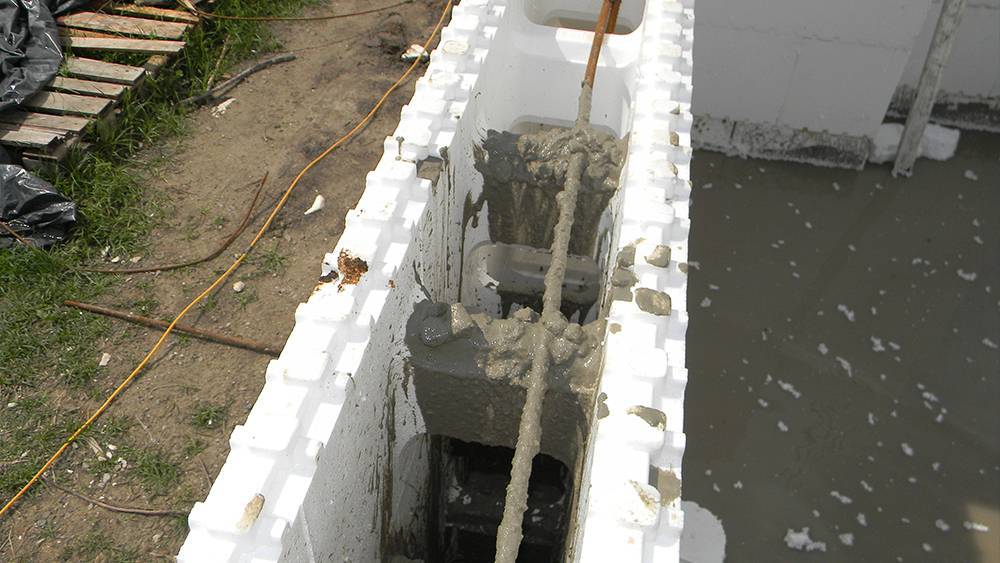 Insulated concrete forms (ICFs) are H-shaped structures consisting of two concrete walls to be cast between layers on insulation. They allow for an open-air channel in between the two walls, which results in high thermal resistance of up to R-20.
ICFs are an ideal solution for building energy-efficient homes and can be used for just about any residential, commercial, and industrial building. Insulated concrete form walls look very similar to traditionally constructed walls, even though they are slightly wider. The structure is reinforced with steel bars. If the walls don't require steel or concrete to support the structure, more insulation can be filled to increase R-value.
Pros: Insulated concrete forms can strengthen the walls of your house. They also save up to 20% of the energy used for heating and cooling. Another perk is noise and temperature control.
Cons: Insects and groundwater can damage the structure since the foam webbing isn't insect or waterproof. This type of insulation can also prove quite expensive and might not be the most efficient method since heat can still leak through uninsulated concrete. If you are doing a new construction or if your are doing major renovation, then you should go for this type.
4. Loose-Fill and Blown-In Insulation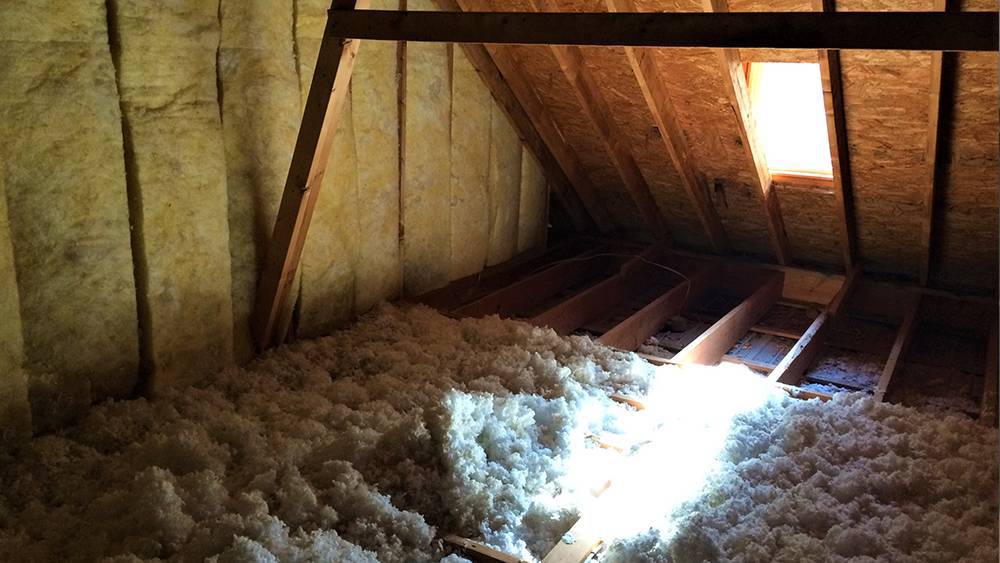 Loose-fill or blown-in insulation is also one of the most common types of insulation currently being used. It is either directly formed as loose material or broken into smaller shreds and granules, which gives it a fluffy appearance. Blown-in insulation is very useful because you can use it in walls, ceilings, crawl spaces, and attics without disturbing the structures. This makes it ideal for spaces where normal insulation would not be suitable.
Loose-fill insulation is most commonly made of fiberglass, cellulose, or mineral wool. It is sold in bags and mostly requires special equipment to be blown into the building cavities.
Standard blown-in fiberglass provides an R-value of 3.2 per inch, whereas chemical-free fiberglass loose-fill offers 4.2 per inch.
Pros: Blown-in insulation is usually very environmentally friendly because it's made using recycled waste material. It's easy to use and is effective in small areas where other forms of insulation would not work, especially around pipes and ductwork. You can re-use it by collecting the material using a vacuum and relocating it as needed.
Cons: The area needs to be sealed properly, and in some cases, you may also need to install soffit venting. It might require a professional for installation if you're using cellulose loose-fill. If not sealed properly, this type of insulation is pretty susceptible to mold.
5. Radiant Barrier Insulation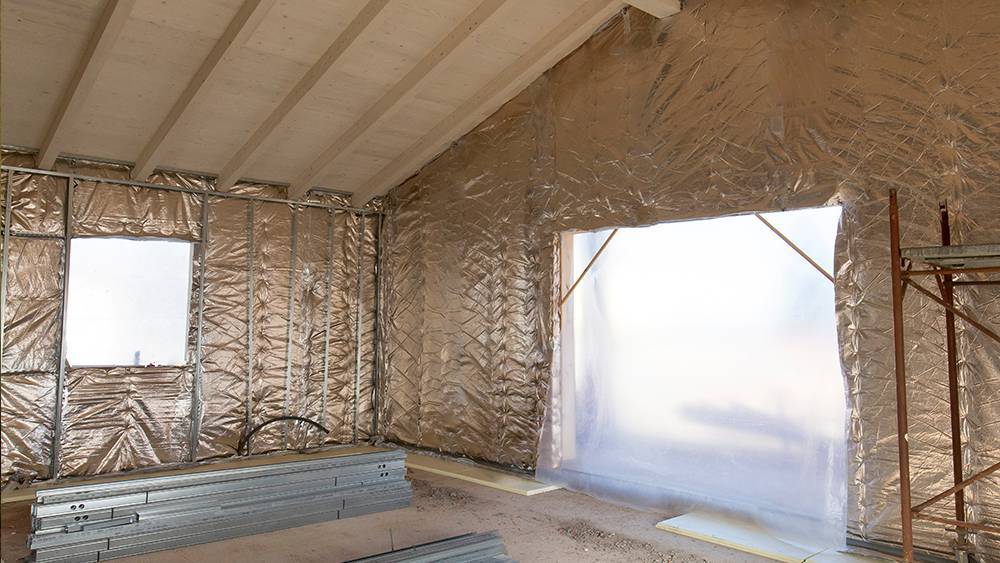 Reflective insulation and radiant barrier insulation work by reflecting heat, unlike most other insulation materials that work by resisting heat flow. For the same reason, this type of insulation does not have its own R-value. As a result, you can install it to cool your attics, limiting summer heat gains and lowering your cooling costs.
Reflective insulation incorporates radiant barriers such as aluminum foils, along with backings such as polyethylene bubbles, cardboard, kraft paper, or plastic film, into the typical home insulation system. Due to the way they function, radiant barrier insulation is most effective in hot climates.
Pros: Simple to install, provides a water barrier, and is good for wrapping ductwork & pipes. It doesn't deteriorate over time like most other types of insulation do. They can reduce cooling costs by 5-10 % in extremely hot areas. Radiant barriers are easy to install hence do not require professional assistance.
Cons: Radiant barrier insulation is not effective as a winter insulation material on its own and is usually used in combination with foam insulation. Its performance can be reduced by simple issues such as dust buildup.
6. Spray Foam and Foamed-In-Place Insulation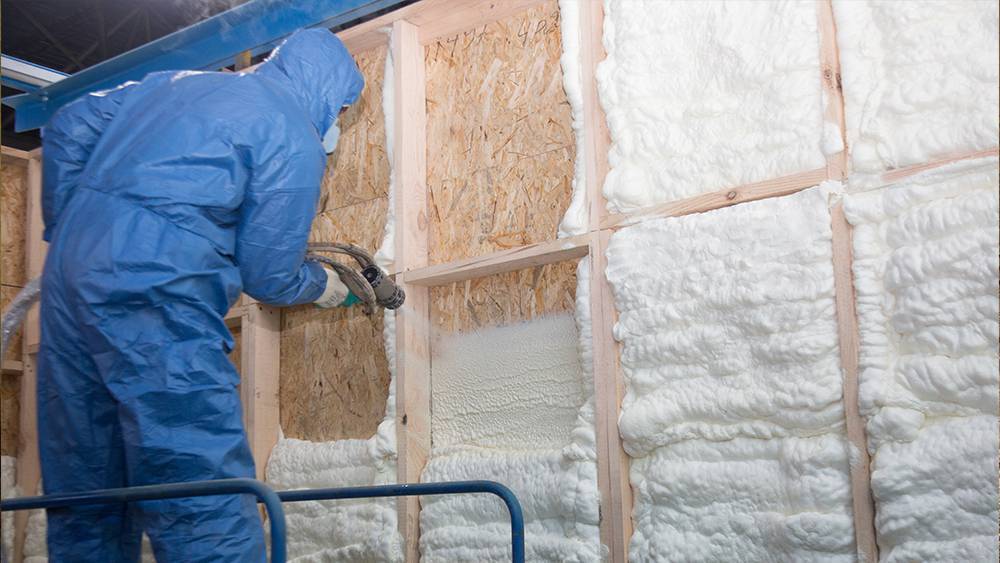 Liquid spray foam insulation is sprayed, poured, foamed-in or injected as a liquid that expands and hardens to fill the available space. It is more costly than other types of insulation but has a higher R-value and saves you money on some weatherizing tasks such as caulking.
Spray foam insulation allows you to cover more surface area and gives you easy access to hard-to-reach areas. It effectively seals any cracks or gaps in your home and reduces airflow, cutting back heat loss. This type of insulation has two common forms – open-cell (less dense and filled with air) and closed-cell (high-density cells and filled with gas). It's commonly used on walls, attic surfaces, under floors, or even below a roof.
Closed-cell and open-cell spray foam have R-values of 7 and 3.8 per inch, respectively.
Pros: It is twice as effective as batt insulation and can fill small crevices and cavities to insulate better. Reduces sound transmission and doesn't need a separate vapor barrier.
Cons: Closed-cell spray foam insulation is more effective but also more expensive than other types of insulation. Open-cell spray foam insulation is cheaper but more water-absorbent. Therefore, it shouldn't be used underground or as in-floor insulation. Do-it-yourself spray foam insulation is a bad idea, so hiring an experienced contractor will also add to the installation cost.  
7. Structural Insulated Panels (SIPS)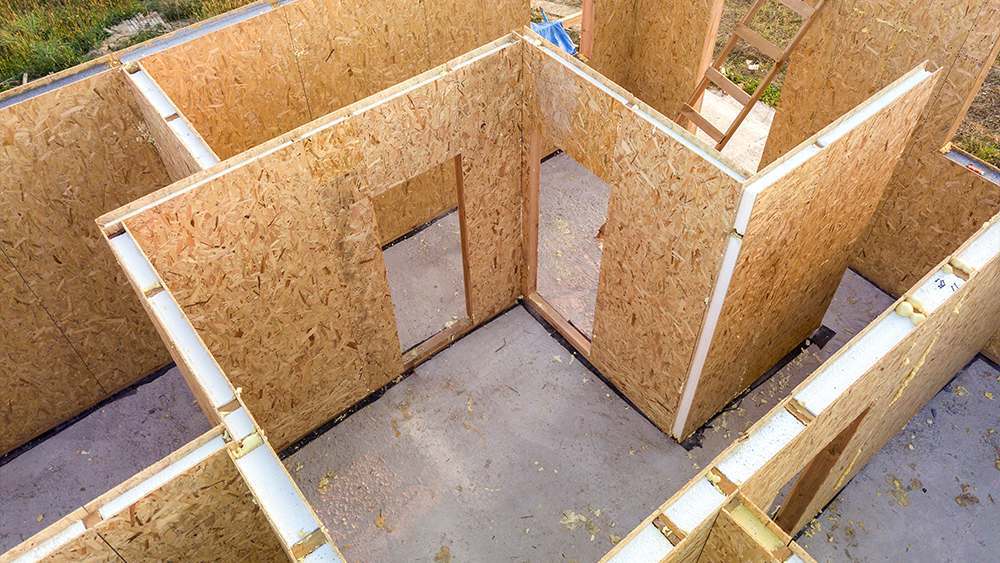 Structural insulated panels are high-performance building panels that consist of two rigid board sheathing materials with insulating foam in between them. These panels are manufactured under factory conditions and come in a variety of sizes. The foam core is generally made from expanded polystyrene (EPS), extruded polystyrene (XPS), or polyurethane foam (PUR), and the structural boards are normally oriented strand boards (OSB).
The R-value per inch for EPS foam is 3.6, XPS foam is 5, and PUR foam is 6.54.
SIPs can effectively block out high-frequency noise but don't block out low-frequency sounds. Since some structural insulated panels come in 8 feet by 24 feet measurements, installers can set up entire wall and roof sections quickly, which can help reduce framing time.
Pros: SIPs have the highest R-value per inch of all types of insulation. They're easy to install and are usually covered with foil which can act as a moisture barrier. In addition, SIPs offer energy savings of up to 12%.
Cons: You'll need to cut the foam to fit around obstacles which can lower its efficiency unless used in combination with sealing foam. SIPs are not insect and pest-proof, so they need to be laced with insecticide and still aren't 100% safe. On the other hand, they have strong airtight properties. You will need proper home ventilation to meet building codes and safety.
Types of Insulation Materials
Depending on the abovementioned factors and the type you're using, here are all the different insulation materials that you can choose.
1. Foam Insulation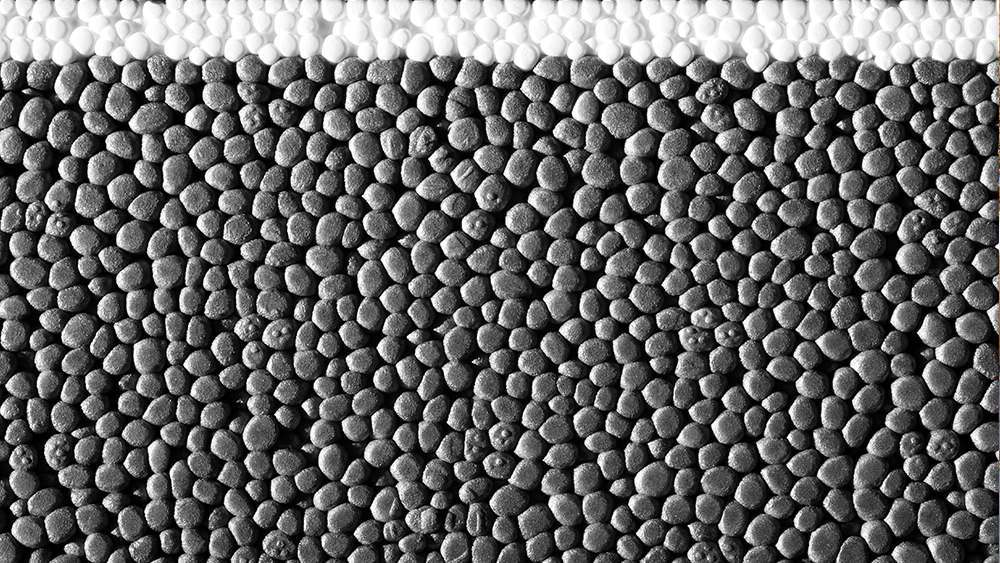 Foam insulation is usually made of plastics such as polystyrene, polyisocyanurate, or polyurethane. A less common type is cementitious foam insulation. Foam insulations come as rigid foamboards, loose-fill, or spray foam insulation.
Polystyrene foam insulation can be either expanded or extruded. Expanded polystyrene (EPS) is made of pre-expanded polystyrene beads and is rigid, tough, and closed-cell. It is available as loose-fill and as boards. Extruded polystyrene foam (XPS), on the other hand, is only sold as stiff boards. It is denser and thus stronger than EPS.
Polyurethane (PUR) and Polyisocyanurate (PIR) have very similar chemistry with slight chemical variations. PIR is an upgraded version of PUR and is more fire-resistant, as well as a better insulator. Overall, polyurethane and polyisocyanurate are economical, easy to install, and highly resistant to mechanical and structural damage.
2. Fiberglass Insulation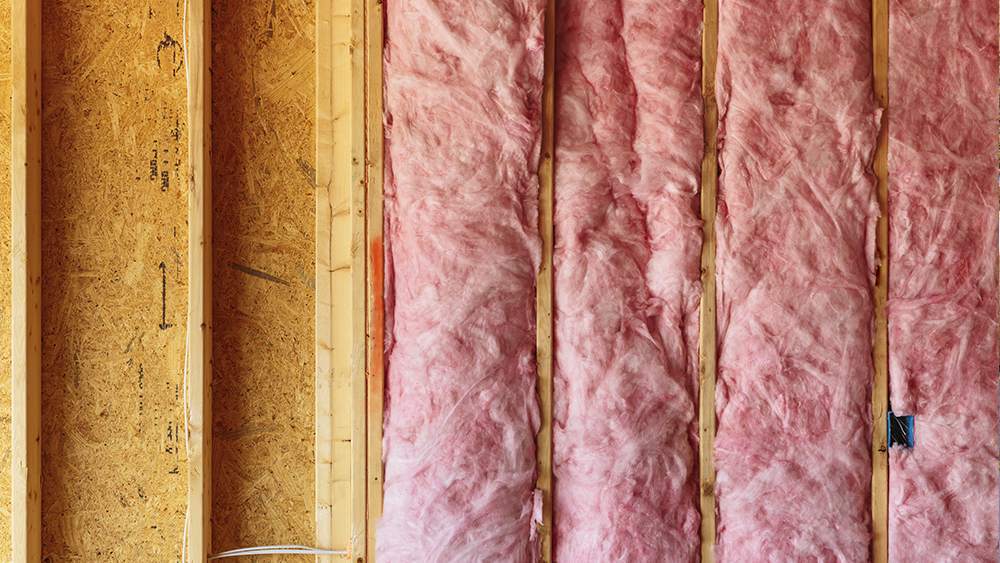 Fiberglass is one of the most commonly used types of insulation material. It is made of fine glass fibers that are either spun or blown to create boards, rolls, loose-fill, and batts insulation. Most manufacturers use around 40% to 60% recycled glass.
Despite its popularity, fiberglass can irritate the skin and lungs. Therefore, experts advise that you wear protective clothing such as gloves, masks, and protective eyewear.
3. Cellulose Insulation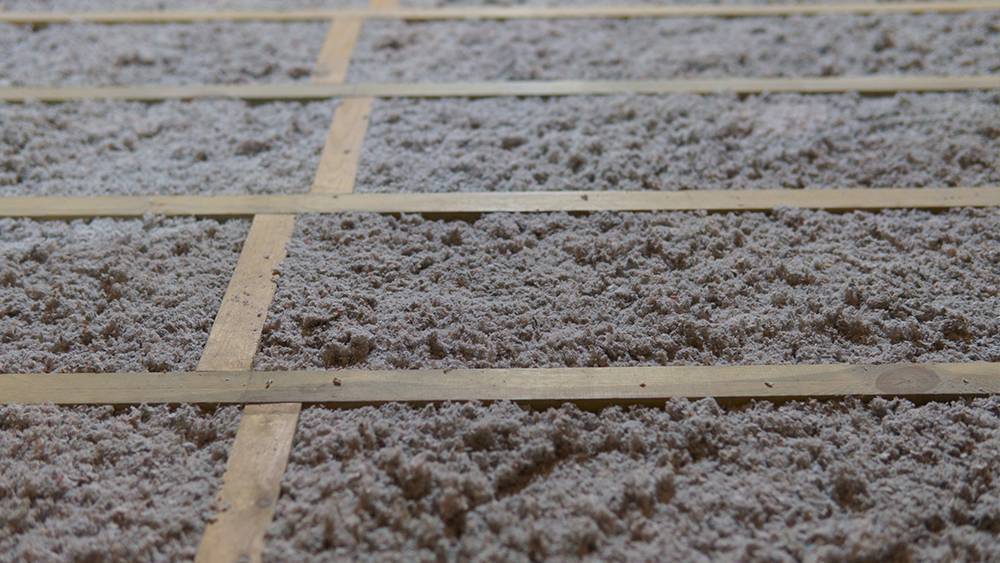 Cellulose insulation comprises up to 85% recycled paper that is first shredded to tiny pieces and then fiberized to produce the final product, usually loose-fill. It fits tightly into building cavities, inhibiting airflow. In addition, manufacturers incorporate mineral borate and sometimes ammonium sulfate to make the product fire and insect-resistant. It requires no additional moisture barrier and is suitable for both new and existing homes.
4. Mineral Wool Insulation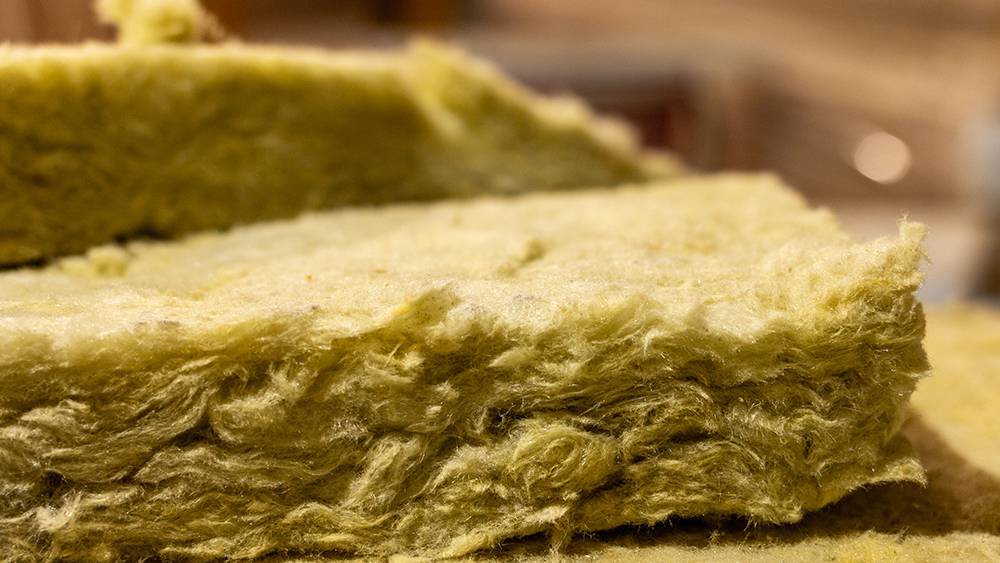 Mineral wool insulation refers to two types of insulation material – slag wool and rock wool. While both are artificial, the raw material in both types is very different. For example, rock wool is made from natural minerals such as basalt or diabase. In contrast, slag wool is made of blast furnace slag (a waste product of molten metal). Mineral wool insulation is fire resistant and is available as loose-fill, rolls, and batt insulation.
5. Natural Fibers Insulation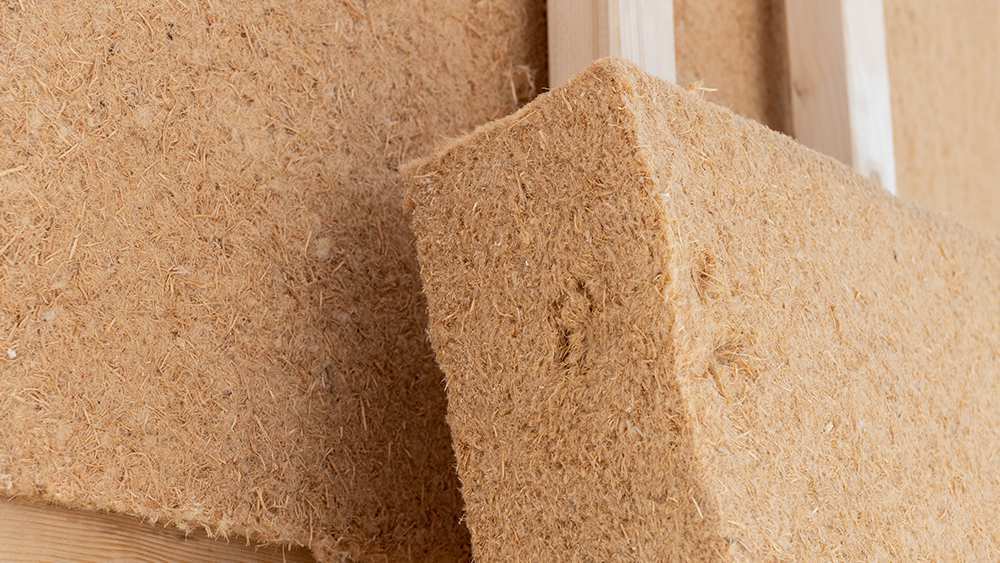 Some natural fibers can also be used as insulation material. Fibers such as cotton, sheep's wool, straw, and hemp are recycled to form insulation. However, these materials need chemical treatment to become fire, insect, and moisture resistant. Natural fiber insulation is normally sold in the form of batts or panels.
6. Denim Insulation
Denim insulation is also known as natural cotton fiber insulation and is made from recycled denim clothing or post-industrial denim cotton. It is high-performance insulation and is more expensive than other types of insulation. It offers some significant benefits over other insulation forms such as sustainability, more soundproofing, improved indoor air quality, and increased safety.
Much like cotton fiber insulation, denim insulation must be treated for resistance to fire, mold, and pests. Denim is most commonly found in the form of batt insulation.
What is the Best Type of Insulation?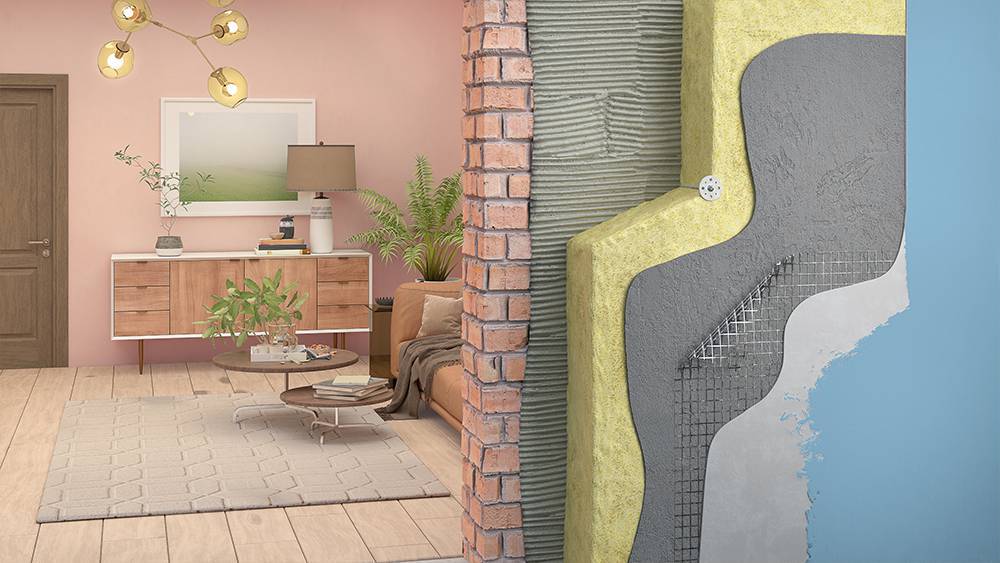 Technically, there is no "best" type of insulation. All the various forms come with perks and downsides, and each is suited for different purposes. The final decision on what type of insulation would work best for your home is dependent on where you live, what parts of the house you're insulating, your budget, and whether you are constructing your home or it's already constructed.
The most common forms of insulation materials are fiberglass, foam, and cellulose. The most common type of insulation are batts, loose-fill, rigid foams, and now spray foam. While these are the most popular types, the decision does eventually boil down to your specific requirements and needs.