Attics may be decorated into a comfortable living space or used for storage. In either case, attic cooling is important to prevent it from roasting in the summer heat.
More importantly, though, an attic also plays an essential part in maintaining the temperature of your house. If you haven't thought about proper ventilation or insulation, you must start now to protect your house from intense heat and keep your heating and cooling costs low. 
Here is everything, including the importance and how-tos of attic cooling, to enjoy a comfortable setting this summer.
Cool Your Attic for A Comfortable Summer
What Is an Attic?
An attic is a space between the roof and the ceiling of the top floor of any building. They are known for their weird shape because of the slanted rooftop.
Attics are mostly used for storage, but some people also convert them into a bedroom, study, or a home office, etc. Why not utilize the additional space, right? In some houses, though, attics are quite cramped to be used for anything and are left unfinished. These would contain exposed wires, ducts, pipes, or other such equipment.
What most people do not know is that attics play a significant role in controlling the temperature of any building because of the ample space for retaining air. The hot air can rise and move freely from the lower areas and get trapped in the attic affecting your home's overall temperature. Hence, it would help if you actively work towards keeping your attic cool before summer is at its peak. 
Why Should You Cool Your Attic?
Attic cooling offers significant advantages in the upkeep of your home, and moreover, it helps save energy costs. Let's take a look at the benefits of keeping your attic cool and airy:
1. Keeps the Moisture Away
If your attic is closed off and hot air is allowed to gather in, over time, moisture can start building up. This can eventually harm your entire house if not dealt timely.
The mold and bacteria can grow, damaging the construction material. It can also trigger allergy levels affecting your health. When you maintain the temperature, you're also managing the humidity levels indirectly. Also, if you're using a smart thermostat or smart AC controller, you can achieve your desired humidity levels within no time and can also track your attic's room temperature and humidity levels.
Cielo Smart AC Controllers
Your best choice to make any mini-split, window,
or portable AC smart. Enhance your comfort and savings.
Shop Now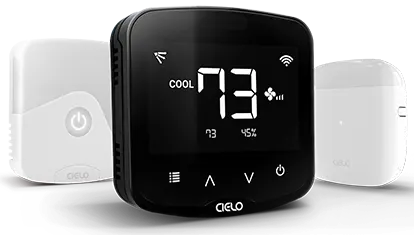 2. Lower Overall Home Temperature
By having a hot attic, you will have a hotter house. This, unfortunately, means more money spent on general cooling. 
Hot air stuck in the attic can transfer warmth to the lower floors of your home. This means that if your attic isn't properly ventilated and insulated, then hot air will easily transfer around your house. To stop this, you need to work on the weak areas of your house, which we have covered below.
3. Reduce Energy Usage
When the hot air from your attic is circulated around your house, your air conditioner will take longer to cool down the rooms on the lower floors. It'd keep running for longer periods, thus increasing your bills. Keeping your attic cool would relieve you of this trouble and help save on overall air conditioning costs.
4. Extends Average Roof Life
The heat and moisture build-up can damage the roof, especially if one of the components used in it is asphalt. Its composition contains hydrocarbons that are sensitive to heat and thus turn into a liquid at high temperatures. This process reduces the lifespan of your ceiling and can be prevented if the temperature is maintained.
How to Cool Your Attic? 
The attic is the hottest area of your house since it is directly exposed to the sun's rays. In summer, your attic temperature can go up to 150, which is 50 degrees higher than what it should be.
Whether you're not looking forward to inhabiting your attic, its temperature plays a vital role in your home's overall conditioning. So, in no way can you ignore this part of your home.
Let's find out different ways that you can use for attic cooling. 
1. Radiant Barrier/Reflective Roof
One of the main reasons for high temperature in attics is that it directly absorbs all the heat and spreads it in the home. The solution is radiant barriers, also known as reflective roofs, that are installed in the attics. They reflect the heat instead of absorbing it, hence, reducing the temperature in the summer season. 
The attic is heated by the radiant heat coming from the sun, which is then transferred to the other cooler parts of the attic. A radiant barrier restricts this conduction from the underside of the roof.
However, certain things need to be checked over time for their effectiveness. For example, if dust is accumulated on the reflective roof, then the heat won't be reflected from the surface.
2. Attic Ventilation
Attic ventilation plays a vital role in the upkeep of your home throughout the year. In summer, a properly ventilated attic restrains the heat and battles the moisture during winters. Attic ventilation consists of two parts that need a balanced installation:
Intake Vents are installed on the lower side of the eaves allowing cool air to enter your home. They are installed directly in the soffit spaced a few feet. 
Exhaust Vents are installed in the top roof allowing the hot air to escape your home. They are of three types: ridge vents, static vents, and power exhausted vents.
Ridge Vents are installed end to end on a roof.
Static Vents are non-powered square-shaped boxes installed on the roof.
Power Exhausted Vents use an electric or solar-powered fan to remove the indoor air and replace it with fresh air.
A properly ventilated attic will not allow hot air to enter with insulation and cool air to escape out. It's important to note that ventilation is not making your attic cooler than the outside air, but it's rather preventing it from being hotter.
3. Attic Insulation
Insulation acts as a barrier between the outside heat and the indoor heat during summer and winter. One thing that must be kept in mind while insulating your attic is that you don't block your ventilation system's openings. Otherwise, the ventilation process would be halted, leaving no entrance and exit point for airflow.
There are several insulation types and materials that you can choose from depending on your budget and need. These include blanket insulation, spray foam, radiant foil, batts, loose-fill, cotton, mineral wool, and cellulose.  
The insulation is measured by the R-value that is a number that indicates its ability to resist heat flow. The higher the R-value, the better will be its efficiency to insulate your attic. Energy Star recommends insulating your attic to R-38 or about 10-14 inches.
4. Attic Cooling Fan
Attic cooling fans have been widely used to control the temperature of attics for a long time. They come in different types. You can choose the one based on the purpose you need it for combined with the structure of your house.
Whole-House Fans
These can be installed on the top ceiling (i.e., attic) of your home. They pull the heat and moisture from the lower floors, which are collected in the attic. If your attic isn't adequately ventilated, the moisture and heat will stay there and move freely. The moisture can also lead to the growth of bacteria, and the heat can affect the overall temperature of your home. Therefore, if your attic doesn't have a proper ventilation system, then a whole house fan won't be a good option as the air collected in the attic would find no space to escape.
Attic Vent Fans
Attic vent fans act similar to an exhaust fan. They remove the air from the inside, pulling in fresh air from the outside. While this can be a cheap solution to your attic cooling problem, it can increase your energy bills indirectly. Any gaps between the attic and the rest of your home, be it between windows or doors, will also make it pull the conditioned air. The heated or cooled air will keep moving out of your home, making your HVAC system work harder or for a longer period.
5. Ductless Air Conditioner
If your house or your attic does not have central cooling, the best option to cool an attic, which is also frequently used as a living area, is through a ductless air conditioner. The installation is simple and easy. It can also condition your attic all year round with its reversible function. You can cool your attic in the heat of the scorching sun as well as make it well-heated when snowflakes take charge.
There are multiple types of air conditioners available. If your attic has higher ceilings and a straight wall, you can opt for a mini-split; else, floor-mounted air conditioners are an ideal option for the attic.
You can add a smart AC controller to make your air conditioner smart allowing your set schedules for your AC and other intelligent triggers. With features like Comfy Mode, you can set your preferred settings, and it'll maintain the temperature on its own.
Things to Consider While Buying Attic Cooling Equipment
A few considerations can help you purchase the best cooling equipment for your attic:
Capacity
The capacity of the equipment you're buying really matters. The size and structure of the attic should be influencing your decision. In addition to that, you should also consider the purpose of your attic. If it has to be used as a storage space, you won't need equipment for significant temperature changes, and a fan would do. But if you're using it for a bedroom, then you'd need an air conditioner that'll work best in extreme weather conditions. You can check out our article on air conditioner sizing to learn more about capacity.
Noise
The noise in your attic can be a big problem since it'd spread out all over your home. You wouldn't want a constant irritating noise giving you headaches all day just because the equipment is turned on to maintain the temperature. Old fans have a very loud noise that has been reduced in the new and smaller models. If you don't want any noise interrupting your day-to-day activities, then a modern air conditioner would be your best option.
Adjustable Thermostat
Switching the air conditioner on or off for your attic is an additional responsibility. Hence, while choosing the right equipment, make sure it can be paired with a thermostat. It'll allow you to set the desired temperature, and it'll turn on and off on its own based on the room temperature. For an air conditioner, you can use a smart AC controller like Breez Plus for automated climate control.
With the above-mentioned guide, we're sure you'd be all set to get things done and make your attic ready to beat the heat.