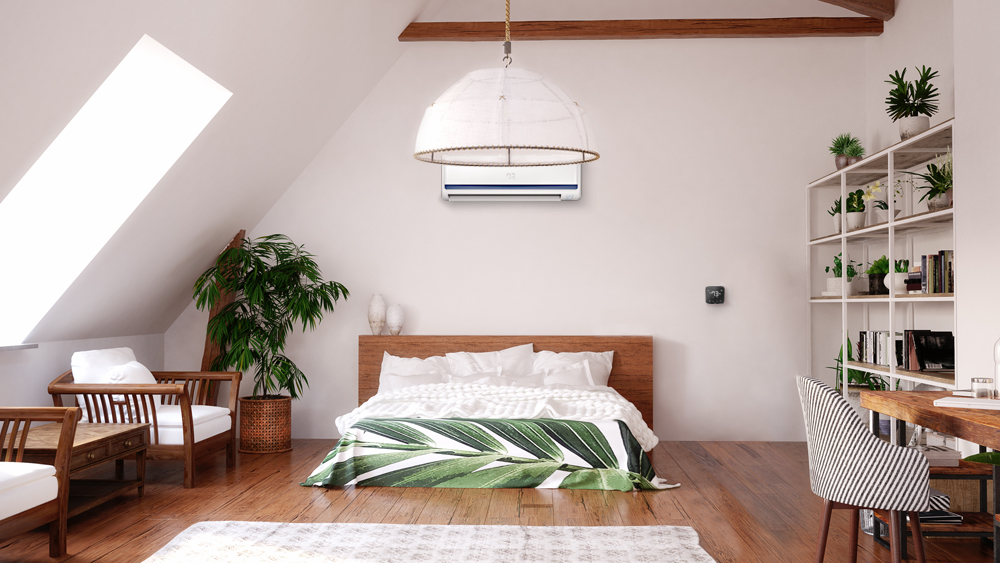 Summers have a way of turning the outdoors into a relaxing and refreshing getaway. Sadly, you cannot say the same for indoors, especially for the attics. Attics are one of the most neglected areas of a house, and on hot summer days, they tend to burn like infernos. As a result, it becomes quite a challenge to cool your attic space.
The blaring sun can raise your attic temperature quite a bit in summers. Your best bet to maintain the perfect attic temperature is by installing an air conditioner. Choosing the best AC for your attic might be challenging and requires a lot of research. From things to consider when buying attic AC to choosing the right type, this guide will cover everything for you.
Why Do You Need an Air Conditioner in the Attic?
Once just considered storage rooms, attics are now being transformed into valuable extra home space. Attic conversions started as a trendy remodeling project, but soon it became much more of a need. You can use the extra space as a home office, studio, guest room, home library, or anything that suits your needs.  
One major problem that might be in your way is attic cooling, which is no easy job. Therefore, it is necessary to install an air conditioner in your attic. 
An attic air conditioner helps you maintain a comfortable temperature in your attic.
In some closed-off attics, warm, moist air can gather in, and humidity levels go high. This can encourage mold growth. Since an air conditioner cools by removing water vapors from indoor air, it'll help regulate the humidity levels in your attic.
The hot air in the attic transfers the warmth to the lower levels, especially if your attic isn't properly ventilated and insulated. This affects the overall home temperature, putting a strain on your HVAC system and increasing your cooling costs.
An attic air conditioner elongates the life span of your roof by removing excess heat and moisture, as these two things can damage the structure of a roof.
Things to Consider When Buying an Attic AC Unit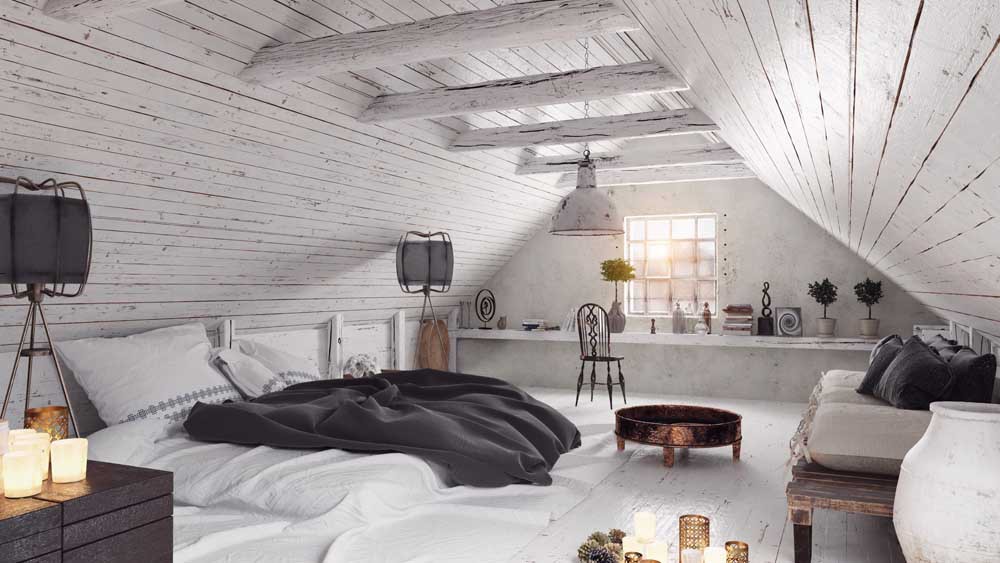 An attic is the part of your house that is most exposed to temperature fluctuations. Moreover, the weird shape because of slanted roofs leaves very little space on the walls. That is why not every air conditioner would be fit to install in this space.
Here's a list of factors you need to need to consider before getting an AC for your attic:
1. Attic Insulation
Before installing an AC in your attic, ensure there are no uninsulated spaces. If your attic is vented or uninsulated, there is no point in conditioning it because you'll end up losing all the cooled air. The air conditioner in your attic already has to work harder than a regular room AC to cool the hot air. In such a case, a lack of insulation will further decrease the efficiency of your AC unit.
Here's how to insulate your attic space.
2. Heat Pump for Year-Round Comfort
It will help if you look for an air conditioner for the attic that can provide you with cooling as well as heating to stay comfortable in every season. This would eliminate the need to install two different units to heat/cool your attic.
3. Ease of Installation
Depending upon your attic space, choose an air conditioner that fits well and is easy to install. For example, installing a window air conditioner for an attic with small roof windows would be extremely difficult. Similarly, portable units won't be suitable for small attics since they take up floor space.
Secondly, if you are on a budget, try to opt for a DIY-friendly AC to save installation costs.
4. Air Conditioner Sizing
It is of utmost importance that you buy an AC unit for the attic that is adequate in size. 20 British Thermal Units (BTUs) per square foot is sufficient for regular indoor space, but attics are different. These spaces trap heat from home and catch sunlight from above. That is how they end up extremely hot during summers.
So, for 400 sq feet, you'll get 8,000 BTUs going by the formula. But you should choose an air conditioner with at least 10,000 BTUs for the attic. This will not cause your attic air conditioner to work harder than its capacity and maintain its cooling efficiency.
Check out this detailed guide on air conditioner sizing.
5. Energy Efficiency
While choosing your air conditioner for the attic, always check the EER rating of the AC unit. You should be looking for an air conditioner with a rating no less than 9. However, air conditioners with a 12+ EER rating are the real energy-saving giants.
6. Durability
Always keep the durability factor in view while buying an attic AC unit. For example, a good mini-split can last you for 15 to 20 years. On the other hand, a portable AC might be more convenient and less expensive but won't last more than 7 to 10 years.
Types of AC Units Suitable for Attic
When it comes to installing an AC in the attic, there are various types of ACs you can choose from. If there is no ductwork in the attic, it is quite expensive to tear down walls to add ductwork in the attic and then connect it to your current HVAC system. Therefore, using a central air conditioner in the attic is not cost-effective. This narrows down your choice to buy a ductless attic air conditioner, which is much less hassle.
1. Mini-Split Air Conditioner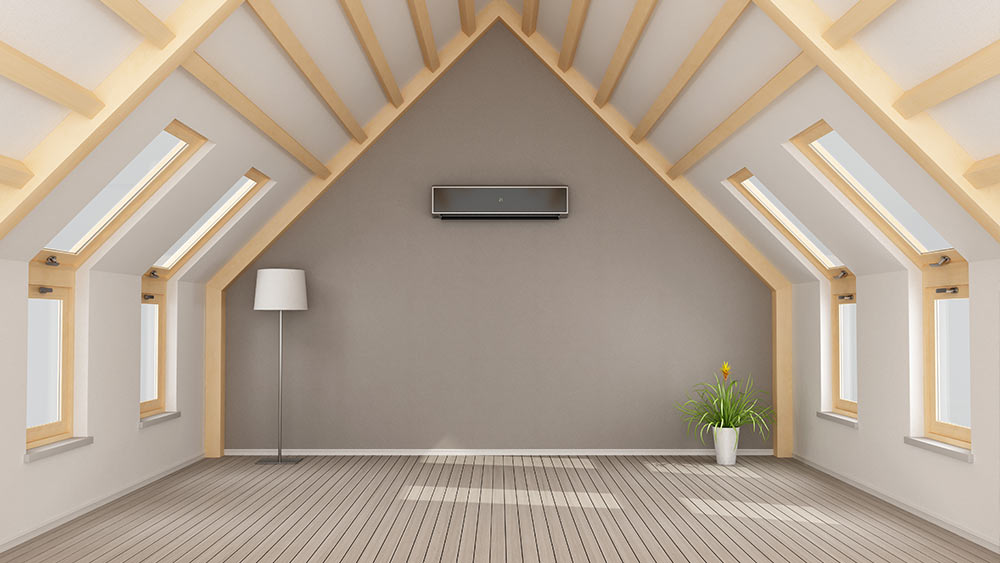 Mini-split AC units are your best choice as the attic air conditioner. These AC units are reliable and energy-efficient. Since their noisy part (compressor) is installed outside your space, they work quietly.
Although these attic AC units are a bit on the pricier side, their durability, quiet working, easy installation, and energy efficiency make them the best choice. They're installed high on the wall, so you won't encounter any space issues, but they won't be suitable if the walls are short.  
2. Window Air Conditioner
A window air conditioner is another choice, especially if you need a small air conditioner for the attic. They are the most inexpensive among all the other attic air conditioner options. Their energy efficiency is better than portable air conditioners but not as good as mini-splits.
However, you need to make sure you have a big enough window to install this type of AC. It gets close to impossible to install attic air conditioners on narrow or inclined windows. 
3. Portable Air Conditioner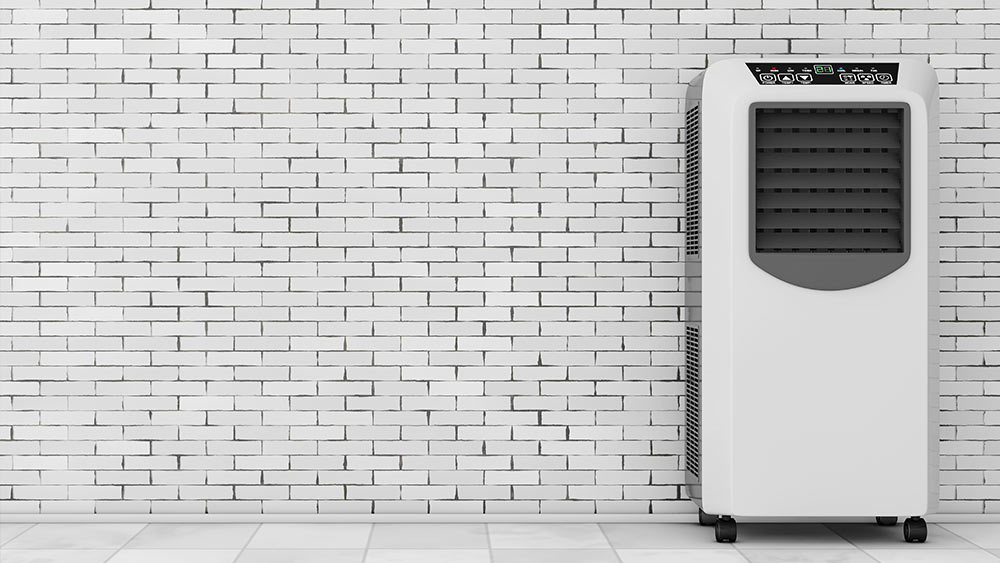 Portable air conditioners come with either one or two hoses that need to be vented out through a window or a wall. This is essential to effectively expel hot air and properly cool your attic. Attaching a hose can be tricky at times, depending on the size of your attic window and where it is located. However, if your window is easily accessible, then the entire process is made simple by a window kit that normally comes with portable AC units.
Portable units are popular because they can be moved around easily but also take up a good chunk of floor space. Another problem is that portable air conditioners for the attic are not as energy efficient as they should be. Secondly, they are much less durable than mini-splits and window units.
4. Through-the-Wall Air Conditioner
These air conditioners are called through-the-wall ACs because they are installed by drilling a large hole in the wall. In the case of attics, carving this hole can be quite challenging and should be done by professionals only. Moreover, they are big in size, so they do not look aesthetically pleasing.
Apart from the installation problem and aesthetics, there is not much you can complain about. These air conditioners are not as expensive as portable or mini-split AC. Another upside is that they are quite efficient, second only to mini-splits in that regard.
Attic Air Conditioner to Regulate HVAC System
Some people have their central air conditioning systems installed in attics. This is so because installing an HVAC system in the attic saves space. Secondly, installing air conditioning units in the attic is cheaper and more straightforward. You just have to install the unit and leave it there. You do not need to cover it and carry out all the finishing.
However, attics are the hottest part of a house and can get as hot as 100F to 150F, whereas the air inside ducts is cooled to a much lower temperature relatively. Since heat travels from an area of higher temperature to an area of lower temperature, this difference causes a lot of heat gain, especially when your ducts and attic aren't properly insulated. In this case, you can use a ductless air conditioner in your attic to regulate its temperature. You can run your attic AC at a higher temperature which will be sufficient to keep the hot air away. This will not only increase the efficiency of your central air conditioning system but also bring down your cooling costs.
Use a Smart AC Controller With Your Attic Air Conditioner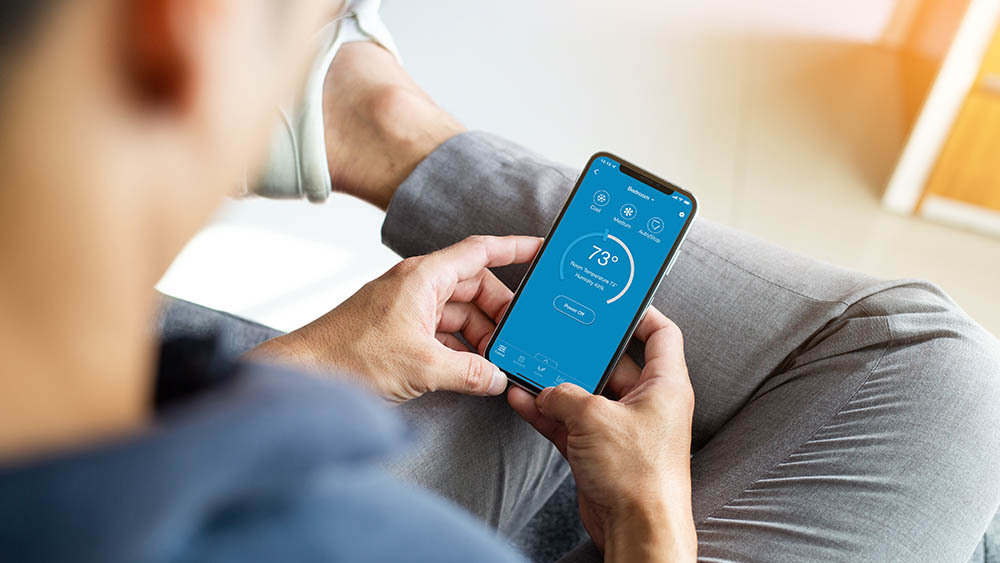 You can increase the efficiency of your mini-split, portable or window AC unit in the attic by pairing it with a smart AC controller. Smart AC controllers like Cielo Breez Plus allow you to control your air conditioner through an app on your phone. It helps you automate your attic climate and gives you vast control over different settings and modes from anywhere. The biggest perk is enjoying the perfect temperature and humidity levels while also saving money on bills.
Cielo Smart AC Controllers
Your best choice to make any mini-split, window,
or portable AC smart. Enhance your comfort and savings.
Shop Now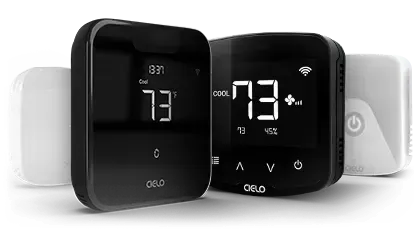 You can set intelligent triggers as per your preferred temperature/humidity levels, and your air conditioner will automatically maintain it. A smart AC will allow you to set weekly schedules to condition the room exactly how you want to. If you use your attic as an office, you can set a schedule to turn your AC on for your work hours and then turn it off for the rest of the day.
You may find that some areas in the attic are not effectively cooled. In this case, you can use Cielo Breez follow me mode to maintain a comfortable temperature around you.  
Lastly, attic air AC units sometimes get neglected, and lack of maintenance may decline the unit's performance. Cielo Breez provides regular AC air filter alerts so that you can clean your AC air filters on time.
Attic Air Conditioner Problems: How to Deal With Them?
If your attic AC unit is not cooling as it should, several reasons can be behind it.
Lack of Insulation
The first and biggest problem can be air leaks because of a lack of insulation. So, find the air leaks and insulate your attic properly to keep the conditioned air inside and avoid leakage.
There are different insulation types available like foam board insulation, spray foam insulation, or radiant and reflective insulation. Foam board and blanket insulation are better for unfinished ceilings and walls, whereas spray foam or loose-fill insulation will be better for hard-to-reach corners.
Incorrect AC Size
Another reason an attic air conditioner fails to cool the space well is the air conditioner size. An air conditioner needs more BTUs to cool an attic than a standard room of the same size. A unit too small for the space will need much more time and will struggle to maintain a comfortable environment.
Lack of Air Circulation
For a large or segmented attic, lack of air circulation might be the culprit. You can use a fan in addition to your attic AC to solve this problem. Fans do not cool or heat a space on their own, but they are great for enhancing air circulation in an area. Fans help keep the air moving in your attic and avoid hot and cold spots.
Clogged Drain Pipes
If your AC unit is leaking water in the attic, it could be because of a clogged drain line or dirty air filter. Cleaning your drain pipes and AC filter will solve the problem. If the issue remains unresolved, it is better to contact a professional.
Have a look at this guide to learn more about air conditioner problems and their solutions.
An attic air conditioner is something you cannot do without if you plan on using your attic as a livable space. Therefore, you can install a mini-split, portable, or window air conditioner to meet your cooling requirements. However, you must consider the BTUs, energy efficiency, durability, and comfort before deciding on one device. Don't forget to pair it with a smart AC controller like Cielo Breez for added convenience.