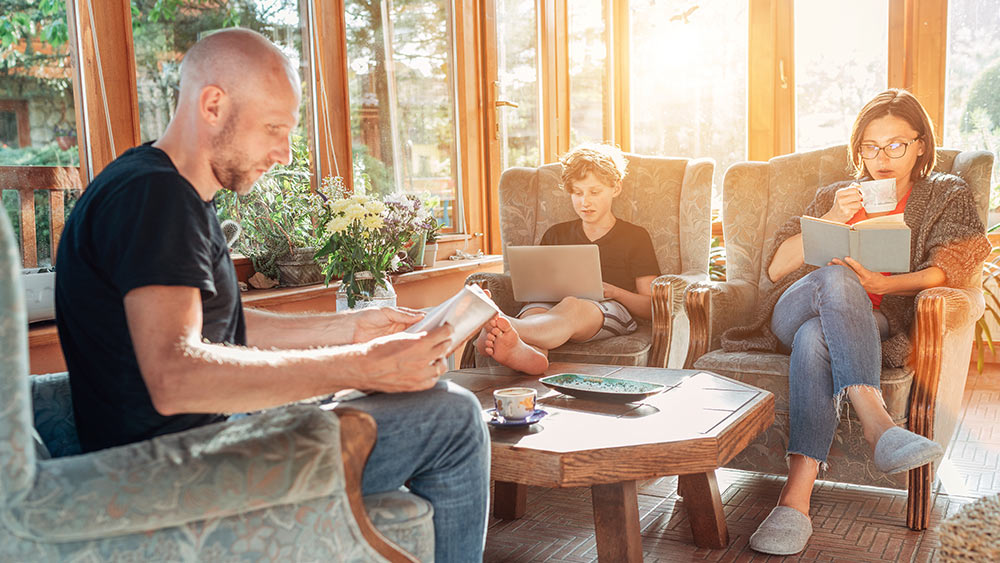 A sunroom is an ideal place to sit in winters soaking up sunshine throughout the daytime while enjoying a good outdoor view.
Whether it's raining heavily or it's a windy day, your leisure time in the sunroom is not interrupted. Unfortunately, the same can't be said for extreme hot and cold weather conditions. Things can turn uncomfortable if your sunroom is not adequately insulated, and cold drafts enter from leaks and gaps. Similarly, harsh sun during the summer months can force you to vacate the sunroom altogether.
Heating a sunroom in the cold winter may seem like a challenge, but that is where sunroom heaters come in. You can use different sunroom heating and cooling units to utilize the space all year round.
How to Heat a Sunroom in the Cold Winter?
From mini-split to space heaters, here are some of the top sunroom heating solutions to keep you warm when it's ice-cold outside.
1. Mini-Split Heat Pump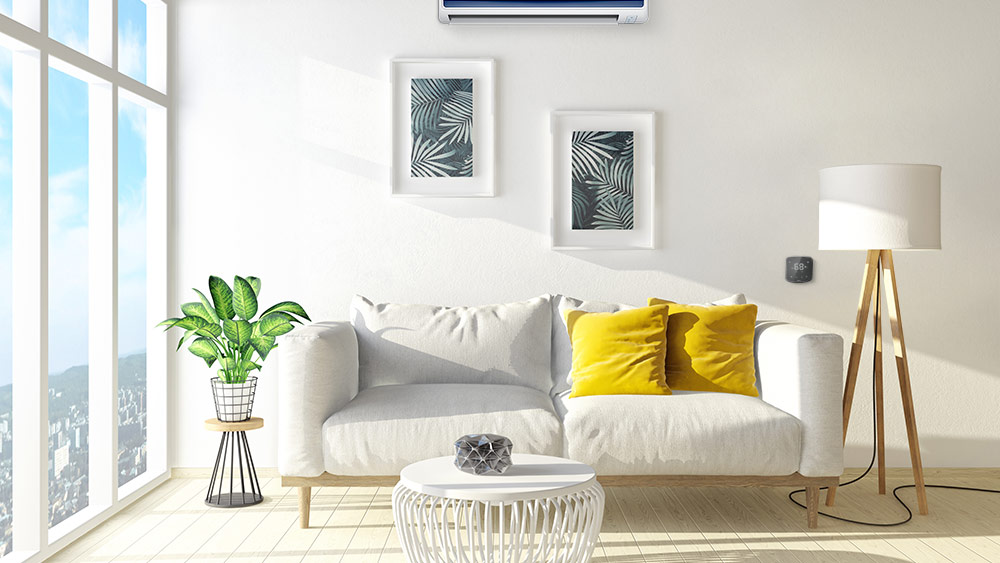 A mini-split heat pump can be used as your sunroom heating and cooling unit, helping to maintain a stable climate. No matter what the weather is like outside, you will be able to count on your sunroom being a cozy space.
Using a ductless heat pump is a perfect sunroom heating solution as it's highly efficient. In addition, mini-splits are much simpler to install than a traditional central HVAC.
You can go smart by pairing it with a smart AC controller such as Cielo Breez Plus. With smart climate controls, you can control all the settings from your phone, set daily/weekly schedules, save up to 25% energy, and so much more.
2. Portable Heat Pump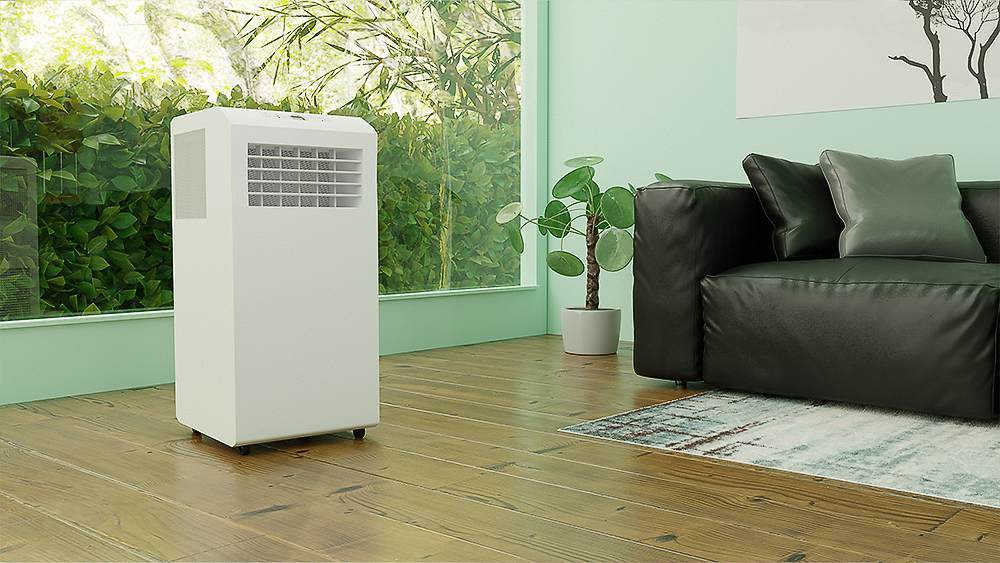 Portable heat pumps are compact, lightweight units that can heat and also cool your sunroom with the additional benefit of portability. The whole heating and cooling mechanism are fitted inside a vertical body with wheels for easy movement.
Like any other type of heat pump, it takes in heat from the outside environment and ejects it indoors. Portable units do not require installation; you just need to put their exhaust pipe out through a window or by boring a hole in the wall.
You can also connect it with smart AC controllers such as Cielo Breez for smart capabilities.
3. Space Heater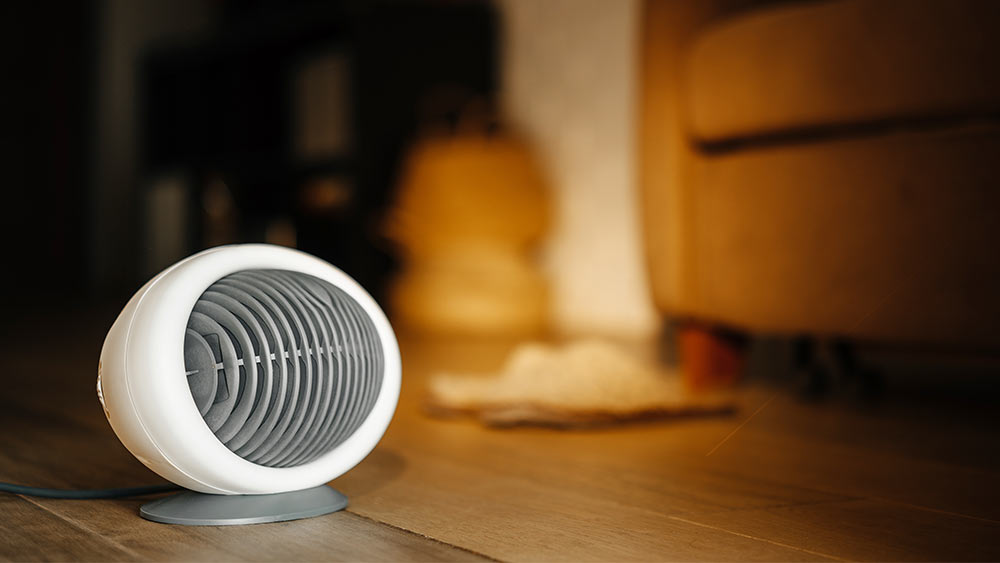 Space heaters, also known as portable or plug-in heaters, are a highly affordable option for your sunroom. They start heating your space within minutes of being plugged in. Space heaters are available in various designs and sizes, suitable for heating a specific section or your entire sunroom.
Space heaters use electricity, propane, kerosene, or natural gas to operate. Electric space heaters either work by convection, hot air circulation, or radiant heating that emits infrared radiation. Radiant heating is best if you are looking for instant warmth in a particular section, while convection heating is more suitable for the entire sunroom.
Safety is a big concern with space heaters, so opt for heaters with features such as a tip-over switch that shuts down in case of accidental tipping and overheating protection. Also, follow all the heating safety guidelines and keep it away from kids and pets.
4. Central HVAC System
Extending your central HVAC system to the sunroom is an effective heating option. It also provides air conditioning in the hot summer months making your sunroom usable all year round.
If you have a sunroom with a glass ceiling, the ducts can be routed under the floor or in the walls. You can also install them in the adjacent room if tearing up the floor and walls isn't an option.
As the sunroom gets a good amount of natural sunlight, its temperature may differ from the rest of your house. In this case, you can opt for HVAC zoning. In this way, your home will have different temperature zones, with the sunroom getting a dedicated zone. You can then easily change temperature and humidity levels without disturbing the rest of your house. A dual-zone thermostat would be particularly helpful in controlling each zone's temperature settings.
5. Baseboard Heater
Baseboard heaters have a sleek design and are installed against the wall, saving floor space. They are a great option for small sunrooms.
There are two types of baseboard heaters; convection and hydronic heaters. Convection heaters intake cool air and put out warm air. Hydronic heaters are filled with water or oil and use a heating element to warm up the liquid and then disperse warm air in the room. They are a more efficient option than convection baseboard heaters.
6. Thermal Heating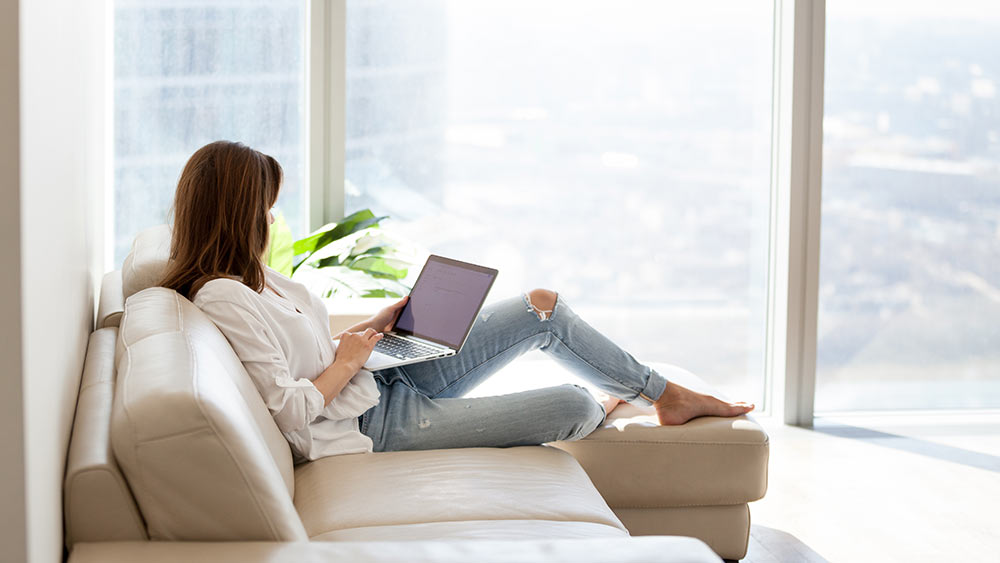 Sunrooms have multiple windows and get abundant sunlight all day long. You can use this natural heat to warm up your space. It's an eco-friendly sunroom heating solution, plus there are no energy bills!
The amount of light transmitted through a window depends on the type of glass. Solar heat gain coefficient (SHGC) measures the fraction of solar radiation emitted through a glass pane. It is rated on a scale from 0 to 1. To maximize the amount of light entering your room, opt for a glass with a high SHGC rating.
7. Radiant Floor Heating
If you are looking for uniform heating in your sunroom, radiant floor heating is an excellent option.
Radiant heating uses resistive wires or hot water tubes running under the floor to provide warmth. Unlike the forced air system, they do not blow air around, which helps reduce indoor air pollutants circulating around.
For a detailed comparison between radiant heat and forced air systems, check out this article.
While radiant heaters take time to heat your room, they are highly energy-efficient and provide even heating to every inch of the sunroom. As far as the installation process is concerned, they are difficult to install and require tearing up the floor. Also, if maintenance problems emerge, it isn't easy to access the hidden piping system.
5 Top Heaters for Your Sunroom
Here are five top heaters for your sunroom:
1. Mini-Split Heat Pump – MRCOOL DIY 18k BTU 20 SEER Ductless Heat Pump
This mini-split by Mr. Cool can be used to both heat and cool your sunroom, making it an ideal option for all-year use. In addition, it is a smart unit which means you can control all its features using your phone. You can also connect it with Alexa or Google Assistant for hands-off control.
It's highly energy-efficient, making it one of the best heaters for your sunroom. It claims easy installation with no special tools or training required. In addition, this heat pump has a unique feature called a leakage detection alarm that notifies you in case of a refrigerant leak.
| | |
| --- | --- |
| Pros | Cons |
| DIY installation | May clash with your decor |
| High efficiency | |
| Refrigerant leakage detection | |
| Smart capabilities | |
2. Infrared Space Heater – Heat Storm HS-1000-PHX-WIFI Infrared Heater
This infrared heater is easy to install, and you can set it up within 5 minutes. It comes with smart capabilities, making it possible to adjust the temperature, set schedules, and so much more using your phone.
Its wall mount design means you don't have to compromise on the floor space. As infrared warms up objects instead of air, it is an efficient option that wastes little energy. This infrared model also provides overheat protection.
| | |
| --- | --- |
| Pros | Cons |
| Simple installation process | Not suitable for larges areas |
| Saves up floor space | |
| Overheat protection | |
| Smart functions | |
3. Portable Heat Pump – Serene Life SLACHT108 Portable Air Conditioner & Heater Compact
This portable heat pump has a sleek, lightweight design that would look great in your sunroom. In addition to heating, it also has a cooling feature, so you don't have to switch to another unit in the summer months.
The installation process is simple, you just have to plug it in, and it will start heating your sunroom in minutes. It comes with a remote control that you can use to turn it on/off, change the temperature fan speed, and use the timer mode.
For complete automation, you can also connect it with a smart AC controller.
While portable heat pumps have a noisy operation, this one has a low noise motor installed that won't affect your comfort at all.
| | |
| --- | --- |
| Pros | Cons |
| Portability | Takes up floor space |
| Lightweight design | |
| Provides both heating and cooling | |
4. Gas Heater – Mr. Heater 30,000 BTU Vent Free Blue Flame Natural Gas Heater
It is a powerful 30,000 BTU unit that can efficiently warm up your sunroom. The gas heater uses convection to circulate warm air in your sunroom. It's an environmentally-friendly option for your sunroom as it uses blue flame gas and does not produce any harmful emissions.
This blue flame gas heater offers flexible installation – you can mount it on a wall or just place it on the floor. In addition, it's equipped with a thermostat to give you complete temperature control.
If the oxygen levels fall below the safe limit, its oxygen depletion sensor will automatically shut off the unit. It also prevents overheating with the safety shut-off.
| | |
| --- | --- |
| Pros | Cons |
| Eco-friendly | Not an attractive option |
| Suitable for large spaces | No cooling option |
| Oxygen depletion sensor | |
5. Space Heater – Rinnai FC824P Space Heater with Fan Convector, Propane Gas
Rinnai space heater is a flexible, easy-to-install option for your sunroom. This vent-free heater uses propane as the power source.
This space heater comes with digital adaptive control and a programmable thermostat display for easy temperature control.
It has numerous safety features, such as an overheat switch and tilt switch designed to automatically disable power if the device overheats or is tripped over. Moreover, it also has an oxygen depletion sensor and cool to touch exterior, making it safe to use around kids and pets.
| | |
| --- | --- |
| Pros | Cons |
| Flexible installation | High price |
| Digital control | No cooling option |
| Safety features | |
3 Factors to Consider When Choosing a Sunroom Heater
Here are some of the factors that can help you make the best decision when it comes to choosing sunroom heaters:
1. Type of Unit
From ductless heat pumps to baseboard heaters, you have a wide range of options to choose from. If you have a large space, you should choose a powerful unit with a high BTU to ensure optimal heating. This air conditioning sizing guide can come in handy and help you determine the right fit.
Also, you should evaluate how much time you can take out for routine maintenance. Go for electric space heaters or portable heat pumps if you dread maintenance and don't have the time for that. If you are extending your HVAC ducts, keep in mind that you would have to regularly inspect your ductwork and keep them clean.
2. Smart Controls
If you want climate automation for your sunroom, you should go for units with smart features or those that can be paired with smart climate control gadgets such as a smart thermostat or smart AC controllers. With smart devices, you won't have to micromanage the temperature settings in your sunroom. Instead, you can pair your smartphone with your unit and make changes even when away.
Plus, with energy-saving features, there is little to no energy wastage which helps to save on energy bills.
3. Safety Features
Some heating systems, such as space heaters, can be a safety hazard if not used properly. Therefore, you should always look for safety features to avoid any damage.
The automatic shut-off feature, for instance, is a helpful feature to prevent overheating. Also, look for cool-touch exteriors that avoid burning. Another essential feature is tip-over mechanisms that shut down the unit if it is accidentally knocked over.
Tips to Improve Warmth in Your Sunroom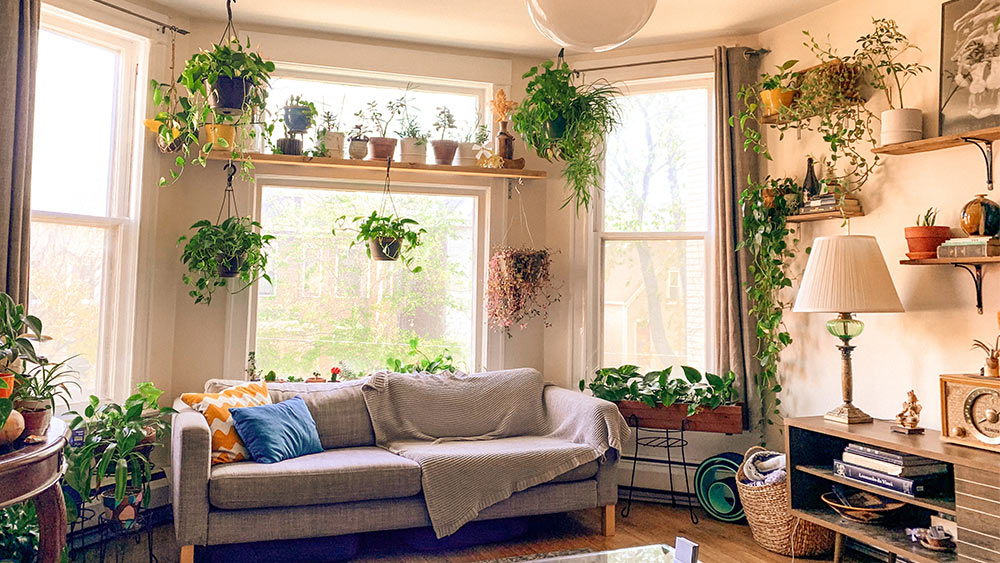 Apart from incorporating sunroom heaters, there are other things that you can do to retain warmth in your sunroom, such as using a floor rug or a ceiling fan.
1. Add Insulation
Most sunrooms are built without any insulation, which means that even if you use a heating system, it would be quite hard to retain heat. To make your heater work effectively, insulating your sunroom is necessary.
The fiberglass or foam insulation type is great for the walls. Fill any cracks and gaps with caulking. You can try underfloor insulation for the floor to prevent heat loss and improve the heat-up time.
2. Cover Your Windows
Prevent your warm air from leaking out around the window frames by installing weather-stripping between the window sash and window frame.
To further improve the energy efficiency, insulate the windows with a film. The film will allow the sunlight in but will prevent heat loss through windows.
3. Keep the Floor Warm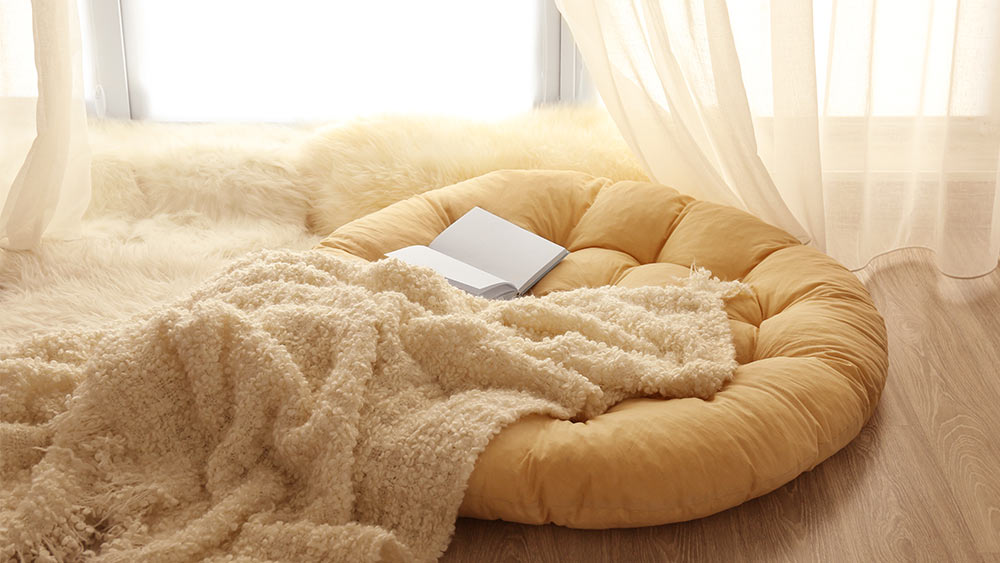 In addition to floor insulation, you can also use rugs to conserve floor heat. It is a cost-effective option to minimize heat loss. Floor rugs and cushions provide a warm and comfortable place to sit or walk on.
Choose a thicker rug with a high stitch count to get the highest protection against heat loss. A loose-stitch rug won't be of much use in the winter months.
4. Add a Ceiling Fan
You can use heaters to warm up your sunroom, but how to distribute that heat evenly? Use a ceiling fan!
Yes, you can absolutely use a ceiling fan in winter; you just need to rotate in a clockwise direction. Most fans come with a switch that you can use to change airflow direction. Since hot air rises, incorporating a ceiling fan can be a perfect option to disperse the accumulated warmth downward and heat the room more evenly.
Moreover, you can also use the ceiling fan in the summer season to increase air circulation and create a breezy effect.
In Conclusion
Installing sunroom heaters is surely the best way to retain warmth and comfort in your space. You can install a space heater or baseboard heater if you have a small room or opt for a mini-split or radiant heating for a more efficient solution. You can also extend your existing central heating vents if you don't want to invest in a separate unit. To fully automate your sunroom climate, smart gadgets such as smart thermostats or smart AC controllers can be a perfect addition.