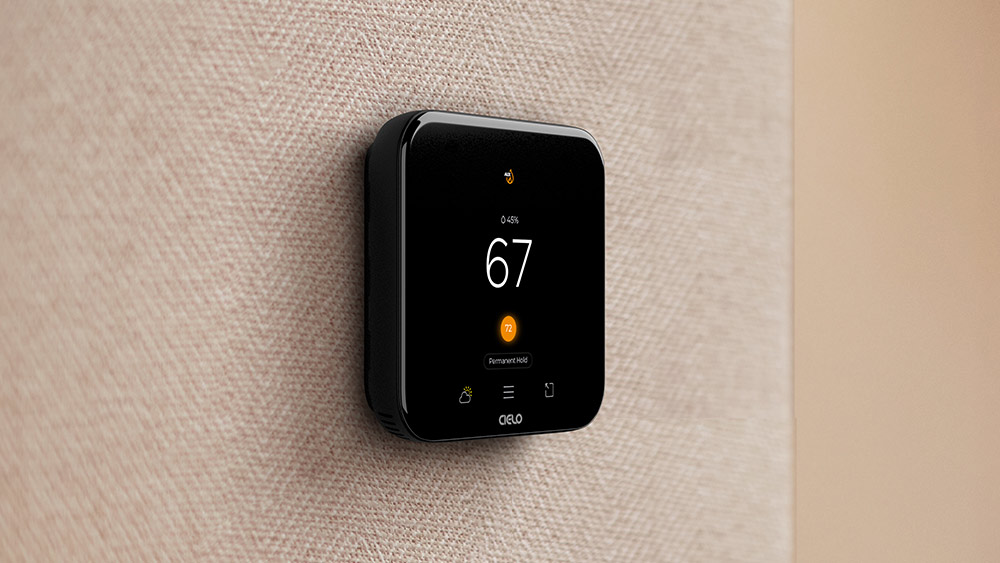 In the midst of winter's cold embrace, homes and businesses rely heavily on heating systems to provide warmth and comfort. While central heating is a familiar concept that brings cozy feelings, a secret hero silently performs its duties to keep you toasty even in the most frigid temperatures. This unsung hero is known as "auxiliary heat."
Heat pumps are amazing – they cool and heat your homes with top efficiency. They're perfect for milder climates, but when it gets really cold, they need some help. That's where auxiliary heat gallantly steps in. It bridges the gap and ensures your home stays balmy even in the harshest winter weather.
If you're wondering what is auxiliary heat or what "Aux heat" means on your thermostat, read on as we demystify its role in maintaining a comfortable home climate. We will shed light on what auxiliary heat means, why is it needed, when can it be a problem, types of aux heat sources, how it differs from emergency heat, and how can it be best utilized.
Note: For information on how to install thermostat wiring for Aux heat, read here.
What is Auxiliary Heat?
Also known as second-stage heating, auxiliary heat is a supplemental or backup heat system that automatically turns on when your heat pump struggles to achieve your temperature set range in extremely cold temperatures. This commonly happens when outside temperatures are between 35 and 40 degrees or colder. Think of aux heat as a supportive sidekick that assists your main heat source when it needs an extra power boost to keep your home warm and comfortable.
With most heat pumps and thermostats, the "AUX" heat setting will automatically turn on when your system can't produce enough heat. Some thermostats come preprogrammed, but you can also customize your own thresholds for when to activate the auxiliary heat. So, how auxiliary heat is triggered can also be influenced by your thermostat settings.
The best part is that the auxiliary heat will automatically turn off once your home reaches the desired temperature. So you don't have to worry about wasting energy.
What Causes Auxiliary Heat to Switch On?
The "AUX" setting on your thermostat is designed to switch on under specific conditions. This is mainly when your primary heat pump cannot meet the heating demand effectively. Here are some scenarios that can cause the auxiliary heat setting to kick in:
1. When You Turn up the Thermostat by 3 Degrees or More
When you crank up the thermostat by 3 degrees or more, auxiliary heat kicks in to help speed up the heating process by assisting your heat pump. The heat pump alone cannot keep up with the demand for rapid heating.
2. The Outside Temperature Is Too Low
One of the main reasons your thermostat will switch to auxiliary heat is when the outdoor temperature starts to plummet. As it goes below a certain range, normally around 40 to 35 degrees or lower, slightly varying from system to system, auxiliary heat is necessary to supplement your home heating process.
3. Your HVAC System Is in Defrost Mode
When the weather gets cold, your heat pump's outdoor unit can get covered in ice or snow. Heat pumps are equipped with a defrost control board that keeps an eye on ice formation, and controls defrost cycles.
When it detects your heat pump has been too cold for a while, it switches to cool mode temporarily. This redirects hot refrigerant from the compressor to the outdoor coil, melting all that pesky ice buildup. This stage is crucial to keep your heat pump running efficiently and performing well in the winter.
4. During Malfunction or Maintenance
The auxiliary heating unit can also serve as an emergency heating system when needed. If your heat pump has a problem or is down for repairs, your aux heating will ensure your house remains warm and cozy.
Is Auxiliary Heat Expensive to Run?
Wondering whether auxiliary heat is going to cost more? The short answer is yes: auxiliary heat is more expensive to run than a heat pump's conventional heat. However, it is necessary at times and an essential part of heat pump systems. Especially if you live in a very cold climate and your heat pump simply cannot keep up in the extreme cold.
The cost incurred by auxiliary heat greatly depends on the type of aux heat system you have and how it is used. The cost can be up to 50% more.
The main purpose of aux heat is to supplement your heat pump and not act as a heating system on its own unless there is an emergency. When aux heating runs alongside your heat pump, it is more cost effective than when your home solely relies on aux heating.
Auxiliary heating is temporary though. It is only switched on for a limited time to give your heating a required boost. Once your set temperature is reached, it automatically switches off. However, in general, your energy efficiency will decrease whenever your home is in need of auxiliary heat.
To maximize your savings, it's important to minimize the use of aux heat whenever possible. Here are some tips to save money on auxiliary heat:
Set a lower indoor temperature to limit auxiliary heat from switching on, thus saving you energy costs. 68 degrees is an ideal indoor temperature for winter.
Avoid drastic temperature changes on your thermostat which are likely to kick on aux to heat your home to the desired temperature.
Use a smart thermostat to set back the temperature when you are asleep or away from home.
Insulate your home properly and weatherstrip your doors and windows.
Close your curtains or blinds at night to keep the heat in.
Use a space heater in the rooms you are using most often.
Check your system maintenance such as furnace filters regularly and change them as needed. A well maintained system is likely to be more energy efficient.
Cielo Smart Thermostat
Equip your HVAC system with smart features and achieve the perfect balance between comfort & savings.
Shop Now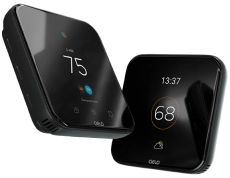 Is It Bad if Auxiliary Heat Comes On?
Auxiliary heat is a key component of heat pump systems that helps enhance efficiency and comfort in your home. So it's not bad at all when auxiliary heat kicks in, and often shouldn't be a cause for stress.
You do want to make sure though that your aux heating is not being switched on unnecessarily, as it can greatly increase your energy costs. This heat setting should only come into play when your heat pump cannot generate sufficient warmth for your home or when it enters defrost mode.
If you notice that your thermostat has switched to auxiliary heat despite the climate not being freezing, it could indicate a potential issue. Auxiliary heat can be a problem if:
1. Aux Heat Turns on When Outdoor Temperature Is Above 40 Degrees
It's normal for aux heat to kick on when you adjust your thermostat by more than 3 degrees or on those cold mornings or during the occasional snowstorm. However, if you notice that the temperature is mild and not freezing, yet the aux heat keeps switching on, it may be best to consult an HVAC professional.
2. Auxiliary Heat Is Running Too Long or Doesn't Turn Off
The auxiliary heat should only run for the necessary duration to reach your desired home temperature. If you find it running excessively, for more than 30 minutes, or every time your system starts, it may suggest an issue with your heat pump. When auxiliary heat is running too long, reach out to a professional for a thorough inspection.
Auxiliary Heat vs. Emergency Heat
At first, the difference between auxiliary heat and emergency heat can be confusing. They both are thermostat settings that utilize the same secondary heating system. Often, they are also used interchangeably as some heat pump systems only consist of an auxiliary mode, while some offer a separate emergency heat mode.
● "AUX" or Auxiliary Heat
Auxiliary heat refers to when your second-stage heating or, in other words, supplemental heat source switches on to aid your heat pump when it cannot produce enough heat to warm your home. This can be when your heat pump goes into defrost mode, or when the outside temperature drops to freezing, or when you increase your thermostat setting by more than 3 degrees.
The AUX setting switches on automatically when it's required and switches off as soon as your home reaches the desired temperature.
● "EM" or Emergency Heat
When your heat pump isn't working or you want to intentionally switch on your backup heating system, that's called emergency heat. It's like skipping the first stage and going straight to the second stage of heating. You would manually select the EM setting on your thermostat to warm your home while you wait for a technician to come and fix your heat pump.
When emergency heat is switched on, your heat pump shuts down completely. This makes it more expensive to run and should only be used during emergencies.
Do All Heat Pumps Offer Aux Heat?
If you live in an area with a moderate winter, you may not need auxiliary heat. Auxiliary heat is an integral component of modern heat pumps that come with electric heat strips installed within the indoor air handler. The availability of a backup heat source in a heat pump greatly depends on the type, manufacturer, and model of the heat pump.
In case your heat pump doesn't offer auxiliary heating, you can get it checked whether it allows for an add-on. If not, you can opt for a furnace, though the initial costs may be high.
Types of Auxiliary Heat Systems
Your auxiliary heat system is separate from your main heat pump as it is an additional heating source. Most often, this system is electric, however gas and oil systems or also used.
● Electric Resistance Heat Strips
These are relatively inexpensive to purchase and install but expensive to operate. While electric resistance heat strips are less energy efficient, they are incredibly effective at providing instant warmth in freezing temperatures. This makes them the most common type of auxiliary heat. They are installed within the air handler and consist of coils that instantly heat up super fast to provide the warmth your home needs.
● Gas Furnace or Dual-Fuel Systems
Electric aux systems are super effective, but they can be costly to run. If your home has natural gas or propane access, then a gas-fired furnace is an ideal choice as your secondary heat source. The gas furnace takes over the heating as soon as the outdoor temperature drops below a certain point. A gas furnace is cost-effective, but it is expensive to install.
● Oil Furnace
An oil furnace can be used as an auxiliary heat source where natural gas is unavailable. Oil is burnt to produce hot air. Initial purchase and installation is also expensive.
● Hydronic Coils
Hot water coils use hot water as a source of supplementary heat. Here's how it works: the coils are installed in the air handler or ductwork, and as hot water circulates through them, heat is transferred to the air, creating a cozy environment. You'll need a boiler, solar water heating system, or a geothermal heat pump to heat those coils up.
● Pellet or Wood Burning Stove
These may not be extremely efficient, but are a part of many traditionally built houses. Wood logs or pellets are burnt to generate heat in specific rooms or areas.
● Ductless Mini-Splits
These modern air conditioners or ductless heat pumps are not typically auxiliary in nature. For example, they are not connected to your ductwork nor the thermostat. The 'AUX' setting on your thermostat will not influence their functioning. However, they can be manually switched on to supplement your heating and even cooling in an efficient manner.
Cielo Smart AC Controllers
Your best choice to make any mini-split, window,
or portable AC smart. Enhance your comfort and savings.
Shop Now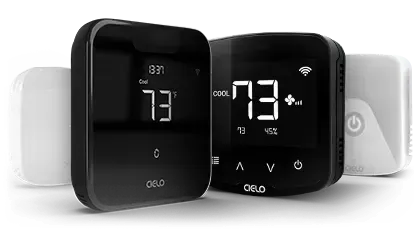 Cielo smart thermostat offers a service called Cielo Linked where you can automate and set rules for your ductless mini-splits to switch on (using Cielo Breez smart AC controllers) when, for instance, the outdoor temperature drops below a certain level or indoor temperature drops to a certain level.
With everything you need to know around what is auxiliary heat, it's quite clear that it is a very valuable element in peak winter.  Auxiliary heat gets activated when the outdoor temperature drops below 40 degrees. This helps keep up with the demand for warmth in your home and keeps it comfortable all winter.