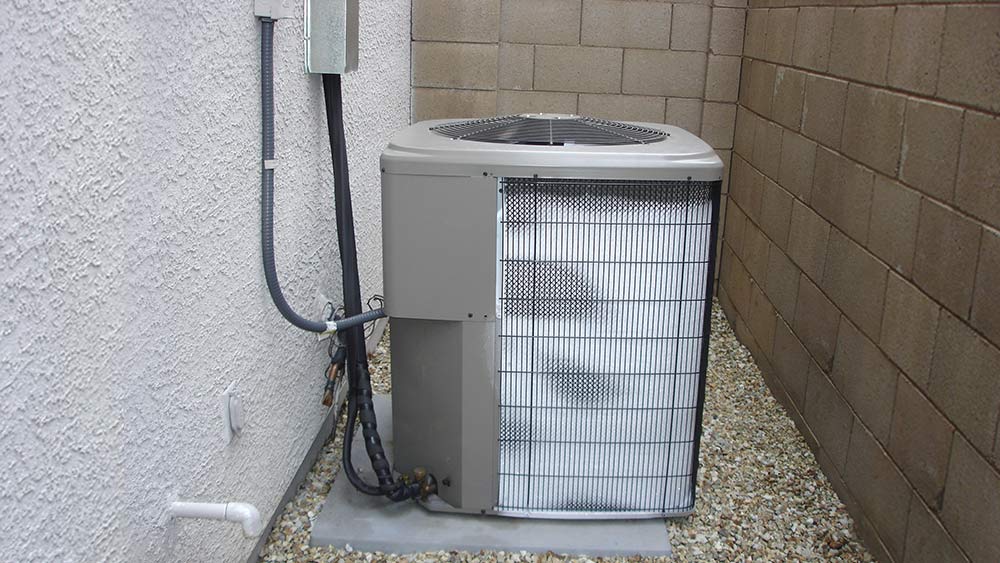 Heat pumps have in-built features that are designed to protect them in freezing weather and maintain their efficiency. When it starts snowing in your area, you might notice that your heating system stops blowing warm air for some time, and its indicator light starts blinking. This might concern you thinking your heating equipment has given up, but there's nothing to worry about; it's completely normal.    
When the temperature drops below 32 F, the outdoor coils start to freeze, and your heat pump has to go through a defrost cycle. The process helps unfreeze the coils to ensure your heat pump keeps functioning properly.
What exactly is this defrost mode, and how does a heat pump defrost cycle work? Let's find out!
What Is Defrost Mode on a Heat Pump?
Heat pump extracts heat from the outside air and expels the warm air indoors. This heat transfer usually occurs in freezing temperatures outside; hence the moisture in the air freezes on the outdoor unit, resulting in frost on the coil.
When the outdoor coil freezes, it puts strain on the system's operation damaging its internal components. Consequently, your heat pump runs a defrost cycle (sometimes several times) to defrost itself, keeping ice buildup at a minimum using the defrost mode.
How Does a Heat Pump Defrost Cycle Work?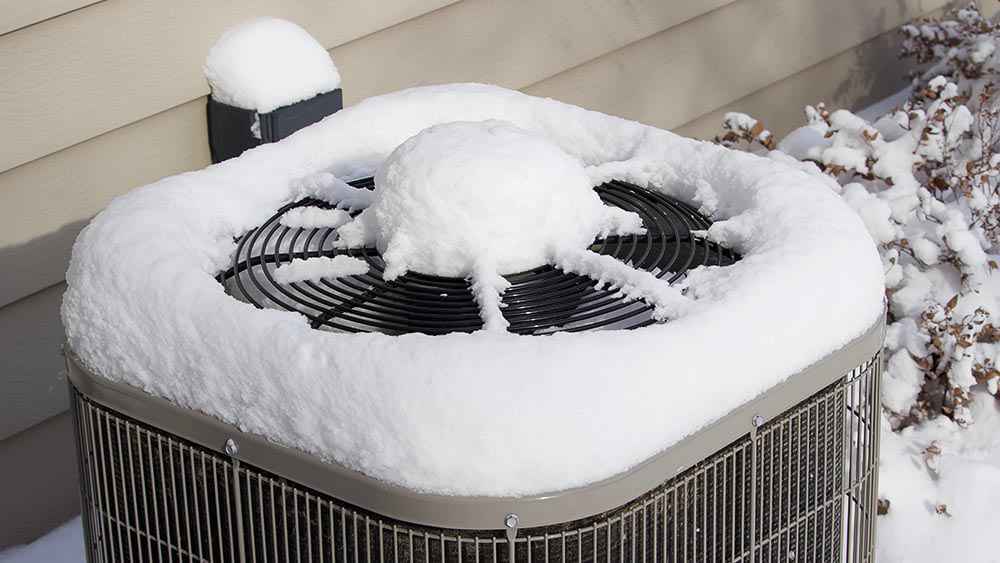 Your heat pump enters the defrost mode by default when there is ice on the outdoor coil. A special thermostat or sensor called a frost thermostat located at the bottom of the outdoor coil detects its temperature. 
When the temperature falls to around 32 F, the frost thermostat closes the coil circuit, which causes an internal timer to start. Many heat pumps have a generic timer that activates the defrost relays at certain intervals. A typical heat pump defrost cycle activates every 30, 60, and 90 minutes.
The defrost relays turn on the compressor and switch the heat pump's reversing valve, making it run in cool mode. The unit has now entered the defrost cycle. You can tell that your heat pump is in defrost cycle once it stops blowing hot air. Some models have a visual indicator, like a blinking light. 
In defrost cycle, the heat pump dissipates the heat outdoors, warming up the outdoor coil, thus melting the ice. The outdoor fan usually stops while the indoor unit keeps running when a defrost cycle is initiated. The condenser fan remains off until the ice on the heat pump has thawed.
The unit operates in defrost mode until the thermostat senses that the outdoor coil temperature has reached 57 F. The frost thermostat then opens the circuit, stops the timer, and returns the heat pump to the heat mode.
How Long Should a Heat Pump Run In Defrost Mode?
A typical heat pump defrost cycle runs for about 30 seconds to a few minutes. The cycle is repeated at regular intervals until the frost has been completely melted. The time it takes to remove the ice on the outdoor heat pump unit will vary, depending on the amount of frost and the interval timings.
Why Your Heat Pump Defrost Cycle Might Stop Working
The defrost mode on your heat pump might stop working completely, or it can get stuck in this mode. Moreover, certain issues can also force your heat pump to go into defrost mode frequently. There could be different reasons why that happens; some are easy fixes while others require professional attention.
1. Faulty Sensors, Reverse Valves, or Thermostat
If the internal thermostat or sensors that detect the coil temperature develop problems, your heat pump's defrost mode won't turn on as it is not getting any signals. In this scenario, you can manually switch your programmable or smart thermostat from heat to cool mode. This will cause the unit to gather heat from inside and send it to the frozen coil outside.
However, this is not a permanent solution; you will need to check the thermostat and sensors thoroughly. If the thermostat is not sensing the temperature accurately, your heat pump can get stuck in defrost mode or start going into defrost mode recurrently. 
There could also be a problem with the reverse valve that switches the unit from heat to cool in defrost mode. You should get it checked by a trained HVAC technician and see if the valve needs to be replaced.
2. Refrigerant Leaks
AC Refrigerant is pumped through the coils to heat them. When the refrigerant leaks due to broken coils, there may not be enough heat for the heat pump to work properly in defrost mode.
Recharging your refrigerant and fixing the leak will help the defrost cycle to function as usual.
3. Electrical Issues
Over time, with wear and tear, electrical connections can go bad, preventing your HVAC system from signaling the defrost mode to turn on. Hire a technician to inspect and replace any faulty wires.
4. Improper Installation
Proper HVAC installation by a qualified technician is crucial. If your HVAC unit is not installed according to guidelines, it can cause problems in the heat pump defrost cycle.
If your heat pump isn't positioned correctly, it can result in impeded airflow and eventually frozen coils. Improper installation can also cause twists in the refrigerant lines, resulting in a leak.
5. Damaged or Broken Coils
The moisture from the air and debris can accumulate on AC coils, leading to corrosion in the long run. The problem exacerbates when you neglect coil cleaning. In addition, damaged coils result in a refrigerant leak which can cause frequent defrost cycles or your unit getting stuck in defrost mode.
6. Outdoor Unit Getting Clogged
Leaves, snow, dust, and debris can clog your outdoor unit. Since the airflow is restricted in a clogged unit, warm air will not reach the coils, and the defrost mode will not work at all.
You might want to check this detailed guide on heat pump troubleshooting.  
What Causes Your Heat Pump to Freeze Unnecessarily?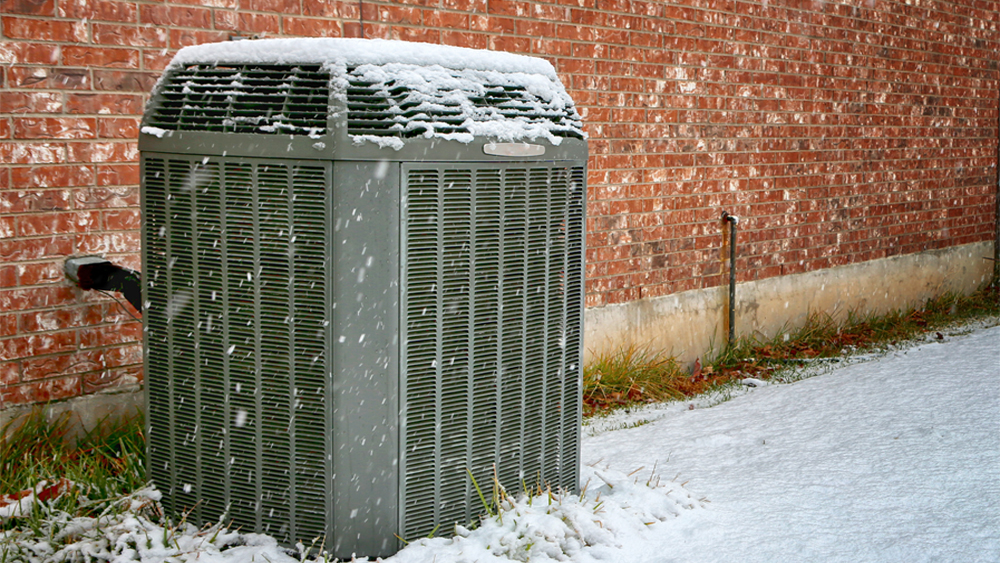 Apart from low outside temperature, your heat pump can also freeze due to numerous other reasons. When that happens, your heat pump goes into defrost mode a lot which is not a healthy sign. So, whatever is causing your outdoor coils to freeze unnecessarily warrants a thorough checkup to avoid any severe damage.
1. Restricted Airflow
In case of a restricted air supply, the air does not pass over your heat pump's outer evaporator sufficiently. This results in ice on your heat pump in winter.
Restrictive airflow can be caused by debris buildup inside the outdoor unit or dirty air filters clogging up the unit. Moreover, if you have planted shrubs to hide your outdoor unit but haven't maintained the necessary distance, it can suffocate the system.
You might be blocking your heat pump vents unknowingly by putting furniture pieces in front of them. This compromises the airflow, leaving you cold and uncomfortable. Remove any furniture or any other obstruction to avoid HVAC airflow issues. 
Cielo Smart AC Controllers
Your best choice to make any mini-split, window,
or portable AC smart. Enhance your comfort and savings.
Shop Now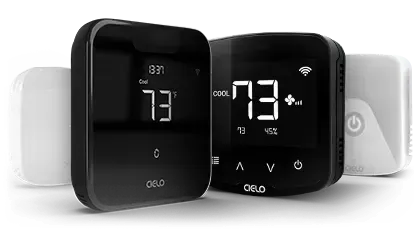 2. Technical Problems
As heat pumps work day and night to keep you comfortable, they are exposed to harsh elements that may cause certain issues.
For example, refrigerant leak, malfunctioning defrost cycle, faulty thermostat sensors, damaged fan motor, and other AC problems can lead to ice on the heat pump. Also, if your heat pump gets stuck in defrost mode, the frost on the coils won't melt, and they will remain covered in ice.
3. Excess Moisture
Excess moisture from snow or rain gets trapped inside your heat pump, which can increase the chances of freezing. Moreover, water falling on your unit due to a damaged roof gutter is also a culprit.
When your roof gutters become clogged with leaves and debris, water can directly fall onto your heat pump, causing it to freeze up.
Fix broken gutters that are over your heat pump and if you have no gutters, try installing them so that water does not run onto your HVAC unit.
4. Outdoor Unit Slab Settling in the Ground
The heat pump's outdoor unit is usually installed on a slab for leveling. Over time, the slab can settle in the ground. Even an inch of settling can restrict airflow and block the normal drainage path. This can lead to moisture accumulation and, subsequently, ice buildup on your heating unit. 
Heat pump leveling is highly important to prevent moisture accumulation and to avoid damage to internal parts. The heat pump slab should be a few inches above the ground. You can also place patio blocks under the unit to level it.
5. Lack of Maintenance
Heat pumps need routine maintenance to stay in top-notch condition. If you ignore the regular tune-ups, such as changing air filters and removing debris from the outdoor unit, it can result in many issues, including your unit freezing up unnecessarily.
Routine heat pump maintenance can go a long way towards eliminating problems that can contribute to heat pump freezing. Choose the type of filter best suited for your home and regularly clean them. Also, regularly clean AC coils, and trim back the vegetation around the outdoor unit. In addition, keep an eye on snow, branches, and debris from building up around your outdoor unit.
Also, go for a professional inspection at least once a year to find out if everything's working properly and to extend your unit's life.
6. Outdoor Fan Issue
The outdoor fan blows air over the coil, which is essential in the heat transfer process. If the fan becomes defective, there is no airflow which can cause your outdoor unit to freeze. The issue could also be related to a capacitor that stores electrical charge to give the fan a boost for starting. 
Contact an HVAC professional and ask them to fully inspect the outdoor fan and the capacitor. 
The Takeaway
If your heat pump switches to defrost mode in cooler months, there's nothing to worry about. The heat pump defrost cycle is designed to maintain your unit's efficiency. In the defrost cycle, the unit dissipates heat on the outdoors coils, thus helping to melt the ice and protecting the unit. 
To prevent your HVAC system from freezing unnecessarily, keep your system well maintained. Trimming the plants around the outdoor units, cleaning the coils, and changing the filters are easy measures that you can take to keep your system running smoothly.