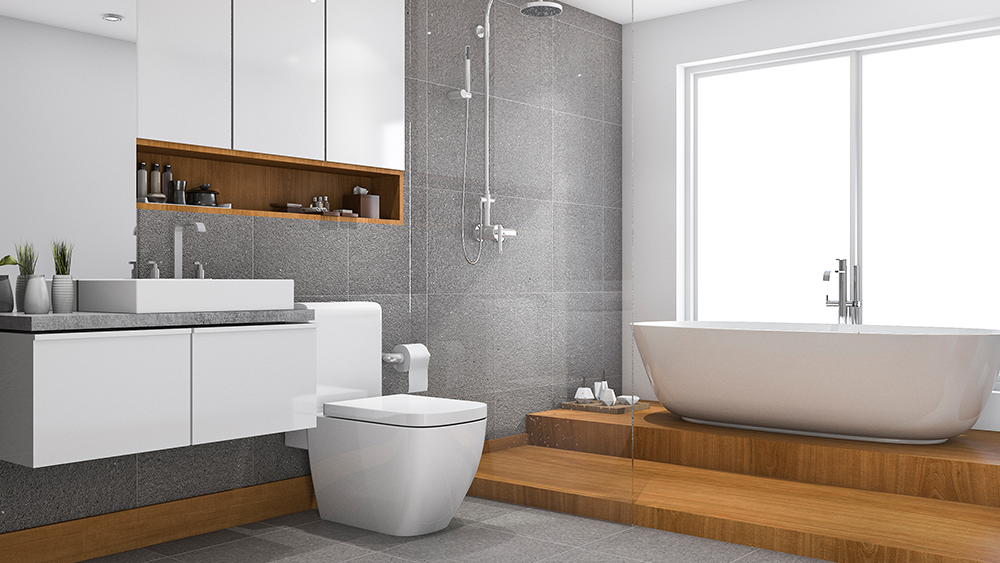 Bathroom heating is one aspect of your house that may be deeply neglected. Be it in the morning or end of a tiring day; your bathroom space can make or break your entire mood.
Do you spend extra time procrastinating on your bed in the morning because you dread stepping into a cold bathroom? Do you hate leaving your shower because of the freezing sensation afterward?
We've unlocked all the bathroom heating tricks for you to have a relaxing experience, even when it's freezing cold outside! If you are planning on upgrading heating for your entire house, we have summed up the best house heating systems.
Types of Bathroom Heating Equipment
There are different types of bathroom heating options that you can choose from. You can use a single piece of equipment or use a combination depending upon your bathroom's size and how much warmth you need. Let's take a look at all the heating options you can use to make your bathroom warm and comfortable.
1. Portable Bathroom Space Heaters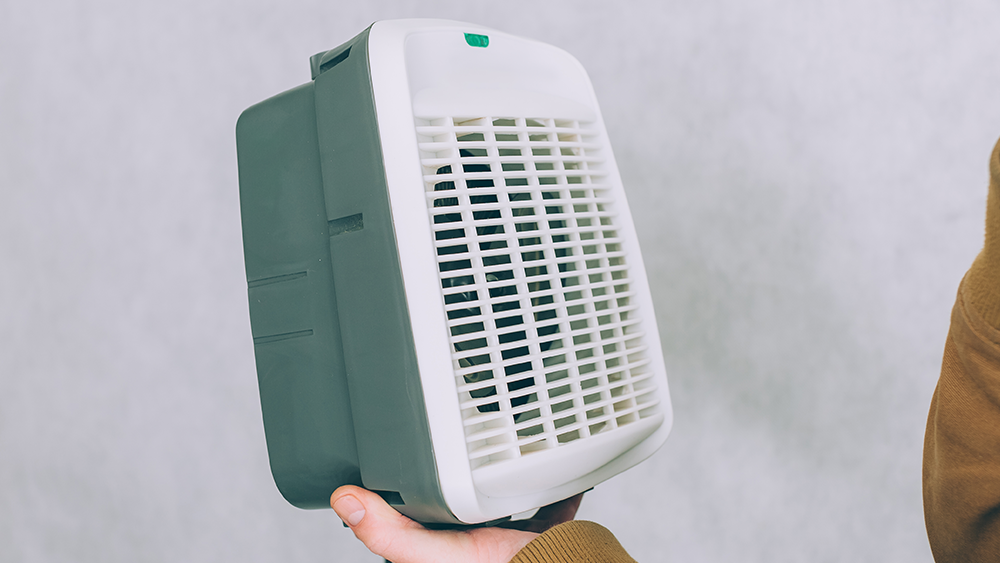 Space heaters are a quick and low-cost solution to your bathroom heating problems. These are also perfect if you require a temporary heating solution. You can use a space heater in your bathrooms and, since they are portable, you can use them to heat multiple spaces as well.
A space heater just needs to be plugged in and directed in the space you want to warm. It's your choice to plug it inside the bathroom or plug it outside. Space heaters come in various shapes, sizes, and capacities, so you have multiple options to choose from based on your needs, budget, and bathroom size.
Electric bathroom heaters are not a safe option, though it's recommended not to leave them unattended. They are great to be used to preheat your bathroom but best avoided when the bathroom is in use.
Consumer Reports suggests looking for some safety features, including certification, shutoff features, Ground Fault Circuit Interrupter (GFCI) plug, and sturdy cord before buying a space heater for your bathroom.
2. Underfloor Heating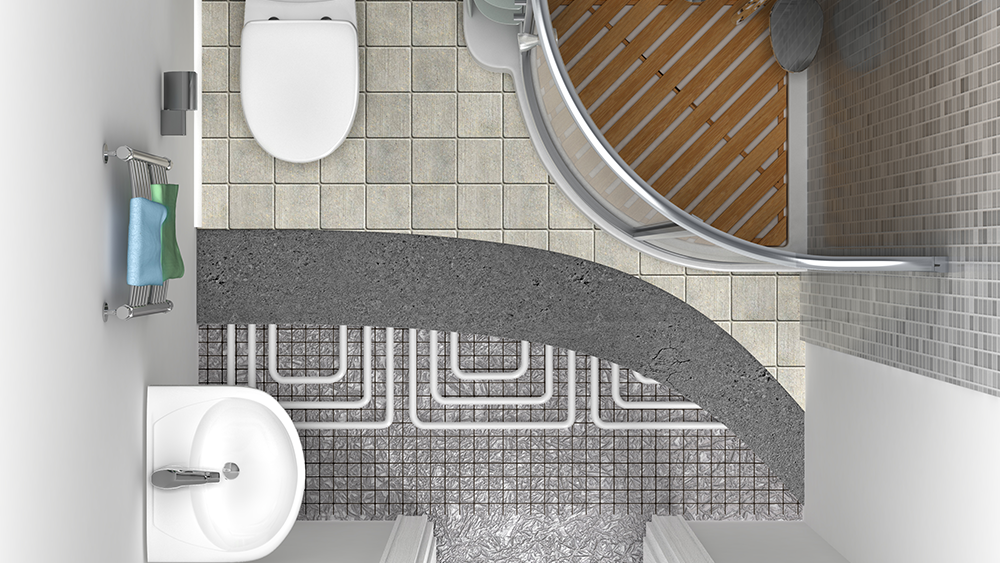 This type of heating is an energy-efficient way to warm any area of your house. Underfloor heating or often referred to as radiant floor heating, delivers heat from a hot source to a cold source.
The hot sources may include electric wires, hot water, or hot air carpeted underfloor and are carried through electrical resistance wires or plastic pipes.
Cielo Smart AC Controllers
Your best choice to make any mini-split, window,
or portable AC smart. Enhance your comfort and savings.
Shop Now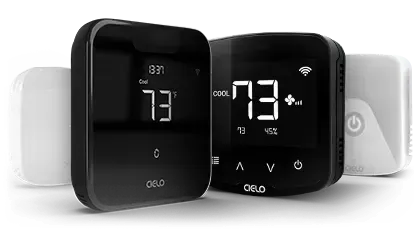 This way, heat is directly transferred to the floors of your bathroom. You can comfortably walk barefoot after taking a shower without freezing.
Underfloor heaters provide consistent heating compared to their counterparts and are suitable for large and small bathrooms. It is suggested to consider radiant floor heating for your bathroom if you are ready for a complete bathroom renovation.
3. Bathroom Wall Heaters
Wall heaters do not take up much space and are a perfect choice to heat any small area such as a bathroom. Also, they blend in with the walls, making them a great invisible heating option that doesn't bother your bathroom's decor.
In addition to warming your bathroom, wall heaters are also beneficial for damp walls and mold growth prevention.
Bathroom wall heaters can be attached with permanent screws or be simply hinged and moved when needed. When installing a bathroom wall heater, be mindful that the surrounding area is free of combustible objects. These may include any flammable liquids, paper or plastic products, and curtains. Generally, it is recommended not to put anything within three feet of its range.
Bathroom wall heaters are an inexpensive solution and go easy on your electric bills.
4. Bathroom Ceiling Heaters
Another type of radiant or infrared heater is the one installed on the ceiling. To be installed in a bathroom, ceiling heaters are a safe option since they don't pose any potential threat. They come with the option to heat the space using a bulb or fan or a combination of both.
Bathroom ceiling heaters are the go-to option for anyone who doesn't have space for any extra appliances. It is considered an efficient heating option because of its unobtrusive location and an even heat supply.
These may be a bit pricey compared to some other options but give better performance in terms of heating and safety. They have a long lifespan and are much cheaper than wall heaters.
5. Bathroom Heat Lamp
Heat lamps provide both heat and light using an incandescent light bulb.  They usually don't consume more than 200-250 watts hence are considered an energy-efficient source.
Heat lamps can last around five years and make a great permanent solution for small spaces. While the radiation is strong, the range is minimal. They act fast, which means you do not have to wait for your bathroom to heat up!
They come in various shapes, sizes, and styles, so you can choose to mount a heat lamp on your bathroom wall, place it on a stand or even integrate it with the exhaust fan. Generally, they're installed on the ceiling to benefit both from the heat and the light. Just be sure that if you place a heat lamp on a stand, keep your towels and clothes away as they can burn.
Heat lamps are widely used in bathrooms because they quickly heat the area and are economical.  
6. Heated Towel Rails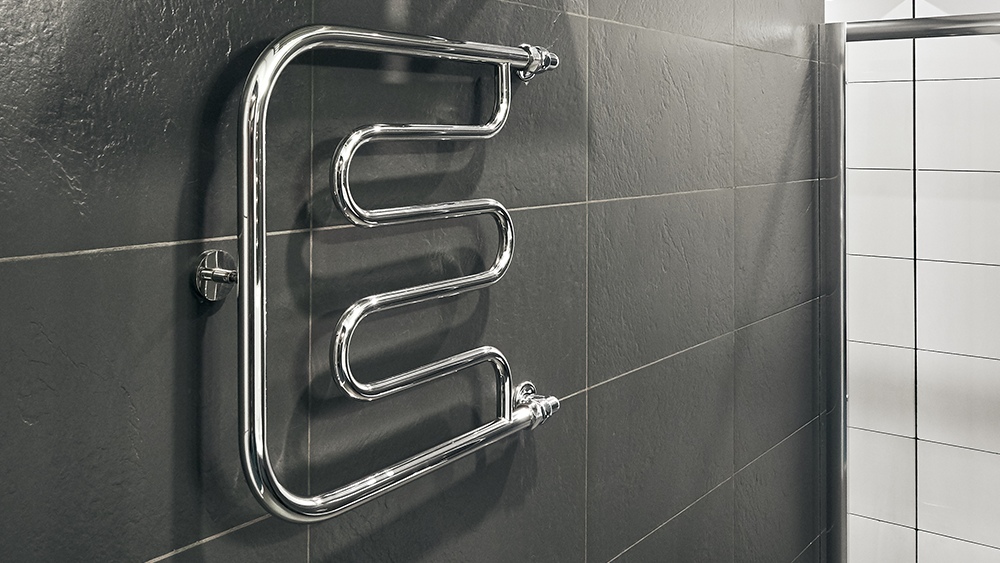 Heated towel rails are a stylish and super useful method to heat your bathroom. If you have a compact bathroom space, then installing a heated rail would not only provide space to hang your things but also heat up the area.
If you love to wrap around a snug towel after taking a shower, then a heated towel rail would be your best friend. They not only warm your cold towel but can also be used to dry your wet towel after use. They are a perfect addition to be used all around the year.
Safety Tip:
You need to be careful with nearby sockets. If you plug in any appliance with loose wires, there's a chance of an electric shock, which can cause the heating rail to catch fire.
 Keep children away from towel rails as they can get really hot.
7. Infrared Mirror Heaters
Do you hate fogged-up mirrors after taking a warm bath?
You don't have to worry about them anymore, thanks to infrared mirror heaters. Say no more to fogged up mirrors and goodbye to your usual mirror wiping routine.
Do you know what the best part about mirror heaters is? If you don't want to spend money on a new mirror, you can use infrared heat pads. They need to be pasted on the rear of your existing mirror before mounting them on the wall.
It is the best option for you if you have minimal space and can't install any extensive heating equipment inside your bathroom.
Considerations for Choosing the Best Bathroom Heater
Bathroom Size
When deciding what bathroom heater you should be buying, it's essential to consider your bathroom's size. If you have a small bathroom space, it should be kept in mind that the heating equipment does come in the way, thus being inconvenient.
On the other hand, if you have ample bathroom space, the equipment's heating capacity and effectiveness to heat a large space must be well-thought-out. So, when purchasing a heater, check the BTU of the equipment. For a larger space, opt for one with a higher BTU to efficiently heat up your space.
Smart Heating Options
You can opt for smart heating options to automate your bathroom heating! It will relieve you from all your temperature-related worries by adding heating schedules or intelligent triggers.
If you're just looking for bathroom heating solutions, then go for the one that has more options, such as a timer. Imagine your bathroom being heated just before you are ready to step in. We'd suggest looking out for a smart heater, so you don't have to do much. They have a higher upfront cost but can save you up to 10-12% of heating usage or even more in some cases in the longer run.
Bathroom Appearance
When choosing a heater for your bathroom, don't forget its outlook and appearance. For instance, if you have a bathroom that has a modern look, then a sleek and stylish heater design would look good. You can perhaps look into wall heater options.
The shape of your bathroom, be it square or rectangular, will also add up in the decision. Before purchasing your heater, decide where you're going to place it. You need to make sure that your water sources are further away from your heater.
Make sure to also look into the design and color options to match your bathroom's current theme; you don't want anything that will stand out awkwardly and end up becoming an eyesore.
Timescale
You need to list down your needs before reaching the final decision. For example, if you're tempted to go for a permanent long-term solution such as underfloor heating, keep in mind that it takes longer to implement.
While on the other hand, if you're looking for a quick heating solution, something that is instant and temporary, you can order a space heater right away!
Costs and Budget
Your budget also influences your decision-making process. Hence, it's better to decide one before you go on a hunt. You may be attracted to install underfloor heating, but that has a huge upfront cost. On the other hand, space or electric heaters can be bought if you have a low budget, but on the other hand, they will add up to your monthly electric bill. Therefore, you must keep the purchase, running, and maintenance costs in mind. 
Low-Cost Heating Tips for a Toasty Bathroom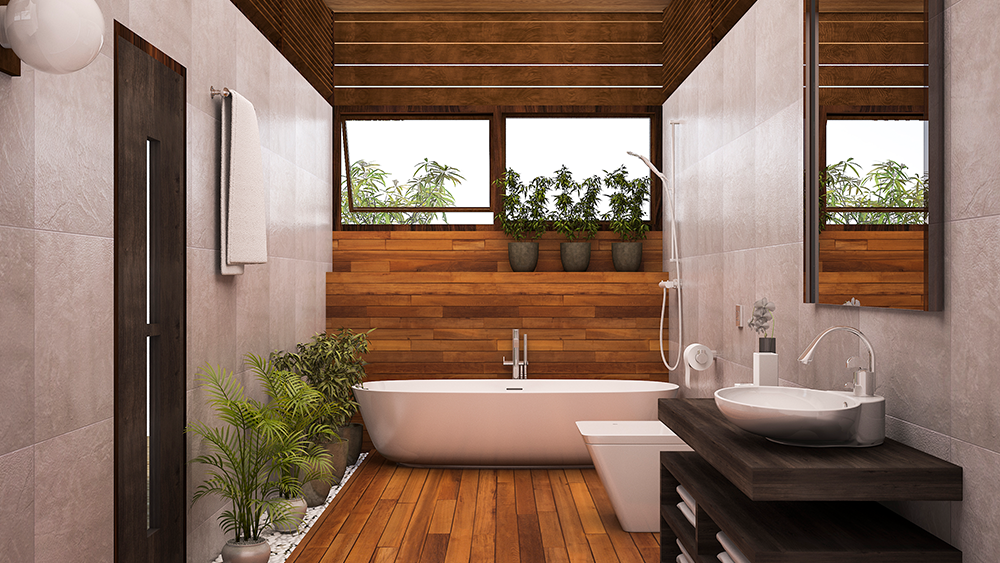 If you don't want a burden on your electric bills or if you're someone who doesn't want to install a heater in the bathroom, then we've something for you as well! Following are some tips and tricks that'll make your bathroom cozy enough without any dependence on electricity.
1. Turn off Your Exhaust Fan
Justin Edwards from Contractor Advisorly recommends turning off the exhaust fan while you're taking a bath. He says, "This will keep the warmth inside the bathroom. However, you must turn it back on after you leave the bathroom. Otherwise, moisture might build-up, which can then lead to mold in your bathroom if you're not careful enough. This is especially essential during the summer months when moisture and humidity are more common."
2. Seal the Leaks
Usually, when people weatherize their homes, they forget about bathrooms. To lock in the warm air, seal any leaks in the window and door. Or otherwise, no matter how much you warm up your bathroom space, the heat will keep escaping.
After a hot shower, you must turn on the exhaust or open the window to allow ventilation and the steam to escape. This is essential to prevent mold growth. 
3. Focus on Color Scheme
Your bathroom color scheme can play a significant role in keeping it warm or cold. Many people like to have the décor of their bathrooms in whites and blues that are cold colors. Try incorporating a warm color in the décor.
4. Use Warm Lights
Try using warm yellow lights in your bathroom instead of cold white lights. While white is associated with cold, yellow lights will help you envision the warmth! Using multiple lights will also help radiate warmth, though this is not advised due to energy wastage.
5. Light up Candles
To add a warm ambiance, you can also light up candles or hang string lights. But you need to be really careful with their placement to avoid any dangers.
6. Throw a Rug
Throw a cozy plush rug in your bathroom. Place it where you can step onto it directly right after turning the tap off to avoid getting cold feet. Nobody wants to step on a cold floor, but a soft, cozy rug can magically warm up your bathroom floor.
7. Use an Oil Diffuser
If you're someone who loves to relax and rejuvenate in hot bathtubs, then add an oil diffuser in your bathroom. It'll make it smell good, adding up to the cozy atmosphere.
8. Invest in a Bathrobe
Instead of using large-sized towels, invest in a bathrobe. It'll cover your whole body, and you can easily step out without getting all frosty.
9. Add Houseplants
 Add houseplants in the empty spaces. They not only add style to the overall environment but also add warmth to your bathroom by releasing moisture and increasing humidity levels.
10. Go All Fancy
Don't shy away to add retreats to have fun. These may include bath bombs, trinket trays, books, and almost anything that'll make you relax and happy. The happier you are, the cozier and more comfortable you will feel!
Now that you know all the tricks to make your frigid bathrooms cozy let's get working for a toasty retreat.