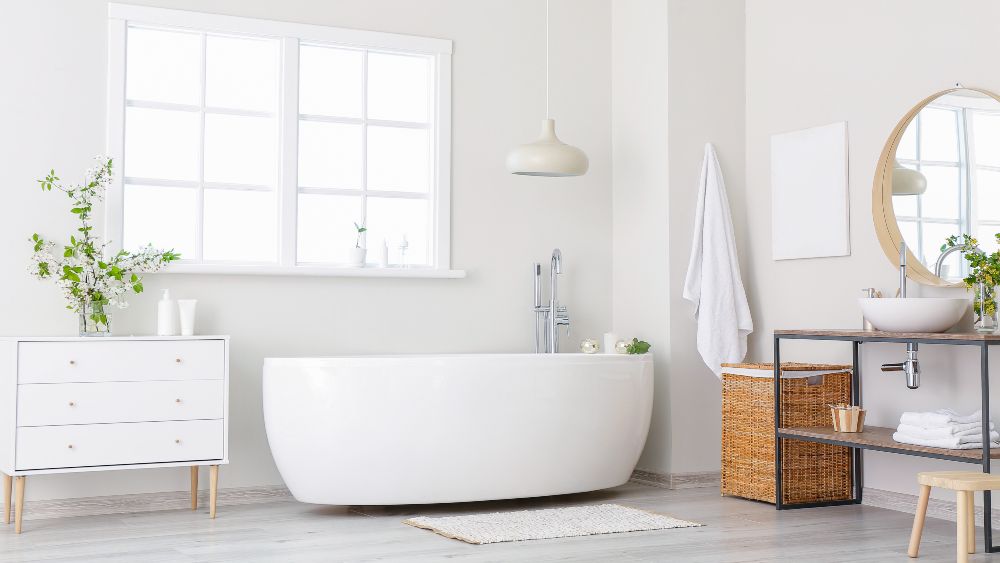 If you dread stepping onto the icy bathroom floor every morning or shivering in the cold after a shower, then bathroom heaters are for you. They are a great way to combat the winter chill and keep your bathroom warm and toasty. Beyond comfort, heating your bathroom can also prevent issues with mold growth.
From portable heaters to wall-mounted heaters, there are various bathroom heating options available out there. The best type of bathroom heater for you entirely depends on your requirements and preferences. Factors such as safety measures, heat output, and cost efficiency should be taken into consideration before making any decision.
Factors to Consider Before Buying a Bathroom Heater
When selecting a bathroom heater, there are several key factors to consider:
Safety Measures
Wondering how to heat a cold bathroom and looking for suitable heaters for the space? Safety should be one of the top criteria when selecting a bathroom heater.
If you are buying a portable space heater for your bathroom, make sure to get one with an Appliance Leakage Current Interrupter (ALCI) plug. It is a device inside the heater that shuts off the power instantly in case of a short circuit. ACLI safety plugs do not entirely prevent electrical shock; you should still exercise caution when operating in wet areas. Also, regularly check all your ACLI plugs and outlets and replace them if required.
Look for a heater with a built-in automatic shut-off feature in case the heater is left on for too long or gets too hot. It should also have an overheating protection system to prevent the heater from becoming too hot. Some models may even have a tip-over switch that will turn the heater off if it is knocked over.
For corded bathroom heaters, make sure they are plugged into a Ground Fault Circuit Interrupter (GFCI) outlet. This helps to shut off the circuit if the electrical flow becomes irregular. Most new homes already have GFCI outlets, but if you live in a house older than 1975, make sure to check your bathroom outlets.
Opt for a heater with a cool-to-the-touch surface so that it does not pose a risk of burns or other injuries.
Ceiling or wall-mounted bathroom heaters are best if you have kids or pets. According to Mark Morris, an HVAC technician and consultant at Deluxe Plumbers, "These heaters are installed high on the wall or ceiling, keeping them out of reach and reducing the risk of contact burns or accidents."
Keep bathroom heaters at a safe distance from tub edges, sinks, and showers. If you opt for a wall-recessed heater, make sure it is positioned away from any area where water may splash into it, including inside showers.
Related: Home Heating Safety: 15 Top Fire Prevention Tips Every Homeowner Should Know
Heat Output
Heat output is an important criterion when selecting a bathroom heater, which is measured based on the wattage and BTUs.
It is important to consider your bathroom size in square footage when deciding on the heat output of the heater. For that, add the length of each wall. Then, multiply that number by the height of your bathroom. The rule of thumb is 10 watts of power for every square foot. This helps ensure that the heater can provide adequate heat for the given space.
For instance, if a unit has a minimum wattage of 500 and a maximum wattage of 1200, it can heat up to 50-120 square feet.
If you are looking to heat a large bathroom, wall-mounted and ceiling heaters are typically more powerful than small portable heaters.
Installation
When it comes to installing a heater, it's important to review the installation requirements and instructions beforehand carefully.
Wall-mounted heaters need to be installed at the correct distance from the wall and floor, taking into consideration manufacturer clearances. If you are using a portable heater in your bathroom, make sure they are in the far corner where they cannot come in contact with water.
If the installation requires more electrical work than you are comfortable with, it's highly recommended to leave the job to an electrician to ensure the installation is done safely and correctly.
Timer Function
Bathroom heaters with integrated timers are designed to kick on and off at designated times, ensuring that your bathroom is warm and cozy whenever you need it. Plus, the timer feature can also help save on your heating bills as it is never running unnecessarily.
Noise Level
When purchasing a heater, make sure to check the noise level of the unit. There's nothing worse than hearing a loud buzzing sound in the morning or late at night. Choosing a heater that runs silently is crucial, especially since the bathroom is typically an enclosed space that amplifies sound.
Portable Heaters for Bathroom
For those who are looking for a convenient and cost-effective bathroom heating solution, portable heaters can be a great choice. Although they occupy some floor space, they offer the freedom to use in other areas of your home, making them a versatile option. Some more advanced models also have features such as remote control and adjustable fan speeds.
1. Lasko CD08200 Bathroom Portable Heater
This Lasko CD08200 portable bathroom heater is perfect for anyone who wants to shower off in peace. This space heater quickly heats up your bathroom and is super easy to install. It is powered by a 1500-watt ceramic heating element with 3 heat settings. It also features a one-hour timer, so you won't have to keep track of when to switch it off.
For safety, it provides overheating protection and an exterior that stays cool-to-the-touch. In addition to that, it also has an ALCI plug for added protection.
| | |
| --- | --- |
| Heating Method  | Convection |
| Power Source | Corded Electric |
| Wattage | 1500 |
| Heating Coverage  | 225 square feet |
2. Optimus H-7245 Portable Ceramic Heater
This compact Optimus portable heater is just five inches wide and is perfect for small bathrooms.  It has a digital thermostat featuring two heat settings and a timer function, so you can customize your comfort level with ease. This small bathroom heater has a sturdy base and reduces the chances of someone accidentally knocking it over. The overheat protection circuit and tip-over safety switch make it a safe option for bathrooms.
| | |
| --- | --- |
| Heating Method  | Convection |
| Power Source | Corded Electric |
| Wattage | 1500 |
| Heating Coverage  | 300 square feet |
Bathroom Wall Heaters
Wall heaters are similar to space heaters and provide a convenient and efficient solution to heat your bathroom. They can be wall-mounted or recessed inside a wall for a clean and streamlined look. Once installed, you just have to plug them in, and they will start working instantly. This makes them cheaper to run as you don't have to keep them on for longer durations. Plus, you don't have to wait for them to start generating heat.
3. Stiebel Eltron 074058
The Stiebel Eltron model is a wall-mounted heater that is easy to install as compared to ceiling-mounted heaters. It doesn't come with a cord and requires hard wiring into the wall.
This bathroom fan heater uses a small, quiet fan to pull in room air and send out heated air. It is perfect for small spaces like bathrooms that need quick warmth. With features like an integrated thermostat, you can easily adjust temperature settings on the unit itself.
| | |
| --- | --- |
| Heating Method  | Forced Air |
| Power Source | Hard Wiring |
| Wattage | 1500 |
| Heating Coverage  | 215 square feet |
4. Broan-NuTone 174 Wall Heater
If you are looking for a reliable and efficient way to add some extra warmth to small spaces like bathrooms, this Broan-NuTone wall heater might just be what you need. It has a rapid warm-up time as it has an efficient nickel-chrome heating element that provides instant heat. Using a 20-gauge steel-louvered grill, this heater gently directs heat towards the floor for even heating. Additionally, the front-mounted thermostat makes it easy to control all the heat settings.
Its installation is slightly on the difficult side as it has to be recessed inside the wall, with only the front plate projecting outside.
| | |
| --- | --- |
| Heating Method  | Forced Air |
| Power Source | Corded electric |
| Wattage | 1500 |
| Heating Coverage  | 125 square feet |
5. Envi Plug-in Electric Panel Wall Heaters
When it comes to heating options for your bathroom, the Envi electric heater is a top contender. It features a sleek white finish that's sure to blend in seamlessly with most bathrooms. It doesn't blow around dust in your bathroom, making it a suitable option for people with allergies.
Safety is also a top priority with this heater, as it comes equipped with a sensor that automatically cuts off the power if the unit is removed from the wall. And for added peace of mind, the heater's exterior won't exceed 90F, no matter how long it's been running.
| | |
| --- | --- |
| Heating Method  | Convection |
| Power Source | AC |
| Wattage | 500 |
| Heating Coverage  | 150 square feet |
6. Minetom 350W Space Heater
This low-wattage Minetom wall heater provides a cost-effective way to heat up small bathrooms. It comes with a 180-rotating plug that allows you to orient it in different directions. With an LED display and a built-in thermostat, you can easily adjust your preferred temperature from 60F to 90F. It automatically turns on and off to maintain your desired settings. Another advantage of this heater is that it's extremely quiet.
Safety features include an automatic shut-off timer and overheat protection that instantly switches off the heater in high-temperature conditions.
| | |
| --- | --- |
| Heating Method  | Convection |
| Power Source | Corded Electric |
| Wattage | 350 |
| Heating Coverage  | 100 square feet |
Bathroom Heat Lamp
A bathroom heat lamp is a kind of electrical fixture intended to add extra warmth and light to a bathroom. Usually, it is made up of a ventilation fan and a heat light bulb. Radiant heat from the heat lamp helps warm the space, making it a great option for bathroom heating.
7. Delta BreezSignature RAD80LED Light with Heater
The Delta breezradiance RAD80LED provides a combination of a fan, LED light, and a heater, all in one. It is a ceiling-mounted unit with a modern grille design. A built-in thermostat ensures consistent temperature.
The integrated LED light is dimmable, which also lets you create a calming atmosphere. Furthermore, the exhaust fan function efficiently eliminates surplus moisture, an essential measure in a well-insulated, heated bathroom to avoid condensation and mold development.
| | |
| --- | --- |
| Heating Method  | Forced air |
| Power Source | Motor |
| Wattage | 11.7 |
| Heating Coverage  | 80 square feet |
Bathroom Ceiling Heaters
These bathroom heaters are installed directly into the ceiling, leaving floor space clear and unobstructed. Ceiling heaters can use a bulb, a bathroom heating fan, or a combination of both to provide an even heat supply downwards. They provide a safe option for bathroom heating as they are installed far from wet areas and do not pose any electric shock risk.
8. Broan-NuTone 157 Fan-Forced Ceiling Heater
The Broan-NuTone 157 ceiling-mounted heater is a reliable and powerful option to warm up your bathroom. Equipped with an encased heating element that provides 1,250 watts of heating power, this heater can quickly heat your bathroom with a simple flip of a switch. This heater doesn't come with a cord and must be hard-wired.
With its sturdy construction, it promises a lasting lifespan, enabling it to endure ongoing use and deliver years of consistent, reliable performance. Safety features like automatic shut-off and overheat protection reduce the chance of any accidents.
| | |
| --- | --- |
| Heating Method  | Forced Air |
| Power Source | Corded Electric |
| Wattage | 1250 |
| Heating Coverage  | 85-125 square feet |
9. Broan-NuTone 9093WH Exhaust Fan
The Broan-NuTone 9093WH is a versatile and highly functional exhaust fan, heater, and light combo for your bathroom. Its compact design allows it to seamlessly blend in with your bathroom, creating a discreet and sleek appearance.
The 1500-watt heating element combined with the exhaust fan helps to evenly distribute the heat in all corners of your bathroom. In addition to a bright 100-watt light, it also has a 7-watt nightlight for soft illumination during night-time visits.
| | |
| --- | --- |
| Heating Method  | Forced Air |
| Power Source | AC |
| Wattage | 1500 |
| Heating Coverage  | 65 square feet |
Radiant Heating Systems
The radiant heating system is the type of heating system that operates by delivering heat directly from the source to the people and objects via infrared radiation. They involve the installation of special tubes or electric wires inside the floors, walls, or even ceiling.
10. In-floor Radiant Heating for the Bathroom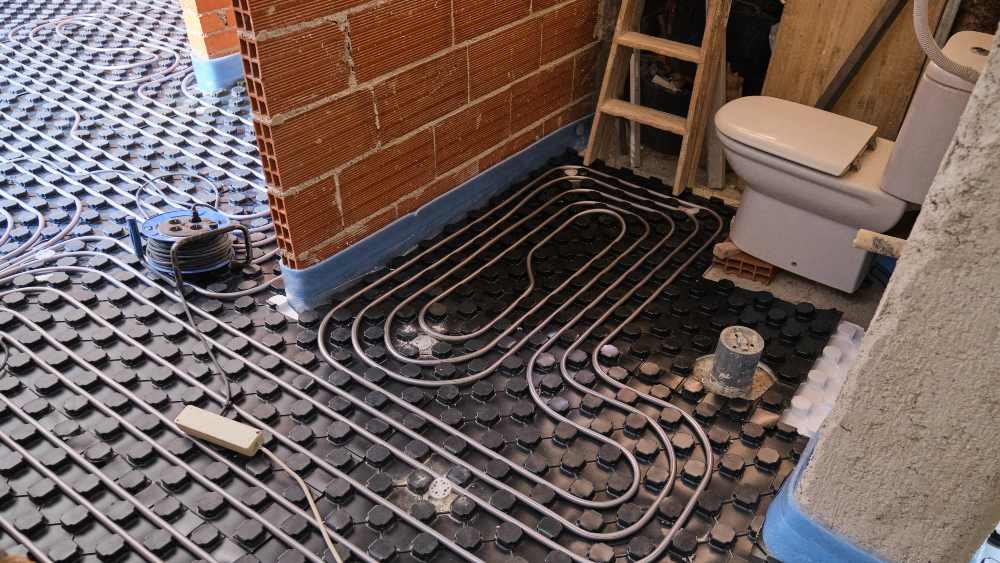 Radiant floor heating involves installing electric wires or hydronic pipes beneath the floor. The heated bathroom floor provides consistent warmth and comfort. This ensures you can walk barefoot after a refreshing shower, free from the discomfort of cold tiles.
Installing heated floors in your bathroom can be more expensive and complicated than other heating options. However, if you are considering a renovation, then it's worth considering this option.
Infrared Mirror Heaters
Infrared mirror heaters are electric panels designed to combine the functionality of a mirror with efficient, targeted heating. They are sleek, space-saving, and stylish heating solutions for your bathroom.
The front side of the electrical panel is constructed from durable tempered glass, while the back is composed of premium stainless steel. These heaters use infrared technology to emit invisible, radiant heat that warms objects and people directly rather than heating the surrounding air.
11. Heatstorm Mirror Heater
Heat Storm Mirror Heater is the perfect fusion of aesthetics and functionality that provides gentle, radiant heat to your bathroom.
Installing this mirror heater is a breeze, ensuring a quick and easy setup. Once in place, you can enjoy the convenience of zero maintenance, freeing you from the hassles of constant upkeep.
One of the standout features of this mirror is its energy efficiency. You can relish the precise levels of controlled comfort it provides while having peace of mind knowing that the heaters use energy-efficient radiant heating technology.
| | |
| --- | --- |
| Heating Method | Radiant |
| Power Source | Wall Plug |
| Heating Coverage | 100 square footage |
Heating a Cold Bathroom
Creating a warm and cozy bathroom environment relies on getting your bathroom heating right. There is a range of bathroom heaters available, each with its own unique traits and benefits. if you have a limited floor space, a Fwall-mounted or ceiling bathroom heater can work best. Portable heaters are a great choice if you want a flexible plug-in option. If you are building a new home or renovating your space, in-floor radiant heating provides efficient heating. Understanding the various heating options will assist you in deciding which one is most suitable for heating your bathroom effectively.