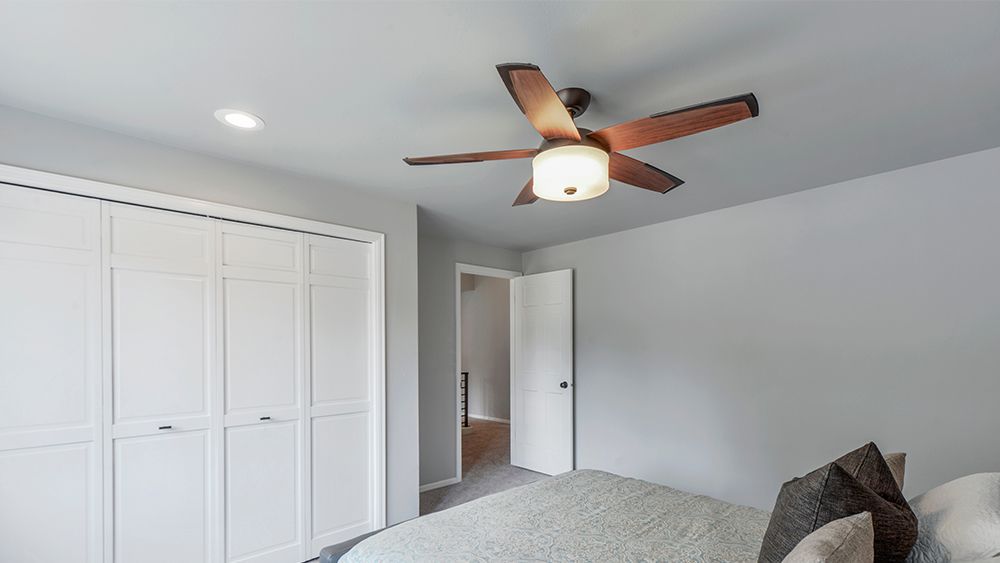 When the heat becomes intolerable, all you can think of is increasing your comfort using your HVAC system. Unfortunately, as much as your air conditioning unit provides relief, it can also disturb your budget (not if you have a smart AC controller that can save you up to 25% energy). Here's where ceiling fans for energy-efficient cooling come into play.
They are much cheaper, and cooling with ceiling fans consumes way less energy as compared to your air conditioner.
One point of concern is, do ceiling fans cool a room? While it may feel like they are cooling, they don't have the ability to actually bring down the temperature.
Also, if you live in an extreme climate area, only a ceiling fan won't suffice. Read on to find out how you can  and set the best direction for summer.
Make the Most Out Of Your Ceiling Fan
Do Ceiling Fans Cool a Room?
A ceiling fan does not really bring down the temperature of your room. It only feels like it does. In fact, they add heat to a room! If your room is adequately insulated and you run an electric fan in it, your room will get warmer.
What actually happens is that ceiling fans make a breezy impact inside your home, making you feel cooler. The effect is similar to air hitting your face from an open window in a moving vehicle.
When you run a fan inside your room, air circulates, and you feel the breeze over your skin. It leaves a refreshing impact on your body. In any case, the temperature of the room hasn't changed by any means.
If you run a ceiling fan in a room where the temperature is 80F, a fan will be able to make you feel as if the temperature is 72F. The reason being the excellent air circulation that creates a wind chill effect.
In terms of meteorology, the wind chill factor is the temperature that an individual feels with respect to the wind. For instance, suppose the temperature outside is 35F, and the wind is blowing at 25mph. Your body will lose heat as if it is 8F. This escalated heat loss makes your body feel colder when it's windy during winters. Ceiling fans work on the same principle.
Cielo Smart AC Controllers
Your best choice to make any mini-split, window,
or portable AC smart. Enhance your comfort and savings.
Shop Now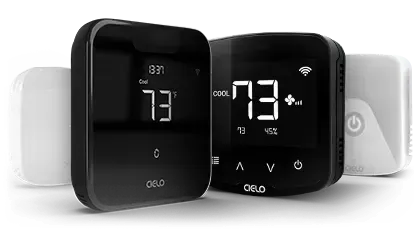 Ceiling Fan Direction for Cooling
Wondering which way should a ceiling fan turn to cool?
During the summer, your ceiling fan's direction for cooling should be counterclockwise. When the fan rotates in this direction, it forces the air to move downward. As a result, it increases air circulation inside your room, and you feel a cool breeze. The cool air helps evaporate sweat and makes you feel cool! This way, you don't have to run your air conditioner constantly to maintain your room temperature and can set a higher thermostat level.
A counterclockwise direction means your ceiling fan blades will be moving from the top to the left, then down, and right.  When you stand underneath it, you should feel the air movement.
A clockwise direction is best during winter. It pushes the cold air up, making your room feel warmer.
How to Get Cool Air from a Ceiling Fan?
Ceiling fans spread air by pushing it in the downward direction. The wind chill effect it creates as a result helps your body to evaporate sweat. This makes you feel cooler. However, they do not lower the temperature of your room like your air conditioner. So even though it feels like the temperature has dropped a little, that's not the case. It's just that your body feels cooler and refreshed.  
Following are some tips that can help you stay cool while saving energy using your ceiling fans:
1. Don't Run Your Fan in an Empty Room
As mentioned above, ceiling fans do not cool your room. Therefore, you should turn it off when you leave your room. Running it unnecessarily will only increase your energy cost and won't have any effect on overall temperature.
2. Buy Energy-Efficient Models
If you're buying a new ceiling fan, make sure you purchase an Energy Star certified model. They are 60% more energy-efficient than ordinary ceiling fans. Moreover, their motor and blade design is better than the conventional alternatives.
3. Get Fans With the Longest Blades  
An important factor to consider while purchasing a new ceiling fan is the size of its blades. Ceiling fans with long blades have more airflow efficiency than the ones with shorter blades. As a result, they create a better airflow inside your home.
If you have a big room, then go for bigger models and vice versa.  
4. Combine Ceiling Fan With Your Air Conditioning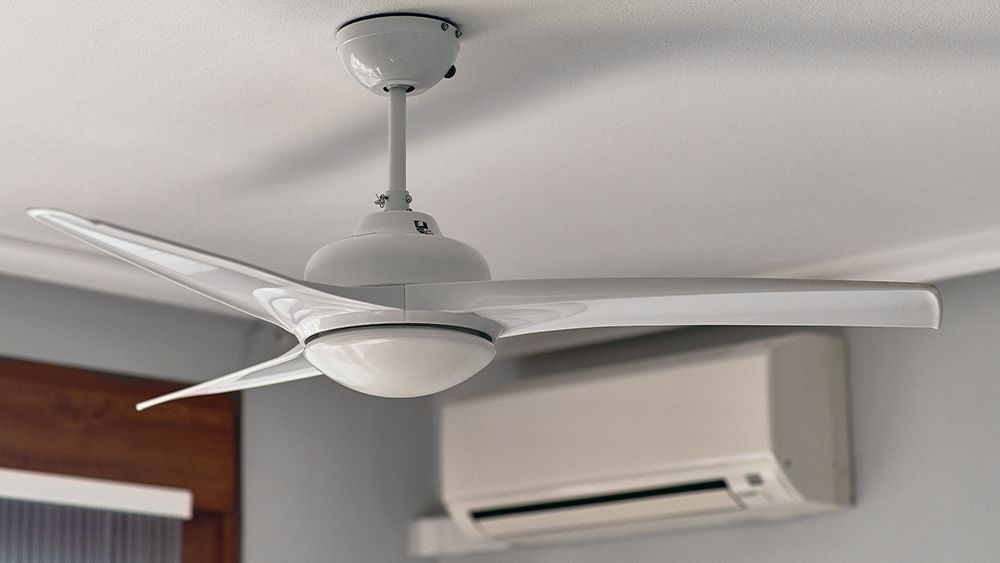 If you have a ceiling fan and your air conditioner unit installed in the same room, use them together. Your AC will introduce cool air, and your fan will spread the cold air throughout your room.
Ceiling fans work best in a dry and less humid environment. Low humidity makes the sweat on your body evaporate quicker, making you feel cooler. Since an air conditioner dehumidifies your room, ceiling fans work best in conjunction with an aircon.
You'll be able to raise your thermostat temperature by a few degrees without causing discomfort, thus helping save energy. The US Department of Energy recommends increasing your thermostat setting by 4F when paired with a ceiling fan. According to Energy.gov, for every one-degree rise on your AC thermostat, you save one percent energy. Hence, you'll be able to reduce your expenditure on air conditioning in the longer run.
Read this article to learn the difference between a ceiling fan vs. AC and which is better.
5. Run It on the Lowest Speed
When you buy a ceiling fan, you'll notice the efficacy labels state that it'll offer more cfm (cubic feet per minute or also referred to as airflow) per watt at a slow speed. A medium-speed would provide more cfm per watt than a high speed. This explains that fans give maximum efficiency at a lower speed.
To choose the best fit for your room, go for the biggest model that can fit into your room but run it on the lowest speed, i.e., large size and low speed.
Read this article for more tips to beat the heat for a relaxing summer!
Advantages of Running a Ceiling Fan
Ceiling fans work best to circulate cold air within the room. And their efficacy increases when paired with an AC. So, let's look at the benefits that ceiling fans offer in addition to providing a cooling effect:
Reduces Cooling Cost
Ceiling fans take much less energy than the air conditioning units. But they do not cool a room. However, as mentioned above, if you pair your ceiling fan with your AC, it'll help reduce your AC costs. You can run your HVAC unit efficiently in conjunction with the ceiling fan. This, in turn, takes the burden off your air conditioning system. You'll notice a decrease in your energy costs after a certain period.
Helps Deal With Humidity
Your body feels hotter in a humid environment. During the summers, moisture levels are considerably high. Even though ceiling fans do not reduce humidity levels, they help you deal with it. They make your body lose sweat quickly, and this loss of heat makes you feel cool and comfortable.
Drawbacks of Having a Ceiling Fan
While ceiling fans come very handy during summers and help you stay cool, there are a few disadvantages.
The first one is that they are very noisy. If you're someone who can't bear any distracting noises, then it's not for you. The noise becomes less at a lower speed, but it can still be bothersome for some people.
Another thing with ceiling fans is that they are difficult to clean. Since they are installed on the ceiling, it's hard to reach out and clean the blades when they get dirty. Moreover, they can also come in the way of your room's aesthetic.
Ceiling Fan Maintenance
Ceiling fans need regular maintenance like any other home appliance. They need to be cleaned to ensure their optimal functioning. Although ceiling fans have a large lifespan and do not require detailed upkeep frequently, it's best to keep them in their best condition for better performance.
Ceiling fans should be cleaned whenever there is a visible sign of dirt on the blades. As a rule of thumb, you should clean them before the start of the summer season. You'll need a stool or a ladder to reach the height of your fan. Use a brush to clean the blades. You can also clean it with a damp cloth and soapy water to remove any sticky dirt. It is also recommended to use a vacuum to clean out any dirt accumulated inside it.
After cleaning your fan, check all the screws. It is made up of different parts that can loosen over time. Tighten all the screws before the start of every season. It helps you avoid any wobbling or shaking sounds. Another important thing is to lubricate your fan properly. Use any light oil and fill the oil hole located on the motor.
5 Cool Ceiling Fans
If you're all set to make a purchase, we have a list of cool ceiling fans that you can choose from. Let's take a look:
1. Prominence Home 80029-01 Alvina Led Globe Light Hugger/Low Profile Ceiling Fan
Prominence Home dark-woods blade low profile hugger ceiling fan works best for small to medium-sized rooms. Its special features include pull chains for easy on and off adjustments. It has two-sided blades and can be reversed without worrying about aesthetics.
2. Hunter Fan Company Indoor Low Profile IV Ceiling Fan with Pull Chain Control
This Hunter low-profile traditional ceiling fan comes in white blades and can perfectly merge with your room's ceilings. It also has pull chains for quick on/off or speed adjustments. People love it for its low noise and easy installation.
3. Emerson, Kathy Ireland HOME Tilo Modern Ceiling Fan
This retro-inspired Emerson ceiling fan is a good option if you don't want a big, bulky fan in your room. Due to its small size, it is not recommended for outdoor use. The package also includes wall control.
4. Honeywell Sabal Palm Tropical Ceiling Fan with Sunset Bowl Light
This Honeywell tropical ceiling fan has hand-carved wooden leaf-shaped blades. This is a perfect choice if you want to go overboard with the fan design. It is available in multiple color options.
5. Westinghouse Lighting Comet Indoor Ceiling Fan with Light
This Westinghouse Lighting ceiling fan is a good choice if you're looking for a simple and sophisticated style. The frosted glass light fixture design doesn't give enough light but introduces a good airflow in your room.
After reading this article, we hope that you'll be able to take full advantage of your ceiling fan's cooling capabilities when used efficiently. All you've to do is pair your AC and ceiling fan and enjoy a breezy cool summer season!