After years of dedication, hard work, innovation, and determination, we are incredibly proud to announce that we have earned our place among America's top performers. Inc. Magazine revealed its prestigious 2021 Inc. 5000 list today. Cielo WiGle (Cielo) ranked No.358, making it to the top 10% with an astounding growth rate of 1,325% from 2017 to 2020. In addition, Cielo secured 33rd position in the category of Consumer Products and Services Industry, 6th in Metro rank, and 7th in State rank in Washington.
What Is the Inc. 5000, And Why Does It Matter?
Inc. Magazine is the world's most trusted business-media brand. The magazine publishes the official Inc. 5000 list annually, which honors America's most successful independent businesses. Many notable companies such as Microsoft, Under Armour, and Patagonia received their first national acclaim by landing a spot on this coveted list.
"The 2021 Inc. 5000 list feels like one of the most important rosters of companies ever compiled," says Scott Omelianuk, editor-in-chief of Inc. "Building one of the fastest-growing companies in America in any year is a remarkable achievement. Building one in the crisis we've lived through is just plain amazing. This kind of accomplishment comes with hard work, smart pivots, great leadership, and the help of a whole lot of people."
While getting on the list is a challenging feat to accomplish every year, this year was particularly competitive. The Inc. 5000 2021 companies achieved an average median three-year growth rate of 543% and generated a median revenue of $11.1 million. They are also credited with creating 610,000 jobs over the past three years.
To be included in the 2021 Inc. 5000, a company must be privately owned, for-profit, independent, and based in America. Companies must also have generated revenue from March 2017 onwards; the minimum generated revenue should be $100,000 in 2017 and $2 million in 2020.
Cielo Smart AC Controllers
Your best choice to make any mini-split, window,
or portable AC smart. Enhance your comfort and savings.
Shop Now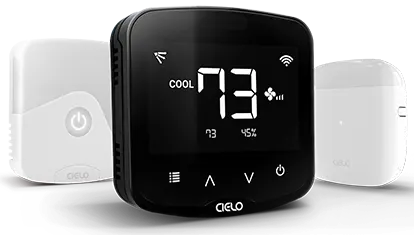 How Did We Make the 2021 Inc. 5000 List?
Cielo is the leading manufacturer of smart AC controllers in the United States. A smart air conditioner controller gives you smart functionality on conventional ductless AC units or heat pumps. For example, you can use the Cielo smart devices to control your mini-split, window, or portable AC using your phone from anywhere in the world.
Along with global control, you can also use Cielo's smart air conditioner controllers to set weekly AC usage schedules, use Comfy Mode to automatically maintain ideal temperature and humidity levels, set up a geofence to control your AC with proximity settings, and so much more. In addition, Cielo devices are all compatible with various smart home assistants such as Amazon Alexa, Google Assistant, Samsung SmartThings, and Siri Shortcuts. All this functionality makes Cielo your one-stop solution to smart home climate control, providing absolute comfort and up to 25% energy savings.
However, companies don't grow in a vacuum. A brand's customers and teams always facilitate this progress. Likewise, our astounding growth rate also results from the expansion in our product line, our unique & innovative product features, and the growing impact we continue to make in our customers' lives.
Here is how Cielo made it to the Inc. 5000 list of the fastest-growing private firms in America:
1. We Listened to You
At Cielo, our primary focus has always been customer satisfaction. We wanted to build products that our customers wanted. So, we read every email, every comment on social media, and every single review that you wrote. Then we used this feedback to improve our devices and create something that resonates with your needs.
2. We Made Your Comfort Our Priority
Cielo takes great pride in making your home the ultimate haven for comfort and convenience. We identified gaps and problems in the HVAC industry and innovated our products to respond to them. With your convenience and comfort at the forefront of our business plan, we built features such as Weekly Scheduling, Geofencing, and Comfy Mode to maximize your AC's functionality while minimizing energy costs. Moreover, we added Timer and Follow Me to our feature set, so you have everything you need in one interface.
3. We Focused on Growth
Over the years, Cielo has undergone immense growth in product functionality, product line, market share, and, most importantly, customer love. Through this attitude of constant innovation & development and our customer-centric approach, we have amassed loyal customers all over the nation.
What's Next?
"We are super excited to be included in the list of fastest-growing private companies in America by Inc. 5000. One of the most sought-after places for any private company in the USA. Securing 33rd rank in Consumer Products and Services category is icing on the cake. Kudos to our amazing team. Cheers to our awesome partners. Special thanks to our users for their confidence & trust in our brand", said Waseem Amer, CEO of Cielo WiGle. He further stated that "We won't be stopping here. For us, this is just a beginning."
Cielo WiGle strives to be better every day. Growth is a major part of our journey, and we intend to continue this trend for many years to come. The 2021 Inc. 5000 reflects our team's persistence against the obstacles to economic growth in 2020. In addition, it is a reminder to us that together we have accomplished an important success metric and would continue to win the hearts of our valuable customers.
Customer satisfaction has always been and will continue to be our number one priority. Moving forward, we will continue to use your feedback to improve our products & services to enhance your experience and maximize your home's comfort.
This accolade is a testimonial to the fact that Team Cielo continues to push beyond the boundaries of excellence with every passing day.