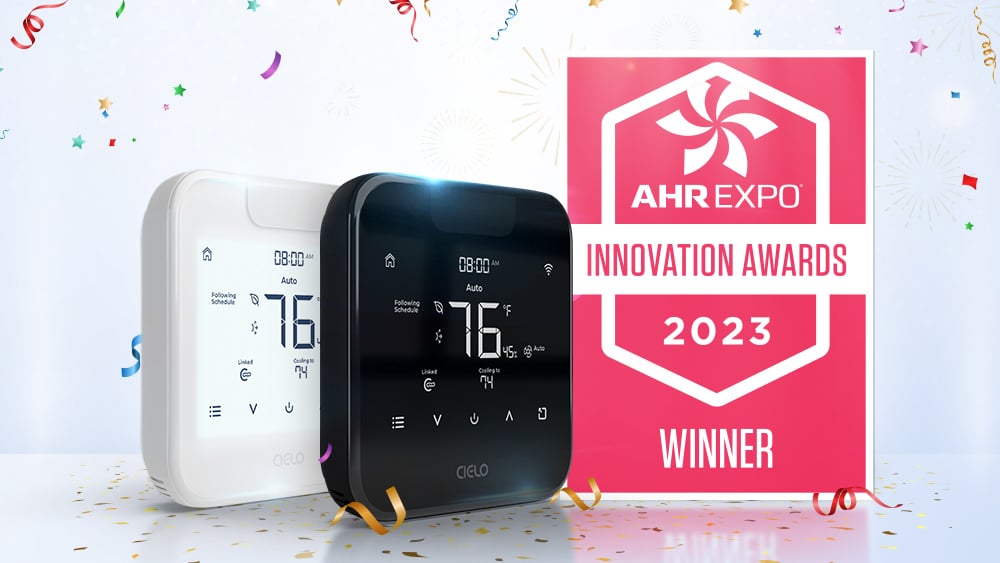 It is an absolute pleasure to announce that Cielo WiGle Inc. (Cielo) has been declared the WINNER of the 2023 AHR Expo Innovation Awards in the Building Automation category with our latest innovation, Cielo Breez Max.
Cielo Breez Max is the industry's first true smart thermostat for mini-split, window, or portable air conditioners. It makes your ordinary AC smart and prioritizes your comfort while maximizing energy savings.
Cielo Breez Max differentiates itself through its AI-based Comfy Max mode and auto-detection algorithm for universal compatibility. You can simply set your desired room temperature, and the AC will automatically work to maintain this setting. The smart device reads live temperature and humidity levels with its built-in sensors, makes calculations based on your desired settings, and then adjusts the functions to reach your set range. This innovative feature not only ensures that you enjoy your preferred temperature at all times but also optimizes energy consumption at a much higher level while doing so.
With its auto-detection algorithm, you can make any new or old AC smart, as it can auto-detect 200+ brands of ductless air conditioners and 5,000+ AC models with a combination of IR transceivers.
It's not just the unique features that make a home product stand apart. Breez Max has been built with a strong focus on design to be able to match your home aesthetics. The sleek touch screen makes it the center of attention in any room, and the UI is a breeze to use.
AHR Expo Innovation Awards
The AHR Expo Innovation Awards, co-sponsored by ASHRAE and AHRI, recognize the most innovative and groundbreaking products, systems, and technologies showcased at the annual AHR Expo. A panel of ASHRAE member judges evaluates entries in multiple categories, including building automation, heating, indoor air quality, sustainable solutions, etc.
Cielo takes immense pride in gaining recognition for Cielo Breez Max, which will be displayed at the 2023 AHR Expo in Atlanta from February 6th to 8th. Visit us at booth C6700 and see Cielo Breez Max in action.
As a customer-centric brand, Cielo always strives to live up to our customers' feedback and focus on providing the best solution for their needs. In evolving times such as these, this can only be achieved through innovation. At Cielo, all our teams work as a cohesive force to churn out the best in technology.
Without change there is no innovation, creativity, or incentive for improvement. Those who initiate change will have a better opportunity to manage the change that is inevitable.
-William Pollard
2022 has been an immensely successful business year for Cielo, as we bag another accolade validating our vision and diligent efforts towards ingenious innovation. After making it to the prestigious Inc. 5000 list of America's fastest-growing private companies, Newsweeks' list of America's Best Home & Garden Brands, and receiving three Stevie awards, Cielo is ecstatic to celebrate its latest triumph.
"Innovation is the only way forward, and within the HVACR industry, the need for clean, energy-saving products is more than ever. With its innovative algorithm, Breez Max sets a new standard for HVAC controls.," said Waseem Amer, CEO of Cielo WiGle Inc. He continued, "An all-inclusive environment plays a crucial role in innovation. At Cielo all our teams work together as one cohesive unit to come up with the best possible technology. We are honored for the recognition of our hard work, commitment, and dedication and are so happy to have received the AHR Innovation Award. Cielo has always strived to exceed the expectations of our customers, and with Breez Max, we really feel we did that. We aim to continue innovating and pushing boundaries to reach ever-greater heights."
Cielo Breez Max Is All Set to Hit the Market
If you're thinking about when you can grab the Cielo Breez Max to experience true smartness, then we've got you the big news! After being in the works for several months, Cielo Breez Max is all set to be rolled out very soon.
Cielo Breez Max – A Cut Above the Rest
What makes it a winning product, and how has it revolutionized the industry; everything you need to know:
· Universal Compatibility – The product is compatible with 200+ brands and 5,000+ models of mini-splits, window, or portable AC. Any old or new AC can be made smart with the help of an AI-based auto-detection algorithm.
· Comfy Max Mode – Automatically adjusts your AC settings to achieve your preferred temperature/humidity range for an ultimate smart home experience.
· Multiple modes of operation – The only device in the market to offer six modes of operation for ductless units, including heat, cool, dry, fan, auto, and comfy.
· Full range of remote-control actions including fan speed, louver controls, turbo mode, and freeze protection mode.
· Comprehensive usage history to achieve better energy savings and enjoy a perfect home climate.
· Smart home integration – Cielo Breez Max is compatible with Amazon Alexa, Google Home, SmartThings, IFTTT, and Siri shortcuts.
· Inbuilt temperature and humidity sensors – for better climate control
· Optimal security – It is secured with TLS1.2 to authenticate and encrypt data when transferred over a network.
Carving the path for future businesses in the HVAC industry
With smart AC controllers, compatibility options and the lack of thermostat-like controls were major concerns among the users. Cielo Breez Max caters to both of these solutions and sets a new standard for smart thermostats for ductless units.
In the future, the development in the air conditioning industry will see a boost as companies focus on creating products with universal compatibility and improved climate control. The potential for linking room AC units with central smart thermostats may also open up new opportunities in grid-connected heating and cooling. The market for smart AC control is growing rapidly, and we expect to see more companies entering the field to push the technology further and take it to new heights.