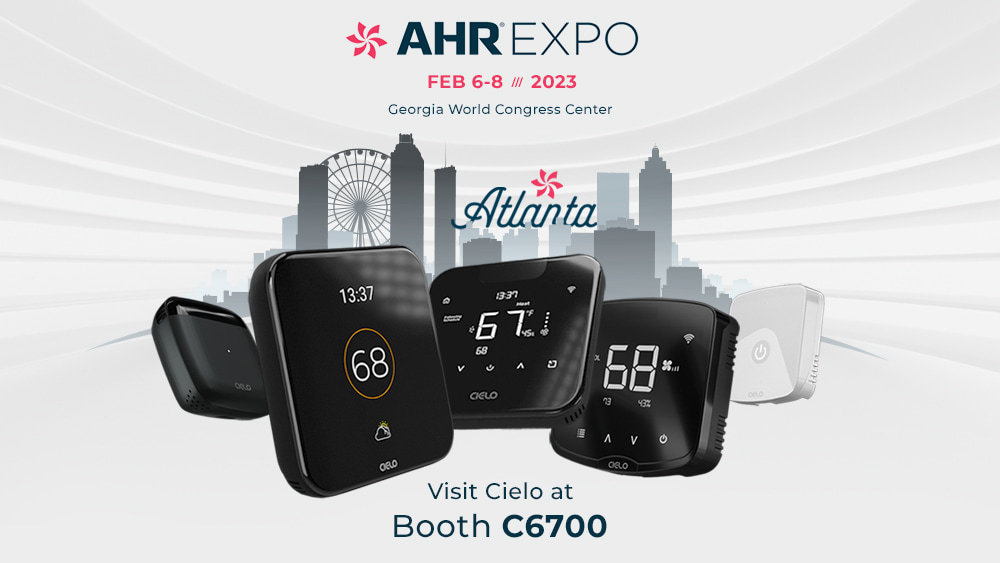 Cielo WiGle Inc., the leading manufacturer of smart AC controllers, is all set to showcase its latest innovations and award-winning products at the 2023 AHR Expo, a CAN'T-MISS event for HVACR experts, which will be held from Feb 6-8 at Georgia World Congress Center, Atlanta.
Considered the largest HVACR event, the AHR Expo is the hub for thousands of top industry professionals around the globe. Packing the floor with an explosion of new and innovative inventions every year, the show provides a unique forum where manufacturers can showcase the future of HVAC technology, initiate idea-sparking conversations, meet like-minded professionals, demonstrate the latest technologies, and discuss what is in the works.
Stars of the Show
Being a regular at this trade show for years, Cielo has made a mark in the industry by highlighting best-in-class innovations routinely. This year is no different, and we are thrilled to debut our newest additions. Visit Cielo's booth (C6700), and get the chance to experience our impressive product lineup.
Starting with the highly awaited Cielo Breez Max – Winner of the AHR Expo Innovation Award 2023 in the Building Automation category and also, Product of the Year Award. Cielo Breez Max is the industry's first true smart thermostat for mini-split, window, and portable air conditioners. It makes your ordinary AC smart and prioritizes your comfort while maximizing energy savings. Featuring high-end technology, Breez Max differentiates itself through its AI-based Comfy Max mode and auto-detection algorithm for universal compatibility.
A revolutionary gadget for central HVAC systems, Cielo Smart Thermostat offers next-gen features to make your ducted systems smart. Its ingenious design provides a modern and elegant touch to any space. Backed with cutting-edge technology, it helps you keep your energy bills in check while prioritizing your comfort.
Last but not least, the groundbreaking innovation for integrated smart HVAC controls, Cielo Linked. It is a state-of-the-art platform that links your ducted system with ductless room air conditioners to one interface. The best solution to achieve an automated home climate with pre-defined rules while optimizing energy efficiency.
AHR Expo Innovation Award 2023
The huge success of Cielo in recent years has reignited the company's readiness and enthusiasm to meet future endeavors with renewed optimism. This AHR Expo is especially important for Cielo as the company is deemed the winner of the AHR Expo Innovation Award 2023 for the upcoming high-end smart AC controller, Cielo Breez Max – Winner in the Building Automation category.
Product of the Year Award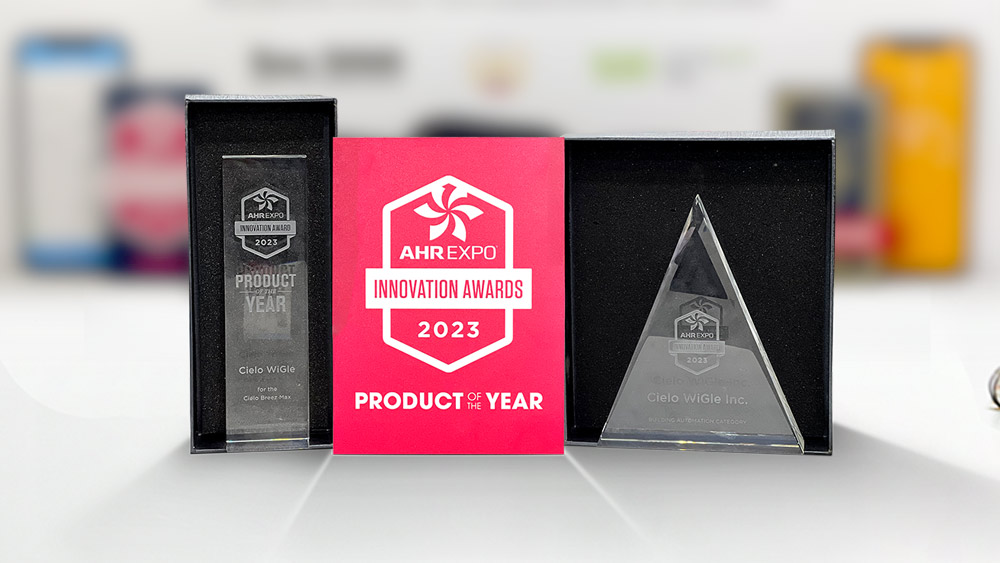 The annual AHR Expo Innovation Awards honors the most innovative and valuable products created by the HVACR industry. Among these, one of the category winners is selected as the prestigious Product of the Year, which is announced during the show. This year, Cielo Breez Max stole the spotlight and secured this coveted award. This smart controller has been long-awaited and will be made available to the market soon.
"We're immensely proud of these awards," said Waseem Amer, CEO of Cielo WiGle Inc. He continued, "Despite operating in an HVAC category that has numerous competent and ambitious players, we managed to stand out. Being rewarded for the hard work keeps the entire team going and taking the future challenges head-on."
Mark Your Calendars!
This expo will provide a much-needed in-person touchpoint for networking and knowledge sharing of the latest and best technology practices. Join us as we rejoice at the achievement of yet another milestone and unveil some of our highly anticipated smart home climate control gadgets in the HVAC industry for the year 2023.
Add Cielo to your show planner for a hands-on experience of our latest products at the expo!