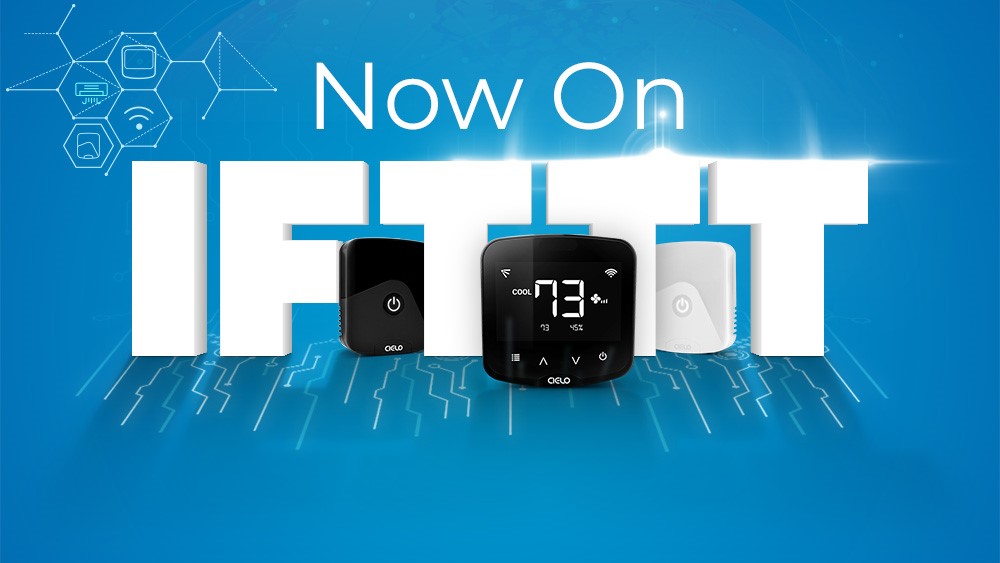 Cielo has partnered up with IFTTT to make integrated smart climate control a reality for everyone. You can now seamlessly integrate your cooling or heating system, paired with Cielo Breez smart controllers, with other appliances, services, and tools around your home.
For instance, you can take your climate control to the next level by having your blinds close, and lights dimmed every time you power on your air conditioner. Or, you can instruct your Cielo device to turn your air conditioner on if your Weather Underground app detects that the temperature outside is rising above a certain level. You can even trigger an action on more than one smart home device at the same time; the possibilities are near endless!
Before we get into how you can build your own IFTTT integrations, let's talk about the basics.
Pair Your Cielo Breez with IFTTT
What Is IFTTT?
IFTTT stands for If This Then That and is a free online platform that lets you create powerful connections between different smart products and services. In other words, you can use IFTTT to create basic trigger-action combinations or conditional statements, called Applets.
Applets are made up of – you guessed it- triggers and actions! Triggers are the 'If This' part of a conditional statement that prompts a response from another application. These responses are the Action part of the statement's 'Then This' part. With the right triggers and actions, repetitive tasks can become a thing of the past.
IFTTT is compatible with over 700 apps, services, and devices that you can now pair with your Cielo smart AC controllers for unlimited convenience! There are over 100,000s pre-built automations, or you can easily create your own.
Setting up IFTTT With Cielo
To start using IFTTT with your Cielo Breez device, you must first create an account.
Visit https://ifttt.com/ or download the IFTTT app from Google Play Store or the App Store.
Sign up for a free IFTTT account and follow the prompts to complete the account creation.
To link your Cielo account in IFTTT, search for Cielo Home and click on the blue and white icon. Then, log in to your Cielo account.
Using Cielo With IFTTT
To use your Cielo smart AC controllers with other smart devices around your home, you can either create your Applets or pick one that already exists.
To create your Applet, click on the 'Create' button, and in the 'If This' section, choose Cielo from the list of services.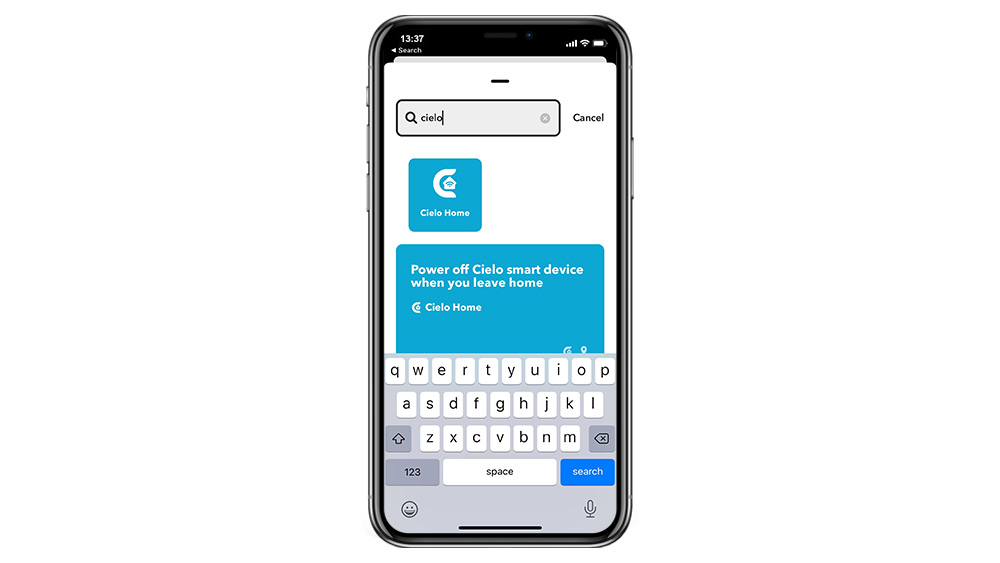 Pick one of the triggers below as the base action for your conditional statements.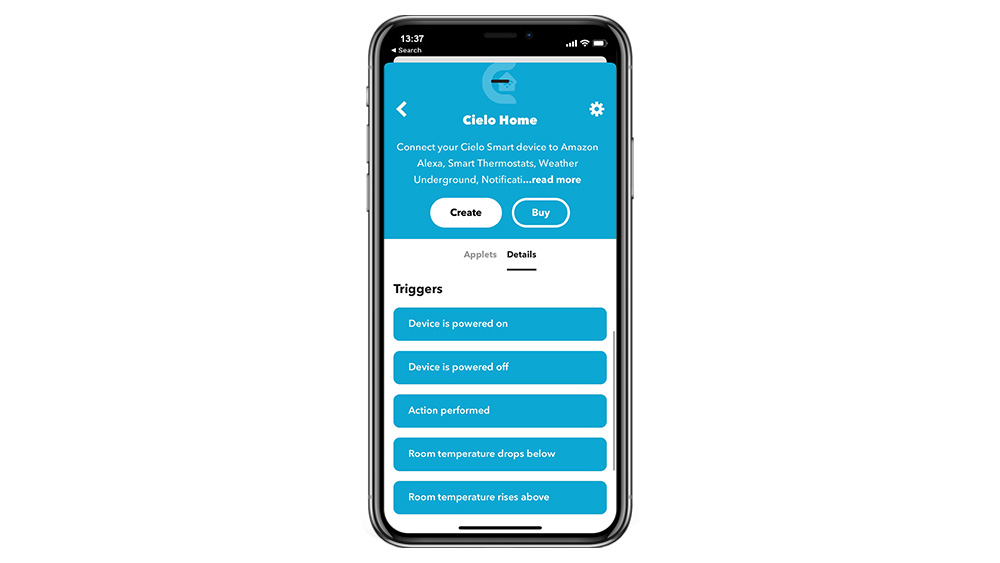 Next, you can link any of IFTTT's many integrated applications, or simply set a command for your air conditioner with your smart AC controller. Again, there are endless possibilities and options; for example:
Every time your Cielo device powers on, log an entry in Google Sheets or receive an SMS.
When someone performs an action on your Cielo device, receive a push notification on your phone.
If your Cielo device senses that the room temperature is above a certain level, turn on fans to help regulate temperature better.
Every time you turn your Cielo device off, your smart lightbulbs will also go off.
Whenever your Cielo device is powered off, you can ask Alexa to trigger a routine.
Cielo Smart AC Controllers
Your best choice to make any mini-split, window,
or portable AC smart. Enhance your comfort and savings.
Shop Now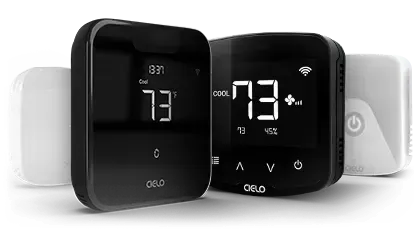 To use Cielo as the 'Action' part of your Applet, you can pick a 'Trigger' of your choice in the 'If This' tab. Next, in the 'Then This' part of the statement, choose Cielo Home from the list of services and pick one of the following actions: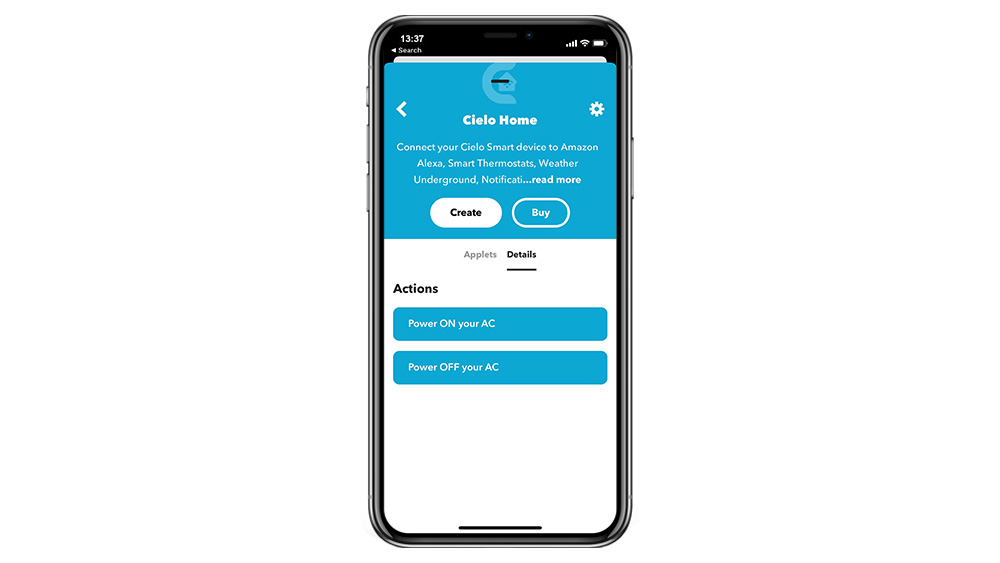 Using your Cielo device this way also opens up many avenues. For instance:
When your weather app detects that the outdoor temperature is above a certain level, it will power on your Cielo device to keep your home cool.
If your weather service forecasts rain today, it will power your Cielo device off to keep your home from getting too cold.
If your Aura Air sensors sense that the humidity in your room is below a certain level, it will trigger your Cielo smart controller to turn on and manage the air conditions.
If Fort Collins Utility reports peak hours, power off your Cielo device.
Benefits of Cielo & IFTTT Integration
By pairing up your Cielo smart AC controller with one of IFTTT's other integrated apps, services, and devices, you can enjoy unlimited perks, such as:
Enhanced Comfort
IFTTT integration will take your home's comfort to new levels. You can now use your smart AC controller in combination with other climate control devices around your home, such as smart fans and smart blinds. You no longer have to manually turn your air conditioner on and then close your blinds. Instead, you can create an Applet that will perform these actions automatically for you when the temperature outside or inside is a certain level.
Added Convenience
With 700+ APIs available for integration, you no longer have to perform manual actions on all your smart home devices. Seamlessly integrate all your devices for hands-off management of daily tasks. Imagine your bedroom Cielo device turns off in the morning, and your coffee maker, kitchen lights, and lounge air conditioner automatically turn on, saving you both the hassle and time.
Energy Savings
Cielo smart AC controllers can save you up to 25% on energy costs. You can now increase these savings even more by integrating your smart AC controller with your other climate control devices. For example, does the weather forecast predict rain? Save energy by keeping your Cielo device, and thus air conditioner, off until the weather clears up.
Increased Productivity
The amount of time we spend on tedious, repetitive tasks every single day is ridiculous! Save time and enhance productivity by automating daily tasks such as climate control. In addition, IFTTT integrates with nearly every type of smart home appliance out there, so adjusting your AC settings isn't the only thing you won't need to do manually anymore.
Download the IFTTT & Cielo Home app now to try out these features yourself!