Surprised by your thermostat changing the temperature by itself? While you wonder if your thermostat has gone rogue, there may be much more happening in the background.
Seeing your thermostat change its temperature on its own might make you feel like you are in a sci-fi movie, but the reality can be far more mundane. Although still a technological innovation, the truth is much easier to believe.
Smart thermostats or smart AC controllers, which are the talk of the town these days, are smart climate control gadgets that let you control your air conditioning needs through your smartphone. They connect your heating and cooling appliances with the internet and bring with them numerous benefits.
The prominent advantage that you, as a consumer, can get out of a smart thermostat is in the form of energy savings. They not only benefit you but also help reduce overall energy consumption, reduce carbon footprint, and are great for the environment. Hence, power companies also want to see your power bills coming down, and a smart thermostat allows them to do just that.
This can be done by having the thermostat change the set temperature independently but, of course, with your permission. This is exactly what some people, especially Texans, have been experiencing lately.
Check the full story from here.
Here's Why Your Thermostat Is Changing on Its Own
What Does a Smart Thermostat Do?
We all are well aware of a simple thermostat.
It controls the heating and cooling of your home. You can change the temperature, operating modes, fan speeds, and a few other functions.
On the other hand, a smart thermostat does all of these and much more but with a lot more convenience. It connects your HVAC system to the internet, allowing you to control your home heating and cooling using your smartphone.
Apart from the superior connectivity, a smart thermostat brings with it energy-saving features and functions that help make a difference to your energy bills.
For example, you can schedule your air conditioner to run for a fixed period of time, or you can set up location-based operating modes. These modes can run based on your proximity to home. You can perform monthly audits and keep a check on your usage through usage reports.
Now that we know what a smart thermostat does let's see how energy companies help you lower your bills through different saving programs.
Cielo Smart AC Controllers
Your best choice to make any mini-split, window,
or portable AC smart. Enhance your comfort and savings.
Shop Now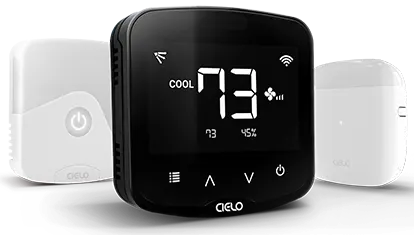 Why Does Thermostat Changes Set Temperature on Its Own? 
The frustration can be real when your room isn't reaching your desired setting, and instead, your thermostat keeps changing to a higher set-point temperature.
If you're annoyed like this guy, then check if you've opted for an energy-saving program?! If yes, then this must be happening to your thermostat due to demand response. The Electric Reliability Council of Texas (ERCOT) has asked users to conserve energy as much as possible as unplanned outages and heatwaves collide.
Let's learn what this is about!
The power grid is a complex arrangement of different parts but runs on one basic principle, supply, and demand. As long as the supply of electricity matches the demand, all is well. However, as soon as the demand exceeds the supply and cannot be fulfilled, problems begin to occur.
For example, cold winters storms of 2021 causing everyone to crank up their heating resulting in Texas blackouts! This caused around 10 million people to freeze without electricity and damages worth up to billions of dollars.
Energy has to be consumed as soon as it is generated and the energy grid always needs to balance the supply and demand perfectly.
During peak summertime, almost every home in the country with an air conditioner has it turned on, often at full power. The major chunk of the population comes home from their offices and turns their air conditioning on.
At this time, power companies are under immense pressure to supply a huge amount of electricity to consumers without interruption. As a result, the strain on a power grid is enormous and can sometimes lead to the whole system crashing down. This is known as tripping, where the grid shuts down under a large load.
It can set off a chain of failures and result in what is known as a cascading blackout. It means that in a system of interconnected parts, one failure can trigger the failure in another, and so on. One by one, all interconnected grids can go offline unless the fault is isolated.
Demand Response Event
To avoid this doomsday scenario, it is desirable for a power company to have some way to lower the energy consumption during these peak hours. This can be achieved by dialing down the thermostat settings for homes.
With internet connectivity through smart thermostats, a power company can now request the consumer, or if they are enrolled in some energy-saving program, automatically increase the set temperature on the thermostat.  This is called a demand response event.
Now, this doesn't mean that your air conditioner will turn off, and you'd be sitting in a very hot room.
With such an event, the thermostat changes by itself, and the temperature is only increased by a few degrees. For example, if you had set it at 72 degrees, the temperature would now be set to 76 degrees once an event is triggered. The thermostat changes the set temperature on its own, but you can opt-out out of this setting if you want.
The combined effect of these temperature adjustments can amount to a significant number for the power company. For example, a power company in Portland reported 50 MW of demand being taken off-grid after a demand response event.
This gives the power company some room to play with and avoid a blackout. This is exactly what the uproar regarding the thermostat changing its own temperature is all about.
After all, isn't sitting in a slightly high temperature better than a complete blackout for days?!
What's in It for You?
Now that we have discussed the power company's perspective, let's see what a consumer has to gain from enrolling in such a program.
With a demand response event, your air conditioning will be operating at slightly lower energy levels. This means lower energy consumption and lower bills at the end of the month.
Most importantly, it does not come at the expense of comfort. Chances are you won't even notice that the demand response event has taken place.
With heating and cooling costs, you can save up to 10% in annual heating and cooling costs. This is because enrolling in a demand response program slightly increases your thermostat setting, without disrupting your comfort.
Moreover, by enrolling in this program, your utility company might give you a healthy rebate. It can also offer you other financial benefits on the purchase of your smart thermostat.
If you have not already enrolled in this program, contact your power company and check if they offer such a facility.
With power demand continually rising year by year, there is a need for innovative methods to keep up with the growing need for electricity. Demand response programs are one such effort to mitigate the effects of increased demand and keep the power grid running smoothly through times of extreme heat or cold. It is not just one person, but the community as a whole plays their role to avoid a blackout. Now, if you wonder next time why does my thermostat change by itself, you have the answer. Contact your power company today and enroll yourself in the program, and avail the benefits it provides!