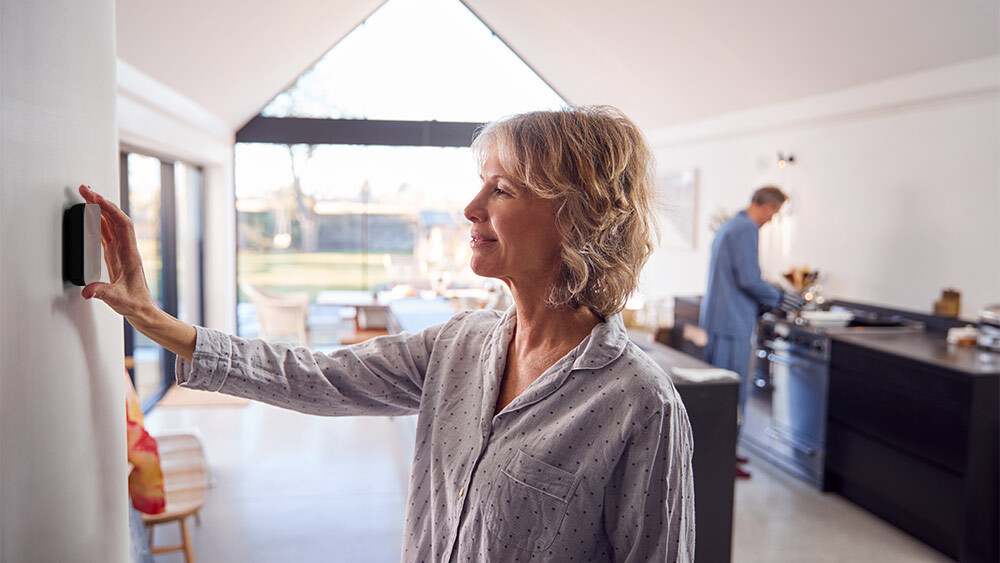 Be it the scorching sun of summer or chilly wind in winter, all you need inside your home is the perfect atmosphere to maintain a comfortable environment for you and your family.
It won't be wrong to say here that you need to have the right type of thermostat installed to achieve the best comfort level indoors.
With the various options available in the market, if you're wondering what type of thermostat do I need, then you've landed in the right place. After reading this article, you'll have enough knowledge to make an educated decision while choosing the thermostat that best suits your needs.
Best Type of Thermostat for Your Home
What Is a Thermostat?
The word thermostat comes from the combination of two Greek words, thermos (meaning heat) and statos (meaning static). Hence, a thermostat is a device that is used to maintain a constant temperature in any area.
A thermostat turns any heating or cooling system on or off as needed. It senses the temperature in the surrounding area and knows if your HVAC system needs to be turned on or off to maintain your desired temperature. 
How Does a Thermostat Work?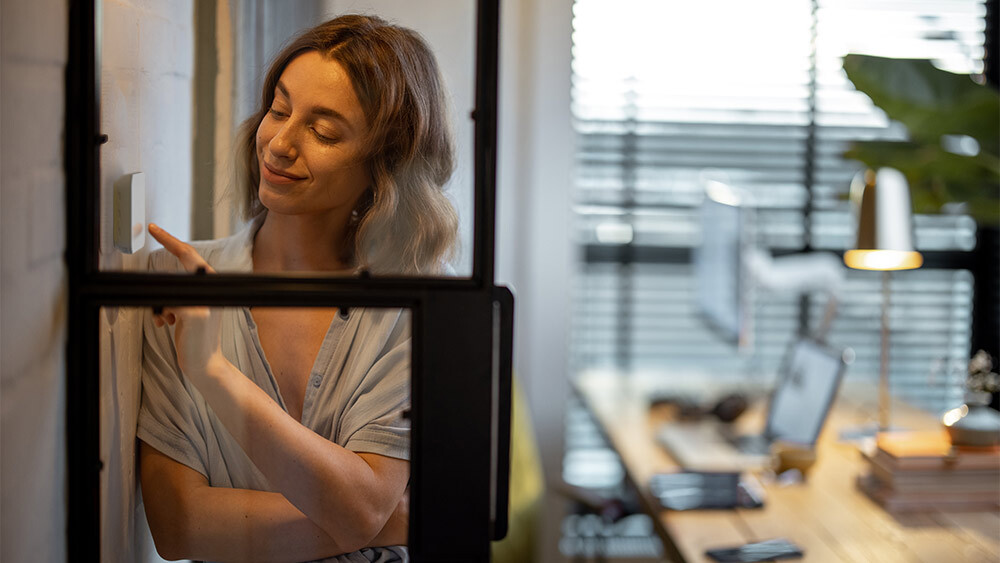 The working of a thermostat depends if it's a mechanical or a digital thermostat.
A mechanical thermostat works by moving a piece of metal to interrupt the circuit and stops the current flow to the HVAC system using a bi-metal coil or strip. The metal strip expands when the temperature is higher and contracts when the temperature is lower than your desired setting. This temperature sensitivity of the metal strip allows it to make or break the circuit.
In a digital thermostat, movement of metal strip is not required since it has in-built sensors that detect the temperature in its surroundings and increase or decrease its electrical resistance accordingly. At a point when a certain resistance level is reached, the thermostat then sends a signal to the HVAC system to cut power.
Two Basic Types of Thermostats
There are two different kinds of thermostats with respect to the voltage they use to operate.
1. Line Voltage Thermostat
Line voltage thermostat, in terms of electrical appliances, means your appliance is ready to be plugged into the socket, and you start using it. The standard compatibility for most electrical appliances is 120 or 240 volts. Because of its high voltage consumption, this is also known as a high voltage thermostat.
Such high voltage thermostats further have two types: two-wire (single-pole) and four-wire (double-pole) thermostats. The difference between the two is that four-wire line voltage thermostats can turn off, whereas two-wire line voltage thermostats can only turn to the lowest setting.
2. Low Voltage Thermostat
This type of thermostat runs off a transformer that reduces line voltage to somewhere between 12 and 24 volts. It is a direct wired heater and AC control and can control almost any kind of system, including boilers, baseboard heaters, furnaces, radiant heat, air conditioning, heat pumps.
Low Voltage thermostats often run on a small battery, which allows the device to recharge and snap power from the mainline when needed. This process is called power-stealing.
Types of Thermostats w.r.t Features
There are plenty of options when it comes to choosing the right type of thermostat for your home. Let's have a look at their features so that you can make the right choice when selecting one.
1. Non-Programmable or Manual Thermostat
A non-programmable thermostat or often known as a manual thermostat is a more traditional option to control the temperature in any area. The mechanical non-programmable thermostat mostly has a dial to change the temperature. In contrast, the electronic non-programmable thermostat has buttons and sometimes a digital display as well that lets you make changes to other available settings.
In places where the outside temperature doesn't vary much, non-programmable thermostats are a good option since you would only need a single temperature setting to ensure a comfortable environment.
If you're someone who is not tech-savvy, then this is the best fit for you as it is easier to control the climate of your home as required. Non-programmable thermostats have a low upfront cost than other types of the thermostat.
Although they are cheaper and easy-to-use but adjusting the temperature frequently may become inconvenient after a certain time. With the limited number of features, manual or non-programmable thermostats don't offer energy-efficient temperature settings.
2. Programmable Thermostat
A programmable thermostat lets you set schedules to control your heating and cooling systems. You are able to customize the setting with different temperatures depending on the hours you'll be home or not.
Programmable thermostats come with various features, including voice-phone programming, touchpad programming, vacation setting, and air filter status, allowing you to select the best fit as per your needs.
They come in three models, including 5-2 (one setting for weekdays and another for weekends), 5-1-1 (one setting for weekdays and separate settings for Saturday and Sunday), and 7-day (a different setting for every day of the week).
The diverse functions that different types of programmable thermostats offer are the reason behind their increasing popularity these days. According to Energy Star, by setting your thermostat to different temperatures throughout the day, you can save energy and cut your heating and cooling costs.
For instance, if you live in an area where the temperature plummets at night, then using a programmable thermostat, you can schedule different temperature settings for day and night. This is just one scenario; a programmable thermostat offers an easy solution whenever you need a way out.
Programmable thermostats help cut down your energy usage, make automatic adjustments, and allow remote monitoring and control to increase your comfort level. However, besides a high upfront cost that can be anywhere between $100-200, their setup might be time-consuming, and it might take a little while for you to understand its functions completely.
3. Learning or Smart Thermostat
As the name suggests, learning thermostats are programmable thermostats that do not require your involvement. They learn your requirements over a certain period and then set schedules based on that as you use them.
Smart thermostats offer energy-efficient settings that can help you reduce your heating and cooling costs in addition to monthly energy reports. Unlike learning thermostats, smart thermostats do not have the ability to learn your habits.
These kinds of thermostats work by connecting to an internet connection and are available for control and monitoring over your smartphone, tablet, or laptop.
Learning thermostats are the simplest solution to solve your home's temperature issues. However, if you prefer to keep the control in your hands, smart thermostats would be a better option.  
The upfront cost of learning and the smart thermostat is really high as compared to other types. It can range from $100 to $500. In addition to their cost, another drawback is that if the company's services go down, you'll lose control over your heating and cooling system.
Cielo Smart Thermostat
Equip your HVAC system with smart features and achieve the perfect balance between comfort & savings.
Shop Now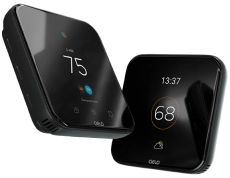 4. Communicating Thermostat
Unlike a non-communicating thermostat that requires tons of wirings to connect with your HVAC system, communicating thermostats don't need that.
A communicating thermostat communicates with different parts of your heating and cooling system by pairing like the two Bluetooth devices connect with each other. Consequently, both the devices are able to send signals and make the desired changes through back and forth communication.
This type of thermostat only works with a communicating HVAC system that has a very high upfront cost, i.e., from $150-500. But the good thing is that it saves you a lot of money in the longer run. Likewise, communicating thermostats cut your electric costs as the components can communicate about their capabilities and turn on and off accordingly.
Communicating thermostats are difficult to install, and their repairs are costlier.
5. Outlet Thermostat
It is a type of thermostat that can be used with portable and on-the-go heating or cooling devices and is the best fit in homes and offices that do not have an HVAC system installed.
These thermostats are popular among people who have small living spaces or who don't want to go through a lengthy installation process. All you have to do is just plug in your device, choose your desired temperature, and your heater/ air conditioner will automatically turn it on/off to maintain that setting. 
6. Data Logging Thermostat
Data logging thermostats keep the record of a temperature setting over a period of time.
Generally, this type of thermostat is used by technicians to trace any hot and cold spots in a house.
Such types of thermostats are used more commonly in the food industry because the temperature has to be maintained continuously to store the items and keep them safe from bacteria and contaminants.
7. Mini-Split Thermostats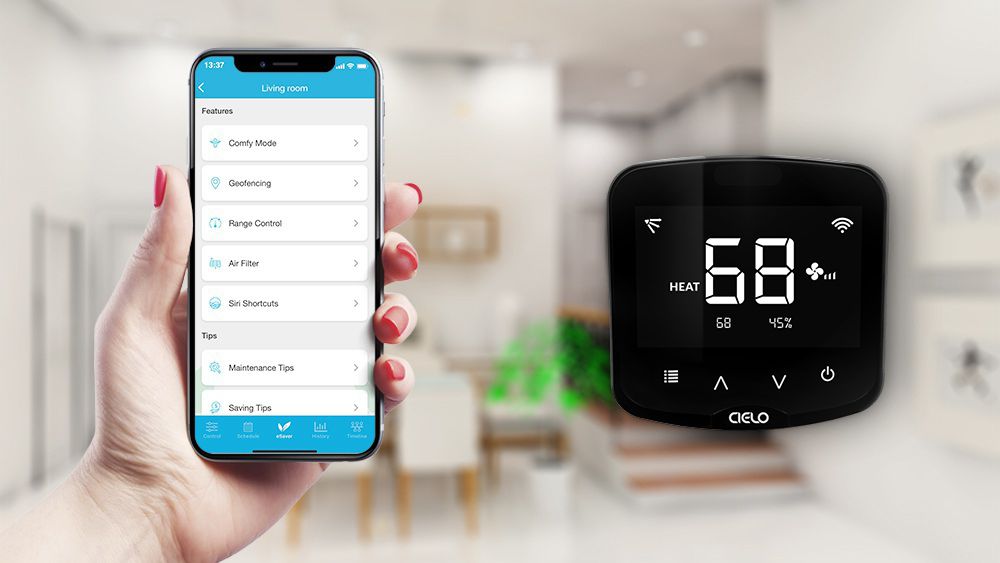 If you have a ductless mini-split heat pump, we have a piece of good news for you as well. Mini-split air conditioners have their own thermostats available in the market that let you make your dumb AC smart!
Most of the mini-splits come with an infrared remote control with limited functions. However, if you connect your AC with a mini-split thermostat or otherwise known as a smart AC controller, then you'll be able to condition your home using your smartphone from anywhere, anytime.
With smart features like Comfy Mode, geofencing, and weekly schedules, you can pre-set the temperature or even humidity to maintain the climate inside your home.
The best part is that you can simply set up the device and connect it to your AC using infrared remote.
Cielo Smart AC Controllers
Your best choice to make any mini-split, window,
or portable AC smart. Enhance your comfort and savings.
Shop Now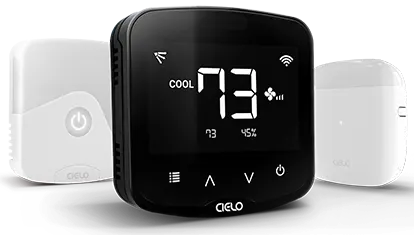 Choosing the Right Thermostat for Your Home
The first step for choosing the right thermostat for your home is to check the type of heating and cooling system installed in your house. The next step is to check the compatibility of your system with the options available in the market.
After that, you need to look up the features of the thermostats and compare them with your needs. The one that matches the best is the one you should be getting.
Thermostat Placement
As the thermostat reads the temperature from its surroundings and then makes changes to achieve your desired temperature; therefore, its placement plays a crucial part.
While deciding on the placement of your thermostat, make sure you don't locate it where sunlight reaches it directly, near a door or a window, or above air vents. If you place your thermostat in any of these areas, then there is a risk of getting a false reading.  
The best place to locate your thermostat is towards the center of your home. This way, you'll be getting an average reading of your entire home. Another option is to place it in the room where you and your family members spend most of your day. It will then read the setting accurately from that particular room to make it more comfortable. 
Another thing to keep in mind is to place your thermostat almost between 52 and 60 inches above the floor to ensure it's getting an average reading.
Temperature Sensors
Since not every room has the same temperature; therefore, it is difficult for a single device to measure the temperature of an entire home. This is where temperature sensors come in, which can be separately placed in other rooms. When turned on, the thermostat also reads the sensor's readings, adding them up in the final value. You can even turn selected sensors on/off depending on the rooms you spend the most time in. 
To maintain your indoor comfort levels, your HVAC system's efficiency is critical. For high efficiency, you need to have a good functional thermostat. As now you know that there are different types of home thermostats available in the market, all you need is to have a basic know-how of how they work to choose the best fit for your home.