Are you finding it difficult to keep your home temperature comfortable despite your best efforts? Does your energy bill keep increasing without any apparent reason? You must be blaming your heating and cooling system but before you call an HVAC technician, take a look at where you have placed your thermostat.
Your thermostat is a key component in helping your HVAC system maintain the ideal temperature.
Thermostats monitor the average home temperature and send a signal to your HVAC unit to achieve your preferred settings. Since they sense the ambient temperature, thermostat placement is quite important. External factors such as light, cold drafts, heat affect thermostat readings. 
Incorrect placement of your thermostat results in inaccurate or 'ghost' readings of the temperature, making your HVAC system run either too often or not enough. It can lead to increased wear and tear and uneven heating and cooling. Moreover, it can cause unnecessary energy wastage, leading to high AC bills.
So, what should your thermostat location be and where not to place it? Let's find out.
Best Thermostat Placement
Thermostat Placement Guidelines
Here are some of the general thermostat placement guidelines that you should follow when hunting for the ideal location: 
Read the manufacturer's installation instructions to prevent ghost readings and unnecessary short cycling of your unit.
Keep your thermostat away from heat-generating appliances such as ovens, televisions, lamps, etc.
In the case of a smart thermostat or a smart AC controller for ductless units, make sure they are positioned in the range of your Wi-Fi and the signal strength is strong enough to provide a constant connection. 
Don't install your thermostat in the hottest or the coldest room in your house. You want your climate control device to take the average reading. Thus avoiding placement in extreme temperatures is recommended.
Your furniture pieces block air circulation; therefore, it is best not to position them in front or below the thermostat.
Don't position your thermostat near supply ducts or plumbing pipes. Water or air moving through the pipes heat/cool the walls surrounding them, causing the temperature to fluctuate.
Don't install the sensors where they can be blocked, such as in a bookshelf or behind a door.
Ideal Thermostat Placement
Thermostat placement can affect its performance and efficiency. Ideally, it should be positioned in a central place that you use frequently and where natural air circulation occurs. 
Install your thermostat at the height of 52 to 60 inches. Placing it above 60 will result in high readings, while below 52 will read the lower temperature. This is because hot air rises and cool air sinks, and the swinging temperatures will affect the measurement.
For maximum comfort, consider using a smart thermostat or a smart AC controller such as Cielo Breez Plus. They allow you to control AC using your phone, set schedules, maintain ideal temperature, humidity levels, and a lot more! 
Cielo Smart Thermostat
Equip your HVAC system with smart features and achieve the perfect balance between comfort & savings.
Shop Now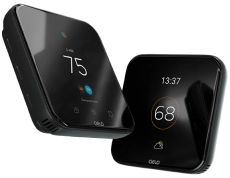 The following places in your home would serve as the best location for your thermostat:
1. Center of Your Home
A central area better reflects the climate of your home. Since the thermostat measures your average home temperature, installing it in the center is generally recommended. In addition, a midpoint location maximizes the thermostat accuracy, helping your HVAC system operate at its best. Another benefit is that a center point would be easily accessible to all family members.
2. Frequently Used Room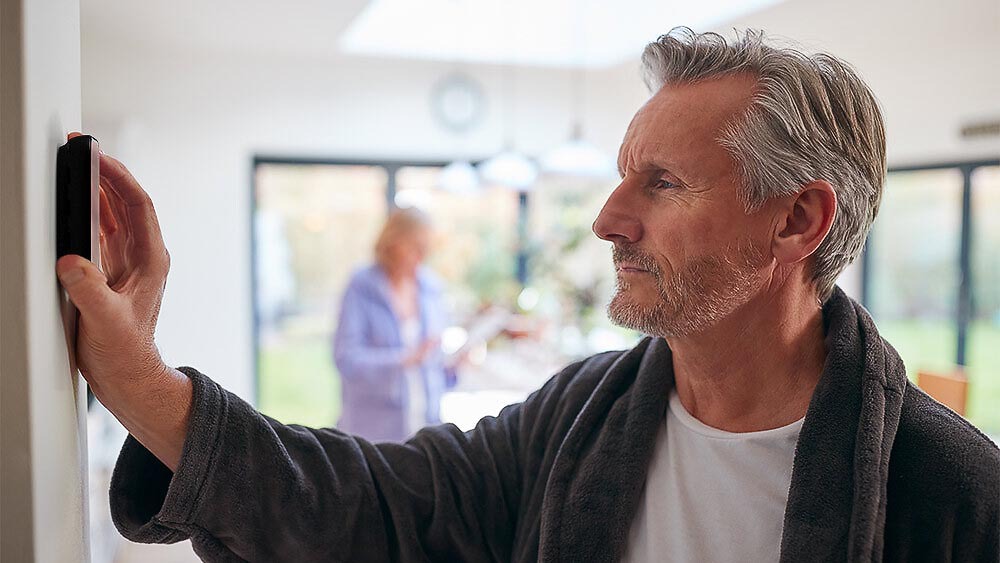 You want your frequently used room to be as comfortable as possible. Hence it is the best place to install your thermostat. Your room will be cooled or warmed just the way you like it, with no ghost readings hindering your thermostat's functionality. Just ensure that there are no large windows with cold drafts or sunlight coming directly onto the device.
To find the perfect thermostat settings for your home, read our detailed guide. 
3. On an Interior Wall
Interior wall is not affected by fluctuating cold or hot temperatures like the exterior wall. Plus, they give a better indication of your average home temperature. They can also be your go-to place to install a thermostat.
4. First Floor in a Two-Story Building 
Since hot air rises, the second floor of your house often feels warmer. A thermostat installed upstairs will detect that your entire house is getting warmer when in reality, it isn't. 
Instead of installing it on a second floor, consider placing it in a central location downstairs, such as your living room. This placement is the key to a balanced environment in a two-story building. An ideal solution, however, would be to install dual-zone thermostats for better climate control.
Here's how to perfectly cool the upstairs of a two-story home.
Where Not to Place Your Thermostat
Whether it's a cold draft from windows or the heat from your kitchen, the drastic temperature swings can confuse your thermostat. As a result, it will be nearly impossible for it to read the ambient temperature of your home. To avoid this, you should not place your thermostat in the following places:
1. Near Doors & Windows
Direct sunlight or drafts entering through windows can complicate the temperature for your thermostat to take the precise reading. Similarly, cold air entering from cracks and gaps in the doors will cause your thermostat to perceive your house as much cooler than it actually is.
Moreover, placing your thermostat near the door that opens outside is a big no. Every time you open the door, your thermostat will be exposed to cold or warm air. Consequently, your AC will continue to cycle on and off without reaching your preferred settings. 
2. Direct Sunlight
The harsh, blazing sunlight falling on your thermostat can seriously mess up with the reading. Sensors will read that your room is getting warmer and will signal to lower your air conditioner settings. This wrong calculation affects the working of your unit leading to energy wastage. Even on a cold day, the sun rays can impact sensor reading, and your heating system won't turn on when you need it.
3. The Hot Kitchen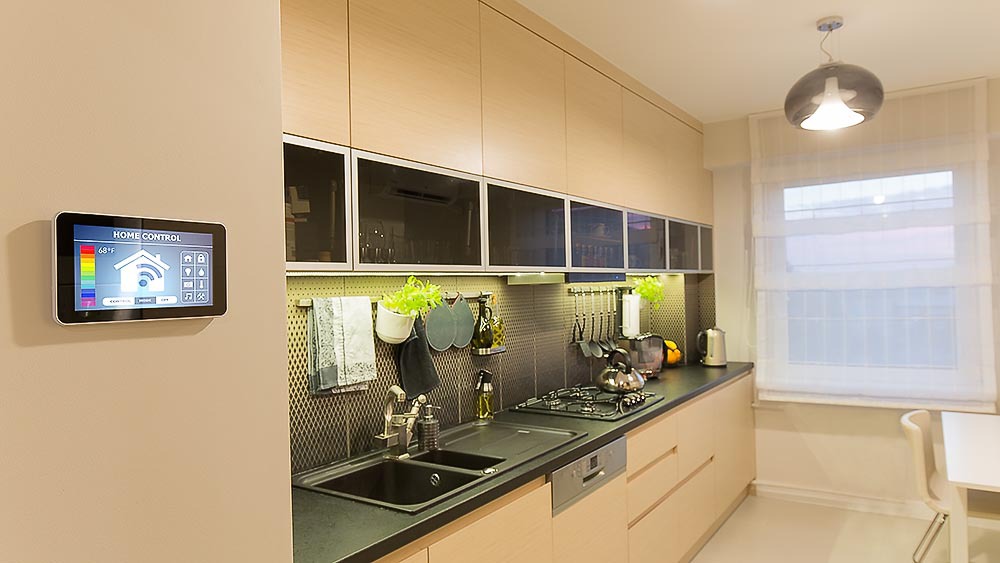 Your kitchen is probably the warmest place in your house, thanks to the heat generated due to cooking and baking. If you place your thermostat in this setting, it will not be able to get an accurate reading. Your AC will run even when you don't need it. On the other hand, your heating system will struggle to keep your house warm, leaving you and your family members shivering in the cold.
4. Near the Vents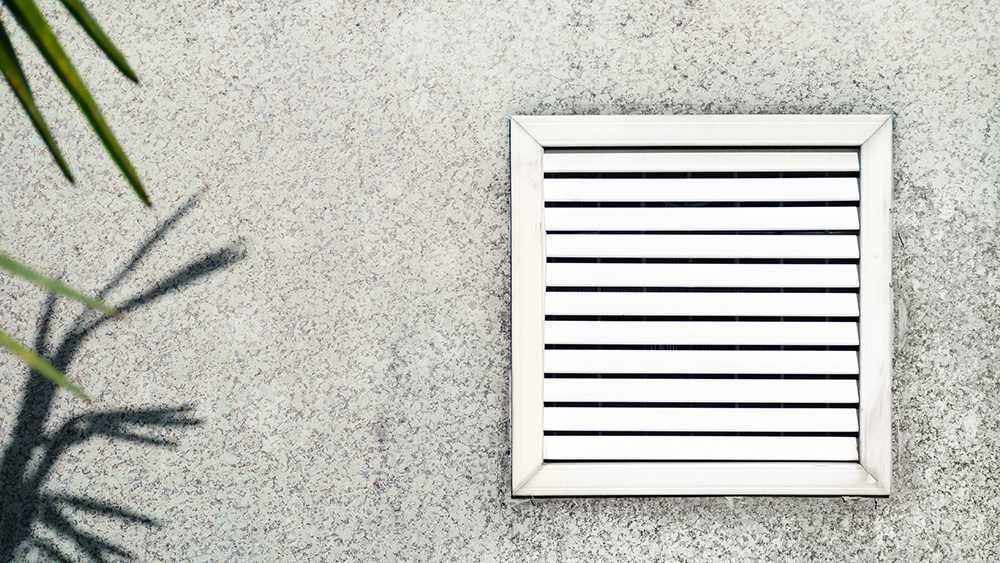 One of the sources that can throw off your thermostat reading is the vents. Placing your smart climate control device directly above or below the vents results in false readings. Your thermostat comes in direct contact with hot and cold air from the vents, not getting the right reading. It will get cooler or warmer quickly than the rest of your home, which causes your unit to stop working even before your home reaches the desired temperature.
5. Exterior House Wall
Exterior walls are more affected by the outside temperature, especially if they are not insulated. The cracks and holes in the wall cause air leakage that can have an impact on thermostat reading. Hence, it'd be better to place your thermostat on an interior wall. 
6. Empty Hallway
Your hallway is another no-go area as far as thermostat placement is concerned. A hallway is a long, narrow space with little to no air circulation, so your thermostat won't be able to take accurate measurements. Plus, you don't actually spend much time there, and it remains empty most of the time. 
The Takeaway
For proper functioning, a thermostat must be in a central location, away from direct sunlight, drafts, doorways, windows, and places where the temperature fluctuates. By following the above-mentioned thermostat placement guidelines, you can ensure optimal heating and cooling to maximize energy savings.