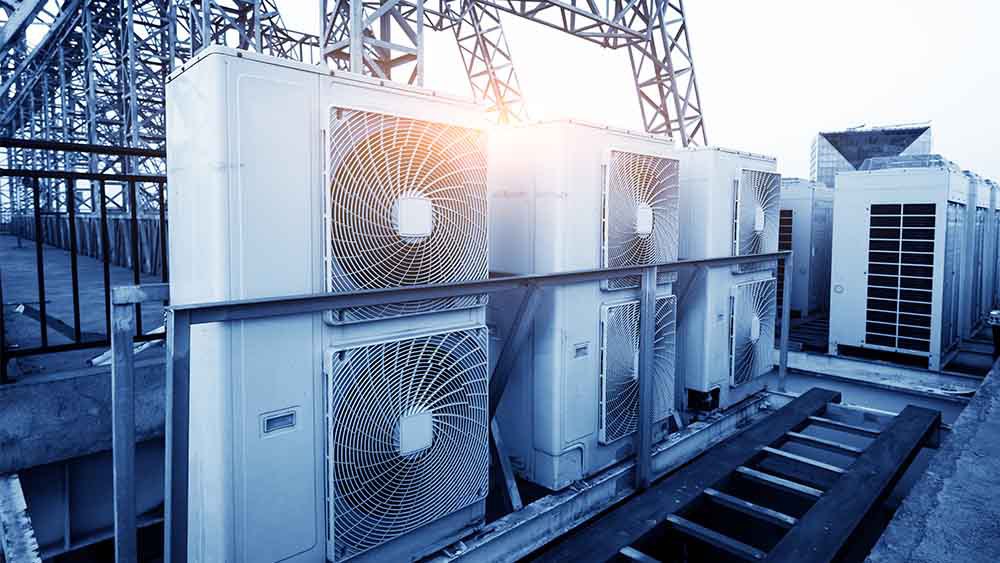 HVAC systems have come a long way since their inception. Each year, new technologies and innovations hit the market, paving the way for more efficient and effective systems. With an increase in demand due to harsh weather conditions, there has been a significant push for improved energy efficiency in the HVAC industry. This has led to a number of new HVAC innovations, including more efficient AC units. 
The US HVAC systems market size was valued at $17.15 billion in 2022 and is projected to grow at a compound annual growth rate (CAGR) of 5.6% from 2023 to 2030. As energy costs and electricity demands continue to increase, the market is likely to grow and innovate at an even faster rate. 
This article is a round-up of the top HVAC industry trends and statistics to understand in 2023. Here's a breakdown of what is covered: 
HVAC Industry: Trends, Stats & Interesting Facts
The total number of HVAC systems in the US has now exceeded the country's total population. This indicates unprecedented growth in the heating, ventilation, and air conditioning (HVAC) industry. Extreme climate conditions, infrastructure developments, and a rising focus on comfort are the main factors driving the growth of the HVAC market in the country.
1. US HVAC Market Trends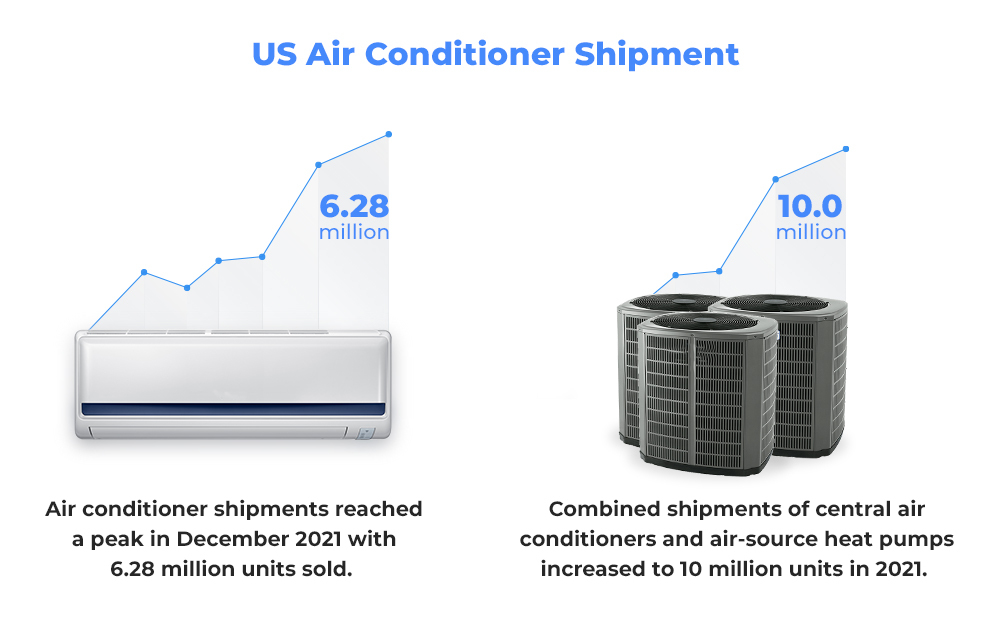 Annual shipment of heat pumps increased from 2.3 million units in 2015 to 3.4 million in 2020. 
The US heating equipment market is projected to grow at a CAGR of 5.6% from 2016 to 2025.
In 2020, the US had an air conditioner stock of 399 million units which is expected to grow to 542 million units by 2050.
Air conditioner shipments reached a peak in December 2021, with 6.28 million units sold. 
Combined shipments of central air conditioners and air-source heat pumps increased to 10 million units in 2021. This increased by 9.3% from 9.3 million units in 2020.
Sources: IEA 1,  Grand View Research,  IEA2, Statista, AHRI
2. Global HVAC Industry Trends
The global sales of heat pumps increased by 11% in 2022.
The furnaces market is projected to grow at a CAGR of 5.4% from 2016 to 2050. This high growth is on account of its efficiency and easy availability of replacement components. 
In 2022, China's demand for air conditioners was the highest globally, with 43 million units.
The global HVAC market is projected to reach about 367.5 billion US dollars by 2030, based on a compound annual growth rate (CAGR) of 3.9 percent between 2020 and 2030.
The global stock of air conditioners will grow to 5.6 billion AC units by 2050. The world's highest air conditioner stock is in China, with 730 million units.
Sources: IEA 1, Statista 1, Grand View Research, Statista 2, IEA 2
3. HVAC in the Residential Sector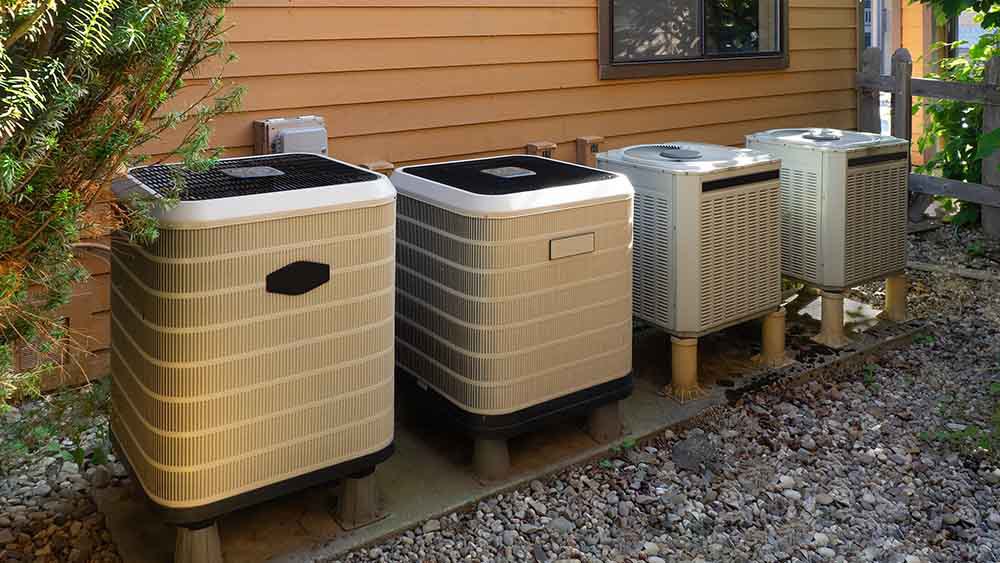 The arrival of early summer and increased occurrence of heatwaves has led to higher air conditioning demand in homes. Furthermore, as average temperatures continue to rise, the need for air conditioning becomes more paramount. As a result, homeowners are now investing in air conditioning units more than ever to keep their homes livable during the hottest months of the year.
Global warming is not just limited to harsh summers; the winter season is also taking a hit. A study on climate change finds that warming in the arctic region is linked to colder winter months in the US. So, heat pumps that provide both heating and cooling are rising in popularity due to their flexibility of use in every season. 
Air Conditioning in US Homes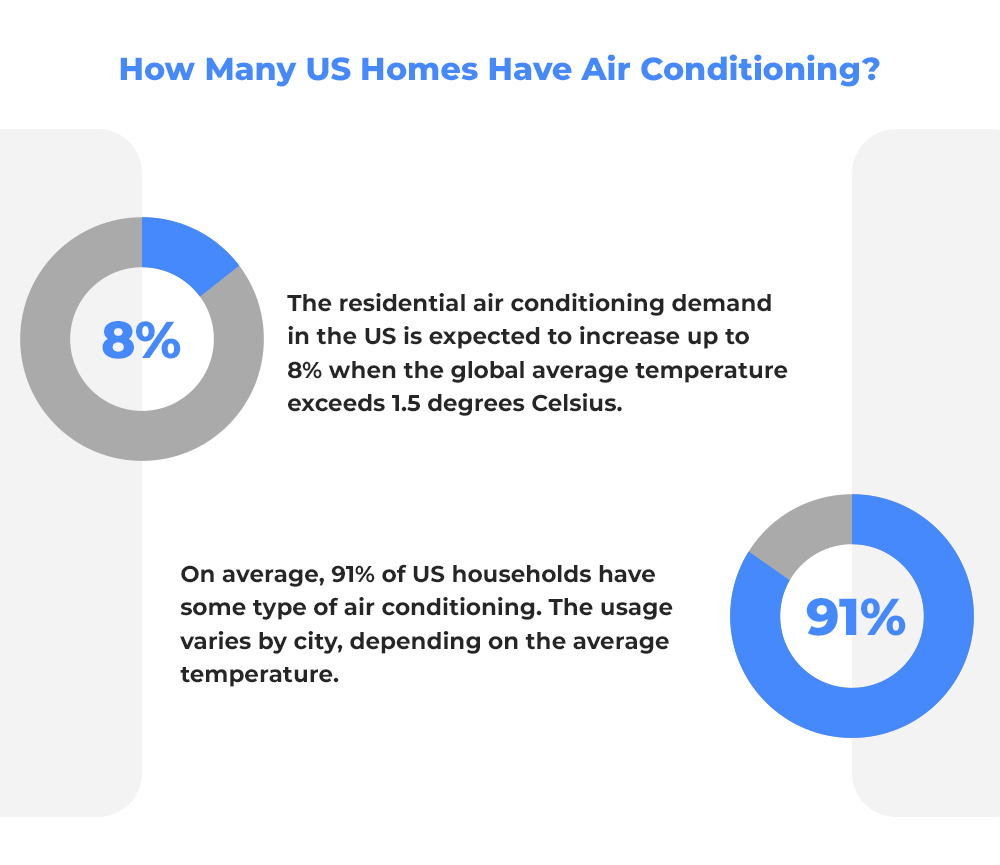 The residential air conditioning demand in the US is expected to increase up to 8% when the global average temperature exceeds 1.5 degrees Celsius.
On average, 91% of US households have some type of air conditioning. The usage varies by city, depending on the average temperature. For instance, 99% of households in Houston, Atlanta, and Miami have air conditioners installed. Houston's average June and July temperatures reach about 93 F, while Miami and Atlanta are in the high 80s.  
In 2020, the total annual investment in residential heat pumps was 51 billion US dollars, and the US was the largest market. 
In 2021, the share of heat pump sales in the US for newly constructed buildings exceeded 40% for single-family houses and nearly 50% for multi-family buildings. 
Sources: AGU, USA Facts, Statista 1, IEA
HVAC Systems & Household Electricity Expense
Heating and cooling make up about 43% of a home's utility bills.
Nearly 29% of your home's energy costs comes from heating.
Households spend 35%–42% more on electricity bills when they own air conditioners. The actual increase depends on the weather conditions and how hot it gets at a particular location. Almost $14 billion is spent on HVAC services and repairs every year.
In the US, on average, household spending on bills increased 11% with the addition of AC units.
Air conditioners account for 6% of electricity usage at an annual cost of $29 billion to homeowners in the US.
On the hottest days, 70% of peak residential electricity demand is for cooling spaces in the US.
 In 2021, the mean household expenditure on window air conditioners by homeowners in the US amounted to $6.58 per consumer unit, the highest over the time period examined (2007-2021).
Sources: Energy.gov 1,  Energy.gov 2, Science Direct, Guide House Insights, Energy.gov 3, The Guardian, Statista
Global Trend in Home Air Conditioning

Japan ranks top in air conditioning usage, with more than 91% of households having some kind of air conditioning usage.
Living in an urban area increases the probability of having AC by 9%.
North America was one of the regions with the highest demand for air conditioners, reaching over 19 million units in 2022.
 It is predicted that the world will add another 5.5 billion AC units by 2050. The growth will largely be driven by highly populated countries like India, China, and Indonesia.  
Sources: Statista 1, Phys.org, Statista 2, Statista 3
4. Smart HVAC Technology
As technology continues to advance at a rapid pace, the penetration of smart home products into US households shows no signs of slowing down. The recent statistics indicate that the US smart home penetration is forecasted to reach 68.6% by 2027 at a growth rate of 56.62% from 2022 to 2027.
The rise of smart home technology has not only brought about an unprecedented level of convenience, but it can also help save a substantial amount of money on energy bills. As using air conditioning for prolonged periods significantly increases electricity bills, the HVAC industry is also seeing a trend toward smart technology. More and more homeowners are opting for smart thermostats or smart AC controllers for room ACs to save on energy costs. These devices provide a wide range of smart features that help you automate your home climate and save on air conditioning bills.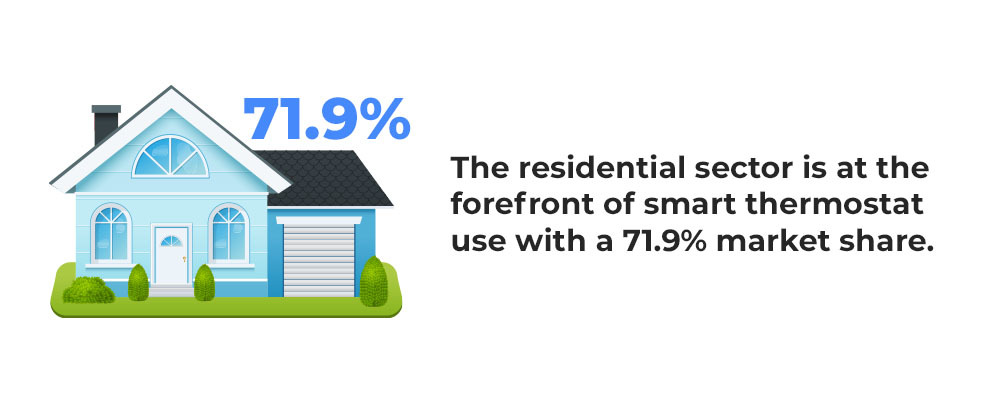 Smart Thermostat Market US
The smart thermostat market has also seen an unprecedented growth due to the greater shift toward smart home devices and the internet of things (IoT). 
The U.S. smart thermostat market size is projected to grow from $1.27 billion in 2022 to $3.86 billion by 2029 at a CAGR of 17.2% during the forecast period

The residential sector is at the forefront of smart thermostat use with a 71.9% market share.
Most US consumers are satisfied with their smart thermostats: Eight out of ten homeowners who own smart thermostats would buy another such device in the future.
Sources: Fortune Business Insights, Statista 
Global Trend in Smart Thermostat Market
The global smart thermostat market was valued at $2.6 billion in 2021. By 2030, the market is forecast to have a value of $25.5 billion.
North America leads the market in WiFi thermostat production, accounting for 85% of global output. It is also leading the smart thermostat consumption market, occupying a whopping 71% market share. This is followed by a percentage of 19% in European countries.
Sources: Statista, Global News Wire
Smart Thermostat & Energy Savings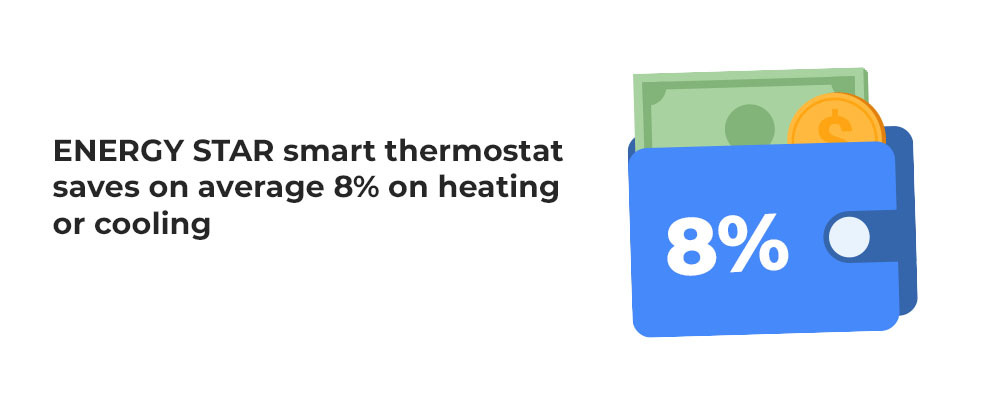 ENERGY STAR smart thermostat saves on average 8% on heating or cooling or $50/year on electricity bills.
Homes with high energy bills plus the ones that remain unoccupied for most parts of the day can save up to $100 a year with an ENERGY STAR certified smart thermostat.
Sources: ENERGY STAR1, ENERGY STAR 2
Cielo Smart AC Controllers
Your best choice to make any mini-split, window,
or portable AC smart. Enhance your comfort and savings.
Shop Now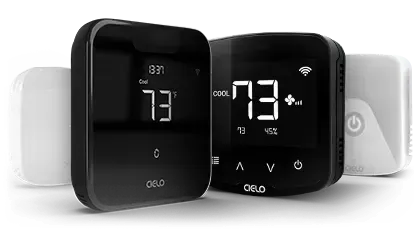 5. Air Conditioning & Electricity Demand
 With higher temperatures, Cooling degree days (CDD)  have drastically increased. CDD describes how much cooling is required to maintain indoor comfort. It is the number of degrees the day's average temperature stays above 65 F. Hot weather conditions mean that demand for air conditioning is growing, which results in an increase in electricity consumption.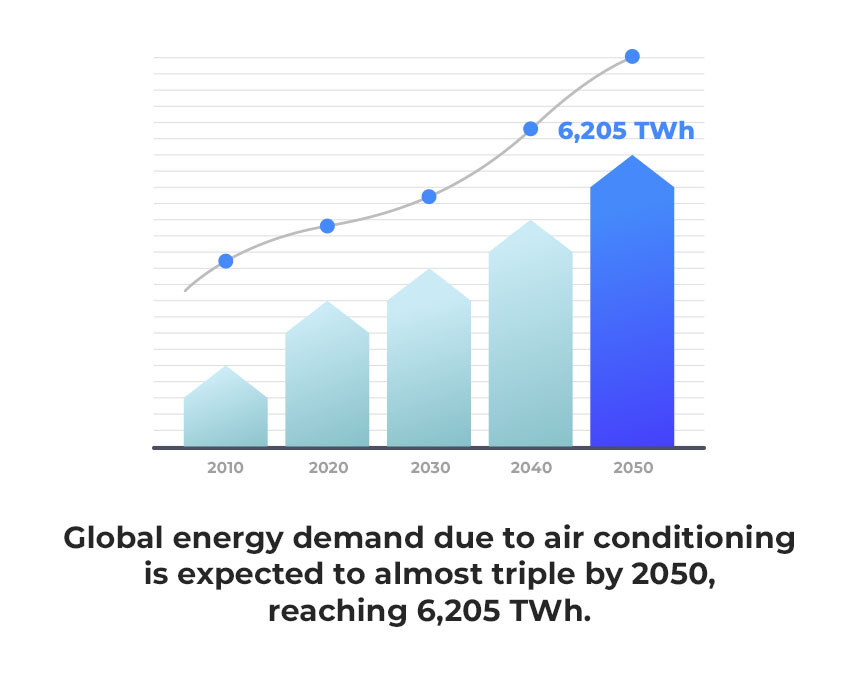 Climate Central analyzed 246 cities in the US and concluded that a whopping 95% of cities had experienced an increase in CDDs since the 1970s. Apart from the Southern parts of the country, northern latitudes such as Minneapolis and Portland also saw a significant rise. So, air conditioners which currently use about 6% of all the electricity produced in the US, are expected to consume even more in the coming years.
Space cooling is predicted to drive a 37% growth in global electricity demand from 2018- to 2050. AC units and fans account for nearly 20% of the total electricity used in the world today.
Global energy demand due to air conditioning is expected to almost triple by 2050, reaching 6,205 TWh.  This is equal to consuming as much electricity as all of China and India today. However, if the energy efficiency of air conditioning is doubled, the demand could reduce to just 3,407 TWh.
6. HVAC & Environment
More AC usage worldwide has led to high energy consumption and increased carbon emissions. To counter this, the use of energy-efficient systems is expected to rise. As a result, energy efficiency will be at the forefront of the next HVAC innovation.
With global warming disrupting the climate, more and more homeowners are concerned about their energy usage and express concerns about their carbon footprint. This increased sense of social responsibility is at the forefront of a shift towards efficient HVAC units and smart thermostats to reduce electricity consumption.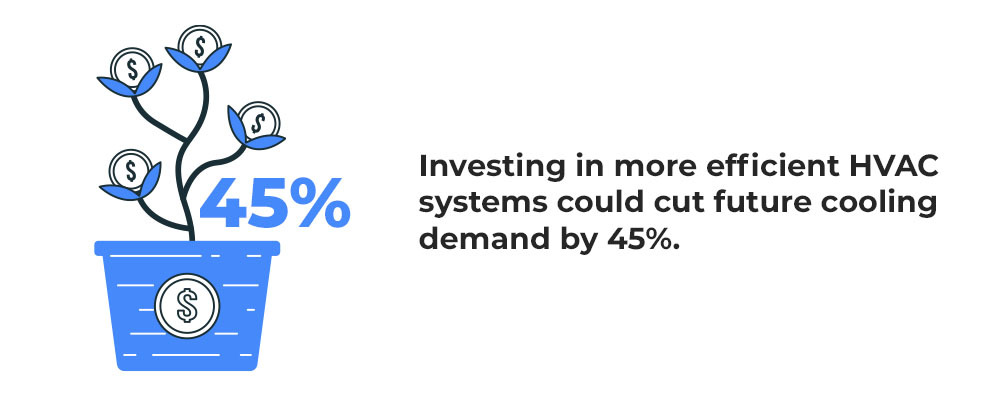 According to the IEA report, "growing cooling demand is one of the most critical energy issues." To continue the use of air conditioning without driving up the electricity demand, improvement in the efficiency of AC units is the main solution.
A high-efficiency HVAC system can cut the annual energy bill by nearly $140. Moreover, installing an advanced unit can result in a payback in 5 to 7 years in operating costs
Investing in more efficient HVAC systems could cut future cooling demand by 45%. Plus, an efficient cooling scenario can reduce the investment and running cost by $ 3 trillion (2018-2050).
Continued improvements in heat pumps help produce cleaner power generation, and 100% of the heat pump stock will lower emissions than natural gas boilers by 2025.
Here's how to act on climate change with innovative HVAC technologies. 
Sources: ENERGY STAR, IEA 1, IEA 2
7. Growing HVAC Job Market Statistics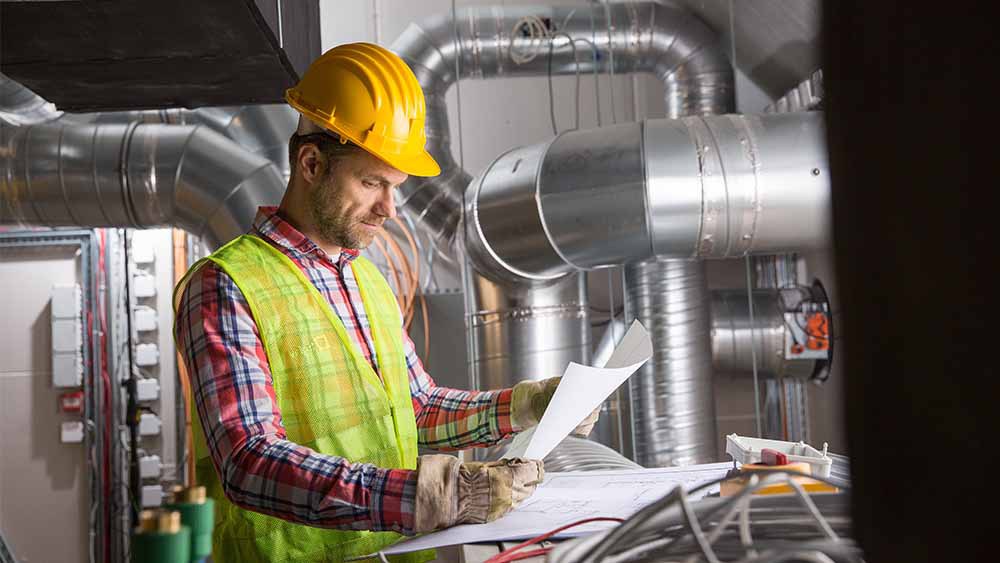 As the technology for heating and cooling systems continues to evolve and drive consumer demand, the need for skilled HVAC technicians also increases.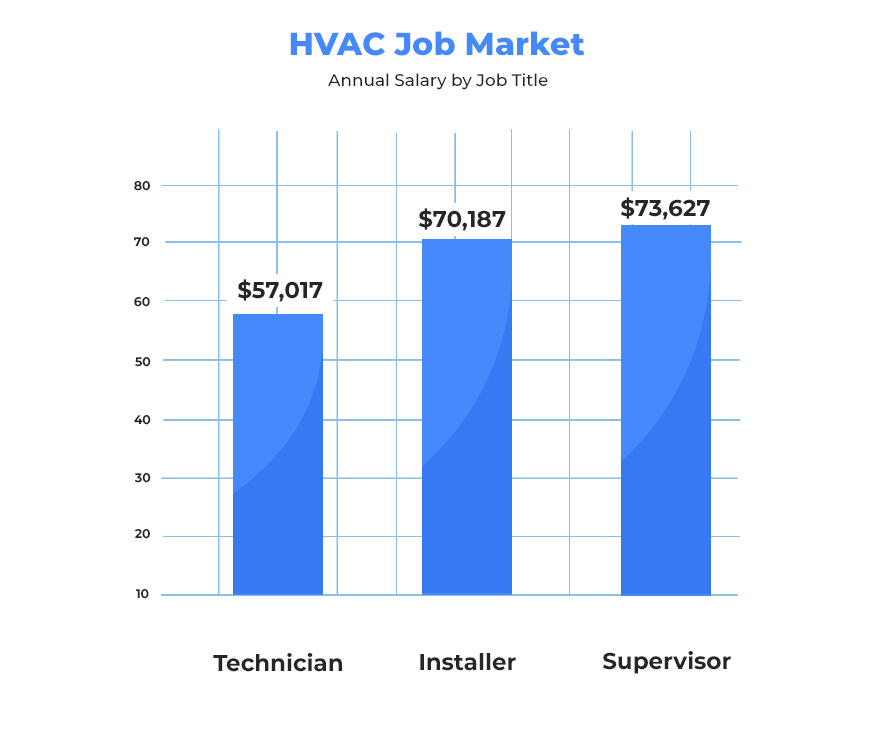 From 2010 to 2019, the HVAC technician unemployment rate went down considerably. It was 10.5% in 2010, dipping to 2.8% in 2019.
The HVAC technician job market is expected to grow by 13.6% between 2014 and 2024. 
By 2030, the HVAC field will experience an 8% increase in job growth. It is anticipated that there will be about 38,500 openings for mechanics and installers each year.
HVAC technicians earn $49,535 per year on average
HVAC technicians start at $36,614 per year on average while HVAC service managers earn $72,899 per year on average
The highest paying HVAC job is of supervisor, with an average salary of $82,758 per year.
The average HVAC technician salary in the US per hour is $20.29, while it's $49,535 per year on average.
Denver is the highest paying city for HVAC technicians, with an hourly rate of $32.02 and an annual salary of $60,930.  
 Sources: Zippia, Harper College, US Bureau of Labor Statistics, Indeed 1, Jobber HVAC Salary Guide, Indeed 2,
Looking Forward: What to Expect From the HVAC Industry?
The HVAC market is poised for continued growth and innovation in the years to come to cater to the increasing demand. It is expected to see HVAC industry trends focusing on energy efficiency and sustainability in the coming years. HVAC manufacturers are now developing products that use cutting-edge technology to reduce energy consumption. With the continued improvement in air conditioning efficiency, they will use less electricity which can help to lower overall demand. Smart HVAC technology is anticipated to become even more popular among homeowners to lower energy usage and reduce carbon footprint.