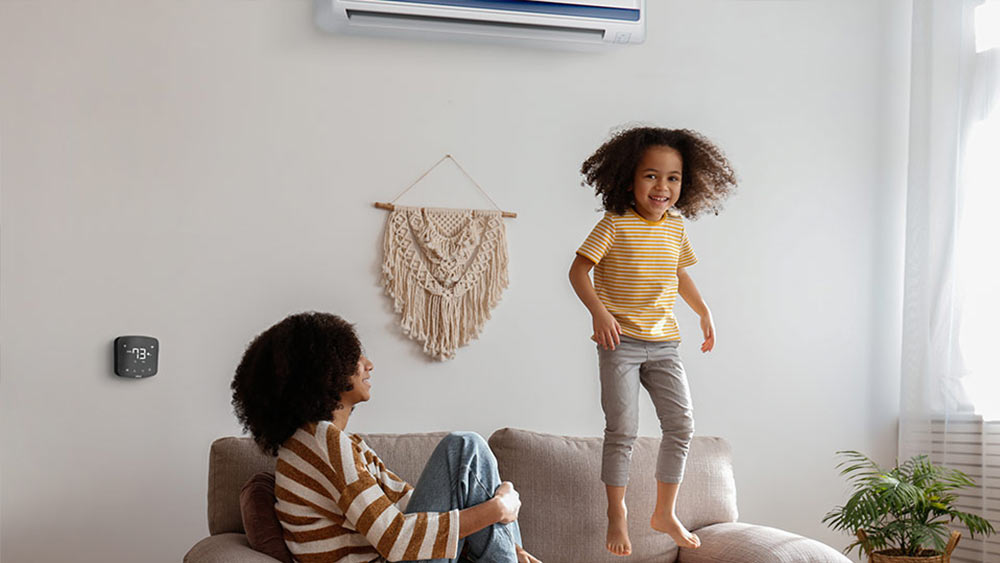 The air conditioner is one of the worst place where molds can grow. Mold in your air conditioner can pose several health risks and cause extensive damage to the equipment.
While it may not always be dangerous, it's definitely something you want to get rid of. Moreover, to prevent further growth, it's best that you clean it out as soon as you suspect mold is present in your AC unit.
But how does mold get in the air conditioner, and what can you do to keep it from coming back? Let's get into the details!
How Does Mold Get Inside Your Air Conditioner?
Mold thrives in moist, warm, and dark places. The inside of your air conditioner is exactly that, especially when you aren't using it regularly.
To explain it better, let's look at these three key ingredients that provide a perfect environment for mold growth:
Moisture
As a part of its normal operating cycle, the air conditioner removes moisture from indoor air. While this does make your home's climate more comfortable, it can also lead to moisture condensation as air passes through the air conditioner. If you spot water leaks around your AC, get them fixed immediately, or they could lead to mold growth. High humidity levels inside your home can make it even worse. It is recommended to keep these levels below 50% to avoid mold growth.
Temperature
Many fungi, including mold, grow best between 60F and 80F, which is also ideal for human comfort. When coupled with high humidity levels, these temperatures can lead to mold development. Moreover, temperature differences inside your home also add to the problem (for example, warm air coming in contact with a cool surface causes condensation).  
Nutrients
Mold needs organic matter to feed on, which can come in the form of dust, skin, pollen, or any other indoor air pollutants in your home. Most of these pollutants can get through air filters and accumulate in the ducts or other components, facilitating mold growth.
Other common air conditioner problems can also exacerbate mold and mildew problems in air conditioners. For example, clogged condensate drains cause water to back up in the unit and leads to mold infestation. In addition, water droplets tend to collect in the air handler or ducts whenever the HVAC system is not in use for a longer period. This added moisture and organic matter like dust or skin particles in the air can provide ideal conditions for mold to grow.
Signs of Mold Growth in Air Conditioners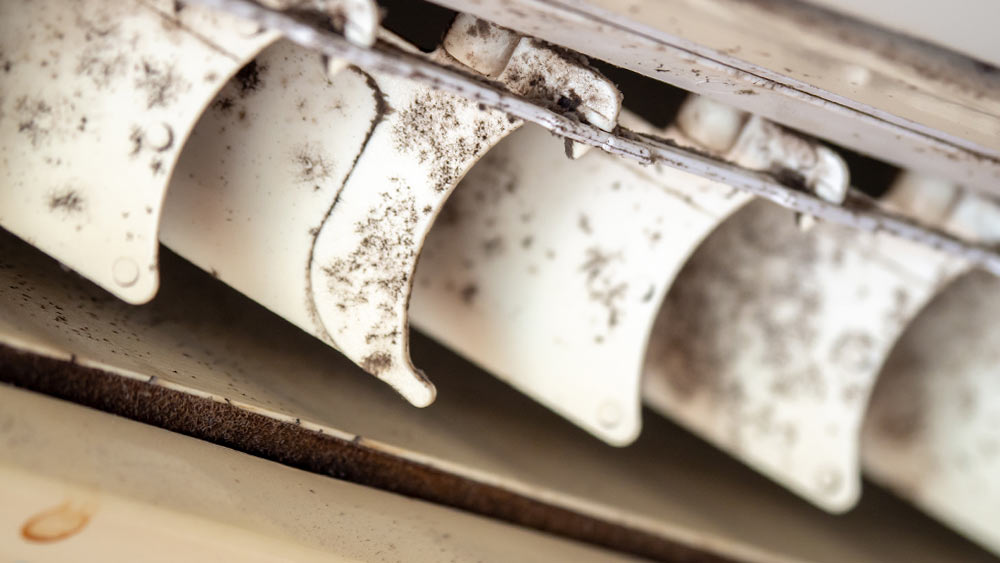 Mold inside air conditioners isn't always visible at once, but some signs can give it away. These normally culminate as health complications such as respiratory problems for inhabitants of the house. If anyone in the house has been experiencing recent changes in health with no apparent explanation, it might be time to call in a mold specialist.
Here are some common health-related symptoms of mold growing in your air conditioner:
Coughing
Irritated throat
Nasal congestion
Itchy skin or rashes
Wheezing
Watery and irritated eyes
For more on air conditioning sickness, read this article.
There are also some other signs to watch out for, such as a noticeable musty smell near the air vents inside your house, which increases when the system is running. You can also check for mold patches around the vents, evaporator coils, or near drip pans.
Can Mold in the Air Conditioner Make You Sick?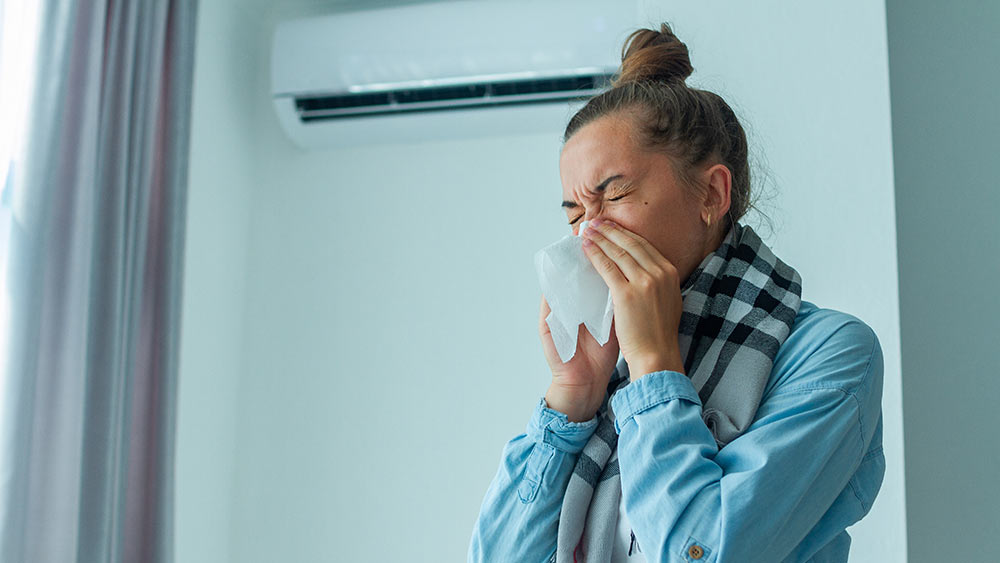 Mold growing anywhere in the house is a cause for alarm and can damage your health and home. It can be especially bad for anyone with allergies or low immunity, such as children or older people.
Mold exposure can lead to inflammation through your airways and lungs. It can also worsen existing respiratory problems, shortness of breath, skin irritation, mold allergies, and asthma symptoms.
Some people can also experience rashes, itching, hives, runny noses, irritated eyes, and headaches. Less common symptoms of mold exposure can also include fatigue, nausea, and dizziness, with some reactions being life-threatening.
These symptoms usually start when a significant amount of mold is present in your home. Therefore, you must deal with mold at your earliest to avoid falling prey to these physical health symptoms.
Cielo Smart AC Controllers
Your best choice to make any mini-split, window,
or portable AC smart. Enhance your comfort and savings.
Shop Now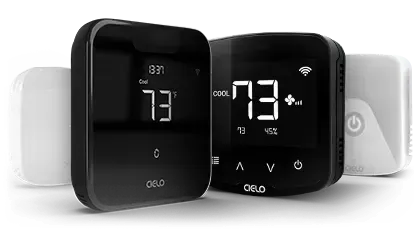 How Can You Clean Mold in Air Conditioning Systems?
Getting rid of mold in your air conditioner can be fairly simple, depending on the type of air conditioner you have. For instance, while cleaning mold in the window AC unit is easy, removing it from all the central air conditioning system components would take more effort. There are several routes you can use when dealing with a mold infestation.
Replace the Unit
In case of significant mold growth, replacing a unit would cost much less than removing the mold from it. This is especially true for smaller and less expensive free-standing or window units. However, when mold has completely taken over an HVAC unit, it would be easy to miss some spots when removing it, which can then lead to regrowth after removal.
Hire an Expert
Of course, tossing a functional AC unit might not be an easy call to make, and if the mold isn't extensive, it isn't the most viable solution either. In these situations, hiring an expert is the best way to go. A professional cleaning process can help ensure that mold in the air conditioner is completely eradicated. If you own a central air conditioning system, then this is your only best shot.
DIY the Process
If you're fortunate enough to have a small, removable unit with very little damage to it, you might be able to self-clean the mold in your air conditioner. Most experts don't recommend this method since there's always a chance that you might transfer the mold to other parts of your home. But, if this is the path you want to undertake, here are some steps you can follow to carry out the process with care.
Grab goggles, face masks, and gloves to avoid exposure to the mold. You can also wear a protective suit to keep mold spores from landing on your clothing or any exposed skin.
Move the unit to an isolated location of your home to avoid cross-contaminating the rest of your house.
Open and inspect the unit and determine the overall ease of the project. For example, is the mold covering more than a third of the unit? Is it difficult to access the areas with mold? If yes, the project is best left to a professional, or you might consider replacing the unit.
If you answered the above questions with a "no" and want to proceed with this task, remove the filter and discard it if it is disposable.
For filters that are not disposable, remove any visible mold and debris and submerge the filter in a mix of 10 parts water to 1 part bleach. Allow it to soak for 10 minutes, then rinse and air dry.
Remove any debris from inside the unit.
Use the cleaning mixture from step 5 to deep clean any affected surfaces in the unit. Add a spoonful of detergent for extra strength.  
Let the mixture sit on the surface for 10 minutes to kill off any remaining mold spores.
Rinse the unit carefully, avoiding any electrical components, and then allow it to dry.
Reassemble the unit along with the filter and then reinstall.
How to Prevent Mold Growth in Your Air Conditioner?
There is no surefire way to prevent mold growth in your air conditioner, but there are some steps you can take to reduce the chances of experiencing the issue.
Replace your HVAC filters regularly – every 30 or 90 days, or as per the recommendations.
Use a type of air filter specialized for mold control. These are the ones with higher MERV ratings. Better filters can also remove organic debris from the air, which serves as food for mold colonies.
Incorporate a UV light air purifying system into your existing HVAC system to kill mold spores in the air and improve overall air quality.
Seal and insulate air ducts to reduce condensation inside them.
Regularly empty drip pans and rinse them with bleach to eliminate festering colonies.
Use a dehumidifier to rid your home of excess humidity, especially if you live in an area with high moisture levels.
Get annual inspections of your HVAC system done by a professional to check for mold in the air conditioner unit or other components.
Don't shut your AC off (especially in hot, humid weather) when on vacation since the mold tends to build up in units that are not in use. You can set your AC at a higher temperature since only air movement is required. The best solution, in this case, is to use a smart AC controller to control your unit remotely. 
Take Away
Mold spores need moisture, temperature, and nutrients to grow. If you're seeing physical signs of mold or smelling a musty odor, it's time to take action. Ignoring the problem can lead to serious health risks down the road. Regularly replacing filters, scheduling annual HVAC maintenance, and keeping humidity levels under control are all important ways to reduce the risk of mold growth in your home.