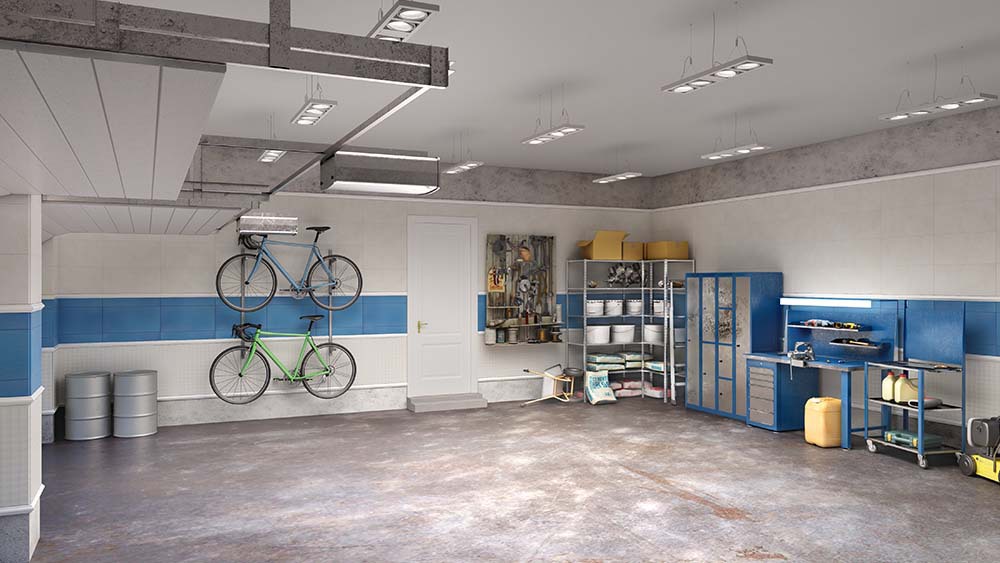 Whether you spend time in the garage working on home improvement projects, growing vegetables, or fixing your vehicle, it's no fun when your garage turns into a sauna and limits your activities. If you use your garage space to de-stress after a long day, you would also want to keep the heat at bay. Even if it's just for storage purposes, a climate-controlled garage is important to protect temperature-sensitive items. 
A garage air conditioner is the best way to deal with the harsh heat. Not only can this keep you cool in the summer months, but it can also help reduce humidity levels and create a space that is conducive to working. Garage AC units come in a variety of sizes and styles to fit your specific needs. For better climate control, you can pair your AC in the garage with a smart AC controller.  
To help you air condition your garage and improve your comfort level, here's a detailed guide on garage AC units. It covers: 
Why Does a Garage Require an Air Conditioner?
There are various reasons why your garage gets too hot in the summer months and requires air conditioning:
 Location – A garage on the south or west side gets harsh sunlight and can get really hot during the late afternoon.
Lack of Insulation – As garages are mostly uninsulated, the hot air from the outside can easily seep in and disrupt the internal climate. 
Garage Colors – Garages usually have dark-colored exterior walls and doors that naturally absorb more heat.
Lack of Ventilation – Without adequate air circulation, the hot air accumulates in the garage, leading to increased temperature.
Types of Garage Air Conditioners
Mini-split, window, and portable ACs are the top air conditioning options for your garage. Below we have also incorporated some of the best garage air conditioner models for each of these types of AC unit to help you maintain the ideal temperature.   
Mini-Split AC for Garage 
Mini-splits are among the best garage air conditioners due to their high-efficiency ratios. They have the highest Seasonal Energy Efficiency Ratio (SEER) and Energy Efficiency Ratio (EER) of any ductless unit.
Ductless mini-splits are easy to install as they don't have any length of ductwork. They are mounted high on the wall, which helps to preserve premium floor space in the garage. These ductless units have an indoor and an outdoor unit connected by a 3-inch hole in the wall. One indoor unit is usually sufficient for one car garage. For a 3+ car garage, you can connect multiple indoor units with one outdoor unit to increase the cooling capacity.
On the downside, mini-splits are a costly option when compared to other ductless air conditioners on the market. However, they pay for themselves in the long term as they help you save big on energy bills. 
| | |
| --- | --- |
| Pros  | Cons |
| Highly efficient | High initial cost |
| Easy to install |   |
| Helps to save on bills |   |
Senville LETO Series Mini Split Air Conditioner Heat Pump
With a high SEER rating of 19, this Seville mini-split is a powerful unit that can cool your garage space efficiently. It is available in sizes ranging from 9000 BTU to 24000 BTU. 
This AC unit can be used as a garage air conditioner and also a heater. Seville mini-split can heat your area down to 5F.  If your area experiences harsh summer or winter, this Senville unit is the best garage air conditioner you can find for extreme climatic conditions.
MrCool DIY 36k BTU 16 SEER Ductless Heat Pump Split System
This MrCool AC unit is listed in Amazon's choice for mini-splits and provides 36000 BTU of cooling with a SEER rating of 16. If you are looking to install it yourself without a technician's assistance, you should definitely consider this DIY unit. It comes with a 25ft quick-connect refrigerant line, and you don't require any special training to install this mini-split air conditioner for the garage. 
If you need round-the-year cooling due to heat generated by vehicles, this mini-split air conditioner for the garage is an excellent option as it provides low ambient cooling down to 5F.  Other notable features include low refrigerant detection, heat mode, and Wi-Fi control.
Window Air Conditioner for Garage 
Gone are the days when window units used to be bulky and inefficient.  Instead, new advancements have made window air conditioners more versatile and efficient. 
They are one of the most affordable units, making air conditioning a breeze in your garage. Window ACs are the easiest to install when it comes to ductless units, and most window units come with comprehensive installation kits. They range in size from 5000 BTU to 18000 BTU and can cool any size of the garage. 
With so many benefits, some disadvantages should also be considered. For example, most garage windows are vertical and are not suitable for window AC installation. They are also loud, and if you have converted your garage into a home office or a study area, this unit may not work for you. 
| | |
| --- | --- |
| Pros | Cons |
| Affordable price range  | Noisy |
| Easy to install  | May not work with most garage windows  |
|   | Obstruct outside view  |
Frigidaire Window-Mounted Room Air Conditioner, 8,000 BTU
Frigidaire window air conditioner is popular for keeping a space comfortable at all times due to its effortless temperature control. It provides 8000 BTU of cooling and can work for small to medium-sized garages. This ductless garage air conditioner is relatively easy to install and comes with adjustable side panels which can extend to best fit your window. 
You can customize AC on/off timings using the programmable timer. The remote-control option on this unit allows you to control temperature and fan speed from across the room. In addition, it has easy-to-wash air filters that can come in real handy as your garage AC requires frequent cleaning due to fumes and other pollutants in the air.
Midea 12,000 BTU Easy Cool Window Air Conditioner
The Midea Easy Cool window unit has a simple installation process and includes all the mounting accessories. It provides 12000 BTU of cooling and can be used in areas up to 550 sq. ft.
This unit features a LED display with remote control, allowing you to adjust temperature settings easily. In addition, features such as Eco mode and Easy Timer function can help you conserve energy and operate your unit only when needed.
Through-the-Wall Air Conditioners
If you want a window AC in the garage but don't have windows, there's a similar option that you can utilize for cooling – a through-the-wall air conditioner.
It works like a window air conditioner; however, it differs in the installation process. A through-the-wall unit is designed to sit inside a wall after making an opening and placing a frame in this wall opening. 
These units are more energy-efficient than window units due to differences in air leakage. Window units tend to have more gaps and holes. Through-the-wall unit fits inside the wall and does not leak much air. They also free up the window space so you can use them to let fresh air in.
The main drawback associated with a through-the-wall unit is that you have to bore a hole in the wall. You will also have to insulate the wall for your unit to work efficiently. If you ever decide to remove the unit, you will have to fill and paint the hole.
When purchasing a new through-the-wall unit, check out this comprehensive guide. 
| | |
| --- | --- |
| Pros  | Cons  |
| More energy efficient  | Installation requires boring a hole in the wall  |
| Free up window space  |   |
Koldfront WTC8001W Through the Wall Air Conditioner with 3500 BTU Heater
The Koldfront 8,000 BTU through-the-wall unit can air-condition an area up to 350 sq. ft.  In addition to keeping your garage cool, it also provides supplemental heating, making it one of the best air conditioners for a garage with no windows.
Using the digital display, you can adjust temperature settings and operate other modes such as energy saver mode and AC timer.  
LG LT1016CER 9,800 BTU Through-The-Wall Air Conditioner
With a SEER rating of 13 and 10000 BTU, this LG unit can cool down spaces up to 450 sq. ft. It comes with an installation kit and is compatible with 115V.
This wall unit comes with an LED display and a control panel that you can use to adjust temperature settings and fan speed. You can also use a remote control to manage settings without leaving the comfort of your bed or couch. 
Portable Air Conditioner for Garage 
A portable air conditioner is a compact unit that you can easily move ground anywhere. In addition to cooling, it can also dehumidify your space, just like any other air conditioner. Some advanced models even have heating functions and smart capabilities.
If you cannot install a permanent AC in the garage, you can use a portable unit. You just have to exhaust its hose out of the window and plug it in to start the cooling process. You can also use this garage air conditioner if there are no windows by drilling a hole in the wall for the exhaust hose. 
This unit can work great in small garages; however, its efficiency is limited for larger areas. Another disadvantage is that portable units are noisy since all air conditioning components are placed inside one unit.  
| | |
| --- | --- |
| Pros  | Cons  |
| Easy to move around  | Noisy |
| Simple installation process | Not suitable for larger spaces  |
| Works great in small garages  |   |
Rosewill Portable Air Conditioner 12000 BTU AC Fan Dehumidifier & Heater
This wheeled unit is a budget-friendly option as it also has a heating mode in addition to cooling, and you won't have to buy a separate space heater. It provides 12000 BTU of cooling and is suitable for one car garage or a small two-car garage.
The Rosewill portable unit also works as a fan and a dehumidifier. The LED digital touch display panels and LCD remote control make it easy to change temperature, adjust fan speed and activate the AC timer.
Black+Decker 14,000 Btu Portable Air Conditioner With Heat
It is a powerful unit with a 14000 BTU cooling capacity and an adjustable fan speed that can cool the air up to 55°F. This portable unit also has a heating function which makes it one of the best garage portable air conditioners for all year comfort.
This garage portable air conditioner comes with rolling casters and side carrying handles, making it easy to move around. The installation process is also simple; you just have to put the exhaust hose out of the double-hung or sliding window. In case your garage lacks windows, try boring a hole in the wall for the exhaust hose.
Smart Air Conditioning in Your Garage
Suppose you have converted your garage to a gym and you have a fixed schedule. As your AC for the garage gym takes time to bring the temperature down, you never start exercising on time. This not only disrupts your schedule but can be exhausting to wait for your garage to cool down. 
Here, smart AC controllers can come in real handy. They can be paired with your mini-split, window, through-the-wall, or portable units and help automate your garage climate. With a smart AC controller, you can control your AC using your phone and make adjustments from anywhere. You can turn on your AC a short while before your work starts or set a schedule so it automatically turns on at the same time when you want it. 
Cielo Breez smart AC controllers have a Comfy Mode that allows you to set the temperature and humidity range of your choice. When the temperature goes above or below your range, the Comfy Mode triggers to maintain your desired range. You can also combine this feature with scheduling to take your comfort to another level. 
Cielo Smart AC Controllers
Your best choice to make any mini-split, window,
or portable AC smart. Enhance your comfort and savings.
Shop Now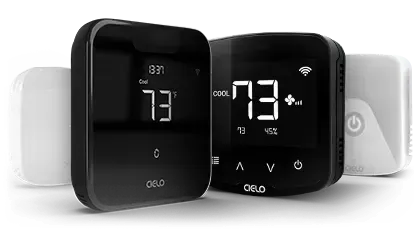 Which Cooling Equipment Is Not Suitable For Your Garage?
Some cooling devices such as central air or a swamp cooler may not be a good fit for a garage space. For example, using a central air conditioner in the garage can lead to depressurization in your home, while a swamp cooler can cause an increase in humidity levels.
Central Air Conditioners
If you are planning on using your central air conditioner to cool the garage, you might want to reconsider as it can have several drawbacks.
The central air conditioner is designed to take a certain amount of load. Adding the extra burden on it will overtax the unit, and can result in different AC problems.
Another disadvantage is that when a duct system is extended to your garage, it creates pressurization issues. It also leaves the rest of your home depressurized. The reason is the garage doesn't have air returning back to the central unit. To get rid of this negative pressure, your home will take in air from the outside. This outdoor air is not passed through an HVAC system, so it isn't filtered. So, it can easily introduce allergens and other air pollutants into your house. Plus, it will be hard to maintain an optimal temperature considering that warm or cold air is constantly entering your home.
When you are using the same duct work to cool both your home and the garage, the fumes from the car can easily enter inside the house. Carbon monoxide in the fumes can be hazardous and can trigger headaches, dizziness, and nausea. Chemicals from paints, varnishes, and motor oils can also enter your house and affect your indoor air quality. Due to its harmful impact on human health, HVAC extension is also against the building code in some states.
Evaporative Coolers
Evaporative coolers use moisture to cool the room. They use a fan to blow the air across a damp pad and then expel it into the room. Since they circulate moist air, they are not suitable for humid areas. If you use it in the garage, it can make the area very humid and can result in mold growth.  
How Many BTUs Are Required For Garage AC?
A proper-sized air conditioner for your garage is highly important. An air conditioning unit, be it of any type, can only cool/heat according to its size. British Thermal Unit (BTU) is a metric that can help you determine the correct sizing. BTU shows how much energy your AC unit uses to remove heat from a place within an hour.
Determining the correct AC sizing also involves taking measurements of your garage. For quick reference, a standard one-car garage measures around 150-250 sq. ft., and a two-car garage is 350-450 sq. ft. For a 150-250 sq. ft garage, 8000 BTU is needed to cool a garage, while a two-car garage requires 10000-12000 BTU. You can also use a BTU calculator to calculate the size requirements easily.
You will need to make slight changes depending on your location. If your garage receives direct sunlight and isn't insulated, you will need to slightly oversize your air conditioner to compensate for these variables. If it's shaded, consider downsizing.
In addition to sizing, also consider the placement of your unit. For example, a window air conditioner will work more efficiently if it is installed in the center window for even distribution of air.
How To Increase Garage AC Unit Efficiency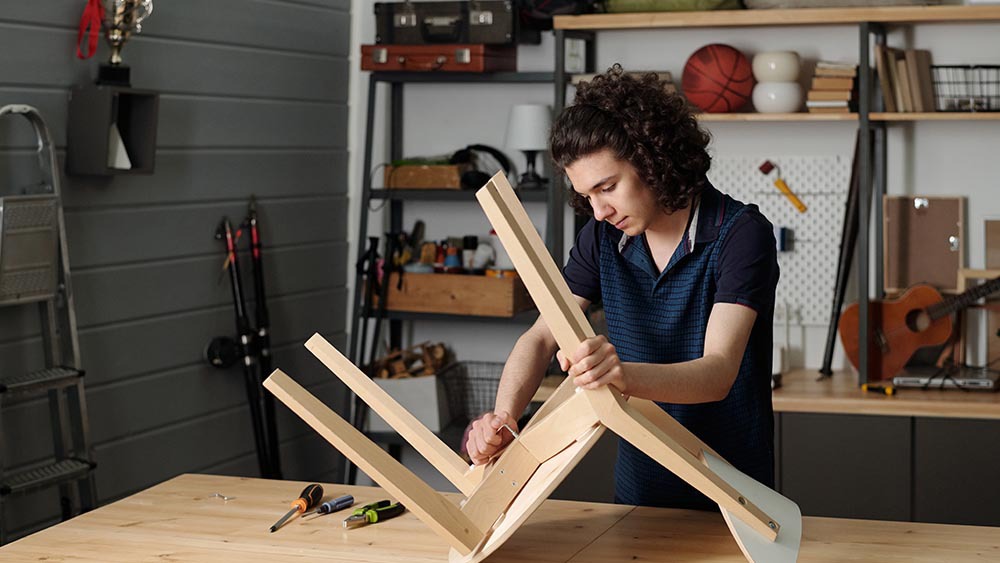 Here are top ways that can help keep your garage AC working effectively all summer long: 
Garage Insulation
Garage spaces usually lack insulation, making it harder to maintain optimal temperature. If you plan on using your garage frequently, garage insulation is essential. It will prevent the air-conditioned air from seeping out through gaps and leaks in walls, doors, windows, and ceilings.
Ceilings absorb heat from the attic and can get quite warm during the day. Add hanging drywall on the ceiling to reduce the size of the area to be cooled. You can also install rolled insulation on the ceiling if your garage is unfinished. For an unfinished garage, try adding rolled insulation to the floor instead.
In the case of walls, add insulation to the areas that receive direct sunlight first, and then if you have the budget, you can move on to the shaded walls. For windows, add reflective covering or heavy blinds on the south-facing windows to block the harsh sun. Also, add weatherstripping to the top and bottom of the window sash to prevent air leaks.
Garage doors are frequently used, so you cannot have permanent insulation installed there. However, you can have temporary fixes, such as using foam board insulation or thin reflective foils to deter strong sunlight. Fiberglass is the least expensive option and is applied to the inside door. If you are thinking of replacing your garage door, consider going for one that is already insulated. Choose a fiberglass door with a foam core to prevent energy loss.
Garage Ventilation
Removing hot, stale air from your garage can help increase the efficiency of your air conditioner. Try opening doors and windows in the evening. You can also use roof vents in the garage at night to bring in cool air when the weather outside is pleasant. Exhaust fans are another simple solution. You can fix them on a window or have them permanently installed through the wall. They can help to get rid of the fumes and other harmful chemicals accumulated in the garage.
Benefits Of Garage Air Conditioning
Let's explore the key benefits of having AC in the garage:
Air conditioning can help you stay comfortable and enjoy your time in the garage without worrying about temperature fluctuations.
 If your garage is connected to your home, hot air can easily seep through the shared wall, door, or window. An air-conditioned and insulated garage can help to keep your surrounding home area cooler. It creates a pocket that prevents the penetration of outside heat into your home.
When excess heat isn't getting absorbed in your home, the central air conditioner does not have to work hard, ultimately lowering energy bills.
Excessive heat and humidity in the garage can affect your storage stuff such as paints, electronic items, or furniture pieces. Garage air conditioners can help to remove the moisture from the air and protect your sensitive items.
A garage air conditioner is the most effective way to lower the temperature regardless of whether you use the space for leisure activities or for work purposes. If you have a small garage, a window or a portable unit can keep the environment comfortable. If you want a more efficient system, consider opting for a mini-split AC in the garage. With any of these garage air conditioning options, make sure that your garage is properly insulated to prevent loss of cool air. To take the garage climate control to the next level, a smart AC controller paired with your garage AC unit is a perfect solution.