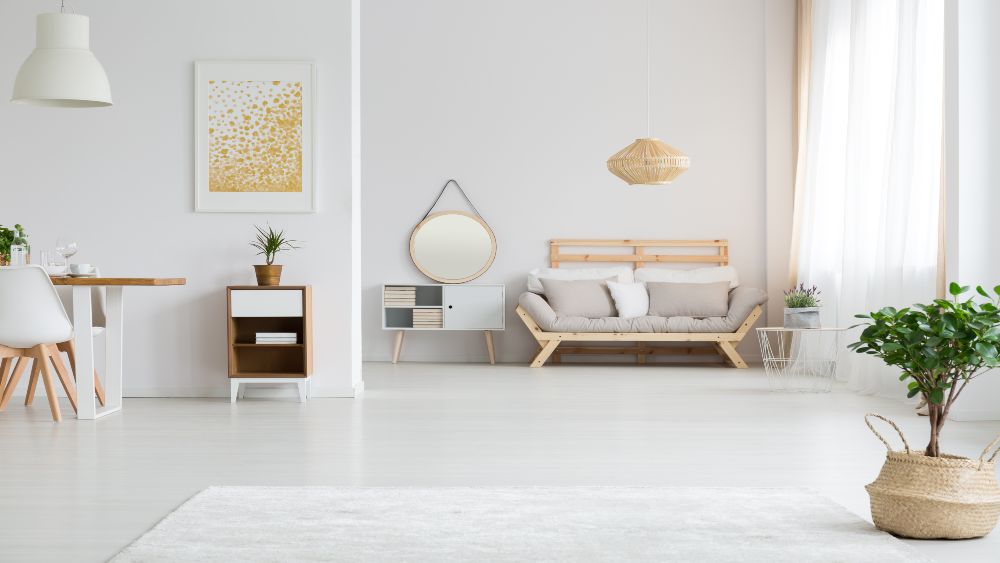 Are you struggling to keep your apartment cool during summer days? Do you feel when the sun casts its merciless blaze, your comfy sanctuary quickly becomes uncomfortably hot?
You're not alone – many apartment dwellers face this common challenge.
Compared to larger homes, apartments have a knack for trapping heat, making it harder to stay comfortable. Issues such as inadequate insulation, inefficient windows, and limited air circulation can lead to heat being trapped inside, making your living space feel like a sauna.
Fortunately, there are a variety of strategies you can implement to help keep your apartment cool during the hottest days of the year. From utilizing apartment air conditioners, ceiling fans, and shading devices to keeping windows and doors closed during peak hours, there are numerous ways to stay comfortable in your space.
Let's dive in and beat the heat!
Surviving the Scorching Summer: Apartment Edition
Why Do Apartments Get So Hot in Summer?
Apartments are often hotter than homes due to the way they are built. With common walls and less ventilation, heat is easily trapped and can become significantly more intense. In addition, apartments have less insulation and air flow than standalone homes, which can exacerbate the issue. In many cases, apartment complexes are located in urban areas where the rate of carbon emission is high and green spaces are limited.
It can get even more challenging to deal with the summer heat for apartment dwellers residing on the top floors. One explanation for this phenomenon is that hot air rises, meaning that the highest levels of a building are naturally warmer than those below.
Additionally, top-floor apartments typically receive more direct sunlight than their lower counterparts. These apartments have limited shading, resulting in more direct sunlight exposure during peak hours. Moreover, the building materials such as concrete or brick absorb heat throughout the day and radiate it into the apartment. Poor insulation can also intensify heat transfer.
Combating Heat & Humidity in Your Apartment
As the sun's rays intensify and temperatures rise, the battle against heat and humidity becomes a familiar challenge for apartment dwellers everywhere. The sweltering heat combined with stifling humidity can not only become uncomfortable but also affect your mood and well-being. Let's dive in and equip you with a repertoire of effective strategies to combat heat and humidity within the confines of your apartment.
1. Opt for Room Air Conditioners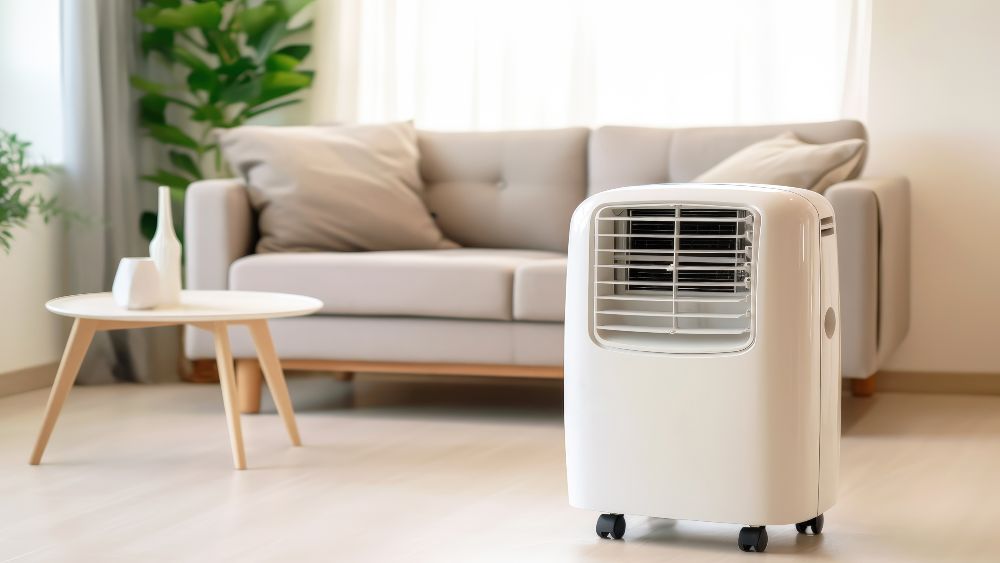 Portable air conditioners are a versatile and efficient solution to combat rising temperatures in your apartment. They offer a space-saving advantage as they can be easily moved from room to room, providing targeted cooling where it's needed most. Their compact design allows them to fit seamlessly into any living space without obstructing windows or occupying excessive space.
A mini-split unit is another good choice for apartments where installing lengthy ductwork for a central AC isn't a practical solution. Just make sure your landlord permits you to install this type of aircon.
To optimize your apartment climate, it's best to invest in smart AC controllers that work with mini-split, window, or portable ACs. They offer features such as scheduling, geofencing, Comfy Max Mode, and energy usage tracking, allowing you to fully automate your home temperature control. Plus, these devices help you save up to  25% on your electricity bills.
Cielo Smart AC Controllers
Your best choice to make any mini-split, window,
or portable AC smart. Enhance your comfort and savings.
Shop Now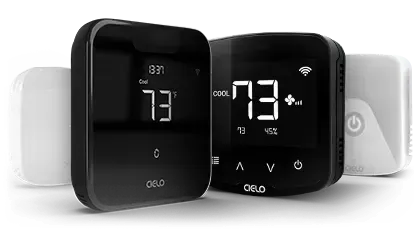 2. Use Fans Strategically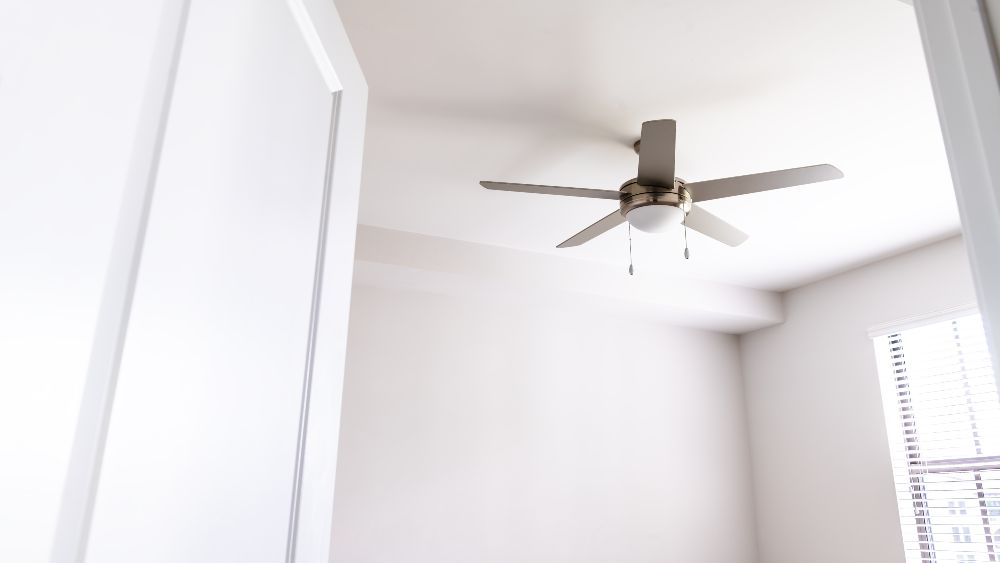 Although fans cannot actually cool the air, they can be optimized to disperse heat and create a cool breeze. To achieve this, consider the placement of the fan. A floor fan can help lift cooler air from lower parts of the room. Additionally, angling a fan towards the window can push hot air outside. For better airflow, two fans can be used—one aimed towards the window to expel hot air and the other aimed away from the window to draw in cooler air. If two windows are opposite each other, this setup becomes even more effective.
Another trick to make a standing fan blow cold air is to place a bowl of iced water or frozen water bottles in front of it. The fan will then circulate the cooled air from the ice, providing a refreshing breeze.
During the summer, running ceiling fans counterclockwise forces the cold air near the ceiling to move downwards. Using fans in conjunction with your air conditioner can help you set your thermostat to a slightly higher temperature in summer without affecting your comfort. This can also help reduce your AC costs.
3. Use Window Treatments
Utilizing window solutions can be a game-changer in maintaining a comfortable and cool indoor environment.
Start by ensuring your windows are well-insulated. Drafty windows can allow hot air to seep into your apartment and make it challenging to keep the space cool. Consider using weatherstripping or caulking to seal any gaps and prevent unwanted heat from entering your home. Here are some easy fixes for drafty windows. 
Opt for window treatments that can help control the amount of sunlight and heat entering your apartment. Heavy curtains or, blackout shades, and blinds are excellent choices for blocking out the sun rays during the hottest parts of the day. You can also use reflective window films to bounce the sunlight back outside and keep your interior cooler. A cheaper alternative to window film is aluminum foil-covered cardboard. Paste it on your windows, and it will reflect the heat away.
4. Ventilate Your Apartment
For those looking to reduce energy consumption and tackle the sweltering heat, proper can be a key strategy for cooling. Natural cross-ventilation, achieved by strategically opening windows on opposite sides of the apartment, can create a refreshing breeze. This can help keep your apartment cool without AC.  Furthermore, it helps to reduce humidity levels. Excess moisture is expelled through ventilation, creating a drier and more pleasant living environment.
5. Dehumidify Your Apartment
Humidity levels are high in summer as warm air can hold more moisture than cold air. Apartments are more prone to high air moisture as there is little to no ventilation. Plus, your daily activities, such as cooking, drying clothes, and showering, can also contribute to high humidity in your apartment.
High humidity can make you feel hotter than it actually is. The reason is that extra water vapors make it difficult to shed heat through sweating. So, removing the excess moisture in your living space is essential to create a comfortable and refreshing atmosphere. The ideal indoor humidity in summer should be between 40-50%.
Running your room air conditioner in the dry mode can help dehumidify your apartment. In excess humidity levels, a standalone dehumidifier unit comes in really handy. Properly ventilating your living space is also an effective step. Open windows and use fans to circulate the air, which will disperse excess water vapor and reduce humidity levels. In spaces prone to moisture, like the bathrooms and the kitchen, utilizing the exhaust vent can work wonders.
Related: Ultimate Guide to Achieving the Ideal Home Humidity Levels!
6. Embrace Nature's Coolness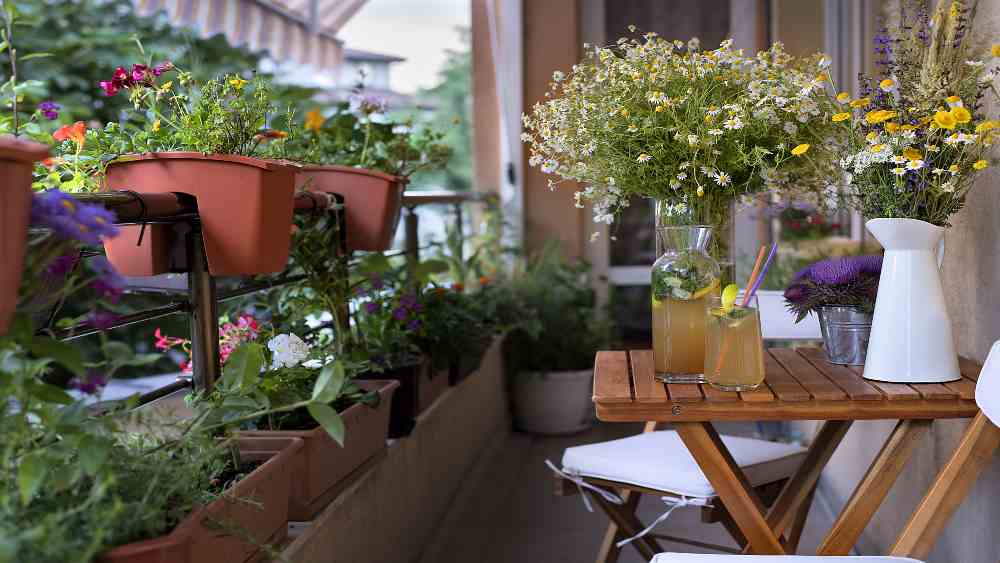 If you are looking for how to cool your apartment without AC, nature can be your ally in the battle against heat. Not only does it add aesthetic appeal to your apartment, but utilizing the right type of plantations can help maintain the ideal temperature of your apartment.
A vertical garden, also known as a green wall, is a way to grow plants on a wall or other vertical structure, using various techniques such as containers or planters. It acts as a natural insulator, reducing the amount of direct sunlight that reaches the terrace and apartment walls. A single layer of vertical plants can reduce solar radiation by up to .
According to the EPA (United States Environmental Protection Agency), "Urban areas, where buildings are highly concentrated and greenery is limited, become islands of higher temperatures relative to outlying areas." This is known as the heat island effect. Vertical gardens can help cool down the temperature in urban settings by absorbing the surrounding heat. 
Indoor plants are aesthetically pleasing and powerful allies in creating a cooler and more comfortable environment in your top-floor apartment with limited space.
Plants cool themselves and the surrounding environment by releasing the excess water into the air from their leaves. You can place plants in front of your windows to help block out excessive sun from a room. Placing plants like snake plants, spider plants, pothos, and rubber trees around your apartment can create a noticeable cooling effect.
Moreover, humidity-absorbing plants can also remove the excessive air moisture in the summer season and help maintain optimal humidity levels indoors.
All plants absorb moisture from the air, but some are incredibly efficient in doing that. Tropical plants that thrive in high humidity are most effective at absorbing water vapor from their surroundings.
Other than this, indoor plants also help purify the air by removing harmful pollutants and toxins to a certain extent. Check out this list of top air-purifying plants.
7. The Cooling Power of Colors
Cool colors, such as blues, greens, and purples, are known for their calming and soothing effects on our emotions and perceptions. They are often associated with nature and the tranquil elements of water and sky. When used in interior design, cool colors have the incredible ability to create a visually appealing and serene environment.
Having white furniture is another smart play of colors that can help you lower the temperature around the house. This is due to the nature of light colors, which tend to reflect light, including sunlight, while darker colors absorb more light.
Sunlight carries heat, and this effect is evident when sitting on a hot leather couch. Hence, if cleaning the white furniture is't an issue for you, opting for it would make a stylish and useful addition to your home.
8. Insulate Your Apartment
By insulating your apartment, you create a buffer that keeps the outdoor warmth at bay and ensures that the cool air generated by air conditioning or natural ventilation remains inside. This can significantly reduce the need for constant cooling, resulting in energy savings and lower utility bills.
In addition to preserving coolness, insulation can also contribute to a consistent and evenly distributed indoor temperature. By preventing the intrusion of external heat, you eliminate hot spots and temperature fluctuations, ensuring that every corner of your apartment remains comfortable and enjoyable.
9. Reducing Heat-Generating Appliance Use
Many appliances, such as ovens, stoves, dryers, and even computers, produce heat during their operation. This is known as waste heat or sensible heat, and it contributes to increasing the ambient temperature in the surrounding area.
Here are some common appliances and tips on how to reduce their heat generation:
Cooking appliances are significant heat generators. During hot weather, consider using alternative cooking methods that produce less heat, such as using a microwave, or preparing cold meals.
Avoid using the dryer during the hottest parts of the day. Instead, hang your clothes outside on the balcony to dry. If using the dryer, ensure the vent is clean and unobstructed to maximize its efficiency.
Computers and Electronics
Computers, gaming consoles, and other electronic devices can generate significant heat when running for extended periods. Turn them off when not in use, or use power-saving modes to reduce their energy consumption and heat output.
Traditional incandescent light bulbs produce more heat than LED or compact fluorescent bulbs. Switch to energy-efficient lighting options to reduce the heat generated indoors.
10. Shut the Doors
One simple and effective technique to cool down your apartment is to close doors to rooms that aren't in use, such as bathrooms or unused bedrooms. This strategy helps keep the cooler air concentrated in the area you spend most of your time in.
11. Cool Down Your Bed with the Right Choice of Sheets
Try to use cotton sheets for your bedding, and avoid using fleece or flannel. The light and breezy fabrics allow the air to move freely. You can also take a hot water bottle and fill it with a small amount of water. Then freeze the bottle, and place it under your feet or the sheets to feel the cool sensation throughout the night.
Conquering the Summer Heat in Your Apartment
As the heatwave lingers on, keeping your apartment cool becomes more critical than ever. Keep your curtains or blinds closed during the day to prevent the sun rays from heating up the interior. Using a fan or two strategically placed around the apartment can help circulate air and create a more comfortable living environment. Using a room air conditioner is another great option to ward off the heat, especially on top-floor apartments. Additionally, consider investing in smart AC controllers to take your apartment climate to the next level and save on energy bills.