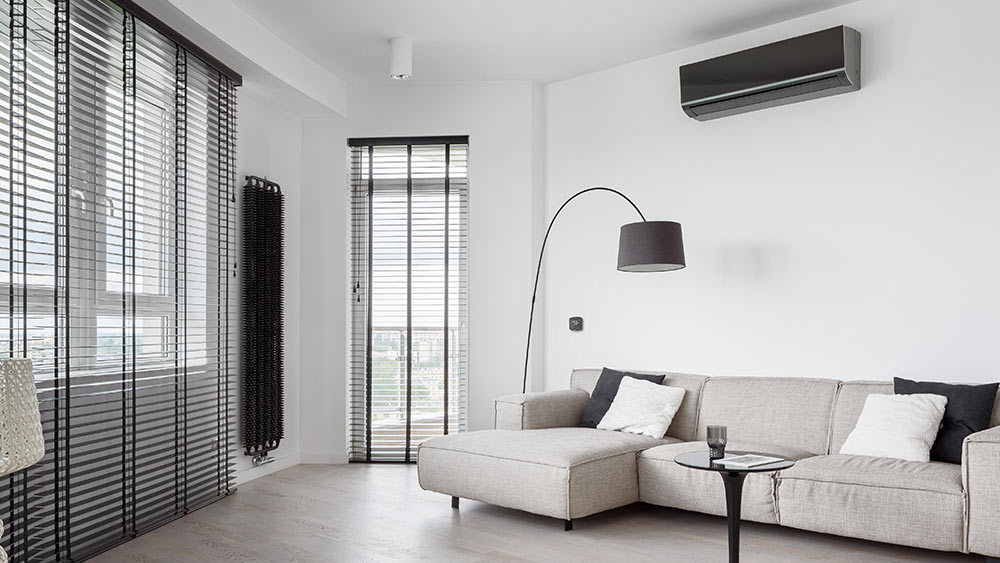 Weather changes are usually quite drastic, and you would find yourself either drenched in sweat or frozen to the bones before you know it. If your building does not have central air conditioning or your current apartment air conditioner has stopped working, it is time to invest in a good AC unit.
However, buying a new air conditioner is a tricky business. There are several new models, tons of brands, and numerous things you need to consider. For example, which air conditioner is the most energy-efficient? Or which one is the best budget air conditioner?
We are here with everything you need to know about AC units, as well as a list of carefully chosen apartment air conditioners that are sure to keep your home comfortable. But you should first familiarize yourself with all the things you should look out for before investing in a new air conditioning unit.
Things to Consider While Buying an Apartment Air Conditioner
Buying an apartment AC unit will only benefit you if you get the suitable one for your space. Being tempted to get the most powerful unit or the one with the cheapest price tag might make you end up in more frustration. Here are a few things you need to consider to make sure you choose the best air conditioner for your apartment.
1. Square Footage of Your Room
The first thing you need to calculate is the square footage of your apartment space to get the perfect AC size. It can be done simply by using this formula.
For square or rectangular areas: Area = Length × Width
2. Cooling Capacity of Your Unit
The power of an air conditioner is measured in British Thermal Unit, also known as BTU. This unit is used to determine the cooling/heating power of an AC unit. The higher the BTU, the more powerful an air conditioner is and the larger space it can heat up or cool down.
The general rule of thumb is that you need 20 BTU for each square foot of your apartment. So, for a 200 sq. feet apartment, you would need a 4000 BTU air conditioner, and for a 500 sq. feet apartment, a 10,000 BTU unit works best.
3. Size of the Unit
If you are trying to find an AC unit for a small apartment, you might be tempted to buy the most powerful air conditioner in the market and call it a day. However, an air conditioner that is way too big for your apartment or space won't do you any good. It will take up some extra space and consume more energy.
On the flip side, if an air conditioner is too small for your apartment, it will fail to sustain your desired temperature and humidity levels. So, make sure the air conditioner you are getting is suitable for your apartment.
Here's our handy guide on finding the right AC size for your home.
4. Room Layout
When it comes to the installation, a lot depends upon the layout of your space. You would need a window to install a portable or window air conditioner. If you have an apartment with no windows, you should consider getting a mini-split.
5. Affordability
There is no denying that your budget decides what you can or cannot buy. It would be best if you tried to choose an air conditioner that is powerful enough to maintain your apartment's climate but won't break your bank.
Window ACs are cheap, mini-splits are a little on the pricier side, but their high energy efficiency helps you save a lot on bills. So, investing in a reliable air conditioner is always the right choice.
6. Energy Efficiency
Energy efficiency is measured in two units.
SEER: Seasonal Energy Efficiency Ratio
The higher the SEER is, the more energy-efficient an air conditioner is. For example, the minimum SEER is 15, but air conditioners with SEER around 20 or more are considered highly efficient.
HSPF: Heating Seasonal Performance Function
HSPF determines how efficiently an air conditioner works as a heat pump. The minimum value is 7, but an HSPF value of 8 or above is considered good. 
The HSPF and SEER metrics are important because they directly affect your energy bills. The higher the rating, the more efficient your AC unit will be.
7. Extra Features
Who wouldn't like an air conditioner with something more to offer than just heating or cooling your space? Now a lot of air conditioners come with extra features.
For instance, many ACs now offer a Follow Me mode that can help you achieve a more uniform temperature all across your space. Other than that, eco mode, self-clean mode, turbo mode, timer functions also come in really handy.
Types of Apartment Air Conditioners
Let's jump right into the details of all the types of ACs ideal for use in an apartment. You can choose any of these cooling systems depending upon the layout of your house, the effort you can put in for installation, and the budget you have.
We have also added some of the best apartment air conditioners for each type of AC to keep you cool as a cucumber in summers and cozy in winters.
Mini-Split Air Conditioners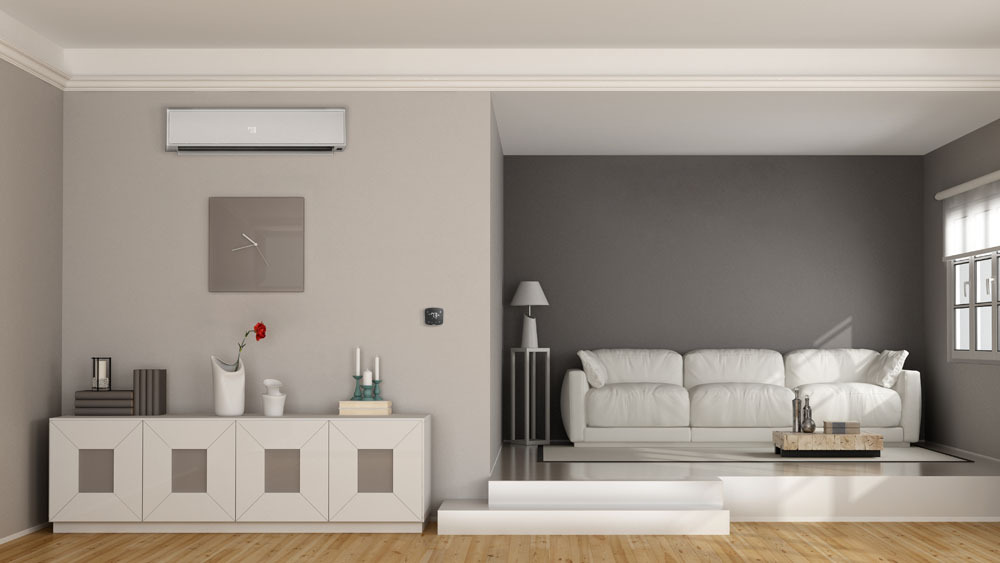 Mini-splits are the most efficient ductless air conditioners. Compared to all other air conditioners, they can heat or cool your apartment while using only a small fraction of the energy other air conditioners use. In addition, the modern models are powerful enough to cool small apartments and sleek enough not to disrupt the interior. When it comes to installing mini-split air conditioners, the process is quite simple compared to installing ducted air conditioning, and you can even do it yourself.
They have two parts – indoor and outdoor units. The indoor unit is fitted high on a wall inside your room, while the outdoor unit that holds the compressor is mounted outside. For more on mini-splits, head over to this article.
| | |
| --- | --- |
| Pros | Cons |
| Easy installation | High initial price |
| Energy efficient | Indoor unit might look unappealing |
| No need for a window |   |
| Minimum noise |   |
1. Pioneer Diamante Series, 9000 BTU, Ductless Mini-Split Air Conditioner Inverter Heat Pump
Pioneer Diamante Series air conditioner is what you call value for money. This inexpensive yet multi-functional air conditioner has a SEER as high as 20, along with a 10.5 HSPF making it highly energy-efficient. 
This mini split laced with an inverter heat pump system comes with a five-year warranty. Moreover, it has a turbo mode to attain the desired temperature in no time. In addition, its eco mode is designed to enhance the energy-saving functionality of the model.
2. MRCOOL DIY-12-HP-115B25 DIY 12k BTU 22 SEER Ductless Heat Pump Split System 3rd Generation
Take a look at all the incredible specs this mini split has to offer, and you will be sold. MRCOOL DIY-3rd Gen model has a whooping 22 SEER rating. Not only that, it features an excellent HSPF rating of this tech-star is a solid 10. This means this air conditioner is way more efficient and powerful than any other ductless air conditioner, yet it works very quietly. It is also a great option for the humid summer season as it can remove up to 2.5 pints of moisture per hour from your apartment.
This air conditioner has an auto-restart feature for convenience and a leakage detection alarm to prevent the compressor from any damage. With a Follow me function and a smartphone app, this AC unit is one of the best air conditioners for any apartment.
Cielo Smart AC Controllers
Your best choice to make any mini-split, window,
or portable AC smart. Enhance your comfort and savings.
Shop Now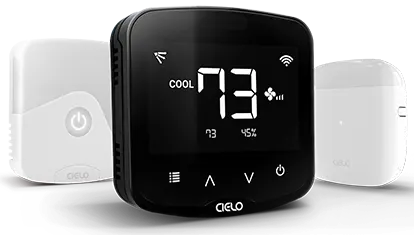 Portable Air Conditioners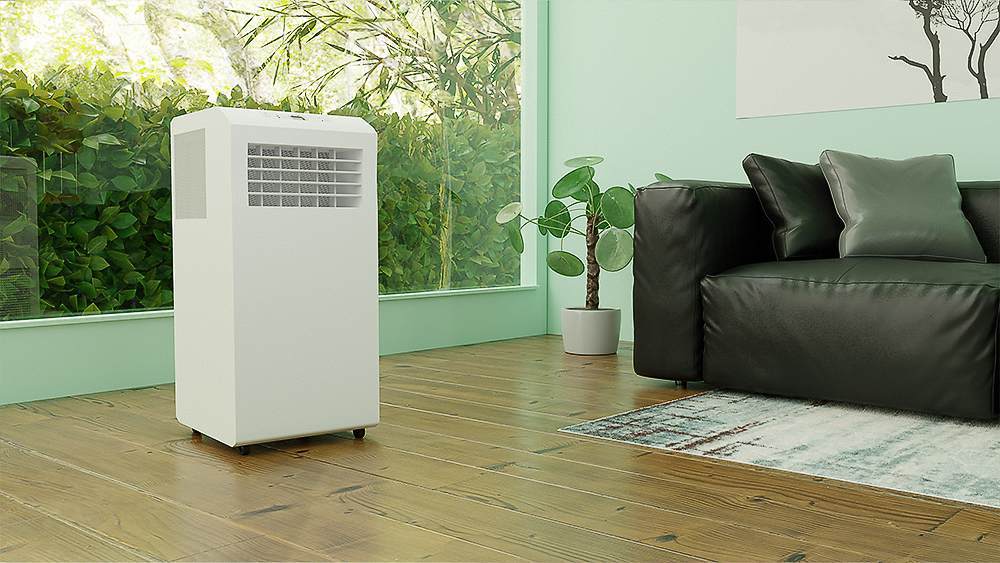 If you want an AC that you can move around in your apartment, opt for a portable AC. Even if you have the option of central air conditioning in your apartment, there might be some corners and places in your house where the temperature does not feel right. A good portable AC can help you fix this problem. Moreover, using a portable AC makes more sense if you need air conditioning in one or two rooms of your apartment. This way, you won't have to heat or cool your whole apartment to get the temperature of your room right.
The installation process of portable air conditioners is also fairly simple. They can be set up using a window kit included in the package. You just have to put the exhaust hose out of the window, plug it in, and you are good to go.
There are two types of portable air conditioners for apartments available in the market.
Single-hose portable AC unit: These air conditioners feature a single hose responsible for air intake and exhaust. They do not take up much space and are inexpensive.
Dual-hose portable AC unit: This is the best portable air conditioner for an apartment. It has separate hose pipes for the induction and suction of air. As a result, they cool much faster and are more efficient than single-hose units.
| | |
| --- | --- |
| Pros | Cons |
| Easy mobility | A little less energy efficient |
| Great option for small spaces | Noisy |
| Easy installation | Takes up floor space |
1. SereneLife SLACHT108 Portable Air Conditioner Compact Home AC Cooling Unit
This sleek and energy-efficient air conditioner by SereneLife checks all the right boxes. It is lightweight and comes in three different BTU variations (8000, 10000, and 12000). This unit works equally well in cooling, heating, dehumidifying, and fan mode. 
The body features a control panel with digital touch buttons to control the temperature. Additionally, they provide a handy remote control, making it even more convenient. This easy install AC unit can be automated for up to 24 hours with its self-timer feature. This is the best low-budget portable air conditioner for small-sized apartments.
2. Midea Duo 14,000 BTU (12,000 BTU SACC) Ultra Smart HE Inverter Portable Air
The Midea Duo smart 14000 BTU portable air conditioner is the right choice if you want smart control options in your air conditioner. This ensemble has four powerful working modes and a duo hose design. In addition, it is compatible with Alexa and Google Assistance, enabling you to control your temperature with a voice command.
It is far less noisy than any other portable air conditioner with a 42 dB sound level, almost as quiet as a library. Equipped with a dust filter, this AC with inverter technology claims to save you up to 40% on energy bills. It is also available in 12000 and 8000 BTU, which would suit you better if you have a smaller space.
Window Air Conditioners
These ACs are popular among people not only because they are cheap but also because window air conditioners are simple to install and powerful enough to keep you cool. These units work just like any other air conditioner. They remove moisture from indoor air to cool your space.
Window ACs have a blower or fan, a thermostat, a compressor, refrigerant, a condenser coil, and an evaporator coil. All these air conditioner components are installed inside one box casing.
You can pair them with window AC thermostats to give smart capabilities such as controlling your AC when you are away or setting weekly schedules.
If you are looking for a powerful AC that won't cost you an arm and a leg, then a window AC is your best bet.
| | |
| --- | --- |
| Pros | Cons |
| Inexpensive | Obstruct view from the window |
| Quite easy to install | Less energy-efficient than mini-splits |
| Do not take up floor space | Noisy during operation |
1. Frigidaire Window-Mounted Room Air Conditioner, 5,000 BTU
If you are in search of an apartment window air conditionerthat is reliable but inexpensive, then this window-mounted AC by Frigidaire is a really good option. This 5000 BTU air conditioner is great for rooms up to 250 square feet. The same model is available in different BTUs ranging from 5000 to 15,100.
This compact AC unit has removable and washable air filters. In addition, the model comes with a space-wise adjustable design option side panels to help extend its panels to best fit the size of your window.
2. Midea U Inverter Window Air Conditioner
This Midea AC is highly energy efficient with its DC inverter technology and claims to offer 35% energy savings. The BTU options range from 8000 to 12,000. Because of its U-shaped design, it blocks noise and offers a quiet operation (as low as 42dB). It is Wi-Fi enabled, so you can control it through the Midea Air app on your mobile phone or through voice commands with Google Assistant and Alexa.
Maintain Ideal Temperature in Your Apartment Using Smart AC Controllers
 

 

View this post on Instagram

 
With smart AC controllers, you can make your mini-split, portable, or window air conditioner smart (as long as it comes with an IR remote) and reap the benefits of a smart air conditioner. They help you automate your apartment's climate and provide you with the ultimate comfort.
Cielo Breez smart AC controllers are equipped with temperature as well as humidity sensors. You can set intelligent triggers using Comfy Mode, and your air conditioner will automatically turn on/off to maintain your desired setting. Schedules can be set to cool or heat your room as per your routine throughout the week. In addition, you can also control your home climate even when you are away using your smartphone.
With smart controllers, you can track your AC usage and make necessary changes to save on AC bills. In addition, Cielo Breez smart controllers send you reminders about your AC filter cleanliness levels and help you keep up with regular air conditioner maintenance.  
You can also integrate your Cielo smart AC controller with Alexa,  Siri, or Google home assistant to control your unit via voice commands.
In Conclusion
Finding the right air conditioner for your living space is no easy job. However, looking for the perfect apartment air conditioner becomes easier when you know your apartment size, room layout, and budget. Looking at the metrics like the energy efficiency of the AC and the extra features an AC offers can help you choose the right unit. To maintain the ideal climate, pair your apartment air conditioner with smart AC controllers and enjoy the advanced automation features.