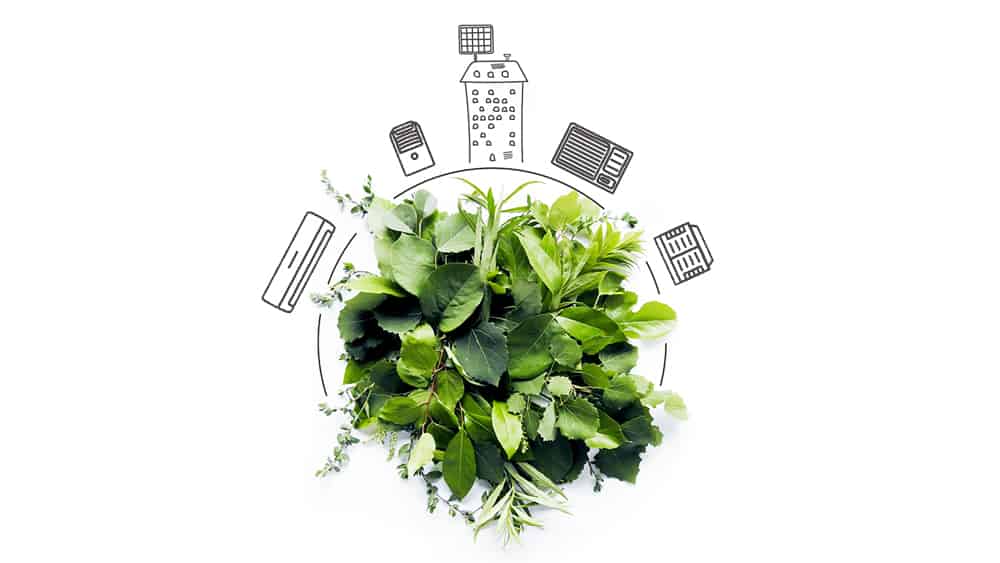 The environment that we live in is an essential part of survival. The benefits of a clean environment cannot be denied. It ensures the survival and continuity of all life on Earth. A clean environment has a direct effect on health, climate, and biodiversity. In this day and age, it is extremely important to take care of the environment because of increased industrialization. Although the benefits of latest technological developments cannot be ignored, it does bring several adverse effects harmful to the environment.
More people than ever before are aware of the damage that many ordinary, everyday activities have on the environment. From single-use plastics to wasteful food practices, our modern society's systems are built in ways that have long-lasting environmental impacts.
Like many other home appliances, air conditioning systems are among the most incredible wonders of technology that help us stay cool during the scorching heat and warm during freezing winters. An air conditioning systems' importance cannot be ignored, but every great thing comes with a cost. We need to learn if HVAC systems are environmentally clean and if not, then what can be done to make them environment friendly. Excessive use of air conditioners emits greenhouse gases that are harmful to the environment. While the use of air conditioning systems cannot be eliminated, it is essential to find a middle ground for the efficient use of these systems and eco-friendly HVAC systems go a long way.
Now the important question arises, is air conditioning bad for the environment? The bitter answer is yes! Are there ways to control the harmful effects of air conditioning? YES! How? Let's go over some tips that can help you decrease the harmful effects of air conditioning systems to the environment. 
1. Energy Star-Certified Unit
Three-quarters of homes in the US have air conditioners responsible for 6% of energy use in the United States every year. This results in the release of roughly 117 million metric tons of carbon dioxide each year. To minimize carbon dioxide emissions, it is very important to look for an energy-efficient and eco-friendly HVAC system. While buying any wall or window unit, make sure to look for an Energy-Star certified unit that meets the Environmental Protection Agency guidelines.
Due to higher SEER and EER ratings, Energy-Star certified units use 8% less energy than conventional HVAC systems. It doesn't only slash your bills but also helps to reduce your carbon footprint. Moreover, it contributes greatly to keeping your system environmentally clean.
2. Pick the Right Size
While we are discussing how to keep your HVAC systems environmentally clean, we should know that big is not always better. That is also right and stands true when you are choosing an air conditioner. Whether you are building a new house or replacing your old air conditioner, it is always important to accurately determine the air conditioner's size. An air conditioner's size is often overlooked, and people end up buying units that are either too big or too small for their room.
Let's take an example. You have the smallest size of air conditioner installed in your TV room. It takes ages for the air conditioner to heat/cool your TV room. This increases your bills and results in increased carbon emissions that harm the environment, as the air conditioner is continuously running without any significant effect. To find the perfect size, educate yourself about air conditioner sizing, choose the perfect fit for your home, and play your part in saving the environment.
Cielo Smart AC Controllers
Your best choice to make any mini-split, window,
or portable AC smart. Enhance your comfort and savings.
Shop Now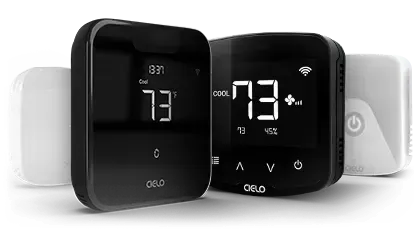 3. Get Smart Technology
Even if you are using an older or low-tech HVAC system, you can install a smart energy controller to make it eco-friendly. This will let you track energy usage down to the last detail and give you a real-time peek into where and when you spend the most energy.
Using smart air conditioners, smart thermostats, or smart ductless AC controllers, you can track your AC's usage and set intelligent triggers. These triggers will allow automated climate control, guaranteeing comfort and energy savings. 
You'll be able to set desired temperatures, see your room's current temperature, control fan speed and circulation, and a host of other options designed to let you manage your HVAC system to a far greater degree than was previously possible.
4. Check Your HVAC Systems' Design
Air does not magically get chilled in your HVAC system and then instantly transfer to your skin. It passes through a lengthy network of ducts and vents in your house before it finally reaches you. If you're trying to keep your entire system as efficient and environmentally friendly as possible, start by inspecting your entire ducted HVAC system and look for areas to improve.
Some specific things to consider include checking for open, torn, or broken ductwork. You should also check the insulation you have installed on your ductwork and consider improving the insulation both on your ductwork and in your house itself. Floors and ceilings, especially, are common areas where hot or cold air escapes. Adding extra insulation in those places should improve your home's thermal efficiency, creating less work for your HVAC system and lower energy costs for your HVAC unit.
If you're buying or upgrading, then consider the option of a ductless system. Since there is no ductwork involved and the conditioned air is directly introduced in your room, there is less chance for the cooled/heated air to escape.  
5. Upgrade Your HVAC System
Air conditioning and the environment need to be taken into account and taken care of for a healthy life. Have you ever wondered how long do air conditioners last? Everything has a lifespan, and so do air conditioners. If you are using a system that is 10-15 years old, then we have bad news for you. Owning an old system does not only increase your utility bills but also contributes negatively to the environment.
Newer systems tend to be more energy-efficient and use cleaner refrigerants. If your HVAC system is more than a few years old, it may still be using the old HCFC refrigerants. Paying for an upgrade will eliminate one more source of possible pollution and will reduce your monthly energy bills.
6. Ozone Friendly Refrigerants
The effects of the air conditioning system on the environment might scare you, but don't worry, there are different ways to cater to these issues that help create a clean and safe environment. Gradually, old air conditioners are being phased out due to the use of refrigerants. Old systems used R-22, a refrigerant that contributed to ozone layer depletion.
Now, ozone-friendly refrigerants such as R-410A are being used to make air conditioning systems environment-friendly. Systems built after 2010 are compatible with R-410A, and an HVAC technician can retrofit some older models to accommodate R-410A. Another fantastic benefit that R-410A offers is energy saving. R-410A needs less compression to achieve the ideal temperature – putting less strain on the system and ultimately decreasing your energy bills. This is also an attempt to make your systems environmentally clean.
To find out what refrigerant your AC is using, check the appliance description sticker on the side of the air conditioner's outdoor unit. Moreover, you can also check on the user manual or contact your service representative.
7. Think of the Bigger Picture
Your home doesn't exist in a vacuum. If you have a yard, consider using landscaping to help reduce your home's HVAC requirements. Large trees can provide shade and block the sun, a natural way of reducing the load on your HVAC system.
The added shade may also give you a chance to reconsider your landscaping in general, adding features like rock walls, water features, and insect-friendly plants that can all improve your home's look and environmental friendliness.
While thinking of the bigger picture, consider adding solar panels to your house to help offset the energy your HVAC system will use. You may not be able to go entirely self-sufficient with your energy consumption, but solar power should reduce your carbon footprint and impact on the power grid.
8. Maintenance of HVAC System
Efficiency is key to reducing your HVAC's environmental impact. Even little things like dirty air filters and obstructed vents can lead to poor air circulation and more work for your system. Do not skip your regular cleaning and maintenance schedules.
The same principle applies to the maintenance of your HVAC unit itself. Keep your central unit regularly serviced to make sure it operates at peak efficiency. It will keep your home cooler and also reduce the overall energy it uses. A well-insulated home and regular maintenance of air conditioning systems will help your system remain energy efficient and can go a long way towards helping the environment.
9. Clean the Ducts
If you have a ducted heating system installed at home, make sure to clean the ducts regularly! Dirt and bacteria get collected in the ducts, and whenever the air conditioner is turned on, both are released into the indoor environment. These are toxic substances and harmful to human health and the environment.
The use of mini-splits or ductless systems can prove more beneficial since they are built to keep the environment and people's health in focus. There are no ducts to be taken care of; hence their maintenance is not as intensive as a ducted system.
10. Dispose Your AC Properly
There are best practices to extend the life of your AC. However, there inevitably comes a time when you have to part ways with your HVAC system and look for a new one. When your HVAC system reaches the end of its life, though, don't simply discard it in a dumpster somewhere. Take your unit to a certified recycling center where the unit can be broken down. There, the environmentally dangerous refrigerant gas can be disposed of properly, any precious metals can be separated, and the impact of air conditioner disposal can be minimized.
Environmentally Clean HVAC: An Admirable Goal
Achieving an environmentally clean HVAC system isn't just about buying the biggest and best HVAC unit out there; it requires considering a whole new approach to home HVAC. Reducing your energy consumption and improving thermal and energy efficiency are the biggest keys to keeping your system clean. You can even opt for advanced, energy-saving HVAC systems such as geothermal heating and cooling. Even simple tasks, like remembering to clean air filters and to perform regular maintenance on the ductwork, can result in drastic improvements.
There's no quick and easy shortcut to achieving an environmentally clean HVAC system. The use of refrigerant gas means there's always a risk of pollutants leaking from your system. It is either during or after its lifetime. The source of electricity your HVAC uses is also a consideration. However, viewing your HVAC system as part of an overall "clean" approach allows you to find ways to minimize your HVAC's impact. Start by evaluating what you have. Consider a smart meter or similar technology to give you a better idea of your energy consumption. Then, adjust the specifics of your system as needed. Adopting an eco-friendly HVAC lifestyle might not be easy at first, but it is possible with the right tools and a holistic approach and well worth it.
Now ask this question again, is air conditioning bad for the environment? NO, if you follow all the tips that we have mentioned above!