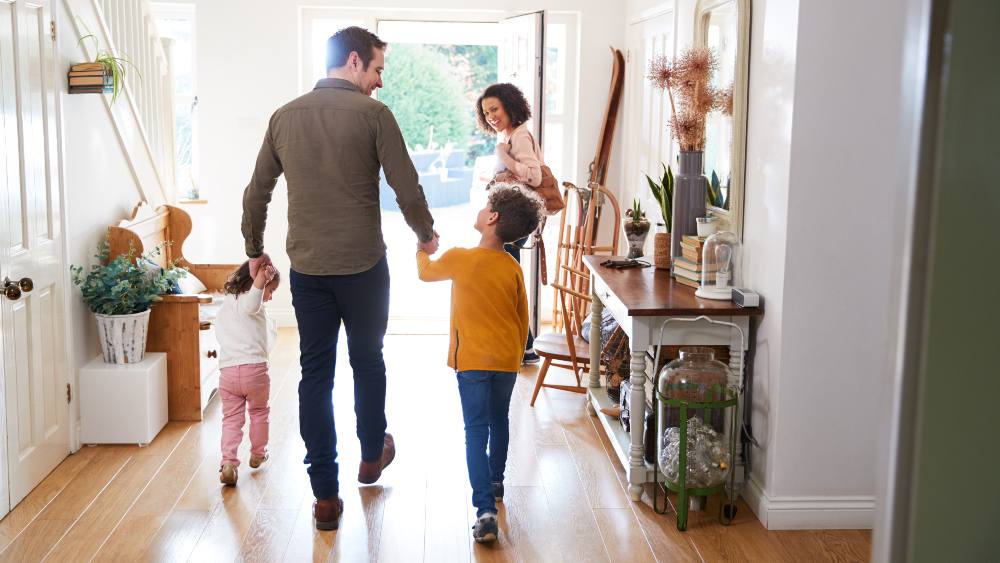 As you embark on the excitement of planning your vacation, ensuring the safety of your home is a top priority. Amidst the checklist, one crucial consideration is what temperature to set your house while on vacation.
It may be tempting to turn off your HVAC system completely; after all, who wants to deal with the extra expense of heating/cooling an empty house? However, you may be surprised to hear that turning off your unit can actually damage your home, and you may end up paying more for repairs than you were trying to save.
This doesn't mean you have to leave your thermostat set to the same temperature as when you are home. By taking simple measures, such as utilizing smart home climate control products, you can keep your home protected while still managing energy costs.
This blog explores why you shouldn't turn off your HVAC, what temperature to set the thermostat when on vacation in winter and in summer, and various strategies to maximize energy savings.
Why You Shouldn't Turn Off Your HVAC When On Vacation?
According to Josh Mitchell, HVAC technician and owner of Air Conditioner Lab, "Turning off your HVAC system while on vacation might seem like a good idea to save energy, but the potential costs and damages from issues like mold growth, burst pipes, and poor air quality can be substantial. A more balanced approach is adjusting your thermostat settings to ensure your home remains protected while also being energy efficient."
Avoid Damage to Wooden Structures and Electronic Items
High temperatures in summer can damage wooden structures like flooring and furniture pieces, making them expand and develop cracks. Delicate objects, such as wooden antiques, are also at risk of heat-related issues like discoloration and cracked coatings. The electronic devices in your home can be sensitive to extreme temperatures, and leaving them in an unconditioned space can cause functionality issues.
Maintain Safe Storage Temperature
The perishable food items can spoil quickly, releasing a foul odor in an area without proper temperature control. Also, your refrigerator will have to work harder in high temperatures, consuming a significant amount of energy. Certain products, such as medications, cleaners, household chemicals, and batteries, can be incredibly sensitive to fluctuating temperatures. Failing to maintain a steady temperature in your home has the potential to ruin these items or even make them dangerously unstable.
In addition to temperature management, air conditioners also play an important role in controlling the humidity levels of your home. As a general rule, ideal indoor humidity should be between 30-50%.
A humidity level above 55% creates a breeding ground for mold and mildew growth (leading to poor indoor air quality), causes your drywall to deteriorate, and leads to moisture accumulation.
On the other hand, moisture levels below 30% can cause cracks to form in the wooden elements and static electricity that can damage the internal components of your electronic devices.
When you leave your home without any heating system in winter, your home temperature drops too low. As a result, the water in the pipes is prone to freezing. The frozen water then expands and puts pressure on the pipes. This can result in pipes bursting, leading to flooding in your home.
Keep Your Pets Comfortable
As a pet owner, there is a long checklist that needs to be taken care of before you set off on your vacation. This includes hiring a pet sitter who can provide food, water, and other necessities for your furry companions. It's also important not to overlook their living environment. Animals are sensitive to extreme temperature changes, which can lead to serious health risks such as dehydration and heat stroke in summer. According to Pet Health Network, prolonged exposure to cold temperatures can lead to hypothermia or frostbite in cats and dogs.
What Temperature to Set AC When on Vacation?
It's necessary to keep your HVAC unit on when you're away, but to ensure that your AC doesn't run up unnecessary energy costs, you should know what temperature settings to use when leaving.
It's best to set back your thermostat 7-10 degrees from your usual settings when your home is unoccupied. According to the Department of Energy, this can help you save around 10% on your heating and cooling bills.
What Temperature to Leave Vacant House in Summer?
When you are going on a summer holiday, it's recommended to set your thermostat to 85F. Also, check the weather forecast; if it's going to be really hot, you can lower your set temperature. Some states are hotter than others, so you need to keep in mind how hot it gets where you live and set the vacation temperature accordingly.
What Temperature to Leave a Vacant House in Winter?
The optimal thermostat setting for winter when you are away from your home ranges from 55F to 60F. You can go as low as 45F to save money if you experience mild winters, and freezing pipes are not a significant concern. Keep in mind that the size of your house can impact these settings. If you have a large house, it's advisable to set a higher temperature to ensure that every room with plumbing pipes remains above freezing.
What Temperature to Keep House While on Vacation if You Have Pets?
During the summer months, it's important to maintain a temperature between 75-78F for your dogs, with the thermostat not set higher than 82F when you are out. For cats, you can set the thermostat as high as 88F as they can tolerate warmer temperatures.
When winter rolls around, the ideal temperature range for dogs is between 68-72F, with the thermostat not set lower than 60F when away. For cats, set your home thermostat to 70F. Keep in mind that the temperature below 70F can be uncomfortably cold for cats.
For pet birds, indoor temperatures between 65-85F are recommended year-round. Low indoor temperatures can be dangerous for birds, causing them to fluff their feathers or tuck their beaks under the wings in an attempt to keep warm.
Related: Pet Comfort & Air Conditioning for Dogs and Cats – Your Top Questions Answered
Top Ways to Maximize Energy Efficiency While You Are Away
Here is a list of the best ways you can save energy while keeping your home safe during a holiday.
1. Invest in Smart Climate Control Devices
View this post on Instagram

When you are away on holiday, you can use a smart thermostat or a smart AC controller for room units to manage your home climate using your phone.
Smart thermostats such as the Cielo Smart Thermostat have a helpful feature called vacation mode that you can use to keep your home safe while saving on bills. In this mode, you can set heating and cooling set points and enter the duration of your trip. Your HVAC unit will run at the specified thresholds, ensuring a safe-for-home temperature while you're away and welcoming you to a comfortable home.
Here's how you can set the vacation mode using the Cielo Smart Thermostat.
Cielo Smart Thermostat
Equip your HVAC system with smart features and achieve the perfect balance between comfort & savings.
Shop Now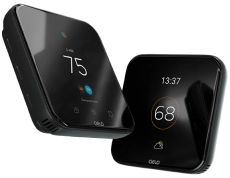 For ductless heat pumps like mini-splits, you can use Cielo Breez smart AC controllers to set up Comfy mode to keep your home safe during your holidays. You can set your room temperature range, and your room aircon will automatically run to maintain it. You can even set schedules to update the room temperatures to a comfortable level as you return.
In winter, you can use these smart devices to run your mini-split on freeze protection (FP) mode to prevent pipes from freezing up. It keeps your unit working at a low power mode at around 46F, ensuring your home temperature doesn't fall below freezing. You can activate the FP setting using your phone from anywhere, anytime.
Cielo Smart AC Controllers
Your best choice to make any mini-split, window,
or portable AC smart. Enhance your comfort and savings.
Shop Now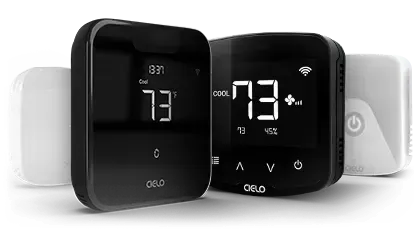 2. Keep your Blinds Closed
Keeping your shades and blinds closed when you are leaving for extended periods can help prevent your home from heating up. Your AC won't have to work harder to maintain your vacation settings. The Department of Energy recommends medium-colored shades with white plastic backings, which can reduce heat gains by as much as 33%. You can install window awnings to reduce solar heat gain.
3. Check for Air Leaks
It's important to do a thorough check of your house for air leaks before leaving. To improve your home insulation, seal gaps or cracks in your home's walls, doors, and windows using caulking and weatherstripping. This tip isn't just helpful before going on vacation, but it's something that should be done all year long to ensure your home is as energy-efficient as possible.
4. Inspect Your HVAC System
Ensure a worry-free trip by tuning up your HVAC unit beforehand. Make sure your air filters and AC coils are cleaned. Here is a DIY guide to AC coil cleaning.
Also, have your heating/cooling thoroughly examined by a professional. If there are any issues, the technician will make the necessary repairs, ensuring your unit operates effectively while you're away.
Related: HVAC Preventative Maintenance: Complete Guide With Checklist
5. Make Use Of a Dehumidifier
If you live in an area with high humidity, you can invest in a dehumidifier to supplement your air conditioning. These devices take in moist air and circulate the dry air back into your home. You can also make them smart by integrating them with smart AC controllers such as Cielo Breez, as long as they come with an IR remote. This can help you manage your humidity levels when you are vacationing.
Related: Humidifier or Dehumidifier: Which Is the Best Option for Your Needs?
The Takeaway
When going on a holiday, turning off your HVAC system may seem like a measure at first glance, but in reality, it's not. Extreme temperature fluctuations can potentially damage appliances, furniture, and other valuable items in your home. If you're wondering what temperature to set your house when on vacation, adjusting it by 7-10 degrees can strike a balance between energy savings and safeguarding your home. To effectively manage your home climate while you are away, consider utilizing smart climate control appliances. These devices also come in handy if you have pets, as you can constantly monitor the home temperature levels to offer them maximum comfort.