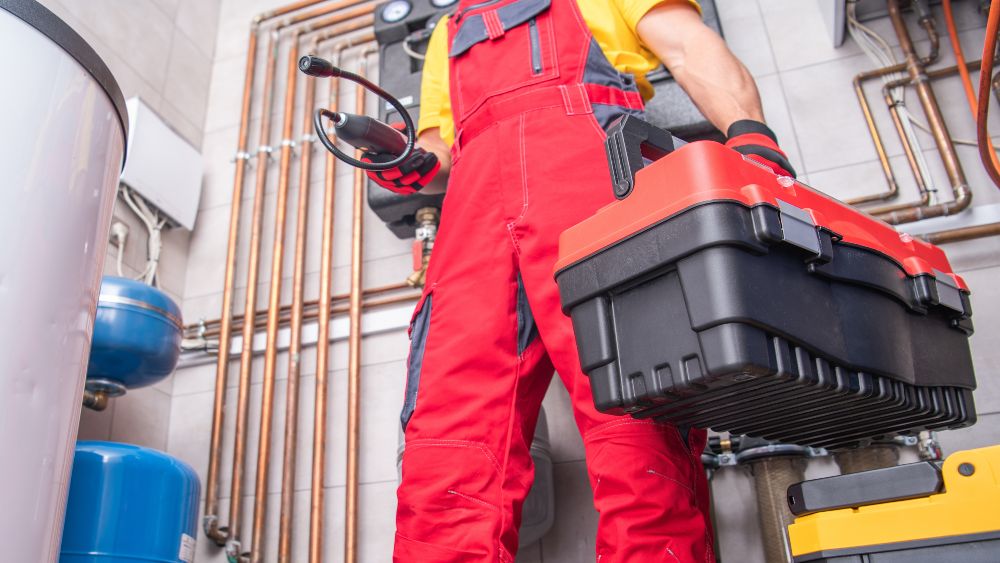 Furnaces provide a reliable and effective way to keep you warm during winter months. Unfortunately, like any other home appliance, these heating systems may encounter occasional issues that require troubleshooting and repair.
The problems can arise due to a lack of HVAC maintenance or faulty parts. Other factors, such as thermostat malfunctioning and leaky ducts, can also be responsible for any issue that develops in the furnace. 
Read on for detailed information on common furnace problems that you can face and possible solutions.
1. Ignition Problems
If the furnace fails to ignite, it could be due to a faulty spark igniter, blocked gas valve, or insufficient gas supply. Newer furnace models don't have a standing pilot for ignition; rather, they use electrical components. In case of issues with electrical ignition, your furnace might cycle on/off frequently, produce little to no heat, or you might be dealing with an overactive blower. 
How to Fix
For older conventional furnaces, turn off the furnace power and inspect the heating element. If the igniter is cracked or damaged, it won't be able to generate enough heat to ignite the fuel. Contact an HVAC technician and replace it. 

If the burner is dirty, it can cause problems with ignition. Clean it with a soft brush or vacuum cleaner to remove any dirt or debris.

Ensure the fuel reaches the furnace. Check the fuel line and the fuel filter, and make sure they are not clogged.

Verify the ignition system. Make sure the ignition system is working correctly. Check the circuit board, wiring, and other components.

For newer models, try replacing the filters and checking the power and gas lines. 

Call a technician for a detailed checkup if these simple solutions don't work. 
2. Furnace Runs Non-Stop
If you notice your furnace is running continuously, there are two reasons for that. Either your thermostat is set to fan mode, or there's something wrong with the fan limit control switch. 
How to Fix
Check your thermostat, and if it's set to fan mode, the solution is to switch it to 'auto' mode. This will ensure that the fan only runs when your system is heating. 
The fan limit control switch monitors the temperature inside the furnace and signals it to turn off when the set temperature is reached. If it is not working, the furnace will keep on running. For troubleshooting, check the fan motor switch. If it looks okay, reset it to fix the issue. If it looks damaged, call a technician to replace it. 
3. Pilot Light Problems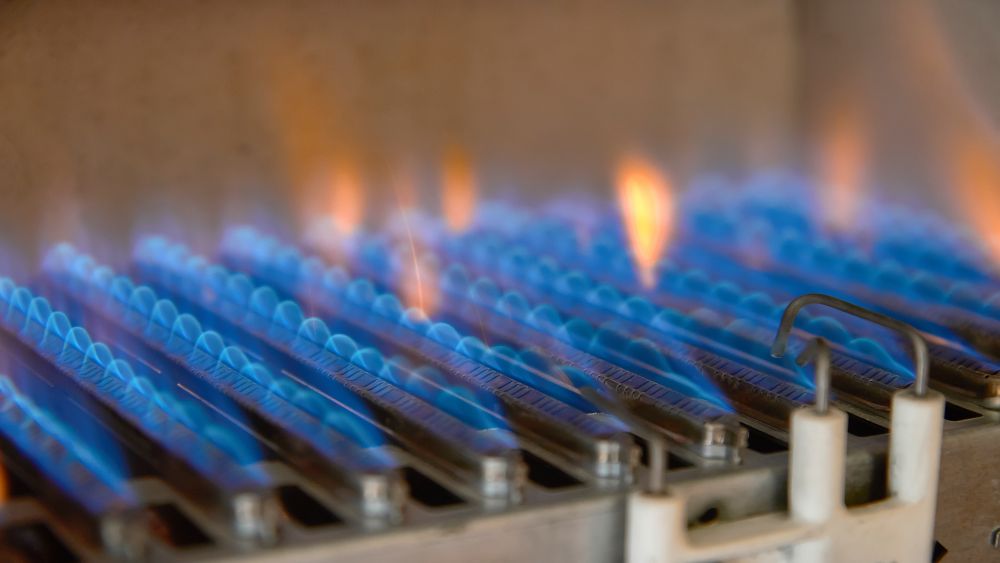 Pilot light issues are one of the common reasons your furnace isn't working. The light can completely turn off, or you may notice continuous flickering. The pilot light on gas furnaces can go out due to drafts, debris-filled gas tubes, or dirty pilot burners. A faulty thermocouple, which is a sensor that measures temperature, can also cause the gas supply to shut off. If you notice a yellow pilot light, it is most likely due to excess carbon monoxide in your furnace. 
How to Fix
Relight the pilot fire if it had gone out. If your furnace is working fine, the issue is resolved. 

If relighting doesn't work, check the furnace pressure switch. This switch is designed to shut off the gas when the pilot light goes out. If the switch isn't working, replace it. 

Check the thermocouple; if it's faulty, replace it. 

Ensure the gas valve is open, and the supply line isn't clogged or blocked. 

Finally, check the pilot light assembly. Ensure the pilot light is in good condition and the pilot light tube is clear of debris.

In the case of a yellow pilot light, it's best to contact your local furnace technician, as carbon monoxide is dangerous to deal with. 
4. Thermostat Having Issues
If your furnace fails to make your home environment comfortable, consider checking the set temperature on your thermostat. Sometimes, the thermostat can stop working and not send the correct signal to the furnace. The loose wiring can also cause issues. Another reason your thermostat is causing problems is a lack of maintenance. Dust and dirt can interfere with the thermostat's ability to read and respond to temperature changes. Incorrect thermostat location can also compromise the efficiency of the furnace.
How to Fix
Try

resetting your thermostat

if it's showing incorrect readings. 

If your thermostat has trouble reaching your set temperature, check its calibration. Here's how to

calibrate your thermostat

. 

To check the loose wiring, detach the thermostat from the wall and examine the wire connections. Make sure the wires coming out of the thermostat are properly attached to their corresponding terminal on the thermostat. 

If you have a battery-operated thermostat, check the batteries and replace them if needed. 

The thermostat should be located away from drafts or direct sunlight to get an accurate reading.

Check for dirt and debris inside, and clean if needed.
5. Dirty Air Filters
If your furnace air filters are dirty or clogged, they can restrict airflow, causing your furnace to work harder. This can result in overheating and eventual failure of the unit. 
How to Fix
If the filters are clogged or damaged, they should be replaced. Changing your filters every two weeks and replacing them every 3-4 months is recommended.
6. Leaking Ducts
Leaking ducts can cause the furnace to run inefficiently. The air that is meant to be heated will escape instead, resulting in wasted energy and high bills. 
How to Fix
The best way to resolve this common furnace problem is to seal the ducts properly. This can be done using mastic or foil tape on top of the cracks and gaps. You can also have a professional HVAC technician inspect and fix the leaks. In some cases, replacing the entire duct system may be necessary.
7. Thermostat and Furnace Are Mismatched
If you have installed a thermostat that is incompatible with your furnace, you will face operating problems. As a result, your furnace may overheat or underheat your home.
How to Fix
Check your thermostat manual to find out if the furnace is compatible with it or not. 

If the wrong type was installed, replace it with the correct model. 
8. Insufficient Heat Output
Insufficient heat output in a furnace is when it does not produce enough heat. Your furnace may stop producing heat or blow cool air only. This can happen for various reasons, some of which can be taken care of at home.
How to Fix
Make sure the heat registers are open.

Check the thermostat settings for any possible changes.

Verify that the furnace has power and is working.
9. Furnace Cycling Problems
The cycling issues in furnaces include short cycling, when the furnace turns on and off too often, or over-cycling when the furnace runs longer than necessary. Over-cycling puts extra strain on the furnace's components, leading to increased wear and tear. 
How to Fix
Clean or replace the air filter regularly.

Check the thermostat settings and calibrate them if necessary.

Examine the burners for proper operation and clean them if necessary.

Adjust the blower speed to ensure proper air circulation.

Ensure adequate return air supply.
Blower Components Malfunctioning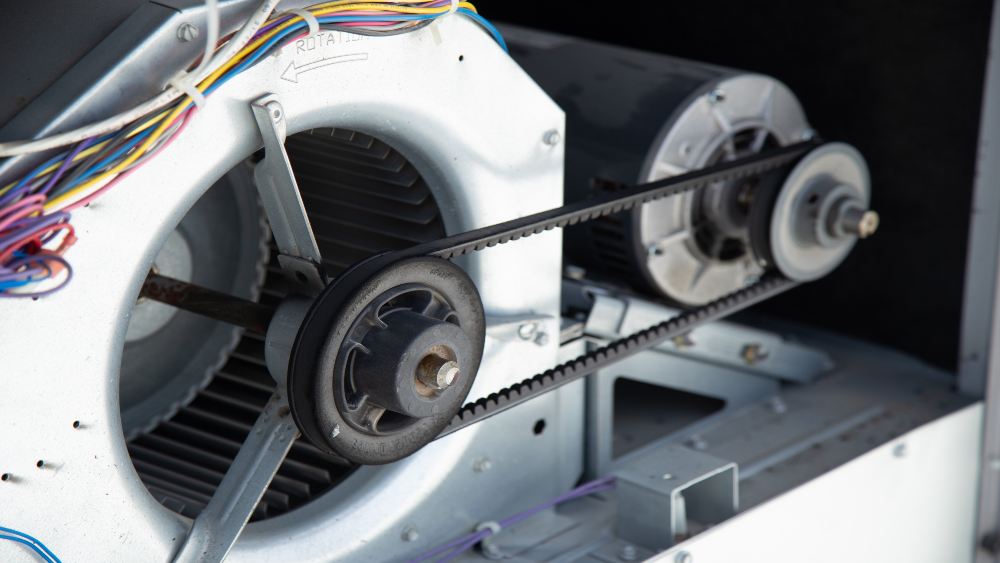 10. Frayed Blower Belt
The blower belt is a part of the furnace that helps its fan to run smoothly. Over time, it can become frayed due to everyday usage or may just slip from its place. If your motor belt malfunctions, you will hear a high-pitched squealing noise.
How to Fix
It is essential to replace it as soon as possible. If the belt is left in this condition, it can cause the furnace to overheat and cause further damage. 
Make sure to buy the correct size belt before you start the replacement process. 

To replace the belt, you must turn off the power to the furnace.

To access the blower belt, you will have to remove the blower panel. Then use the wrench to loosen up the bolts and remove the old belt. 

Put the new belt in its place, so it is snug.

Finally, reinstall the access panel and turn on the power to the furnace.
11. Worn-Out Ball Bearings
When it comes to maintaining your furnace, one part of the blower mechanism that should always be checked for problems is the set of ball bearings. They can develop wear and tear over time. They can also become damaged if they are not properly installed. If there are issues with your furnace's ball bearings, you will hear a scraping sound coming from the system.
How to Fix
Running your furnace while these bearings are failing will only make matters worse, so turn off your system and contact your furnace technician to replace the ball bearings as soon as possible.
12. Damaged Blower Capacitor
The capacitor is like a battery for your furnace that provides energy for it to function. If the capacitor goes haywire, then the motor will draw too much power from the circuit board to function properly. This can lead to an overload that forces breaker trips or even wire shorts.
How to Fix
Have an HVAC professional look at the capacitor and inspect the damage.
13. Noisy Furnace
If you hear strange noises like pinging or popping, squealing, grinding, or rattling,  it is most likely a sign of an underlying furnace problem. For instance, a squeaking noise usually indicates problems with the blower belt, while scraping noises point to damaged blower bearings. Rattling noises in your furnace can be caused by loose parts, worn-out bearings, clogged burners, or a cracked heat exchanger.
How to Fix
Check the blower belt for wear or damage. 

Inspect the blower housing and motor for any loose or damaged parts. Tighten the loose screws and also oil the motor for lubrication. 

Inspect the heat exchanger for any cracks or blockages. Call an HVAC technician if repairs are needed. 

Clean or replace the filters, as a clog may be making the noise.
Related: Air Conditioner Noises: What Causes Them & How to Fix
14. Cracked Heat Exchanger
The heat exchanger separates the flame from the air. If you don't keep up with the furnace maintenance or if you set the temperature too high, the exchanger can crack. You will hear rattling noises if this happens. 
This crack allows potentially dangerous fumes, such as carbon monoxide, to escape into the home instead of being vented to the outside. This can create a potentially hazardous situation and should be addressed immediately.
How to Fix
Unfortunately, this is not something that can be done without professional assistance. You will need to have an HVAC person come in to inspect the furnace and replace the heat exchanger if necessary. 
15. Gas Valve Malfunction
A faulty gas valve can lead to various issues with your furnace, including inefficiency, excessive noise, and even safety hazards. In addition, it can cause the furnace not to ignite or heat properly. This can be dangerous as it can lead to a gas leak or an explosion.
How to Fix
Turn off the electricity to the furnace.

Locate the gas valve and shut it off.

Remove the access panel from the furnace.

Inspect the gas valve for any visible signs of damage.

If the valve is damaged, replace the valve with a new one.

Reattach the access panel and turn the power back on.

Turn on the gas valve and check for any leaks.

If there are no leaks, reset the furnace and test the system.
16. Dirty Burners
Dirty burners can cause several issues for a furnace. First, they can reduce the furnace's efficiency, causing it to run longer and cost more. In addition, dirty burners can cause the furnace to produce soot, which can accumulate in the ducts and vents and lead to health risks. They can also cause the furnace to overheat, severely damaging the system.
How to Fix
Locate the burners and clean them using a vacuum cleaner to remove dust and debris.

Next, make sure the burner ports are clear and unclogged. If the ports are clogged, use a wire brush or pipe cleaner to clear them.

Once the burner ports are clear, use a compressed air canister to blow out any remaining debris.

Check that the burner is adjusted correctly and that the flame is burning blue. If the flame is not burning blue, adjust the burner.
17. Burning Smell
You may notice a weird burning smell when you first turn on your furnace at the start of winter. This is usually due to layers of dust burning off as it heats up, and this smell should dissipate within an hour. However, if any strong odors persist for a few days, it indicates a serious problem.
A moldy smell indicates the growth of mold or mildew inside the furnace. A metallic or gas smell signals a gas leakage, and in that case, immediately turn off the gas valve and call for professional help. Open all the windows and evacuate your home. 
Related: 6 Reasons Why Your HVAC Smells & The Best Solutions
18. Dirty Flame Sensor
A dirty flame sensor can cause a furnace to malfunction by interfering with the furnace's ability to sense the presence of a flame. The flame sensor is a small probe near a furnace's burner. It acts as a safety device to ensure the furnace is operating correctly and is not generating dangerous levels of carbon monoxide. However, when the flame sensor is dirty, it can't accurately sense the presence of a flame, resulting in the furnace not working properly or not working at all.
How to Fix
Shut off the power to the furnace.

 Remove the flame sensor from the furnace.

Use an emery cloth or steel wool to clean the sensor, removing any dirt or debris.

Dip the flame sensor in warm water and a mild dish soap solution.

Gently scrub the sensor with a soft brush or cloth to remove any remaining dirt.

 Rinse the flame sensor with clean water and dry it with a soft cloth.

Reinstall the flame sensor and turn on the furnace.
19. Water Pooling Around the Furnace
High-efficiency furnaces have condensation pipes that can become clogged or develop a leak. This can cause water to pool around a furnace. 
How to Fix
Check the slope of the floor to make sure that the floor around the furnace is sloping away from it so that any water that accumulates near it can naturally drain away.

Inspect the condensate line from the furnace to ensure it is not clogged and draining correctly.

Install a sump pump. If the water is still pooling around the furnace despite the above steps, you may need to install a sump pump to help pump the water away from the furnace.
20. Clogged Exhaust and Intake Vents
Clogged exhaust and intake vents are common furnace problems. In this case, air won't be able to flow freely, causing the system to become inefficient and possibly even break down. Clogged vents can be caused by various things, including dirt, leaves, snow, or furniture pieces placed in front of the vents. 
How to Fix
Check all the inside vents for any obstruction that may be preventing heat flow. For example, a furniture piece or a curtain may obstruct the vents. Move them aside to fix the issue. 

Go outside and check the exhaust vents for blockage. Look for corroded or rusted vents. If they are damaged, the furnace technician will have to be called for a replacement. 

Check for blockages such as leaves or ice if there is no damage. Take out the leaves and clean the vents. If snow is blocking the vents, shovel the ice and then clean them. 

After cleaning the external blockages, check the inside of the vents and look for soot or debris. Clean the inside with a brush or cloth piece if required. 
Frequently Asked Questions
Here are some common furnace problems FAQs that you might be looking an answer for:
Can an Old Furnace Cause Health Problems?
Yes, older furnaces may cause health problems due to the release of pollutants into the air. For example, poorly maintained furnaces produce carbon monoxide, which is a colorless and odorless gas that causes serious health problems. Additionally, older furnaces may be unable to filter out particles like dust, pollen, and pet dander which can result in allergies and asthma.
What Problems Can a Dirty Furnace Filter Cause?
A dirty furnace filter can cause a number of problems, including an inefficient furnace, hot or cold spots, increased energy costs, poor indoor air quality, clogged and dirty air ducts, and a high risk of furnace breakdowns.
Do High-Efficiency Furnaces Have More Problems?
High-efficiency furnaces are designed to be more reliable than traditional furnaces and have fewer repair issues. They are also more energy efficient, which can save you money on your heating bills.
What Can Cause Problems With 2-Stage Furnaces?
Potential problems with two-stage furnaces include a blocked condensate line, clogged air filter, faulty flame sensor, low refrigerant levels, faulty pressure switch, and faulty inducer motor. Additionally, issues with the thermostat, such as incorrect wiring or an old, malfunctioning model, can cause problems with two-stage furnaces.
Who to Call For Furnace Problems?
It is best to contact a certified HVAC technician or contractor to diagnose and repair any furnace issues. Search for the best HVAC technicians in your area and book an appointment. 
When Do You Call an HVAC Technician?
If you have the set of expertise and an appropriate toolkit, the instructions above can help you take on multiple challenges highlighted above. If that is not the case, you can definitely DIY a few things and leave complicated problems with an expert. DIY furnace problems can include things like replacing air filters, cleaning components, or checking for blockages. Issues that might need an HVAC include a broken furnace fan, a malfunctioning thermostat, or a faulty ignition system. If you are unsure of the cause of the problem or don't feel comfortable attempting a repair, it is always best to call an HVAC technician.
Here are a few issues you can handle yourself and a few that need to be assigned to a technician.
DIY furnace problems:
Replacing the furnace filter.

Cleaning the blower assembly.

Checking the electrical connections.

Testing the thermostat.
Call an HVAC technician:
If the furnace is not igniting or not producing heat.

If the furnace is creating strange noises or smells.

If the furnace is not cycling correctly.

If the furnace is leaking or not working correctly.
Reclaim Your Comfort With A Furnace Repair
Furnaces are an integral part of home heating systems. They are responsible for providing the ideal temperature in winter, and if they are not operating properly, it can compromise efficiency as well as your comfort. Common furnace problems include blocked or dirty air filters, malfunctioning thermostats, faulty blower motors, and leaking ducts, among many others. These furnace problems can lead to spiked bills and uneven heating. 
Hence, it is imperative that once you notice any irregularity with your furnace, you don't brush it off. Rather take action for it as soon as possible. You never know it can be an indicator of something much worse brewing in your furnace. Reach the root of the problem and evaluate if you can take care of the issue yourself or require professional assistance.