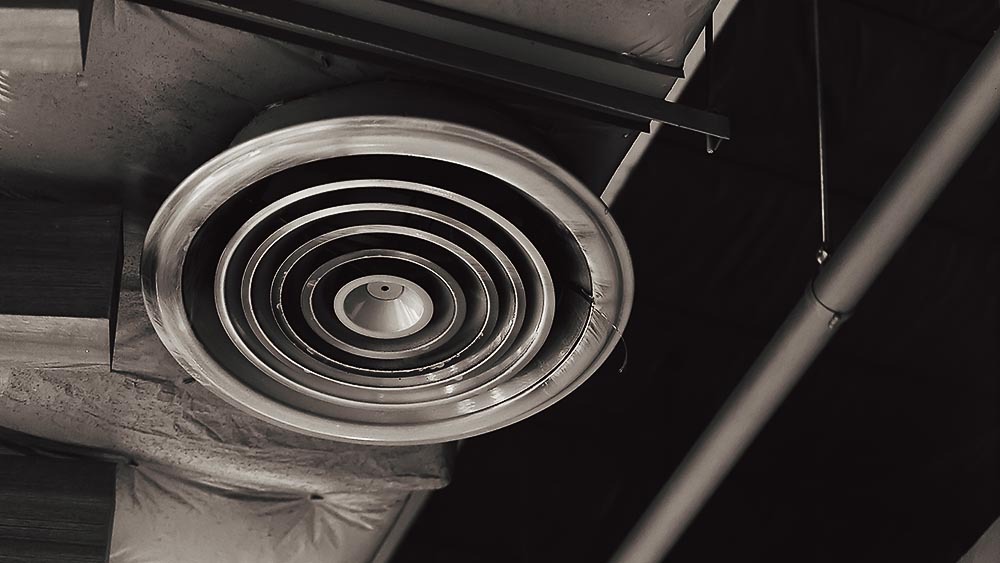 Pests such as rodents love to sneak into your house, especially in extreme weather conditions when they are looking to take shelter. Unfortunately, once they are inside, they take refuge in your ductwork and cause all sorts of problems. 
Rodents can chew on anything they can find, including different AC components. They can chew the air ducts and any insulating material covering it, affecting your HVAC system's functioning and performance.
Besides, these pests are also detrimental to your health. Rodents harbor harmful germs and can spread diseases such as hantavirus. In addition, the ductwork will get contaminated and won't be able to circulate fresh air, deteriorating your indoor air quality. 
It can be really frustrating when little rodents take up residence in your ductwork. From eliminating pests to developing rodent-proof ductwork, here's how to tackle this issue. 
Getting Rid of Rodents in Air Ducts
5 Signs You Have Rodents in Ductwork
Rodents can enter through crawl spaces and attics. They can also make their way inside your house through gaps and cracks around plumbing lines, electrical wiring, chimneys, indoor fireplaces, and gas connections. Once inside, they are mostly found in attics, closets, and the basement.
If rodents are residing in your home, you will notice the following tell-tale signs:
1. Crawling & Gnawing Noises
Rats and mice run through your ductwork and attic, creating crawling noises. You will also hear rodents gnawing your ductwork, especially at night which can disturb your sleep.
2. Putrid Odor
One major sign of rodents hanging out in your ducts is the putrid smell. Dead pests that rodents use as food and rat droppings can spread this odor. As air ducts circulate the conditioned air, this odor then moves into your entire house.
3. Insect Infestation
If you notice a sudden infestation of insects, particularly beetles and moths, around your vents, it indicates the presence of rodents.
4. Increase in Allergy Symptoms
The presence of mice in heat pumps can bring in a host of germs that can spread around your house, deteriorating indoor air quality. As a result, you can feel an increase in allergy symptoms and other breathing issues.
5. Trace Marks
Rodents will leave footprints and bite marks in your ducts and vents as they move around. Any such trace marks signal that they are living inside your house. 
Cielo Smart AC Controllers
Your best choice to make any mini-split, window,
or portable AC smart. Enhance your comfort and savings.
Shop Now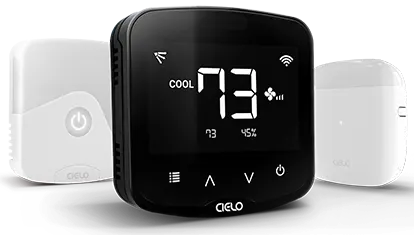 How to Rodent Proof Your Ductwork
Once it's confirmed that there are mice in your AC ducts, you should start taking action right away. After that, you should also take measures to rodent-proof your ductwork to prevent this problem in the future.
Things You Will Need
Mice trap
Bait (bacon, cheese, peanut butter)
Flashlight
Rubber gloves
Plastic disposable bags
Antibacterial soap
Fine wire mesh
Flashlight
Vertical louvers
Air vent and flue covers
1. Getting Rid of Rodents
Getting rid of rats can be tricky, but with mice traps effectively placed, they can help to ward off these little invaders. 
The first step is to turn off your HVAC system and let it cool completely.
Take off vent covers and load mice traps with cheese or peanut butter to attract rodents.
Then, put the traps inside the duct from each vent.
Frequently check the traps in the morning and at night.
If you find the dead animals, dispose of them in plastic bags. Make sure you are wearing gloves during the whole process.
Now, remove your gloves and wash your hands with antimicrobial soap.
Continue this process until you are sure that all rodents have been caught.
Important: You should not use pesticides or pest poison as rats can die within the ductwork, and locating them would be a challenge. Further, the pesticide can circulate in your home via ducts, causing allergy issues.  
2. Seal All Entry Points
To prevent this nuisance and minimize energy usage, you should start by figuring out all entry points and patching those up.
Rats can enter through intake vents and exterior air vents if there are holes and cracks in the protective screen. In addition, attic and crawl spaces are quite easy for rodents to access if not properly insulated.  
Check your roof and air vents for gaps between the duct and wall. Attach wire mesh over these gaps to keep mice out of air ducts. Patch holes and cracks around door and window frames, pipes, walls, fireplaces, and roof rafters.
If you find other holes where rodents can get in, seal them with mesh as well. Insulating your attic is also important; here's our complete guide on attic insulation.
3. Clean the Ducts
Since rodents were living in the ductwork, it's necessary that you clean your ducts to remove any remnants. You should ask a professional to do a thorough cleaning. Taking the DIY route is not a good option. If you try to vacuum it on your own, you will make the situation worse. Vacuuming will just move around mouse dander, mold, bacteria, and other contaminants instead of eliminating them. And every time you would turn on the unit, you would be inhaling all those particles. Sounds scary, right?
Therefore, it's best to let a professional do this job. They use tools and equipment designed to remove debris from air ducts. They also apply biocides to kill germs.
4. Repair & Seal the Ductwork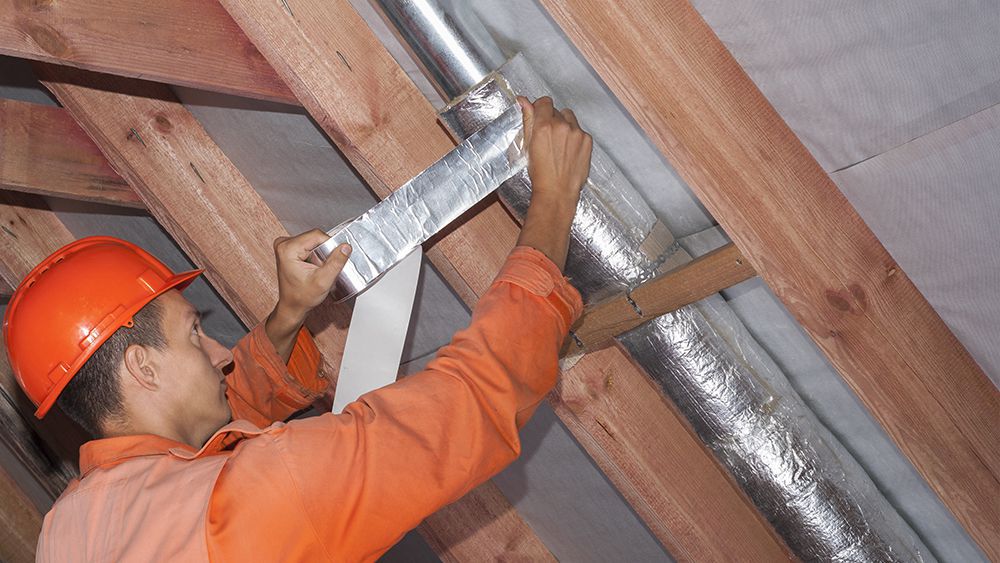 Rodents can chew air ducts, wires and damage the insulation material. Sealing your ductwork provides an effective way to keep rats, birds, and other insects from getting in and causing damage to your unit. At the same time, your heating and cooling system will run more efficiently since it also eliminates airflow issues.
Contact a professional or inspect the ductwork yourself. If there is severe damage, the entire ducting may need to be replaced.
If you are sealing the ducts yourself, use a flashlight and look for visible cracks and holes. For gaps that are not visible, place your hand over the ductwork to feel if any air is leaking out.
After finding air leaks, use foil tape to seal longitudinal seams. Keep in mind that it is a temporary solution and will wear off over time. A better option is to use a duct sealant. You apply it to the holes and gaps using a paintbrush or putty knife, and it hardens after drying. To fully seal your ductwork, insulation is a must. Take foil fiberglass insulation, wrap it around the duct and seal it with foil tape.
Also, ensure that all connections at vents and registers are properly sealed where they meet the floors, walls, and ceiling.
5. Cover the Vents
Cover and protect air vents to rodent-proof your ductwork. Install air vent and flue covers to block point of entry. Ensure vent covers are installed securely as small rodents may find their way in by pulling the cover.
Further, try covering air vent grilles with vertical louvers as they help prevent animals from nesting around vents and ducts. Mesh or specialty screens will also help to keep rodents out.
6. Focus on HVAC Maintenance
Keeping up with regular HVAC maintenance can help you prevent rodent infestation in the future.
Keep the area around your outdoor HVAC unit clean. Trim any vegetation to prevent rats and other animals from getting cozy and making a nest around your air conditioner. Also, cut the long tree branches as rodents can get into your attic by moving along the branches. Reduce moisture around the outdoor AC unit. Do not let rainwater form puddles near the system. Standing or dripping water can attract rodents and other critters.
It is good to have your air conditioning unit checked by professionals once a year. They will look for any pest activity in vents and duct systems and remove them timely.
For a detailed guide on AC tune-ups, read this article.
Keeping critters and rodents out of your HVAC unit can be challenging; however, with the help of this handy guide, you will easily be able to rodent-proof your ductwork and enjoy a perfect home climate by keeping your HVAC systems in flawless shape.