While you may be busy building snowmen, you may not realize how the harsh winter weather can affect your HVAC unit. No matter how different they may be, almost all HVAC units have a compressor unit outdoors that is exposed to rough outside conditions 24/7. Ice on outside AC unit in winter is a common problem that plagues homeowners.
So, should you cover your AC unit in the winter to prevent ice buildup? 
Covering Your AC Unit in Winters - Yes or No?
How Freezing Weather Affects Your HVAC System?
Ice and snow can affect your HVAC unit in several ways. If your outdoor unit is a heat pump, meaning it operates in both summer and winter, you need to be extra cautious about winter damage as ice and snow buildup can affect your system's running. Even if you're not using your HVAC unit in winters, ice and snow can damage the compressor affecting its performance in the next season.
Ice on Outside AC Unit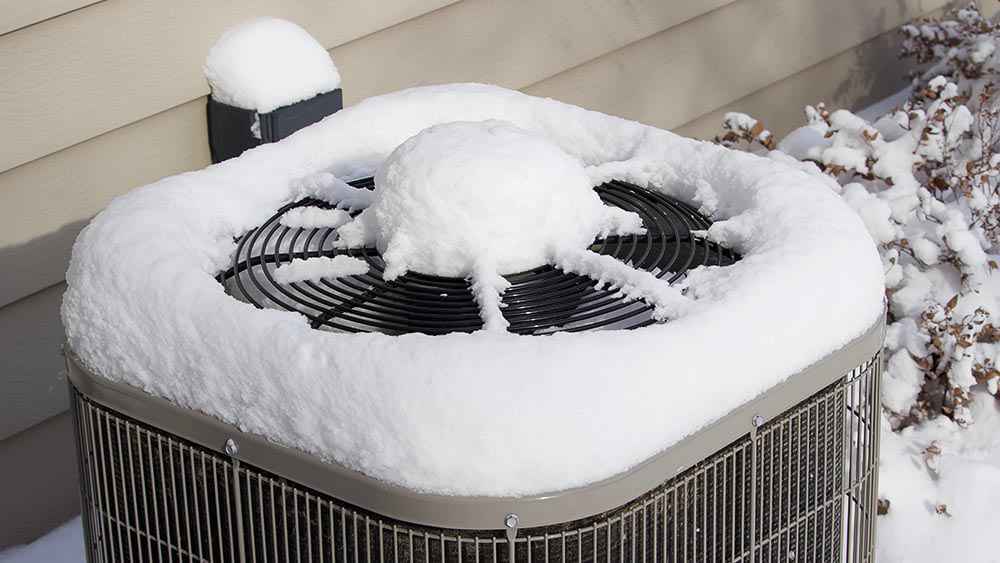 Ice buildup on your AC's outdoor unit can be highly problematic. When you run your HVAC unit, heat is generated, melting this ice. Unfortunately, when it refreezes, it expands and can bend the delicate coil fins. Bent coil fins block airflow; thus, your unit is unable to perform at its best. As a result, your air conditioning unit must work a lot harder to heat your home effectively, leading to higher energy bills.
Rust and corrosion are also significant problems outdoor units face during winters since your outdoor unit is exposed to a lot of moisture for an extended time. Eventually, that can lead to rust and corrosion of outdoor components.
Poor Airflow Due to Ice Buildup on HVAC Unit in Winter
Ice on your HVAC unit in winter also leads to poor airflow. Heat pumps warm your home in winters by extracting heat from the air outside your home and sending it inside. If your heat pump's outdoor unit is blocked on four sides, it can no longer quickly draw air from the outside affecting its functionality. Reduced airflow causes long-term damage to your system, which can require expensive AC repairs.
If you use a furnace to heat your home, you face an additional problem – carbon monoxide poisoning. Most furnaces use gas to generate heat and then transfer that heat throughout your home. If the outdoor exhaust vent becomes blocked due to snow, carbon monoxide has nowhere to escape and builds up in your house. Remember, carbon monoxide poisoning can be fatal; thus, you must invest in a good carbon monoxide detector.
How to Protect Your HVAC Unit from Winter Damage?
Now that you're aware of how harsh winters can wreak havoc on your air conditioning unit, let's look at some HVAC tips for winters so that you can prevent damage.
1. Ensure the Defrost Cycle on Your Heat Pump Works
If you use a heat pump, the good news is that they have a defrost cycle to prevent ice buildup. In defrost mode, your heat pump temporarily works in reverse (that is, it cools the house) to warm up the outdoor coil and melt the frost on it. Most heat pumps do this automatically; however, if you notice a significant buildup on your outdoor unit, your heat pump may not be defrosting for some reason. Follow this heat pump troubleshooting guide to figure out where the problem is.
2. Create a Wind Barrier Around the Outdoor Unit
It is also a good idea to build a wind barrier around your outdoor unit. A wind barrier will block most debris and precipitation from clogging up the condenser. It will also reduce snow build-up on your air conditioner.
If you decide to build a fence around your outdoor unit, make sure to leave enough distance between the outdoor unit and the fence. A fence too close to your unit can obstruct airflow and pose a fire risk. Building a fence around your HVAC unit can also reduce AC sound so you can enjoy a quiet night's sleep.
3. Don't Forget to Shovel Away Snow
Ice on the HVAC unit in winter is mostly due to poor maintenance rather than the harsh weather. After a heavy snowfall, shovel the ice immediately. The longer you let it sit, the greater the chance it will block your outdoor unit.
4. Replace Filters Regularly
Whether you use a heat pump or a furnace, make sure that you change your air filters regularly. Dirty filters hamper airflow, leading to poor performance. This is even more of a problem in winters as blocked filters won't warm your home properly, nor can your heat pump run the defrost cycle efficiently. If the defrost cycle cannot run properly, it will lead to ice on the outside AC unit.
If you're the type of person who's always forgetting to clean the filters, a smart AC controller such as the Cielo Breez Plus or the Cielo Breez Eco is just the thing for you. Cielo's smart AC controllers can keep track of air filter cleanliness. You can set reminders when the next clean-up is due. It also sends notifications if the cleaning is required earlier due to increased usage. Moreover, these smart climate control devices let you set schedules, location-based triggers, smart rules, and much more to automate your home environment.
Cielo Smart AC Controllers
Your best choice to make any mini-split, window,
or portable AC smart. Enhance your comfort and savings.
Shop Now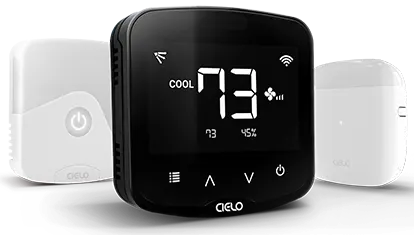 5. Inspect Your Drain Line and Gutters for Blockages
Inspect your HVAC unit's drain line for any ice buildup. If ice is blocking adequate drainage, water will start collecting in your unit, and it will eventually spill out of the drain pan right inside your house. This can damage your walls and cause mold growth.
For more on AC leaking water, check our blog.
Also, look out for ice buildup in any gutters near the outdoor unit. Dripping water can form icicles that may fall on your outdoor unit and damage it.
6. Ensure Your HVAC Unit Is Installed Properly
If you live in an area with regular snowfall, your outdoor unit must be at least 6 inches above the ground. Your air conditioner's outdoor unit will be buried in the snow if it is placed too low, leading to rust, corrosion, and blockages. You can either build a concrete pad yourself or hire a professional. 
7. Clear the Furnace Exhaust
Too much snow can block the furnace exhaust, leading to an increased risk of carbon monoxide poisoning. Most furnaces come with a safety switch that shuts off the furnace in case of a blocked exhaust. However, always shovel the snow around the furnace exhaust to be on the safe side.
8. Never Delay a Call to the Serviceman
You can create an HVAC maintenance checklist to ensure that your unit is always at its best. However, no matter how diligent you are with your air conditioner's maintenance, some problems require a professional. If you have followed all the given HVAC tips for the winter season and still feel your unit is not performing at its best, call a technician immediately. If neglected for too long, minor problems can lead to costly repairs.
Should You Cover Your AC Unit in the Winter?
Should you cover your AC unit in winter? This is a hotly contested topic.
The consensus is that if you have an air conditioner not in use in the winters, there is no harm in covering it to prevent dust and debris from accumulating. However, there are some things you must consider when deciding about air conditioner covers.
When deciding whether to cover your AC unit, your location and the local weather matter significantly. In regions where the winters are exceptionally long and harsh, covering your unit can prevent snow on your AC. Excessive snow and ice on the unit for extended periods of time can damage coils.
Ensure that the cover you use is made of a light, breathable material. Plastic and airflow-restrictive covers can actually promote rust, corrosion, and mold growth. They also encourage small animals, such as rodents, to build a home in your AC unit. Rodents can chew on the wires and cause permanent damage to your unit.
If you have a heat pump that you also use in winters, covering it up is largely unnecessary and has some risks. Modern outdoor AC units are designed to withstand extreme weather conditions. They are put through rigorous testing to confirm they can endure harsh conditions. Covering a running air conditioner can also impede airflow, subsequently reducing performance and increasing the fire risk.
The Takeaway?
Covering your heat pump can lead to moisture, and subsequently, mold growth. Furthermore, when condensation freezes again, it can bend the coil fins and lead to more damage. Most heat pump outdoor units are built to withstand winter damage, and covering them up is unnecessary. Your primary focus should be to keep your outdoor unit clear of any snow and debris.
Now that you know how winters can affect your HVAC unit, you are prepared to meet any tricky situations that may arise. Follow these tips and ensure that your HVAC unit comes through winters unscathed.