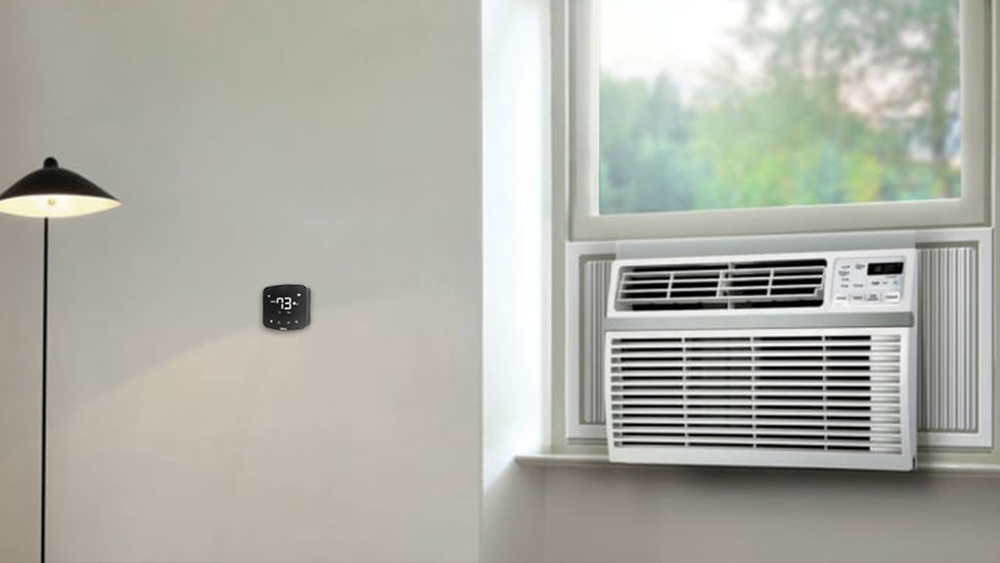 The onset of summer may get you excited about all the fun and hangouts, but there is a not-so-exciting part: the skyrocketing cooling bills. When the temperature hits the peak, you cannot help but watch your energy bills rack up with your ordinary window air conditioner. Thankfully, you can save some bucks by shifting to a smart window air conditioner to increase your comfort and energy savings.
And no, this doesn't call for spending thousands of dollars on a new window air conditioner. You can make your old dumb window AC unit smart and enjoy all the features a smart AC offers without breaking the bank.
Let's jump right into what a smart window air conditioner is and how you can make your unit smart in minutes!
Smart Window AC to The Rescue
What Makes a Window Air Conditioner Smart?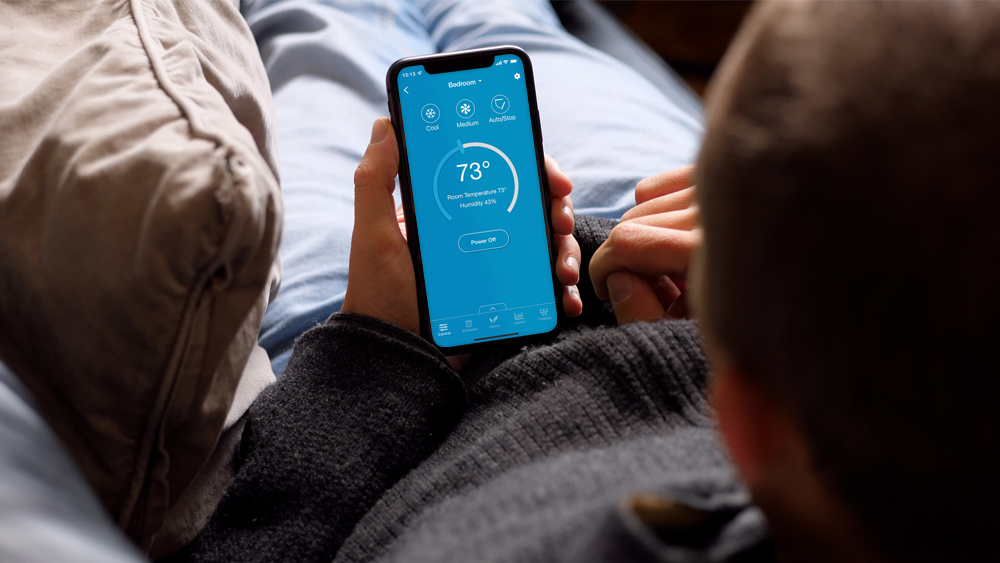 If you are not already familiar with smart air conditioners, you might wonder what are they and why you should consider making your window AC smart?
Every smart air conditioner can be connected to Wi-Fi, allowing you to control and monitor your AC unit through a mobile app. You can turn your air conditioner on or off, change the temperature, monitor the humidity level, and change fan speed or mode, all through your smartphone.
A smart window air conditioner allows you more functionality than a regular window AC. For example, you can set timers and weekly schedules to automate your home environment by maintaining certain temperature levels at specified times of the day.
Moreover, smart window ACs can be integrated with smart home hubs like Google Assistant, Siri, Alexa, and SmartThings. This allows you to control your air conditioner through voice commands.
For more on the benefits and features of smart ACs, read this article.
How to Make Your Window Air Conditioner Smart?
If you own a window air conditioner, you'd know how the remote works only from a certain angle/distance, and you have to get up every time you need to change the temperature. Guess what? Not anymore with your smart window air conditioner!
You can upgrade your current window AC without spending a fortune. The question you would have here is HOW?
There are two ways you can enjoy the benefits of a smart window AC unit; by pairing it with a smart AC controller or by using a smart plug. Let's jump right into the details of both and what would be the best option for you!
1. Make Your Window AC Smart with Smart AC Controller
Spending thousands of dollars on a new AC unit for smart features doesn't make sense when you already own a window AC.
You can make your ordinary window air conditioner smart by pairing it with a smart AC controller. Also referred to as a window AC thermostat, this smart device allows you to make your ordinary window air conditioner smart, offering hands-off controls and automating your home climate.
The smart controller uses infrared signals to communicate with your window air conditioner. It works like a remote with a bunch of added features. As it is Wi-Fi enabled, it allows you to operate your window AC unit from just about anywhere. You can control it through the mobile application or even the web application.
Cielo Breez smart AC controllers, for example, offer multiple advanced features taking comfort and convenience to the next level. They not only offer temperature control, but with their in-built humidity sensors, you can also manage indoor humidity levels.
 

 

View this post on Instagram

 
Features of Cielo Breez Smart AC Controllers
Let's look at all the super cool features Cielo Breez smart AC controllers offer, making your window air conditioner smart without further ado!
The best thing about an app-controlled window AC unit is that you can control the temperature through your phone whether you are out with friends or on a different continent. So next time, you won't have that mini heart attack when you are on your way to the office and suddenly remember that you forgot to turn your AC off. Note that an AC running all day will be an added cost and enough slip-ups like this will rack up your monthly bills.
Fortunately, you can save up on your AC bills with a smart AC controller since you can always control it even when on the go. You can set different modes and change temperature settings globally. Global control especially benefits when you're on vacation and need to turn on the Freeze Protection mode to avoid pipes from freezing.
Cielo Smart AC Controllers
Your best choice to make any mini-split, window,
or portable AC smart. Enhance your comfort and savings.
Shop Now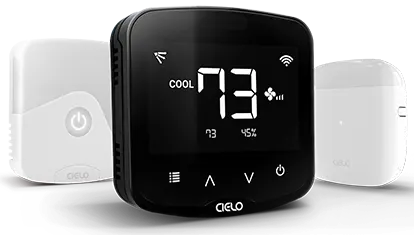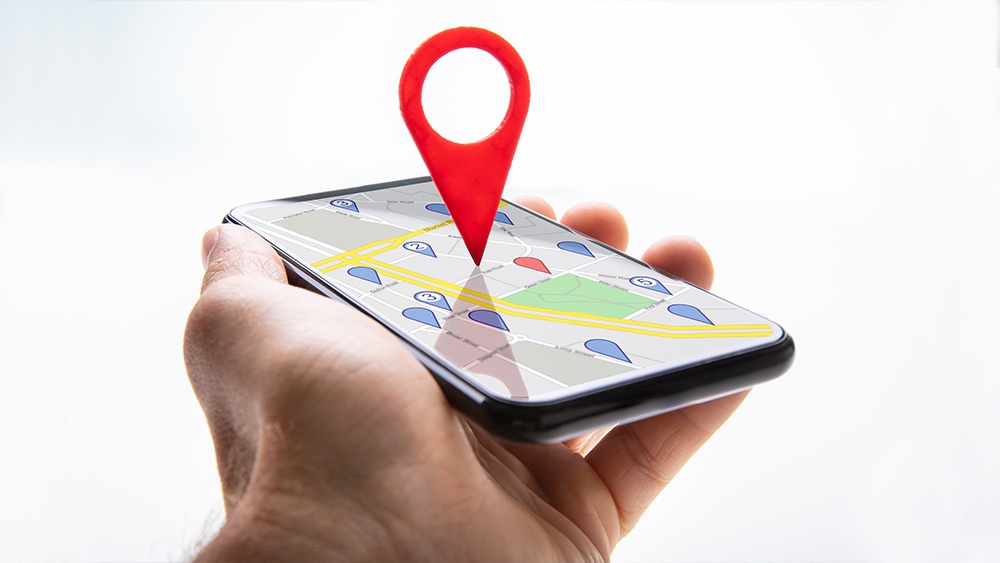 If you don't like the hassle of turning your AC on and off multiple times a day, geofencing will be your favorite. This feature uses your location to turn your AC on or off. For example, you can set a perimeter, and when you leave your predefined area, your air conditioner turns off. When you are back in the radius, your window air conditioner will turn on automatically. It is not only convenient but energy-efficient as well.
Are you tired of temperature fluctuations and having to change your air conditioner settings for different times of the day? With weekly scheduling, you can set temperature routines to keep you comfortable throughout the day. You can have different settings for day and night, and they can also vary for weekdays and weekends, depending upon your routine.
In Comfy Mode, you set the air conditioning rules, and your AC automatically turns on/off without compromising your comfort. You can set intelligent triggers to completely automate your home climate based on your preferred temperature or humidity levels.
This means you can set a temperature or humidity range, and if the value goes down or above your set range, your AC will start working to maintain your preferred settings.
For example, if you want your room temperature to stay between 70F and 72F, then your AC will only run if the temperature goes above or below these numbers. You can set your AC to turn on cool mode when the temperature goes above 72F. Similarly, it will turn off if the room temperature falls below 70F.  
 

 

View this post on Instagram

 
Modern-day gadgets have made things possible that we could once dream of. One such thing is smart home assistance. You can integrate your Cielo Breez smart controller with any smart home system and control it through your voice.
All you have to do is connect your AC with Amazon Alexa, Samsung SmartThings, Siri, or Google Home Assistant. You can then tell your AC to turn on a specific mode, temperature, or change the fan speed all through voice commands.
How to Pair Your Window Unit with a Smart AC Controller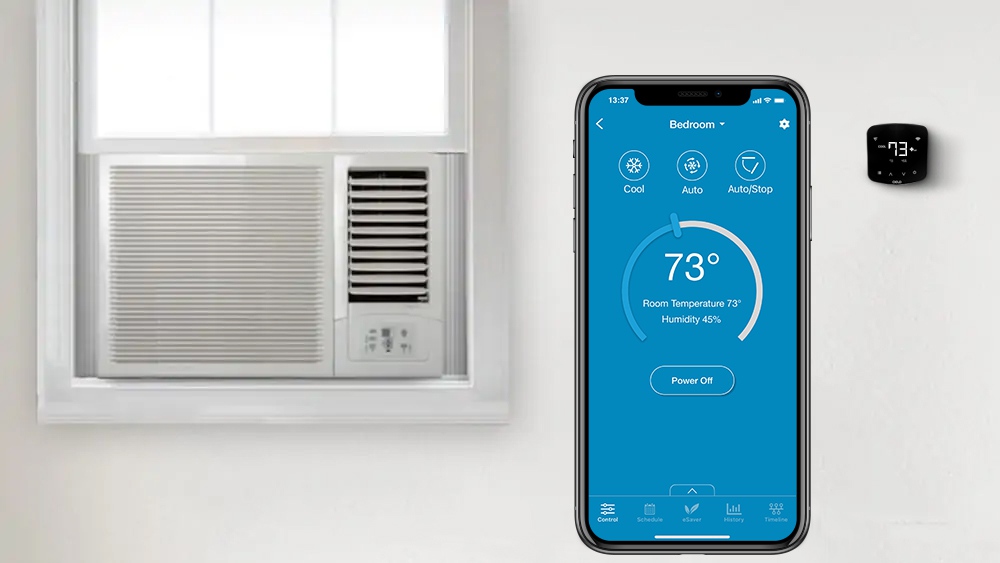 If you have just bought a new window AC, here is a detailed guide about window AC installation.
In case you already have it installed, your first step is the placement of your smart AC controller.
You should place your device in the line of sight of your window AC. It comes with a table stand and wall mounting stand. You can choose whatever you like according to your convenience.
Make sure your device is within 6-12 feet and in the line of sight of your window AC unit.
The Cielo Breez smart AC controller can be powered up using a 5V adapter (included in the package) or a wired connection (12V or 24V).
Make sure you have an active Wi-Fi connection.
Download the Cielo Home app and open it.
Tap the sign-up button and fill in the information required.
After successful login, you'll land on the home screen, click on the 'Add Device' button and select your device.
You can then connect your mobile with Wi-Fi as per the directions given on the app screen.
Once the circle around your device is green, tap on it to configure your window AC remote control by following the instructions on the app.
Congratulations. Now your ordinary window AC has a thermostat of its own with all the features of a smart AC on the tip of your fingers.
Have a look at the detailed user manual here if you need any additional help setting up your device.
2. Use Window AC Smart Plugs
The second way of turning your window AC smart is by using a smart plug. Unlike a smart AC controller, a smart plug is an accessory that gives you limited control over your home climate.
A smart plug is like any other power plug except that it is Wi-Fi enabled. You can connect a smart AC plug with your window air conditioner. First, you plug in your window air conditioner into a smart plug, and then you can connect the smart plug with your socket. You now have to configure your smart plug on its mobile application.
After you are done with the installation, you can choose to turn on or turn off your AC through the smart plug application. Additionally, if you have multiple ACs with smart plugs, you can control them altogether by sorting them into groups. You can choose to set schedules using your smart plug application, so the AC will turn on or off at a set time.
If you have a smart home system, you can integrate your smart plug with that and turn your window AC on or off with a voice command. That all seems convenient and easy, but there are some drawbacks.
Drawbacks of a Window AC Smart Plug
Smart plugs are not compatible with a lot of ACs. You can check it by doing a little test before making your purchase. Turn your AC on, yank the plug out of the socket plug, wait for a few seconds, and plug it back in. If your AC does not turn on automatically, smart AC plugs are not for you.
The reason behind this is the way your AC and smart plug work. A smart plug works by cutting power and turning your AC off. This is similar to plugging in and plugging out a device from the socket. As a safety measure, the default mode of most new ACs is off. Let's say you decide to turn off your AC using a smart plug. It will cause an abrupt power loss, and the stored memory of the AC will be lost. So, unless you turn your AC on through remote control, it will not turn on via smart plug. Hence, your smart AC plug will fail.
Unlike smart AC controllers, a smart plug does not communicate with your AC. Therefore, you cannot set modes or use features like geofencing.
Not only these smart plugs are less efficient, but they are also unreliable. In addition, most of these smart plugs are a risk as they can end up frying your appliance. Also, you need to be careful when choosing one so it meets the load demands of your window air conditioner. If you want to make your window air conditioner truly smart and energy-efficient, these smart plugs are a bad choice.
Take Away
Window air conditioners are a good cooling option in summer. You can connect your window unit with a smart AC controller to reap the benefits of a smart unit. This allows you to enjoy an automated room climate and save up on AC bills. Smart plugs are also an option, but they offer very limited control while posing damage risks to your air conditioner. All in all, it's the perfect time to make your ordinary window AC smart to have a comfortable summer ahead.