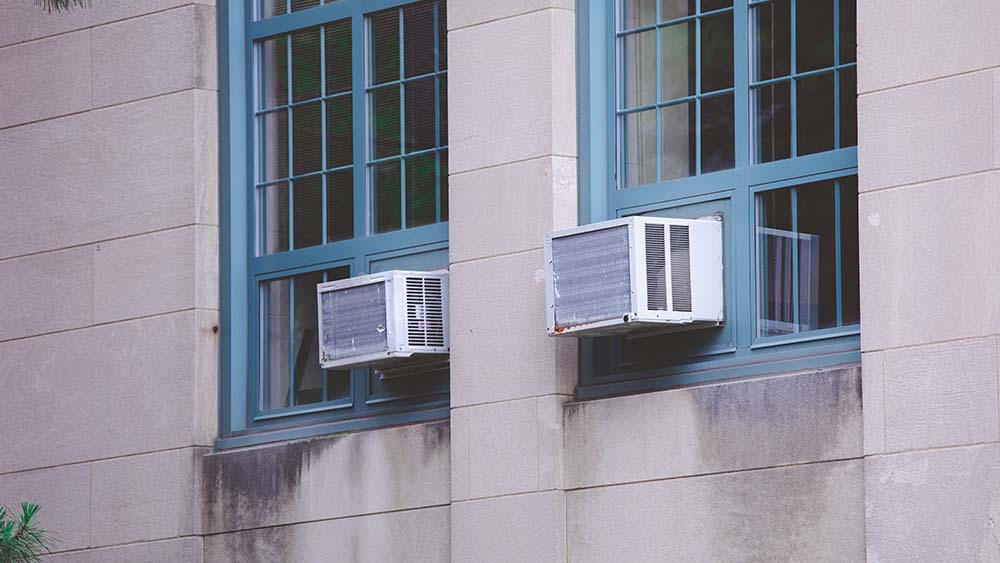 Window air conditioners are a great way to keep your home comfortable during the hottest season of the year. However, if it seems your air conditioning unit's performance has taken a hit, there's a good chance it requires cleaning. Over time, the AC filters and other parts of your unit get covered in dust and debris, which can hinder your unit's cooling capabilities.
Regular cleaning of your window AC unit helps maintain its optimal performance and reduces energy costs. It also prevents mold growth, which can have adverse health impacts. 
Cleaning a window air conditioner is pretty simple, and you can easily DIY it on the weekend. In this blog, we'll walk you through all the necessary steps required to clean your window AC unit so you can enjoy your ideal room temperature throughout the season.
How to Clean a Window Air Conditioner?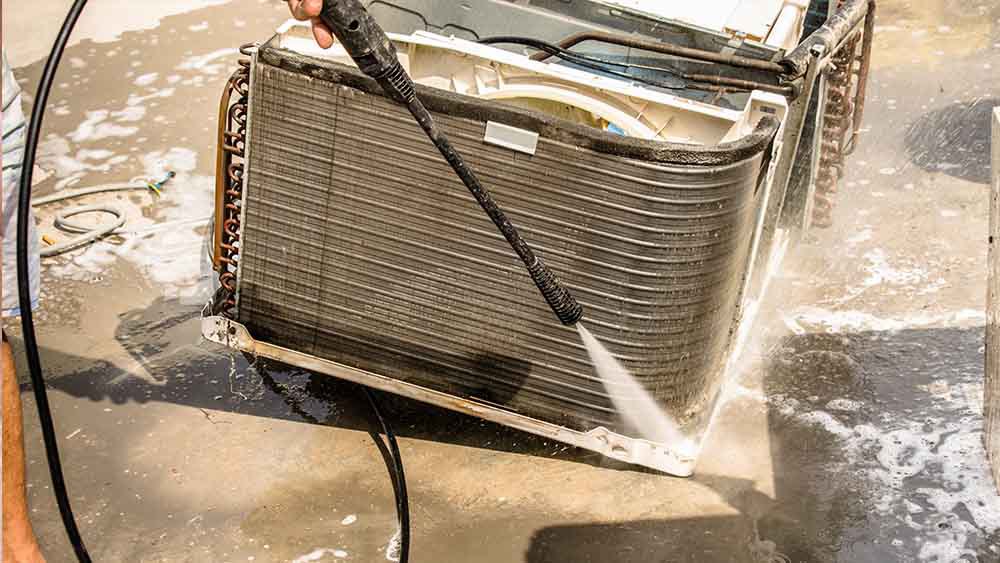 Window air conditioner cleaning might sound like a hectic task, but it only requires nine simple steps explained below. Before we move on to the step-by-step guide on how to clean your window AC unit, let's first gather all the required materials.
Materials Required for Window AC Cleaning
Cleaning cloth pieces or rags
Vacuum
Mild detergent or commercial coil cleaner
Garden hose
Protective eyewear
AC manual 
3% hydrogen peroxide
Screwdriver
Face mask
Rubber gloves
Fin comb
Spray bottles – You will require two bottles, one for cleaning solution and one for hydrogen peroxide solution.  
New air filter – In case your existing AC filter requires replacement.
1. Gather Your Cleaning Supplies & Unplug Your Unit
After gathering all the materials, turn off your circuit breaker and unplug your unit before proceeding to clean your window AC unit. 
If you're afraid to take out the entire unit, then worry not! It's totally possible to clean your window air conditioner without removing it. However, if you live in a second-story building or the outside part is hard to access, you may want to remove the unit to clean the components at the back.
2. Clean the Face Panel
The face panel is the plastic or metal cover sheltering the front part of your window air conditioner. It is secured with screws or clips at the bottom. Unscrew the panel with a screwdriver and take it off.
After you have removed the cover, spray it with a homemade window AC cleaner consisting of a mild detergent mixed with warm water. You should only use mild cleaners and avoid using bleach or vinegar as they can corrode the metal. Let the mixture sit on the unit for two to three minutes, then wipe it with a microfiber cloth.
For tougher stains on the cover, you will require a brush to scrub the dirt. You can also take the front grille outside and spray it with a garden hose. Doing this step weekly can help prevent dirt buildup. After cleaning, set it aside for drying.
If your window air conditioning unit doesn't have a removable cover, which is rare, you can make use of Q-tips and small cloth pieces to get in between the spaces and thoroughly clean it. You can also use a duster to remove a layer of dust accumulated on the front panel.
3. Clean Window Air Conditioner Filter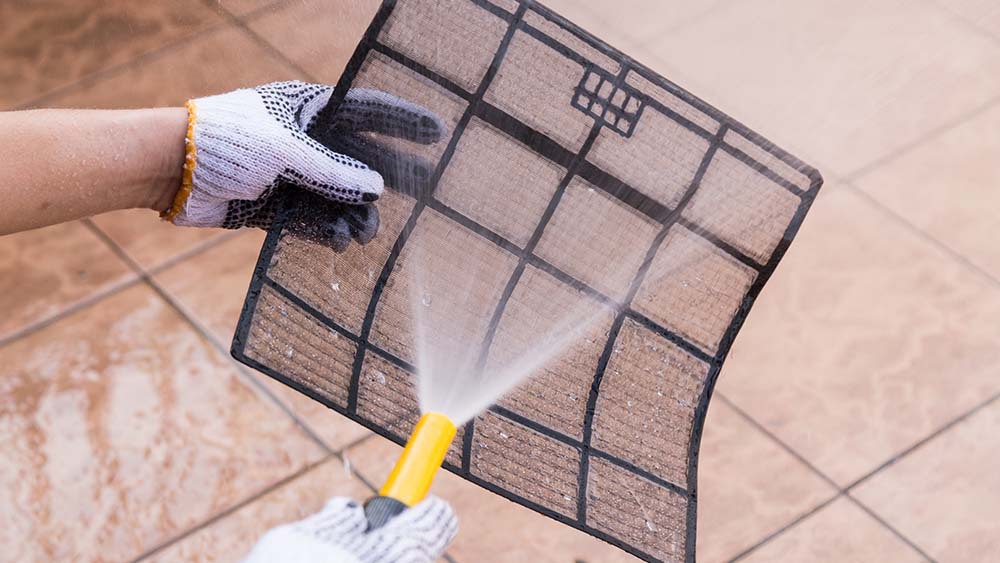 As the AC filters remove dust and debris from indoor air, they require regular cleaning to perform their job effectively. You should clean window air conditioner filters every two weeks and replace them every three to four months, depending on the frequency of your AC usage.
In some models, the filter may be installed inside the face panel, and in others, it may be situated behind the panel. Refer to your manual and check their exact placement for removal.
Remove the air filters and check if they are covered in dust. Next, use a vacuum to clear the debris. Then wash it with warm soapy water. For more thorough cleaning, take it outside and hose it down. Allow it to dry before putting it back. 
4. Vacuum the Interior Cabinet
After AC filter cleaning, it's time to roll your sleeves and clean the window AC unit from the inside.
To remove the visible debris, vacuum the interior of your window air conditioner. This includes the evaporator on the front side, fan, and blower in the middle part, drain pan on the bottom, and condenser on the back.  
5. Clean AC Coils & Fins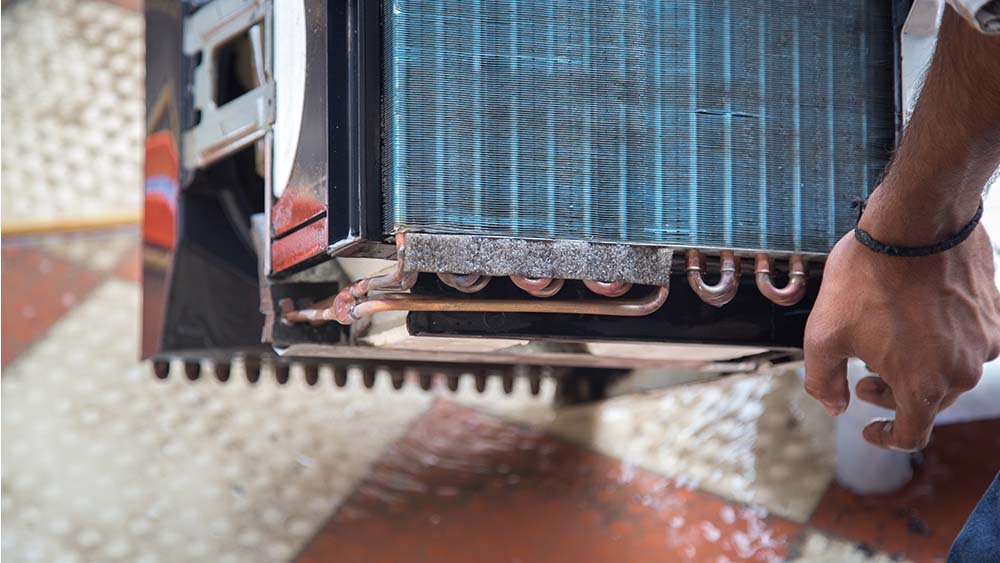 AC coils play an important role in removing heat from your home outside. They are made of small aluminum fins. Over time, the fins can get covered in dirt, which can become a breeding ground for mold.
You will have to be extra careful when cleaning the coils as fins are quite delicate and can easily bend. Plus, they are super sharp so wear your protective hand gloves when handling them. Take a soft brush and lightly scrub the coils. Use a coil comb to clean the area between the coil fins.
You can also use a commercial coil cleaner or make your own window air conditioner cleaner. For homemade cleaner, mix a mild detergent and warm water in a spray bottle. Spray the cleaner of your choice on the coils and leave it for 15-20 minutes. Then use a soft cloth to wipe the coils.
Vacuuming is another method to remove debris from the coils. Vacuum in the direction of the fins up and maintain a constant flow to prevent damaging the fins. 
If any of the fins bend during the cleaning process, take a fin comb and run it in the same direction as the fins to straighten them.
6. Service Your AC Fans
Window AC units have two fans: a blower near the evaporator and a bladed fan near the compressor. You can use the same cleaning solution used for coil cleaning to service your fans. Pour the cleaner on a cloth, scrub the fans' dirt, then rinse with the hose. The electrical parts of the unit are sealed, so you don't have to worry about any water damage.
7. Unclog the Drain System
Like any other air conditioner, your window unit also removes moisture from the air to cool your room. This moisture is collected in a drain pan and is removed through a drain hole. 
Take out your drain pan to remove debris or dirty water. Use a wet-dry vacuum or a damp cloth to clean it. If the pan is cracked, you can use a quality water-resistant sealant to patch the cracks. If the drip tray is rusted, it's best to replace it entirely.
You should also clean the drain hole. Check this guide to learn where the drain hole is located on your window unit. After finding the hole, tilt your unit to drain the excess water. You may need someone to help you do this as window units are quite heavy. If the hole is plugged, remove the cover to help pour the water. Use a bottle brush or a damp cloth to scrub the accumulated dirt. Then spray the drain hole thoroughly.
8. Spray With Hydrogen Peroxide
Finish the cleaning process by spraying the interior and exterior housing with a hydrogen peroxide solution. This solution will kill all the germs and prevent mold or mildew growth inside your unit. Don't forget to wear gloves and protective eyewear when handling hydrogen peroxide.
Allow enough time for the unit to dry out completely before reassembling it. Time to enjoy the fresh, cool air!
In case you have to remove your unit and then reinstall it, here's a handy guide on window AC installation. 
Pro Tip: Use a Smart AC Controller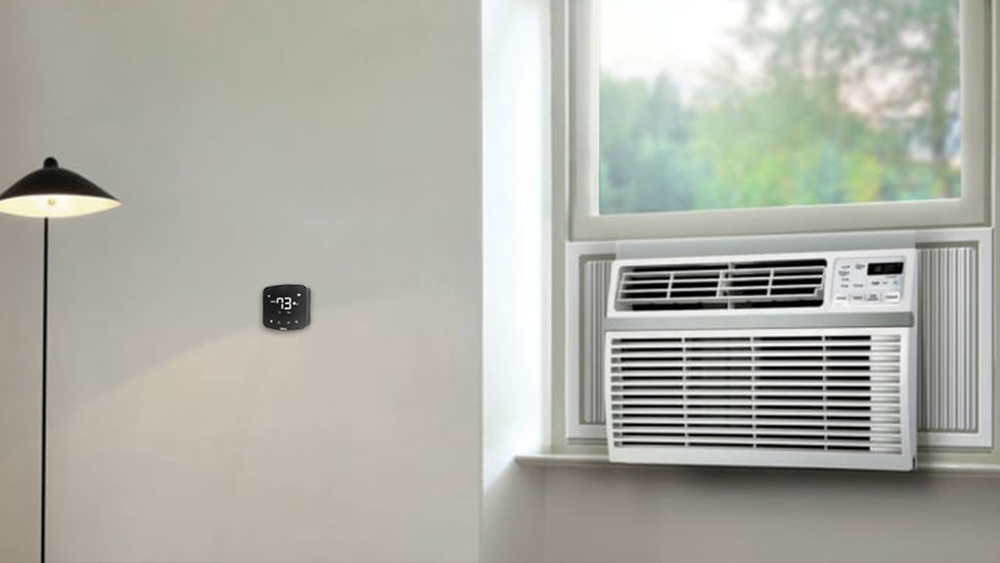 It's not always easy to keep up with the regular AC tune-ups. With your hectic schedule, you can easily forget when the maintenance is due. This is where window AC thermostats can help. They help you stay on top of your cleaning game. A smart AC controller keeps track of your AC filter usage and sends reminders on your phone when it needs to be cleaned. 
In addition to that, they allow you to change your AC settings from anywhere in the world, providing greater control and convenience. With a few taps on your screen, you can control AC temperature from your phone, set daily or weekly schedules, keep track of your AC usage, and so much more.
Cielo Smart AC Controllers
Your best choice to make any mini-split, window,
or portable AC smart. Enhance your comfort and savings.
Shop Now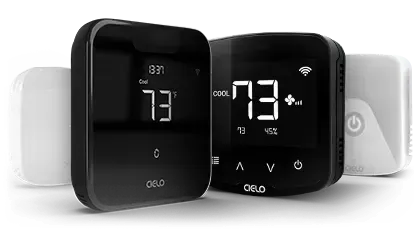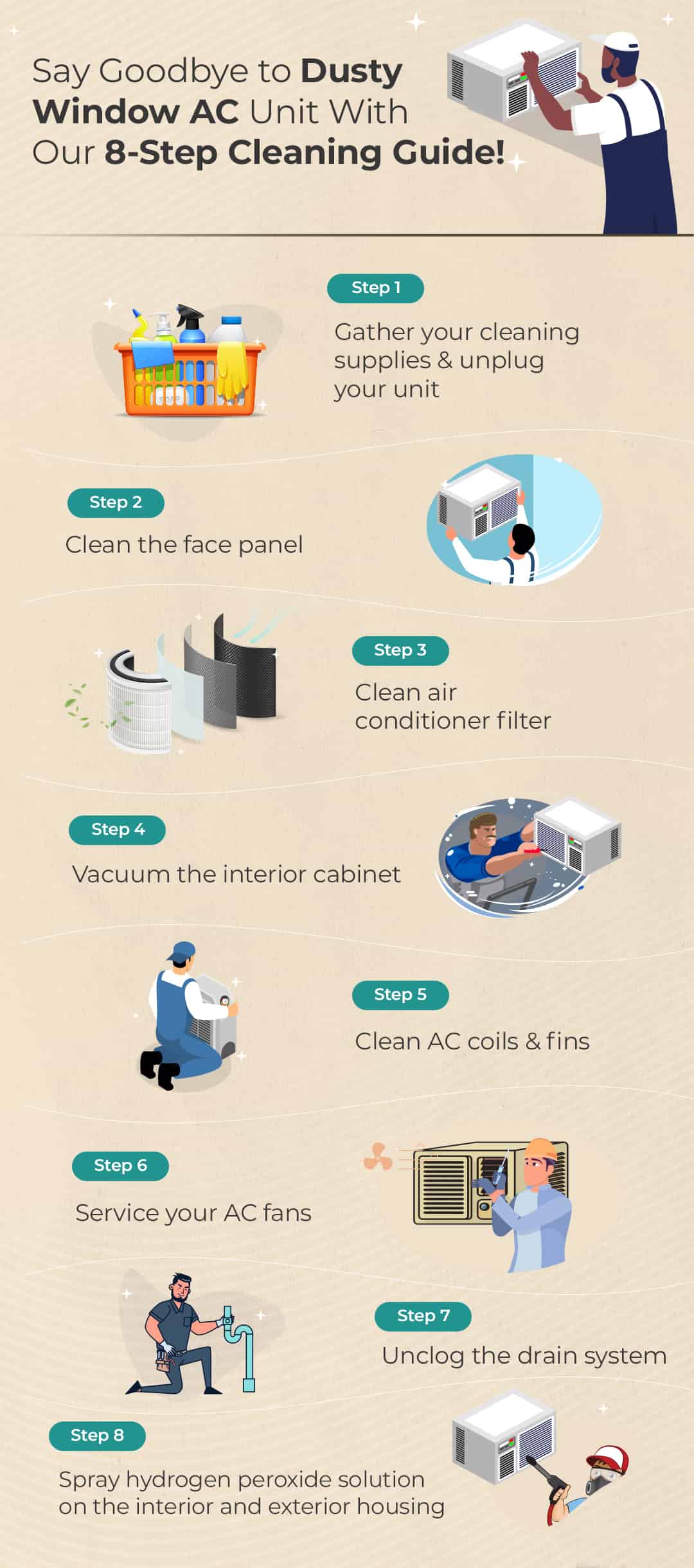 How To Clean Window Air Conditioner Mold?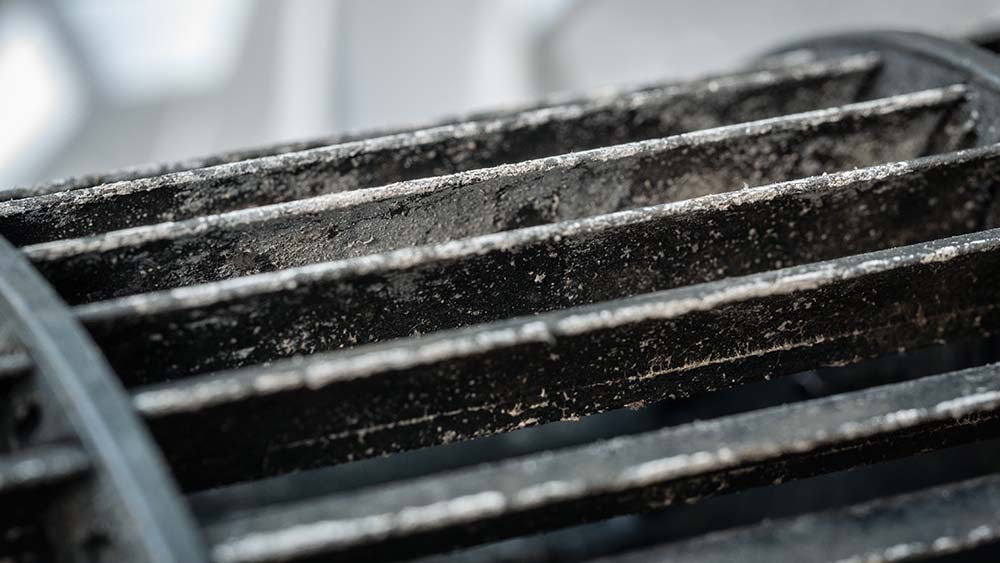 Mold or mildew can grow inside air conditioners if it hasn't been used for a while. Mold is usually brown, black, or green in color and grows as clumps or streaks. Mildew is gray or whitish in color.
It's possible that it grew in the winter season, and you noticed it when you started using it in summer. If you continue to run a moldy air conditioner, it can be dangerous for your health. Mold spores produce allergens that can lead to sore throats, headaches, and other respiratory issues. So, it's highly crucial that you remove mold from your unit.
If the humidity levels are high in your home, you will notice mold growth on the outside of your unit. It can also grow inside; you will have to remove the front panel to check it.
Cleaning the Window Air Conditioner Mold
Mix antibacterial dish soap with warm water to create a mild cleaner. Wear your gloves and face mask to avoid mold exposure. Spray the solution on the mold you see on your unit. Use a scrub brush to clean off the areas infested with mold. Wipe down the air conditioner with a clean cloth.
Preventing Future Mold Growth
You can prevent mold growth by managing your indoor humidity levels. Use dehumidifiers on days when the humidity is high. If possible, don't leave your unit unused for long periods, especially during the warm season. Warm, moist air with no proper circulation creates ideal mold growth conditions. Also, try to stay on top of your AC maintenance to reduce the chances of mold and mildew growth. After every cleaning session, spray your unit with a hydrogen peroxide solution to kill any hidden germs and prevent future growth.
How Often Should You Clean Your Window Air Conditioner?
Cleaning your window unit air conditioner at least once a year is ideal. If you have a window AC unit with a cooling option only, you can clean it in the spring season before the hottest months of summer. In the case of a window heat pump that provides both cooling and heating, cleaning it twice a year is preferable, in spring and then in autumn. 
In addition to annual tune-ups, clean your filter and replace your old filters regularly. Also, spray your unit with hydrogen peroxide from time to time to prevent mold growth. 
If you won't be using your unit in the winter, it's best to remove it from the window and store it. Give it a thorough cleaning before putting it away. Here's a detailed guide on how to properly store your air conditioner for winter. 
Benefits of Window AC Maintenance 
From better indoor air quality to reduced energy costs, keeping a window unit air conditioner clean has numerous benefits. 
Improved Indoor Air Quality – After a thorough cleaning, your window air conditioner will circulate clean air, resulting in better indoor air quality and reduced allergy symptoms. 
Fewer Repairs – Well-maintained units are less likely to break down even during peak season. It will also help save on unnecessary repair costs. 
Reduced Energy Bills – A window air conditioner that is regularly inspected and maintained will consume less energy and keep you comfortable without hefty electricity bills. Check out this blog for easy ways to reduce your AC costs. 
Your Units Last Longer – Keeping your window unit in top-notch condition with regular cleaning can help extend your HVAC's average lifespan. 
In Conclusion
As harsh weather conditions and heavy work during the summer months take a toll on your window air conditioner, it's essential to clean it regularly. You should thoroughly clean your window AC unit at least once a year, preferably in spring, before summer. In addition to that, air filters and coils should be cleaned more often, depending on your usage. Also, keep the outer part and drain hole debris-free to prevent moisture accumulation. Make sure to use a smart AC controller to get reminders for when your air filter cleaning is due.