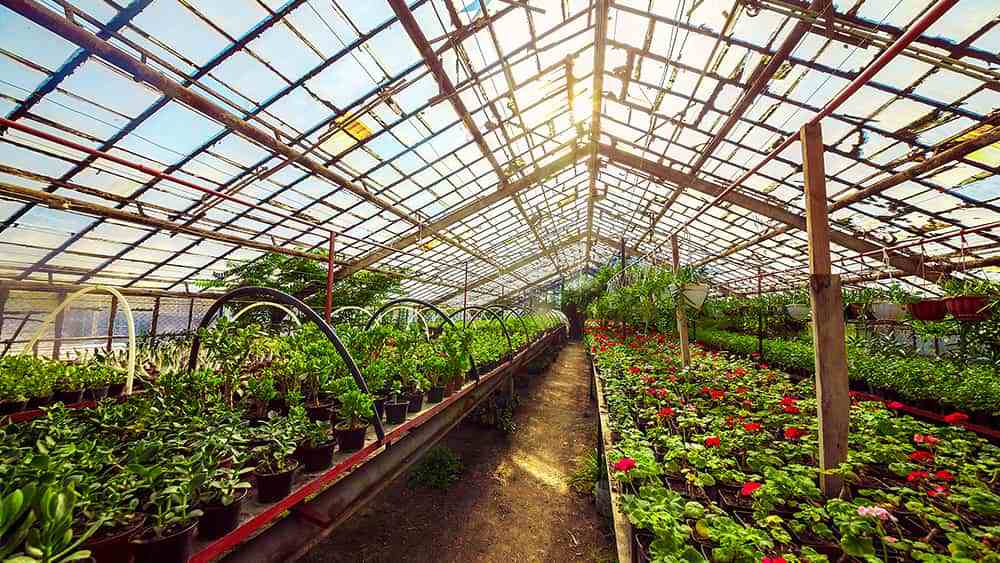 When it comes to keeping your greenhouse running smoothly all year long, climate control is essential. In the winter season, having the right greenhouse heater can mean the difference between a thriving garden and one that struggles to survive.
Whether you're an avid gardener looking to extend your growing season or simply interested in experimenting with different types of crops, a heated greenhouse makes it possible to achieve great results. Different greenhouse temperature control techniques can help provide the stability that plants need to thrive in a constantly changing environment.
In this blog post, we will outline the different types of greenhouse heaters and how you can select the best one for your greenhouse needs and environmental conditions.
The Ideal Greenhouse Temperature
The ideal temperature for plants varies depending on the type. Generally, it is best to aim for a daytime temperature between 70-80F and a nighttime temperature of 65-70F for summer. In winter, the temperature should be 65-75F during the day and 45F at night. Temperature below 50F can start causing problems for many plants.
Types of Greenhouse Heating Systems
There are many different types of heaters appropriate for use in your greenhouse. You can choose the one that best suits your needs after going over each in detail.
Electric Greenhouse Heaters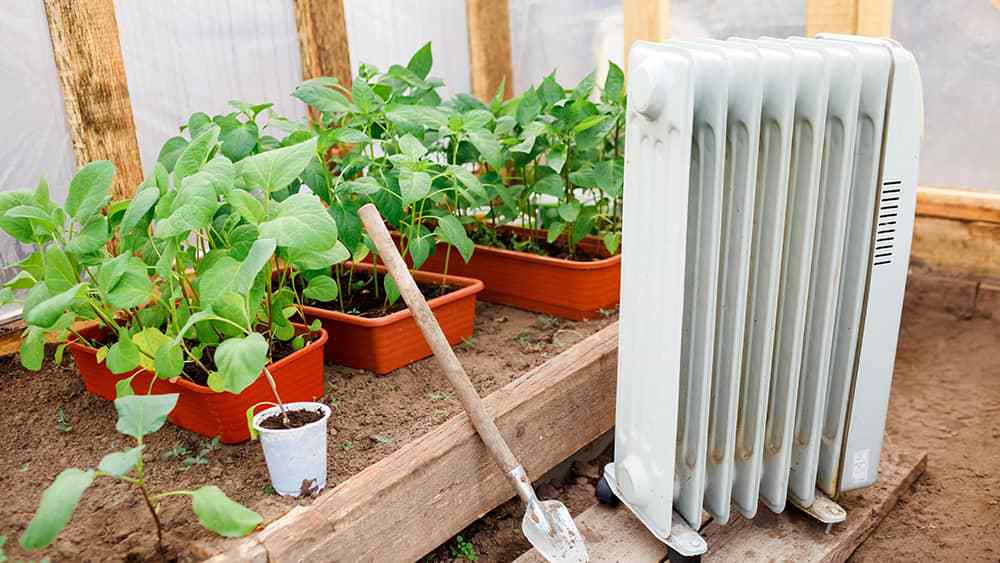 When it comes to heating a greenhouse, nothing beats an electric heating option. These heaters are known for being extremely effective while also being easy to use. They are one of the most popular choices for gardeners who need safe and reliable heating as they do not emit any harmful gases. You can choose from many options, such as a mini-split heat pump, space heater, window heat pump, and portable heat pump.
Aside from their many functional benefits, electric heaters also offer other features that make them even more attractive. For example, many models come with built-in thermostats or timers that allow you to set and maintain the ideal temperature in your greenhouse with minimum effort. Some even have smart capabilities that will enable you to control your heater using your phone.
One disadvantage of electric options is that they require an electrical system to operate. Another drawback is that the greenhouse's high humidity and water usage can negatively affect the electrical heaters. Mini-splits, window units, and ceiling-mounted heaters are the best options to prevent any water-related damage, as they won't come in the way when you are watering the crops. You can also find many splash-resistant portable heaters that are specially designed for greenhouses.
Solar Heaters
With its ability to provide clean, sustainable heat for growing plants, a solar greenhouse heater is something worth considering. Although greenhouse solar heaters aren't available in the market yet, you can still opt for them using a special kit.
For a solar-heated greenhouse, you will need to purchase a solar panel kit that includes all the necessary components, such as panels and wiring to get started. Once you have assembled your kit, you can easily connect it to your heating unit.
Gas Heaters
Gas heater is an efficient and cost-effective way to heat your greenhouse without electricity. These heaters either use gas or propane to work. Since gas is expensive and most greenhouses do not have a direct supply; propane is a widely used option. It is advised to replace the propane tanks frequently to maintain your desired heating level.
Regardless of which fuel you choose, it's important to ensure adequate ventilation in order to prevent a dangerous buildup of gaseous fumes in the greenhouse.
Paraffin Heaters
Paraffin heaters provide a simple way of warming up your greenhouse without needing any gas or electric connection. They work by using a wick that, once lit, draws fuel through a tank underneath the heater.
Although these heaters can keep your grow room warm, they do have some drawbacks. For one thing, they require an open flame, which is a fire hazard. Many models feature a safety feature that extinguishes the flame if the heater is accidentally tipped over, but this doesn't eliminate the fire risk entirely. Also, read these top heating safety guidelines.
Paraffin heaters also release air pollutants into the heated space because of their open flame, so these heaters must be used in a well-ventilated area. You have to keep a regular check on these units, so they don't run out of fuel.
Smart Heating for Your Greenhouse
By leveraging smart technology such as smart AC controllers, you can further optimize your greenhouse environment and maintain an ideal temperature for your plants.
For smart features, you can pair any remote-controlled greenhouse heater, such as a mini-split, window, or portable heat pump, with a thermostat such as Cielo Breez Plus.
Using the global control feature, you can monitor the temperature/humidity on your phone through the Cielo Home app. This eliminates the need to go to your grow tent to check the temperature every now and then. The scheduling feature further makes it convenient to maintain an ideal greenhouse climate, as you don't have to worry about turning your unit on/off at designated times. You can also set schedules to accommodate the daytime and nighttime temperature difference that most plants require. For instance, you can set the morning temperature to 68F and set it to a lower temperature of 45F at night.
Moreover, Cielo Breez smart AC controllers have a Comfy Mode that automatically changes the setting when temperature/humidity deviates from your preset range. For example, you can set a range of 70-80F during the daytime, and if the temperature falls below 70F or goes above 80F, Comfy Mode will turn the heater on/off to maintain your set range.
Important Factors to Consider When Choosing a Greenhouse Heater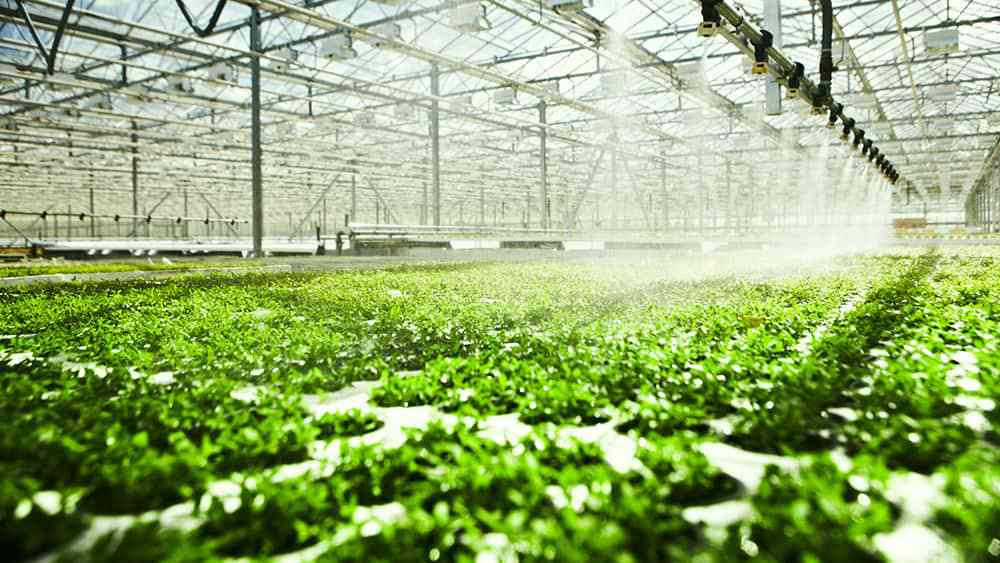 When choosing a heater for your greenhouse, it's important to consider factors like heating capacity, temperature control, and safety features to find the one that will provide optimal performance and long-lasting value for your gardening needs.
1. Heating Capacity
To measure the heating capacity, you have to consider various factors such as your climate, intended temperature range, greenhouse size, and heat loss value of the covering used for the greenhouse.
With these factors, you can easily calculate how many BTUs are required to heat a greenhouse. The BTU rating specifies how much heat is needed to raise the temperature of a pound of water by one degree Fahrenheit. In simpler terms, it basically indicates how much heat a system produces. The higher the BTU, the more powerful a heater is. However, that doesn't mean you should aim for the highest capacity.
To calculate the required size:
Multiply the greenhouse surface area by the heat loss value. The lower value indicates that your chosen covering is a good insulator.
Then multiply this value by the difference between the outdoor and your target greenhouse temperatures.
You will get the BTU output you should aim for when purchasing the heater.
If this seems like a lot of work, you can just use any online calculator to determine the required BTU value. Some heater manufacturers also specify the recommended coverage area, so be sure to check that out before purchasing.
Related: All You Need to Know About Air Conditioner Sizing
2. Temperature Control
The temperature control option provides convivence by eliminating the hassle of manually controlling your heater and also saves energy as your unit is never running unnecessarily.
You can opt for greenhouse heaters with built-in temperature controls that monitor the temperature and switches the heater on and off as required.
Another great option is to automate by opting for a smart AC controller so you can easily manage all the settings from your phone.
3. Static or Forced Air Heater
Static heaters provide heat by means of convection, i.e., by transferring the heat from the source to nearby objects. They are only suitable for smaller greenhouses.
For bigger greenhouses, forced air heating systems are a better option. They use air to transfer heat and can easily warm up a large area. Plus, they are compatible with smart thermostats and smart AC controllers, making it easier to manage your greenhouse climate.
4. Fuel Source
Your choice of fuel plays a vital role in determining which greenhouse heater you should go for. For instance, if you want a gas heater, you should check beforehand if the heater is equipped for that. If your greenhouse is far from your home and doesn't have a gas or electric connection, you can opt for a paraffin or propane heater.
5. Ventilation
Gas and propane heaters need good ventilation; otherwise, there could be a risk of carbon monoxide poisoning. If your greenhouse doesn't have adequate ventilation, you shouldn't go for these types of heaters. An electric unit would be a better choice as it does not produce any emissions.
6. Safety Features
When purchasing a greenhouse heating unit, you should always look for safety features to avoid fire hazards. Some important features to consider include automatic shut-off, which turns off the unit if it becomes too hot or accidentally tips over. Automatic timers are also necessary as you can run the unit within the specified time limit, preventing the greenhouse from overheating.
For gas heaters, you should look for an oxygen depletion sensor that switches off when it senses low oxygen levels. For electric heaters, opt for water-resistant models. As greenhouses frequently deal with water, this feature is a must to minimize the risk of electrocution.
8 Best Greenhouse Heating Options
Here are the top greenhouse heating options that are worth considering if you are looking for consistent plant growth throughout the year.
1. MRCOOL DIY 20 SEER Ductless Heat Pump
If you are looking to heat up a large greenhouse up to 750 sq ft, this MRCOOL mini-split heat pump can be a great option. In addition to heating, it also provides cooling, so you can utilize it in the hotter months also.
This mini-split is a smart unit which means you can control it with your phone from anywhere. This makes it quite convenient to adjust the settings, eliminating the hassle of going to the greenhouse every time you have to change the temperature.
Related: Best Grow Room Air Conditioners to Maintain Optimum Climate in Your Indoor Jungle
| | |
| --- | --- |
| Pros | Cons |
| Suitable for large greenhouses | Can be an eyesore |
| Offers smart capabilities | |
| DIY installation | |
2. Bio Green Palma Greenhouse Heater
With its 5200 BTU capacity, this Bio Green Palma heater is suitable for small greenhouses covering an area of up to 120sq ft. It is a floor-standing electric heater with a compact design that won't take up much space inside.
This plant heater has a digital thermostat and an external sensor cable for ambient temperature measurement. You just have to set the desired room temperature, and the heating unit will automatically switch on when needed.
This Bio Green Palma heater also has a ventilation fan to deal with hot and cold air pockets. Its safety features include auto shut-off and splash-resistant stainless-steel housing.
| | |
| --- | --- |
| Pros | Cons |
| Easy installation process | Short power cord |
| Comes with a digital thermostat | |
| Ventilation fan | |
| Auto shut-off safety feature | |
3. Dr. Heater Greenhouse Infrared Heater
This 1500-watt electric heater is easy to set up and use, allowing you to heat up to 150 square feet of space. It is lightweight and portable, so you can easily move it around. With fan-forced air technology, this heating unit ensures an efficient heat source for your plants. To maintain an ideal temperature for your plants, it has a precision temperature sensor and adjustable thermostat control.
Not only is this greenhouse heater affordable and easy to use, but it also boasts plenty of safety features. It has a cool-to-touch exterior, has an IPX4 splashproof design, and automatically shuts off when it overheats, making it safe and reliable for any gardener's needs.
| | |
| --- | --- |
| Pros | Cons |
| Simple setup | Lacks ambient temperature display |
| Adjustable thermostat control | |
| Automatic shut-off | |
4. PELONIS Radiator Heater with Programmable Thermostat
This compact, portable radiator heater is great for small to medium-sized grow rooms. It provides you with three heating modes and five temperature settings between 65-85F, so you can customize the climate according to your plants' requirements.
Other helpful features include an LED display, digital thermostat, 10-hour timer, and remote-control option. With its built-in overheat protection and tip-over safety switch, you can use this radiator heater in your grow room without any concerns.
| | |
| --- | --- |
| Pros | Cons |
| Different heating modes and temperature settings | Low heat output |
| LED display and digital thermostat | |
| Built-in safety features | |
5. Comfort Zone Ceiling Mount Heater
If your greenhouse is cramped with various plants and you don't have the floor space for an elaborate heating setup, this heater can be the perfect fit for you.
Comfort Zone heater is designed to be mounted on the ceiling to save up floor space.
It has a 17065 BTU heating capacity and is designed for wide air distribution. This heater can also provide targeted heating with the help of adjustable vents that let you direct the heat where it's needed the most. It has a 3-heat settings thermostat control, and to make temperature adjustments, you can just use a simple dual-knob thermostat.
| | |
| --- | --- |
| Pros | Cons |
| Saves up floor space | Lack of remote control |
| Targeted heating | |
| Automatic shut-off | |
6. Mr. Heater Indoor Safe Heater
The Mr. Heater Little Buddy unit is a convenient option for you if your greenhouse lacks an electricity connection. It requires a 1-pound propane cylinder to operate. It is portable and is considered one of the best heaters for small greenhouses.
As this is a gas heater, it requires a 4 sq inches vent area for adequate ventilation. Its runtime is 5.6 hours, so it's best not to exceed the time limit for safety concerns. Features such as oxygen depletion and accidental tip-over shut-off make it safe to use inside your grow room.
| | |
| --- | --- |
| Pros | Cons |
| Compact & portable | Only suitable for small greenhouses |
| Low oxygen and accidental tip-over shut off | Can tip over due to the narrow base of the heater |
7. Vornado Electric Space Heater
The Vornado greenhouse space heater uses vortex air circulation to gently heat all areas of your greenhouse, eliminating all cold or hot air pockets. It is perfectly suited for small to medium-sized rooms up to 200 square feet.
Its low and high heating settings allow you to custom tailor the temperature of your greenhouse space, while its fan-only mode lets you circulate air throughout the area. The digital display makes it simple to set your preferred heat setting as well as view the ambient room temperature.
| | |
| --- | --- |
| Pros | Cons |
| Uniform heating across the room | Not waterproof |
| Thermostat display | |
| Two temperature settings | |
| Automatic shut-off and cool-to-touch exterior | |
8. Renogy Solar Panel Starter Kit
The Renogy Solar Starter Kit is a perfect option for gardeners looking for an eco-friendly way to heat up their greenhouse.
This starter kit includes everything you require for solar heating your greenhouse. You just need a suitable heater and a battery to store the power for days when sunlight isn't enough.
The kit comes with two 100-watt solar panels, a charge controller, and an adapter kit to create your solar-powered greenhouse heater. It also includes a tray cable, Z-brackets, and pre-drilled holes on the back frame for secure mounting. Assemble all the accessories, connect it with a heater, and you will have a solar greenhouse heater ready in no time.
| | |
| --- | --- |
| Pros | Cons |
| All-in-one solar kit | Doesn't include a heater |
| Can be used off-grid | |
Tips for Keeping Your Greenhouse Warm in Winter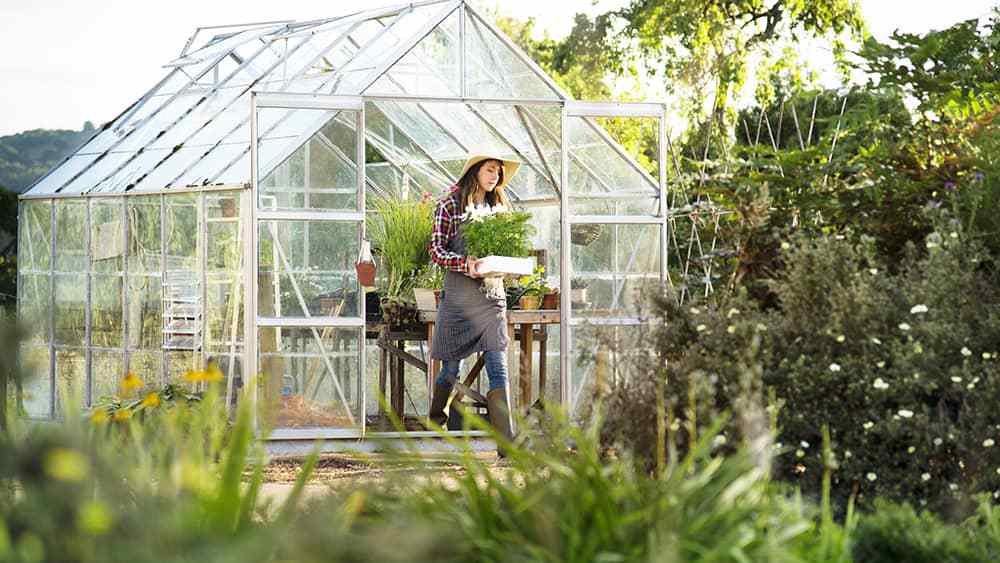 If you live in a mild climate where winters are not harsh, there are many ways you can keep your greenhouse warm without adding a heater. Even in cold climates, you can utilize these tips for added warmth and preventing heat loss.
Add Insulation – Layer the walls and roof with bubble wrap to retain greenhouse heat. This method can also be used to heat a plastic greenhouse. Use weatherstripping for air leaks on doors and windows to deal with cold drafts. Also, insulate the north wall with plywood to avoid cold north winds impacting your greenhouse climate.
Use a Thermal Mass – It is one of the easiest ways to retain warmth in your greenhouse. Thermal mass refers to materials that have a high tendency to absorb heat and release when required. Water has a high thermal mass, so you can fill large containers and place them inside the greenhouse where direct sunlight hits. The sun will heat the water during the daytime, and the warmth will be released at night. You can also try creating a greenhouse heat sink using bricks, stones, or cement. These materials will absorb the heat from outside and release it as it cools down.
Create a Compost Heated Greenhouse – A large compost pile in your greenhouse can generate a good amount of heat. Since you are just recycling the waste items, it is one of the cheapest ways to heat a greenhouse.
FAQs
Here is a list of frequently asked questions about heating a greenhouse.
What Temperature Is Too Hot for a Greenhouse?
Temperature above 90F is considered too hot and increases the chance of overheating, so it's best to keep the range below that in your heated greenhouse.
Which Type of Greenhouse Heaters Are Most Efficient?
When it comes to greenhouse heating, there are many different options available. The most efficient type of greenhouse heater is one that is easily connected to a solar system. This provides several benefits over other heating methods, including cost savings due to the reduced need for electricity or gas, greater efficiency in generating warmth with minimal environmental impact, and less risk of disruption due to winter power outages.
Can Central Heating Be Used in Greenhouses?
If your greenhouse is near your home and the natural gas line can be extended to it, then you can use your central heating to provide warmth. But because of the different requirements for your greenhouse and home, you'll need HVAC dampers and dual-zone thermostats for better temperature control.
Are Ceramic Heaters Suitable for Greenhouses?
Ceramic heaters can be used for heating mini greenhouses but won't be able to adequately heat a large grow room.
In Conclusion
A greenhouse heater allows you to maintain an optimal temperature range in your grow room. When choosing a heater, it is important to prioritize safety and reliability above all else. After all, your plants rely on these systems in order to thrive in cold, freezing weather. Whether you are looking for a simple gas or electric option to heat a greenhouse in winter, take time to explore the options and find the best solution for your particular needs and environment. It's also a good idea to automate greenhouse heating with smart air conditioning controls. With the right equipment in place, your greenhouse will be well-heated and able to keep the plants growing healthy throughout the season.