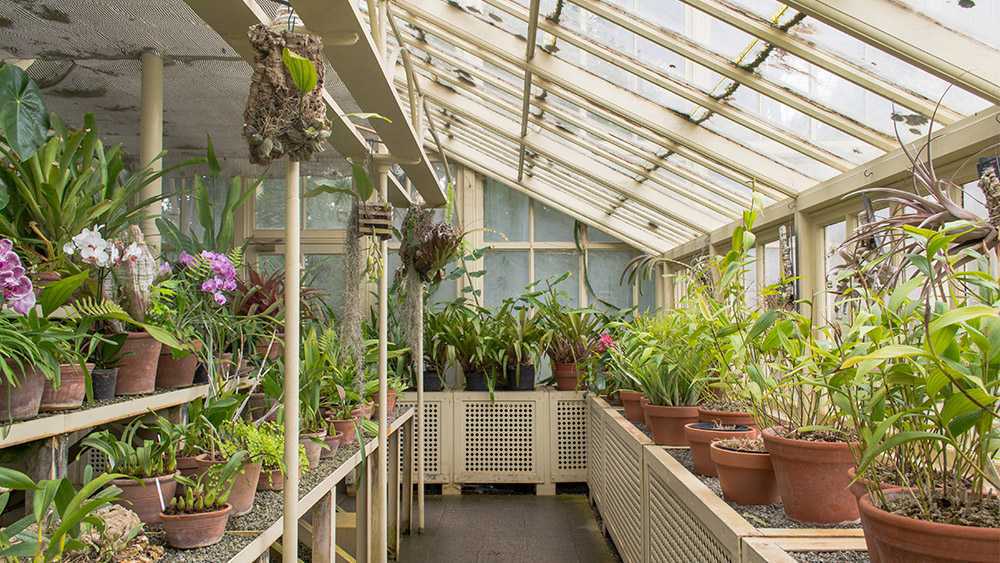 A grow room expands your gardening possibilities which is the main reason for its popularity among gardeners. It is a perfect place to grow your favorite flowers, vegetables, and herbs all year long. You can grow summer vegetables in winter and vice versa to enjoy fresh produce any time you want.
In order to get the maximum yield, maintaining an optimal climate is essential. Especially in summer, when hot, humid weather and heat from grow lights increase the temperature far beyond what is healthy for your plants. In this case, climate control options come in handy such as grow room air conditioners to reduce the heat and smart devices to maintain the best temperature for plants. 
Types of Air Conditioner for Your Grow Room
The temperature needs of your grow room may vary depending on the plants you grow. Therefore, it'd be convenient to opt for a separate AC unit for your small plant room.
Ductless air conditioners such as mini-split, window, or portable ACs are more suitable since the grow room is detached from the main house. Also, installing a central unit with lengthy ducts would be a hassle.
Mini-Split Air Conditioner for Grow Room
Mini-split air conditioners are quite efficient, consume less energy, and will last you a long time with good AC maintenance.
They have two units – one indoor unit for blowing cold air and one outdoor unit for exhausting the heat. They don't require long ducts and are a convenient option for spaces such as grow rooms.  
Mini-splits are quite useful for grow tents because of their advanced filtration technology. Different types of air filters provide clean air by removing mold spores and bacteria, which is beneficial for the health of your plants.
All these features make mini-splits an expensive option, but if your growing area requires an advanced system, they surely top the list.
You can buy a smart mini-split unit or use a smart AC controller such as Cielo Breez Plus to give your dumb unit smart capabilities. The smart functions include controlling your AC with a phone, scheduling temperature settings, energy savings up to 25%, and much more.
Cielo Smart AC Controllers
Your best choice to make any mini-split, window,
or portable AC smart. Enhance your comfort and savings.
Shop Now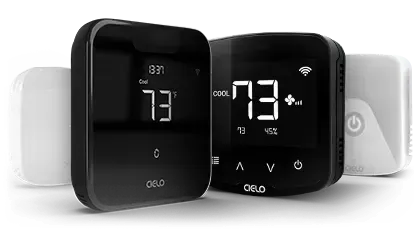 Window or Through-the-Wall Air Conditioner
They are self-contained units and are designed to cool a single space at a time.Window units are installed in vertical sash or double-hung windows. In the category of ductless units, window units are the easiest to install. They are less costly than mini-splits and are easy to maintain. Plus, they save up floor space inside the grow tent, making room for more planters.
From the aesthetics point of view, they are considered an eyesore, but you can always use creative ways to hide the window unit both inside and outside.
In case your grow room is completely sealed, and it doesn't have a window, you can go for through-the-wall air conditioner. It is similar to the window unit; the only difference is that through-the-wall AC sits in an opening made in one of the walls.
For both these units, you'd have to pay extra attention to the light that may seep in through holes and boundaries. During the installation process, make sure to seal all the gaps.
Portable Grow Room Air Conditioner
They are freestanding units that you can move around anywhere and make a great addition to a small grow room with few plants. You can opt for a portable air conditioner if you want a simple cooling solution or are renting and cannot install a permanent unit. 
Portable units do not require any installation; you just need to put their exhaust pipe out through a window or by boring a hole in the wall. Like any other air conditioner, they provide fresh, cool air and remove stale air through the exhaust pipe. Moreover, they also have a dehumidifying feature, making them a great option in alleviating high humidity problems in your grow tent. 
Automating Grow Room Air Conditioner to Maintain Perfect Climate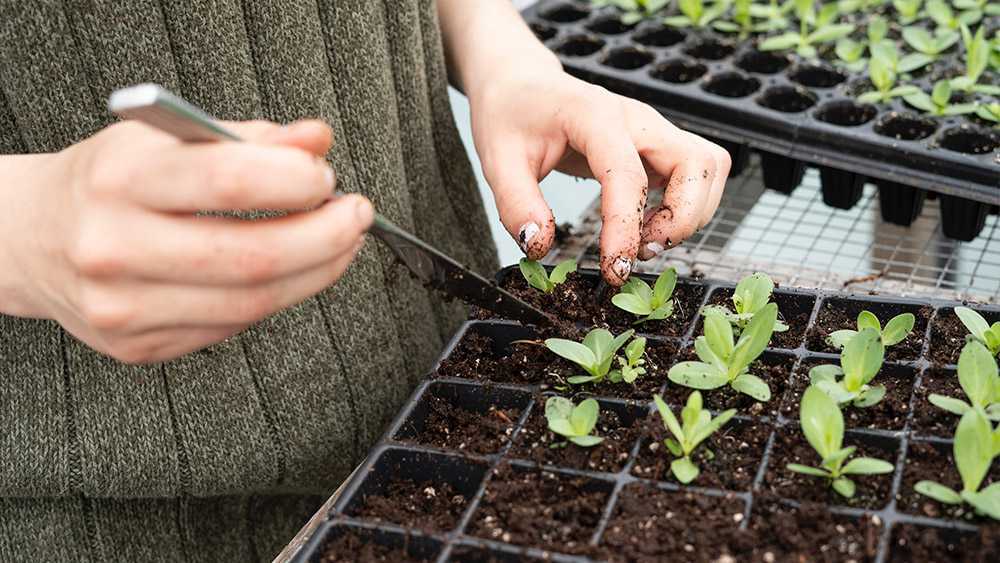 For maintaining an ideal climate, Cielo smart AC controllers that work with ductless units are perfect for your grow room. In addition to temperature sensors, they also have humidity sensors to maintain ideal humidity levels. 
Using the global control feature, you can change settings from anywhere through your smartphone. Moreover, you can set daily/weekly schedules, track your AC usage and monitor AC filter maintenance. You can always monitor the temperature/humidity on your phone through the Cielo Home app. This eliminates the need to go to your grow tent to check the temperature every now and then.
Smart AC controllers such as Cielo Breez come with a Comfy Mode that automatically changes the setting when temperature/humidity deviates from your preset value. For instance, your set temperature range for the daytime is 70-75 F. In this case, if the temperature falls below 70 or goes above 75, Comfy Mode will trigger to maintain your set range. 
6 Best Grow Room Air Conditioners 
You have plenty of options when it comes to ductless air conditioning, with portable, wall-mounted mini-splits or window air conditioners available from various brands. 
We have compiled a list of the 6 best grow room air conditioners that you can purchase from Amazon. You can check these out and see which one best suits your requirements.
1. MRCOOL DIY 20 SEER Ductless Heat Pump
This ductless mini-split supports low ambient cooling down to 5F, making it an ideal product for grow rooms that require cooling all year round. It comes in different BTU ratings, ranging from 12000 to 36000 BTU, and can be used in large-scale grow rooms.
The MR COOL unit claims to be DIY friendly, which means you don't require any special equipment or training to install it. You can easily mount it on your own, saving on installation costs. 
This MR COOL mini-split comes with smart capabilities, which means you can control it with your phone from anywhere. For a hands-off control, it supports integration with Alexa or Google Assistant. The smart features are pretty helpful as you won't have to actually go to your grow room to control the settings.
2. Pioneer Air Conditioner WYS012A-19 Ductless Mini-Split
Pioneer mini-split is an efficient cooling system and provides precise temperature control. It is available from 9K BTU all the way to 36 K BTU of cooling so that it can be used in any size of growing room.
It comes with a wireless remote control and offers 4 operating modes – cooling, heating, dehumidification, and ventilation. The dehumidification and ventilation modes are quite useful for grow rooms as lack of airflow is a big problem. The AC unit comes with a complete installation kit and is simple to install. This Pioneer mini-split offers 2-year parts warranty/5-year compressor warranty.
The unit does not have smart capabilities, but you can always connect a smart AC controller such as Cielo Breez to enjoy next-gen features!
3. Frigidaire 5,000 BTU 115V Window-Mounted Air Conditioner
If you opt for a window air conditioner, this Frigidaire unit is worth considering for your grow tent. With a 5000 BTUs it can provide efficient cooling for small grow rooms up to 150 square feet.
The window unit has two cool speeds (high and low) and two fan speeds to achieve the perfect climate inside your grow room. In addition, its dehumidifying function can remove 0.5 liters per hour, leaving your plants happy even when the outside environment is highly humid.
It is Amazon's top choice for mini air conditioners and provides 1-year warranty. At only 35 pounds, it is fairly light and easy to install.
4. Serene Life 3-in-1 Portable Air Conditioner with Built-in Dehumidifier
Serene Portable unit has a lightweight design and rolling wheels for easy portability.
It boasts 1.2 liters of moisture removal per hour, and this can help solve all your high humidity issues in a small grow room. In addition, the automatic swing mode with a moving vent can further help lower the temperature by providing maximum air circulation. Moreover, this portable air conditioner has high-quality air filters that help keep the air clean.
With 8000 BTU cooling power and a 1-year hassle-free warranty, it is a good affordable option for your grow tent. 
5. MIDEA MAW12R1BWT Window Air Conditioner
This Midea window air conditioner has a lot of useful features compacted in a small box. It comes with a well-lit display and remote control to operate the settings. Installing this unit is a breeze, and all the installation equipment comes in the box.
This window unit has a fresh air vent control feature which will provide fresh air in the grow room, keeping plants healthy.
This unit offers 12k BTU of cooling, but you can also get it in 6k, 8k, and 10K for small grow tents. It comes with a 1-year warranty.
6. Black+Decker BPACT14HWT Portable Air Conditioner
The Black+Decker portable AC is a sleek, compact unit that delivers high output, making it ideal for grow rooms. It also has the dehumidifying function, which is a must-have, especially in summer.
When it comes to installation, just put the exhaust pipe out of the window or through a hole in the wall and plug the adapter in the nearest outlet – it's that simple!
It delivers 14000 BTU of cooling and comes with a 1-year warranty. The portable unit is equipped with an LED display. It comes with remote control, but connecting it with a smart AC controller is a good idea to enjoy automated cooling inside your grow room.
Factors to Consider When Purchasing a Grow Room Air Conditioner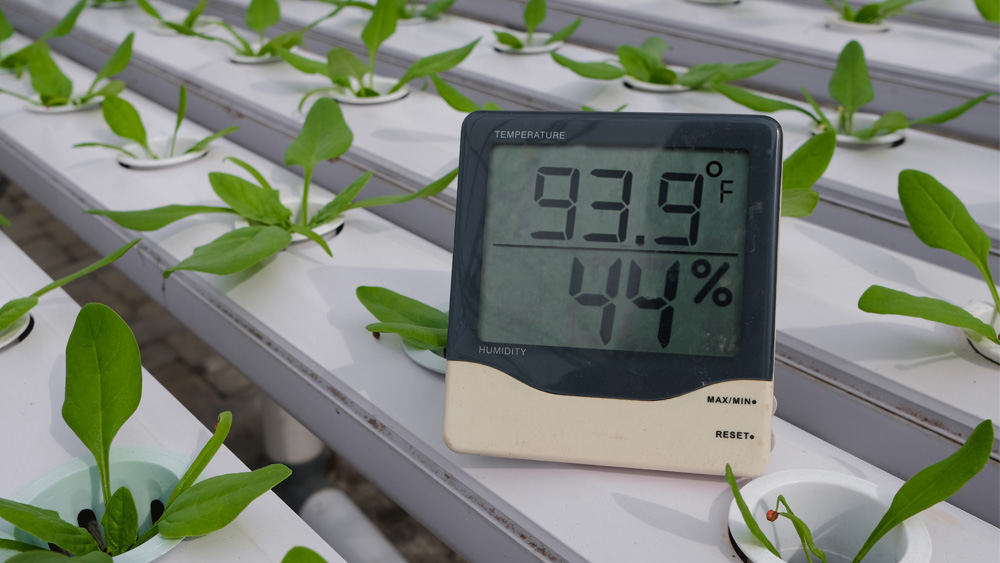 Here are some factors that you should consider when buying an AC unit for your grow tent: 
1. Cooling Capacity
Your AC's cooling capacity is measured in BTU, which is a British Thermal Unit per hour. A higher BTU number means more cooling capacity. However, the cooling capacity should be according to your room size. If you buy a unit that is not powerful enough for your grow room, you will have a hard time achieving the desired temperature. On the other hand, a high BTU unit that fits inside a small grow tent will short cycle continuously, wasting energy.
Check this air conditioner sizing guide to learn which one would fit your needs.
2. Energy Efficiency
Creating a grow room with an air conditioner means high energy bills. Choosing an energy-efficient unit can solve this issue. Choose the AC with high EER/SEER ratings. These ratings determine the efficiency of your AC, and higher ratings will provide better cooling and consume less power.
3. Installation Requirements
Before buying the AC unit, consider your floor space and if you have windows or not. Ifyour room crammed and there is minimal floor space, you can't use a portable freestanding unit. 
Keep these requirements in mind before choosing the best air conditioning unit for your grow room. 
4. Warranty & Customer Service
When investing in an AC, look for the brands offering extended warranty and money-back guarantee. Also, check if they provide good after-sale services, such as promptly answering any troubleshooting or installation-related questions.
5. Brand Reputation
Before purchasing any cooling device, do check the reviews of different brands. Don't get swayed by the low prices that some brands might be offering; you might end up compromising on quality. Instead, see what people are talking about different brands online and go for the one with more positive reviews.
Why Does Your Grow Room Get Hot? 
From strong grow lights raising the temperature to a lack of insulation, there are several reasons why your grow room gets hot and requires air conditioning to lower the temperature. 
1. Heat From Grow Lights
Grow lights play a crucial part when growing plants in a controlled environment. Without strong lighting, you will have a weak harvest. However, the downside of grow lights is that they give off so much heat that your plants will suffer without any cooling equipment. And if your plants are too close to the lighting system, their foliage can even burn.
2. Improper Ventilation
Nature provides plenty of fresh, cool air to the plants that help to maintain optimum temperature. However, a tightly closed grow tent lacks that. As a result, decreased air circulation leads to high temperatures inside the tent, which may not be suitable for some plants.
3. High Humidity Levels
Grow room getting hot, but you can't figure out why?
High humidity levels are to blame!
Plants release moisture in the air through their leaves, and when many are grouped together inside a grow room, it leads to increased humidity.
Your plants can rot due to high moisture, and not to mention the mold and mildew growth in a humid grow tent. Moreover, high humidity means increased temperature as warm air holds more moisture. So, this calls for installing an air conditioner to lower the temperature and dehumidify the grow room.
However, keep in mind that some tropical plants (like Parlor Palm, Pothos, English Ivy) require high humidity to thrive. Therefore, it is best to note down the needs of the species you're growing before maintaining the humidity levels.
4. Lack of Insulation
Most of the time, homeowners convert their garage or shed into a grow room, and these areas lack proper insulation. Without insulation, your grow room will be affected by outside weather conditions, and you won't be able to maintain the optimal climate needed for your growing vegetables and flowers.
Hot air can easily creep in during summer, and combined with heat from the lighting equipment; it is a recipe for disaster. The only remedy is to insulate the room and then install an air conditioning system.
Take a look at this guide to understand different types of insulation.
More Cooling Solutions for Your Grow Tent
In case you can't use an air conditioner in your grow tent or have a serious heating problem and want to combine several techniques, here are 10 ways to keep the temperature of your grow tent under control: 
1. Use LED Lights
The lighting system you use to replace natural sunlight in your grow room produces a high amount of heat that disrupts the internal temperature.
One solution is to switch to LED lights. They give the same output but produce way less heat than other lights such as HPS or MH grow lights.
2. Use Grow Lights at Night
If changing the entire lighting system isn't an option, consider using your grow lights at night when the outside temperature has dropped. In this case, you would have to seal your grow room tightly to avoid letting the daylight in since you're altering day and night for your plants. Some flowering plants require 12 hours of complete darkness, and any light peeking through can affect their growth.
3. Focus on Ventilation
Lack of air circulation affects the temperature inside your grow tent. When there is no airflow, the heat generated by electrical appliances will keep on accumulating.
To ensure air circulation, use fans. There are two types of fans that you can operate in your grow room:
Oscillating fan: It helps in circulating the air above and around the plants.
Exhaust fan: It brings out fresh air while exhausting the stale air. The exhaust fan also helps bring down high humidity levels.
4. Use Air-Cooled Lights
Another method to lower your grow room temperature is to use air-cooled lights. These lights are also called air-cooled reflectors and work with duct fans. The fans blow in cool air over the lights and remove the excess heat.
With this option, there is no tension of excess heat accumulation in your grow room.
5. Use Light Movers
Using lights in a fixed place creates uneven hot spots and affects the grow room's overall temperature. To get rid of this problem, try light movers. They move your lights back and forth, resulting in uniform distribution and elimination of hot spots.
6. Use Opticlimate to Cool Your Grow Room
Opticlimate is a fully automated climate kit specially designed for grow rooms that aims to maintain ideal temperature and humidity levels. Opticliamte cools, dehumidifies, filters, and circulates the air in your grow room. In addition, it comes with advanced features such as preheat and slow cool-down function to gradually ease plants into the day and night cycle.
On the downside, this climate kit is quite expensive, and its installation requires professional assistance.
7. Lower the Humidity Levels
Lowering humidity levels is the key to bringing down the temperature inside your grow room.  Install a dehumidifier or an air conditioner to bring down the moisture content in the air. Connect a smart controller such as Cielo Breez to maintain ideal humidity levels of 40-60% for your plants.
Can't decide between a dehumidifier and air conditioner, read our guide, "Dehumidifier vs. Air Conditioner: Which Is Better?"
8. Insulate Your Grow Room
Insulation in your grow room is important to minimize the impact of outside weather. You won't be able to maintain the temperature without proper insulation.
Use foam board insulation as it is good at preventing heat conduction. Radiant barrier insulation can also cool the space by reflecting the incoming heat. For gaps and holes in the walls or windows, use spray foam insulation to prevent hot air from seeping in.
9. Use Evaporative Coolers
Evaporative coolers cool the grow room through the evaporation of water. They are quite good at bringing the temperature down, but the downside is that they add moisture to the air. So if high humidity is your issue, you shouldn't opt for this option.
10. Create an Ice Box
Want a fun way to cool your grow room?
You will need a chestnut box filled with ice; normal, salty or dry ice will work. Use a fan to blow the air and get an air duct hose to pump the cool air in your grow room.
It is an inexpensive way to cool down your grow room, but the disadvantage is that it will only work in a small room and require frequent ice changing.
Extreme high temperatures are a nightmare for plants, and you would be risking all your hard work if you don't keep your grow room at optimal temperatures. Using a grow room air conditioner is the best solution, and when combined with smart climate controls, it can help maintain the ideal temperature, leading to happy plants and a healthy yield.