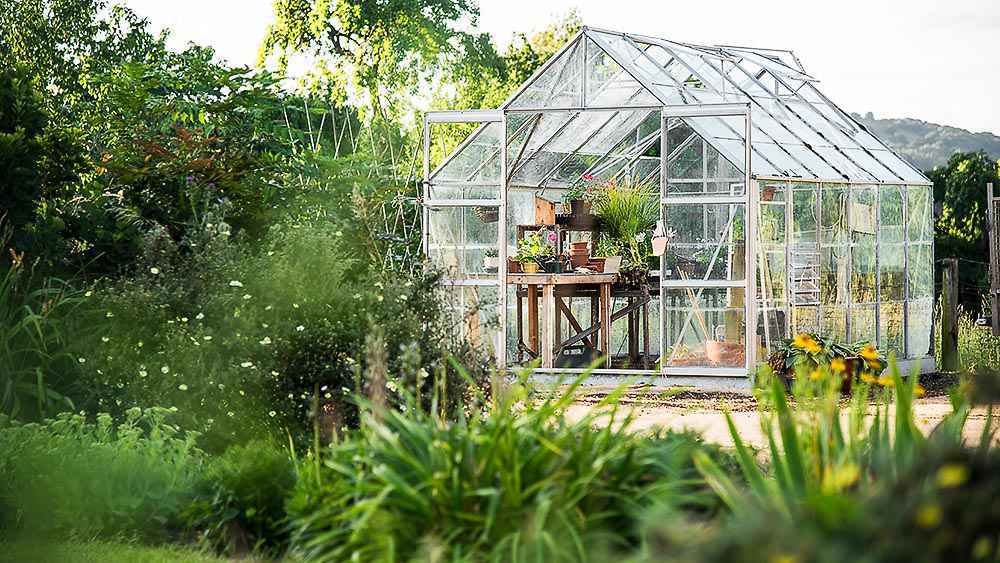 Once you've caught the gardening bug, you know that there is always something new to try when it comes to growing plants. Maybe you started off with houseplants, and now you want to grow vegetables or flowers. If this is on your mind, you definitely need a greenhouse. 
Growing plants in a greenhouse is every gardener's dream. It's an excellent space that allows for year-round growth, regardless of the climate outside. They are also great for tropical and subtropical plants that flourish in warm, humid environments.  
For your plants to thrive, you need to know how to maintain perfect growing conditions inside your greenhouse. Temperature, as well as humidity are the main factors involved in creating a good environment for plants. You need to keep it bearable during summer and make it warm enough during colder months. 
Now, what are the top greenhouse temperature control techniques to maintain the ideal temperature for your plants? Let's find out! 
Greenhouse Temperature Control Made Easy
What Is the Ideal Greenhouse Temperature & Humidity?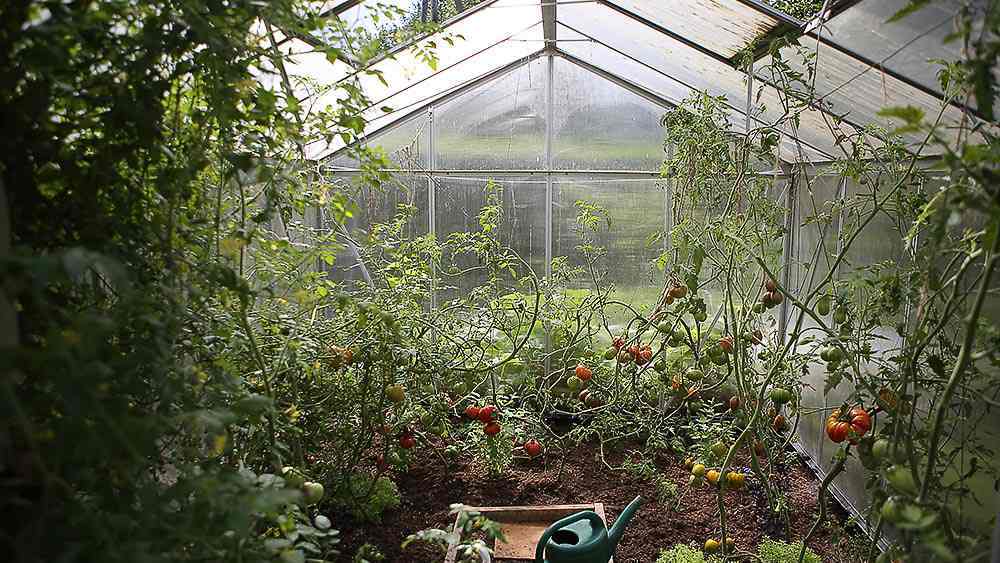 In summer, the ideal greenhouse temperature is 75-85 F during the daytime and 60-75 F at night. Greenhouse temperature in winter should be 65-70 F in the day and 45 F at night.
While different plants have varying needs, these temperature ranges are suitable for most greenhouse plants. Temperatures outside this range would normally lead to slow or halted growth and poor crop quality.
Growers find that greenhouse humidity levels of 50-60% are perfect for most grow room varieties. Tropical plants such as Monstera, Peace Lily, or English Ivy can tolerate high levels, but going beyond 80% will cause problems such as mold growth. Here are some tips on how to increase humidity for plants.  
Greenhouse Temperature Control Tools
Before diving right into heating or cooling your greenhouse, let's first learn about some of the greenhouse temperature control tools required to achieve optimal conditions:
· Digital Thermometer & Hygrometer
Using a greenhouse thermometer and hygrometer will allow you to monitor two critical variables in plant development —temperature and humidity.
While you can use a traditional thermometer and hygrometer, a digital one will give more accurate readings. Plus, they mostly come as 2-in-1 devices, so you don't have to buy separate devices. They also measure min/max temperature and humidity levels over a period of 24 hours. Smart models help you keep track of statistics and monitor the temperature constantly via a mobile app.
· Smart Climate Control Devices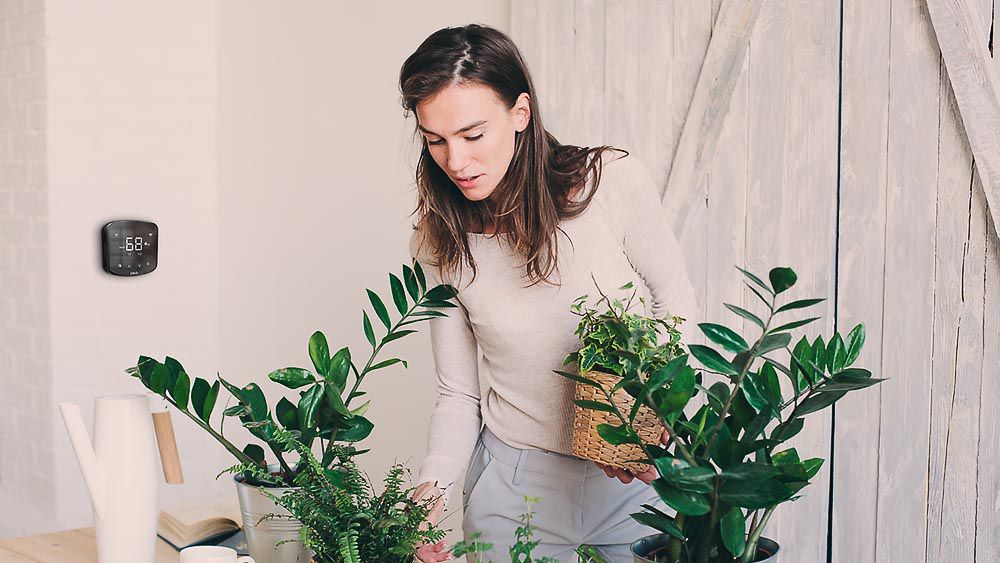 Smart AC controllers such as Cielo Breez work with ductless heating and cooling systems, providing an excellent option to end all your temperature woes. In addition to temperature regulation, smart controllers also provide greenhouse humidity controls.
The biggest advantage of using a smart device is that you don't have to check your plants every few hours. Instead, with a smart AC controller, you can monitor as well as make any changes using your phone. For instance, if it's really humid in your greenhouse, you can turn on your AC's dry mode and set your preferred levels remotely.
As plants have different daytime and nighttime ranges, you can use scheduling features to cater to that. In winter, when heat is only required at night, you can set your unit to turn on after sunset and automatically shut down at sunrise. With Cielo's Comfy Mode, you can set intelligent triggers. For example, if the temperature goes below 65 F, you can set it to switch off your unit or just turn on the fan.
· Greenhouse Temperature Alarm
Greenhouse temperature alarm systems can identify issues such as temperature fluctuations and notify you in case of extreme changes, making them an important greenhouse temperature control tool.
· Automatic Vent Opener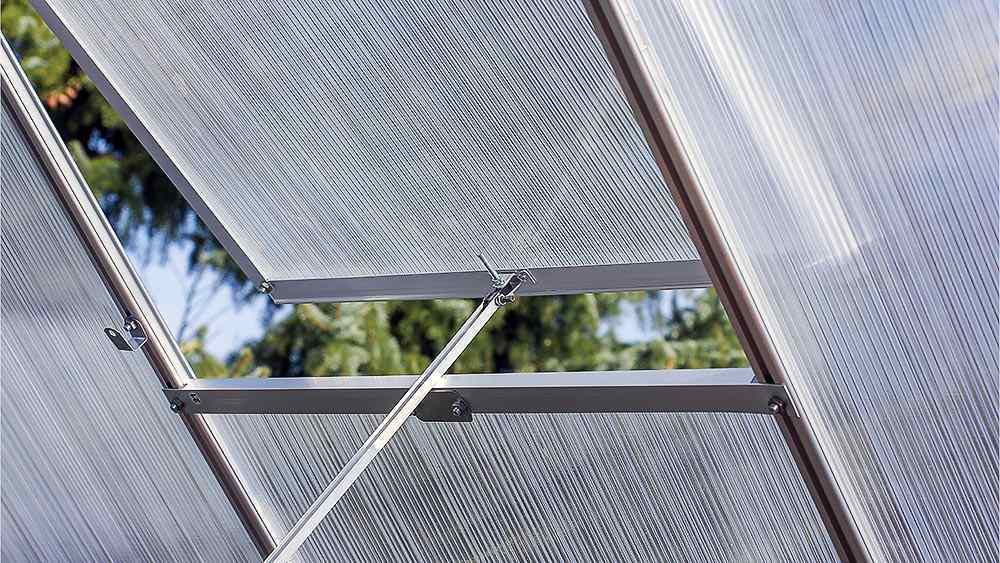 Automatic vent openers allow hot air to escape from a greenhouse while letting the fresh air in. This promotes air circulation inside your greenhouse.
Automatic vent openers do not use any electricity. Instead, they open and close depending on the inside temperature. When heat builds up within the cylinder mechanism of the opener, the vent begins to open. After the heat subsides, it closes down.
It is a popular tool among gardeners as it can work even when you are away, preventing overheating and keeping the plants safe.
How to Warm Up Your Greenhouse
During the daytime, the greenhouse generates enough heat to keep your plants warm, even in winter. However, greenhouse temperature in winter drastically drops during the night, which requires a heating solution. Depending on your weather conditions, you can utilize the heat generated throughout the day or install a separate greenhouse heating system.  
1. Insulate to Trap the Heat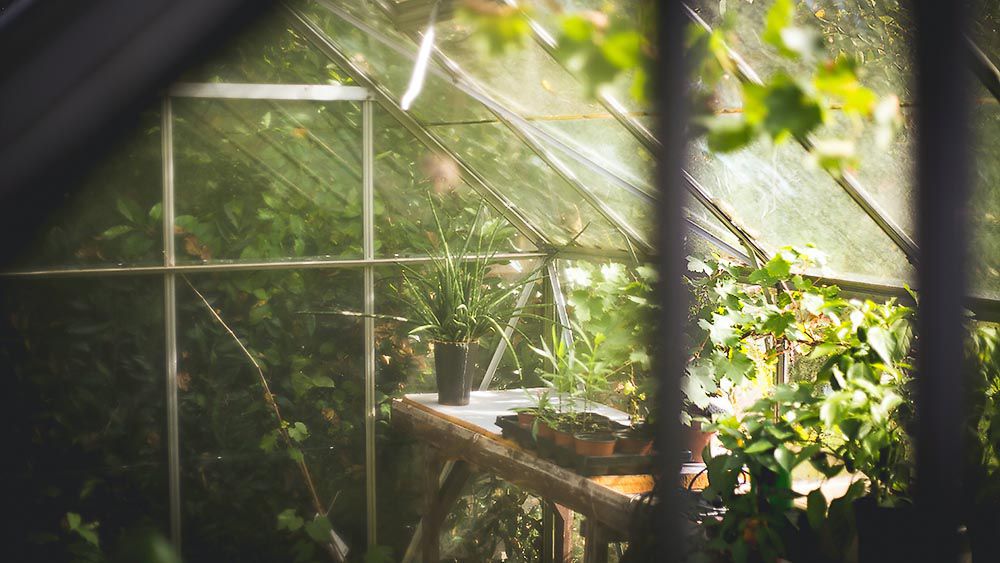 Keeping your greenhouse as airtight as possible will help retain the heat and keep it warm at night.
Seal the roof and walls with silicone caulk to avoid losing heat through small cracks and gaps. Layer the sides and roof of your greenhouse with plastic bubble wrap. Bubble wrap is a type of insulating material that can radiate heat in your greenhouse for hours even after sunset. Insulating the north wall with plywood or other thick material also helps trap the heat as this side gets minimal light and thwarts the frigid north winds from seeping in.
In areas where temperatures don't drop much, insulating your greenhouse will be enough to keep it warm without any heating equipment.
2. Use Ductless Heat Pumps
Ductless heat pumps are an ideal greenhouse heating system to achieve the desired heating effect for plant growth.
Ductless mini-splits are one of the most common type of heat pumps and provide both cooling and heating. They are highly energy-efficient and have a simple installation process that you can even DIY! They are the best option if you are looking for an advanced heating unit for your greenhouse.
Window heat pumps are another popular heating option. They are compact units with all their components inside one box. When installing a window unit, make sure to seal all the gaps to avoid cold air from seeping in. If using a window heat pump isn't an option, you can go for a through-the-wall unit. It is similar to the window unit but is made to sit inside a wall opening instead of a window.
Portable heat pumps are small, compact, stand-alone units that can easily be taken anywhere. They do not require installation; they just have an exhaust pipe that needs to be vented outside through the window or wall opening.
The most important benefit of choosing ductless heat pumps is that you can easily make them smart! With smart AC controllers, you can control your unit with your phone, use scheduling to set different daytime and nighttime temperatures for your plants, and maintain the perfect climate in your green room.
3. Go for Electric Space Heaters
Electric space heaters can efficiently heat small spaces by circulating hot air. They are a portable option that is ideal for small greenhouses. Most gardeners prefer electric space heaters because they are a safe and clean option as opposed to fuel-based heaters. They do not release dangerous chemicals; however, they may pose a safety risk. To avoid that, opt for one that comes with a safety switch.
4. Use Hydronic Heating System
Hydronic heating systems use hot water pipes to heat your greenhouse to the desired temperature. These systems include a boiler, a hot water piping system, and a controller.  The boiler heats the water, which is then distributed via a piping system installed underground. A controller with a temperature sensor monitor is used to keep track of the temperature settings. 
5. Compost for Warmth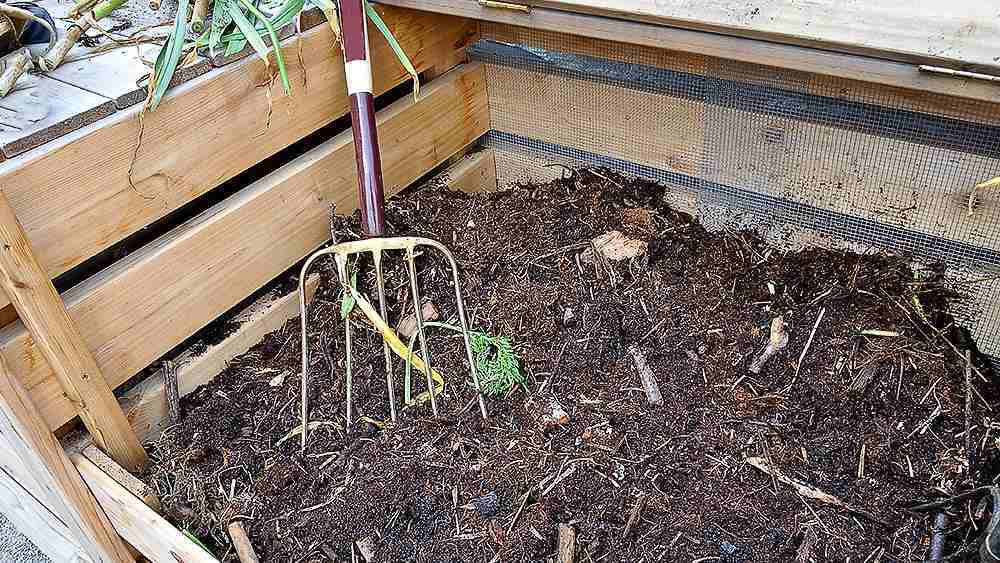 Composting refers to a process of recycling organic matter such as kitchen and yard waste into fertilizer for plants. In the presence of moisture and oxygen, bacteria, fungus break down the compost matter. This organic matter is then added to the soil to improve its fertility. During this process, a lot of heat is generated. The compost pile can get above 100 F, and this heat can be utilized to warm up your grow room.
You can start composting in your greenhouse by dedicating a space where you collect the waste materials. The center of the greenhouse is ideal as it will help radiate the heat more evenly.
This method is not suitable if you don't like the idea of waste materials inside your greenhouse. Plus, it can attract pests or rodents, which can be a nuisance.
Cielo Smart AC Controllers
Your best choice to make any mini-split, window,
or portable AC smart. Enhance your comfort and savings.
Shop Now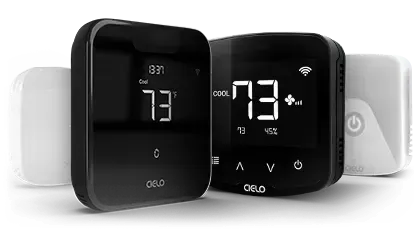 6. Add Thermal Mass
One of the easiest heating methods is to create a thermal mass. It refers to materials that can absorb heat and release it when needed. For example, water has a high thermal mass, so you can utilize it to heat your greenhouse.
To create thermal mass, fill large containers or barrels with water and place them in areas where the sun shines for most of the day. Then, put on a loose lid and leave them there during the winter season. The sun will heat the water, and the warmth will be radiated back to the greenhouse at night.
Note: When using this method, make sure to change the water every week to avoid bacteria, algae, or fungus growth.
How to Regulate Heat in Your Greenhouse
While grow room air conditioners are an ideal choice, there are other inexpensive ways to keep your greenhouse functioning optimally in summer. Simple cooling methods such as shading your greenhouse or using fans will also work.
1. Greenhouse Air Conditioner
If you live in a hot, humid climate where other cooling methods are not likely to work, installing a grow room air conditioner is the best option. They remove excess heat and have a dehumidifying feature that helps alleviate high humidity issues.
Compact units such as mini-split, window AC or portable systems are perfect greenhouse temperature control devices for summer months. They provide a simple but efficient way to cool your grow room. You can also make them smart by combining them with smart controllers and fully automating the greenhouse environment.
2. Shade Your Grow Room
Shading is a cost-effective method that can help prevent harsh glaring sun rays from entering through the glass. You can use a shade cloth, apply a liquid shade (a solution diluted with water to achieve desired shading density) on the external surface or grow climbing vines such as morning glory or moonflower to reduce the summer heat.  
When shading your greenhouse, make sure that you only filter the light and not block it completely, as plants require plenty of sunlight to grow.
3. Ventilate Your Greenhouse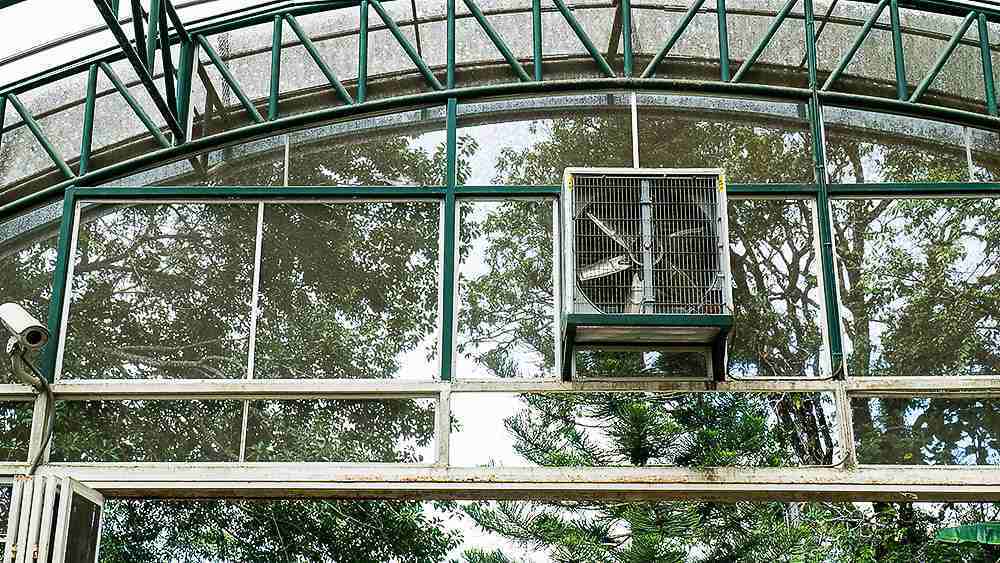 During hot summer months, open the doors and windows of your greenhouse to facilitate natural ventilation. If your greenhouse has polythene walls and a roof, you can roll them up to vent the warm air out. Some greenhouses have hinged roofs that can be opened and provide air circulation. You can also opt for an open roof greenhouse or the one with side walls to open them when needed easily.
Installing exhaust fans in your green room can further enhance ventilation. They push out hot air and hold the cold air inside. Another type of greenhouse fan is horizontal airflow (HAF) fans. They mix warm air near the roof with the cooler air on the ground to provide a uniform growing environment.
To increase airflow, you should also make use of vents. Install roof and wall vents in your greenhouse. Since hot air rises, it will escape from the vents above, and cool, fresh air will enter from wall vents. This will ensure cross-ventilation in your green room.
Note: Fan placement is important; they should be 5 to 6 ft. high in front of vents to draw cool air. Ensure they are not on the ground or placed on the roof; otherwise, you will not achieve the desired effect.  
4. Use Misting or Fogging Systems
Wilting, scorched leaves are tell-tale signs of heat stress in plants. Spraying your plants during high temperatures will help prevent your plants from drying in harsh heat. You can try a misting or fogging system that produces fine mist at regular intervals to control greenhouse temperature.
Note: When using a misting system, do focus on regular cleanup to avoid fungus or algae growth in your greenhouse.
5. Damp it Down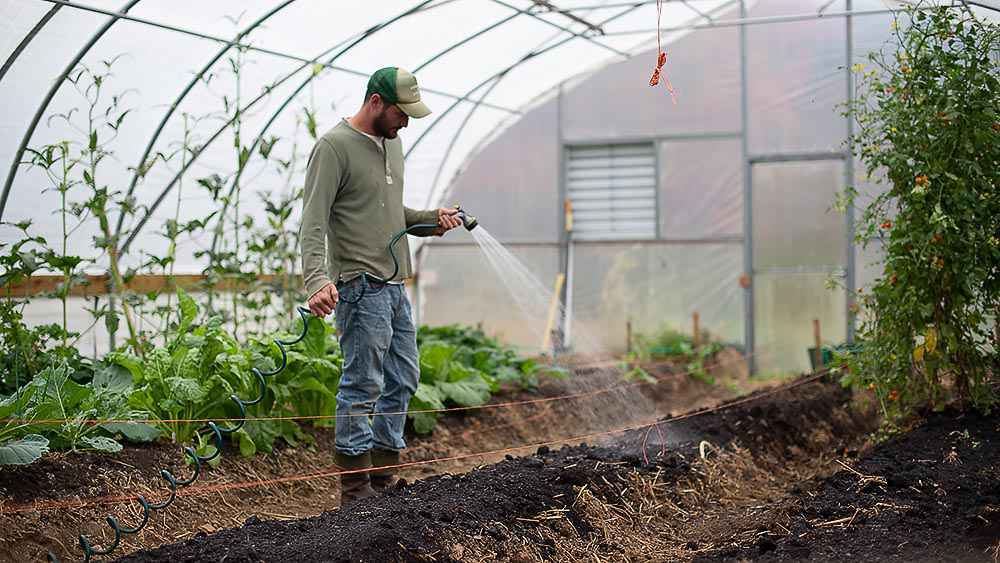 Damping down is a technique that involves putting water on hard surfaces such as staging and paths. When cold water evaporates, it provides a cooling effect in the greenhouse.
So how often should you damp it down? Once in the morning and once in the evening works fine.  
6. Use Opticlimate in Your Greenhouse
Opticlimate is a climate-controlled greenhouse kit specially designed for greenhouse temperature control. It cools, dehumidifies, filters, and circulates the cool air in your greenhouse. It also has some advanced features, such as a slow cool-down function to slowly ease plants into the day and night cycle.
7. Opt for a Wet Wall Method
A wet wall is a cooling device consisting of a water pump that circulates water through the wall and a fan to cool down the evaporated water. When using this method, you will have to keep an eye on humidity levels. As soon as moisture in the air increases, cut off the water supply to the wet wall.
Your greenhouse traps heat inside, and on a warm, bright day, the temperature inside can quickly rise to 100 F, which is far from ideal. The temperature can equalize with the outdoor setting on winter nights, creating a freezing environment inside the greenhouse. When the greenhouse humidity levels are too high, your plants will not be able to breathe properly, and it will also cause fungus growth.  If the moisture content is too low, leaves will start to dry up, and your plants will wilt. 
All these extreme conditions can pose severe damage to your plants, stunting their growth and even killing them if immediate action isn't taken.  So, creating a climate-controlled greenhouse is highly important to keep your plants healthy and increase crop yield.