Top 10 Basement Heating Options to Keep You Warm & Cozy in Freezing Winter
Are you thinking about converting your basement into a reading nook or a home office? Or you might want to utilize the space for guests during the holiday season. Whatever your plans are, make sure that the temperature in your basement remains comfortable.
While in summer, basement temperature may remain pleasant throughout the season, a drafty, cold basement becomes inhabitable in winter. As basements are located underground, they are inherently cold, humid places. The low temperature combined with extra dampness makes you feel colder. Moreover, if you have a single-zone HVAC unit, all the heat from the system will accumulate upstairs as hot air rises. Resultantly, the basement will stay cool.
Even if you have no plan on using the basement, installing a heating unit can still help. Warm air rising from the basement can make the rest of the house feel more comfortable. It can also protect your pipes from freezing and bursting, as 37% of freezing occurs in the basement.
There are many basement heating options available to help you easily create a warm, radiant environment. Read on to see which heating system is suitable for your basement.
1. Go Ductless
For saving big on energy costs and maximizing your comfort, the ductless heat pump should be your go-to heating system in the basement.
Ductless heat pump is an energy-efficient unit. It delivers conditioned air straight to the focused area, eliminating heat loss. It has an indoor air handler that is connected through a pipe to an outdoor unit.
In the colder months, the outdoor unit extracts heat from the air outside and releases it indoors via the air handler. It does not require ductwork; thus, the installation process is quite easy, and you can even DIY mini-split installation!
If you are looking for unfinished basement heating options, then ductless heat pumps are ideal. They can prevent your pipes from freezing and bursting in extremely cold weather. Most heat pumps have a freeze protection mode in which the unit blows out hot air while consuming minimum power to prevent freezing.
You can also make your heat pump smart by connecting it with a smart AC controller such as Cielo Breez. With features such as global control, scheduling, and geofencing, you can fully automate your basement climate. Moreover, you can enable the freeze protection mode through the Cielo Home app even if you're on vacation. 
The main drawbacks of ductless heat pumps are their high initial price and obtrusive indoor unit.
| | |
| --- | --- |
| Pros | Cons |
| Ease of installation | Unappealing look |
| Energy efficient | Costly initial purchase |
| Low operating cost | |
2. Heat the Floor
If you are remodeling your basement floor, radiant floor heating should be on top of your heating options.
Radiant floor heating uses infrared radiation to deliver heat directly to your room from the source, such as resistive wires or water pipes. It distributes the heat evenly throughout your room, preventing hot spots or cold pockets. Besides the floor, these pipes or wires can also be embedded in walls and ceiling.
It is one of the best house heating systems as it is highly efficient and does not produce any noise. Moreover, radiant heating does not circulate dust and allergens in the air since there is no air blowing from the system.
The two most common types of floor heating are:
Electric Radiant Floor Heating – It consists of electric cables running through your basement floor. The wires heat up when current is passed through them, and the heat is then radiated to your room via the floor surface.
Hydronic Radiant Floor Heating – This system consists of pipes embedded under the floor. They are connected to a hot water boiler used to circulate hot water in pipes. Zoning valves or pumps control the water flow, and the thermostat is used for temperature regulation.
One drawback of radiant heating is its high price. The heating components plus the lengthy installation process make it an expensive choice. Another issue is that installing it in an existing basement would require tearing up the floor.
| | |
| --- | --- |
| Pros | Cons |
| Uniform heating | Difficult installation process |
| Does not circulate allergens | High installation costs |
| Unobtrusive arrangement – pipes and wires are embedded in the ground | |
| Does not produce any noise | |
3. Extend Your Existing Ductwork
Don't want to purchase additional equipment just for the basement? No worries! You can extend your ductwork and use your existing HVAC system as a basement heating option.
Before extending ducts, do consult an HVAC professional for guidance related to the age and size of your unit. An older unit will not be able to handle the extra load efficiently. The same is true if your system is small in size, as additional space will increase the burden.
Since you won't be adding another air conditioning equipment, it is an energy-efficient way of heating your basement. Further, extending the ductwork and heating your basement will also increase your home value.
The disadvantage is that adding extra space will affect the temperature in your whole home as it can get difficult to separate heating zones. For example, if you crank heating in the basement, it will impact the temperature upstairs.
| | |
| --- | --- |
| Pros | Cons |
| Increases home value | May require new HVAC unit |
| A separate heating unit isn't required | Walls may have to be teared up for extending the ductwork |
| Energy-efficient way of heating | Temperature control for different zones becomes difficult |
4. Use Electric Space Heaters for Your Basement
Electric space heaters are a great way to add warmth to single spaces such as the basement or garage. They are portable heaters, and you can place them at any spot in your basement. In addition, electric space heaters are highly inexpensive and do not require professional installation. You just have to plug it in, and it will start blowing hot air immediately.
Some space heaters use radiation, while others use convection to heat your room. For spot heating, radiant space heaters are ideal. A convection heater, on the other hand, will raise the ambient temperature of your basement.
While space heaters are cost-effective basement heating options, they are not considered energy efficient and pose a fire risk.
Note: When choosing a space heater, do consider some safety options such as a tip-over safety switch and protection from overheating.
| | |
| --- | --- |
| Pros | Cons |
| Portable units | Safety risk |
| Inexpensive heating | Not energy efficient |
| Plug-and-play devices | Takes up floor space |
5. Use a Baseboard
If you are looking for simple and convenient basement heating options, baseboard heaters should be on your list.
Baseboard heaters have slim, sleek designs and are installed flat against the wall. They are installed at floor level and don't require additional vents or ductwork to function. Instead, a baseboard heater heats the cold air near the floor. This hot air rises, warming up the surrounding area.
While most baseboard heaters have to be hardwired into your home electrical system, some plug-in options are also available. They are portable and work quite well to heat your basement.
There are two types of baseboard heaters:
Convection Baseboard Heaters – They draw in cold air and release warm air using a heating element.
Hydronic Baseboard Heaters – These heaters are filled with oil and water. The heating element heats the liquid and releases warm air into your room.
Baseboard heaters pose a safety hazard and should be kept away from furniture, curtains, and other flammable items.
| | |
| --- | --- |
| Pros | Cons |
| No external vents required | High energy usage |
| Convenient option | Safety hazard |
| Spot heating | |
6. Keep It Moving With a Portable Heat Pump
Portable heat pumps are versatile basement heating options and can easily be carried from one spot to another. In addition to heating, they also provide cooling in summer.
In winter, a portable heat pump absorbs heat from the outdoor air and ejects it indoors to make your room cozy. Therefore, it requires a hose routed outside through the window or a hole in the wall. The whole heating and cooling system is packed inside a small transportable container.
Portable heat pumps are energy efficient and a safer option when compared to space heaters. In addition, their simple setup and ease of use make them an attractive option for your basement. Plus, you can connect it with a smart AC controller to give them smart capabilities!
On the downside, they have limited heating capacity and produce a lot of noise.
| | |
| --- | --- |
| Pros | Cons |
| No installation required | Takes up floor space |
| Portable | Limited heating capacity |
| Energy efficient | Produce noise |
7. Use Basement Wall Heaters
Wall heaters are self-contained units that are permanently recessed inside a wall. They are quite efficient for heating a small space and do not take up any floor space. Wall heaters operate by drawing in the cold air and blowing out warm air into your room.
Wall heaters can be powered by gas or electricity, depending on your preference.
Gas Wall Heaters – They produce warmth by burning natural gas or propane and are vented directly through the wall or roof. Some ventless options are also available that would be more suitable for basement areas.
Electric Wall Heaters – They are sealed in an enclosed box and do not need vents. They are best for spot heating, and you can easily target a cold area with an electric wall heater.
Unlike radiant or baseboard heaters, wall heaters do not continue to emanate heat once they are turned off. Also, there is a risk of carbon monoxide poisoning in the case of vented gas wall heaters. Another drawback is that they are noisy, affecting your comfort level.
| | |
| --- | --- |
| Pros | Cons |
| Compact units | Risk of carbon monoxide poisoning |
| Do not take floor space | Noisy unit |
| Suitable for small areas | |
8. Go For a Stove Option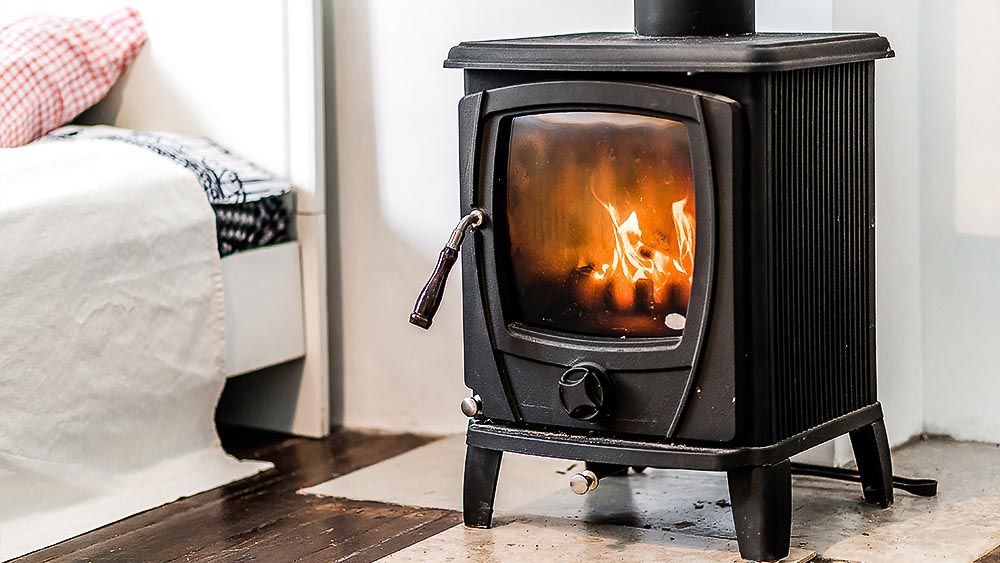 With constant fluctuations in oil and gas prices, wood pellet stoves make the perfect basement heating options.
It burns wood pellets and circulates hot air with the help of a small fan without requiring any electrical connection. Pellet stove has a high combustion rate and produces less pollution than ordinary wood stoves. It is also highly efficient; pellet stoves certified by the EPA are in the 70% to 83% efficiency range.
Pellet stoves require refueling only once a day. However, pellet bags are heavy, and it can get difficult to carry them to the basement. Another disadvantage is that it requires an external vent to remove carbon monoxide produced during burning. Pellet stoves also require frequent ash cleaning, but the ash volume is less as compared to other wood stoves.
| | |
| --- | --- |
| Pros | Cons |
| Clean burning pellets | Produces carbon monoxide; should be vented outside |
| No electricity requirement | Frequent ash cleaning |
| Highly efficient | Regular refueling |
9. Opt for a Traditional Fireplace
Want to add a classic, rustic appearance to your basement? Go for an indoor fireplace!
Fireplaces are an excellent addition to your basement; they are aesthetically pleasing and provide warmth and comfort.
There are three main types of fireplaces:
Wood Fireplace – Traditional wood-burning fireplace not only heats up your basement but also provides a cozy ambiance.
Gas Fireplace – It uses natural gas or propane to work and burn cleanly without any ash left behind.
Electric Fireplace – They are enclosed in a box and have coils that are heated as electricity is passed through them.
Many homeowners prefer a gas fireplace due to the various benefits such as easy operation and low maintenance.
For a wood or gas fireplace, you would require a chimney. However, if you don't have one, you can go for an electric fireplace or a ventless gas fireplace.
The disadvantage of using a fireplace is that you cannot leave a fire unattended, especially if you have pets or kids. In addition, wood fireplaces may not be actually suitable for the basement as they require high maintenance and release air pollutants. Moreover, the cost of installing gas fireplaces can be high, particularly if you need to have a gas line installed.
| | |
| --- | --- |
| Pros | Cons |
| Provides ambiance | Releases pollutants |
| Easy installation in case of electric fireplaces | High installation costs (wood & gas fireplace) |
| Add value to the home | Cannot leave the fire unattended |
10. Insulate Your Basement to Keep it Warm
Adding heat sources is wasteful if your basement lacks insulation and there is no way to stop heat loss. Similarly, if cold drafts keep coming in, there's no way you will achieve your desired temperature.
To remedy a cold basement and to improve the working of your heating unit, consider insulating basement walls and floor. After finding air leaks in the foundation, wall, windows, and floors, seal them properly. If your basement has concrete walls, they should be insulated with extruded foam. For wood-framed walls, fiberglass is the most suitable type of insulation. To insulate the basement floor, use foam board insulation. You can also add floor rugs or install wall-to-wall carpets to seal the floor perfectly. If you plan on using radiant floor heating, you will have to install it first then insulate your floor.
Insulating the ceiling is important if your basement is under an uninsulated space, such as a garage or porch. Use plywood, drywall, or rigid foam to cover the large holes and gaps.
Cold air enters your basement through windows, ducts, rim joist, header joist, and non-insulated rooms above, so it's also important to insulate these areas. Use weather stripping and film insulation on windows to reduce cold drafts. To insulate rim joists and headers, use foam insulation to fill the gaps and seal the cracks with spray foam sealant. Use mastic tape to seal the air leaks in your ductwork. Also, make sure your first-story walls are fully insulated.
Final Verdict on Basement Heating Options
While radiant floor heaters are quite effective in providing uniform heating, space and wall heaters are preferred for spot heating. A ductless heat pump combined with a smart controller should be your go-to option to heat your finished or unfinished basement smartly. As the basement loses heat more easily than other areas in your home, you can also try combining different methods to warm up your basement effectively. For example, use your HVAC with a baseboard heater or supplement with a space heater.
No matter which of the basement heating option you choose, make sure you follow all the safety guidelines on installation and use. Also, don't forget to seal all the cracks and gaps to maintain the ideal room temperature even when it's freezing cold outdoors.