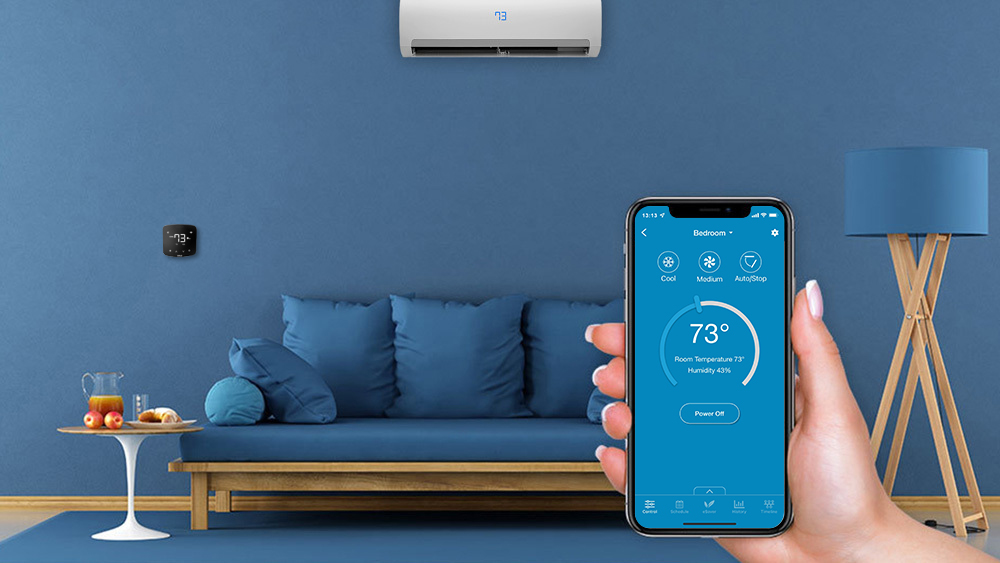 There were times when had to reach out to an appliance to control it or hunt for its remote behind cushions on under the furniture. Fortunately, time has changed! This is the era of smart technology. With WiFi, smart home automation has made our lives so much easier. Every appliance can be controlled via a single touch. Look at the WiFi air conditioner, the entire control plus multiple smart features are right in your phone! Smart home devices such as WiFi AC controllers make our day to day tasks convenient.
Among many smart home appliances, an air conditioner is the most important. Once considered a luxury, air conditioners have now become essential that allow us to cool our homes, hospitals, schools, etc. According to the Energy Information Administration, heating and cooling make up 48% of all energy consumptions in American homes.
What is WiFi Air Conditioning Control?
We all love to relax at home after a long day. Your home is your happy place and a place that you want to be perfect. After a hectic day at work, you need to unwind watching your favorite TV show or perhaps by enjoying eating your favorite food. Some things are essential to make this scenario ideal and this includes the temperature of your house!
Controlling the temperature of your AC via a remote control could be a hassle at times. If you own a smart air conditioner, you can control your unit using your phone by connecting the air conditioning system with WiFi. The WiFi air conditioners provide you with added convenience in daily life.  In fact, they provide much more advanced control and intelligent features that remote controls simply cannot provide.
WiFi air conditioner controls can be achieved by connecting your AC to the WiFi by using a native app. While smart ACs have this functionality, you can make any standard air conditioner 'smart' too by using a smart AC controller. As long as your phone is connected to WiFi and your smart air conditioning app is installed, you can control your AC using your phone from anywhere!
Normally, appliances such as microwaves, TV, etc., do not really require control when you may not be around. But with air conditioners, it can be a different story. You may want the AC to switch on 10 minutes before you arrive home to arrive to a perfect temperature, you may want your AC to switch off at 8 am when you leave for work and so on. You may also want to track your room temperature when not at home! This makes remote access very important that the WiFi air conditioner provides.
There are a few ways to go about controlling your AC with WiFi. Let's have a look!
Control Your AC With WiFi Using a Smart AC Controller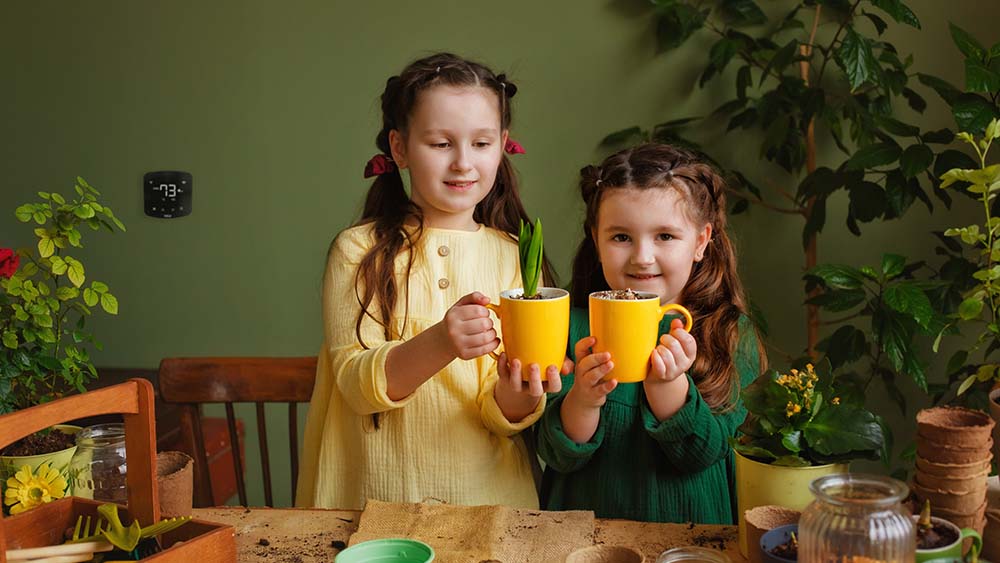 You don't need to purchase an expensive, fancy smart air conditioner to be able to operate it using WiFi. You can control ANY ductless air conditioner such as a mini-split, portable, or window AC that comes with an IR remote control using a smart AC controller.
Cielo Smart AC Controllers
Your best choice to make any mini-split, window,
or portable AC smart. Enhance your comfort and savings.
Shop Now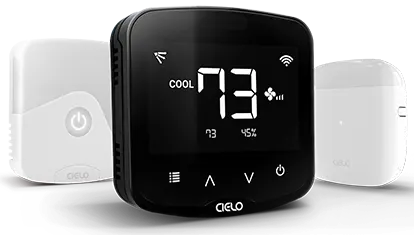 Now, what is a smart AC controller? Let's have a look!
Smart AC controllers are intelligent devices that do not only allow you to control your AC via your phone but also adds amazing features to your AC. Since energy saving is one of the major concerns of any homeowner, a smart AC controller helps you save energy up to 25%. The controller allows you to set schedules for a week. The intelligent comfy mode allows you to operate your AC within a set temperature range. The smart controller keeps you updated with air filter status and usage statistics. Along with these features, there are location-based controls and also humidity sensing modes.
In other words, you convert your existing AC into a WiFi air conditioner using a smart AC controller and equip your AC with smart features for increased comfort!
Control Your AC With WiFi Using a Smart Air Conditioner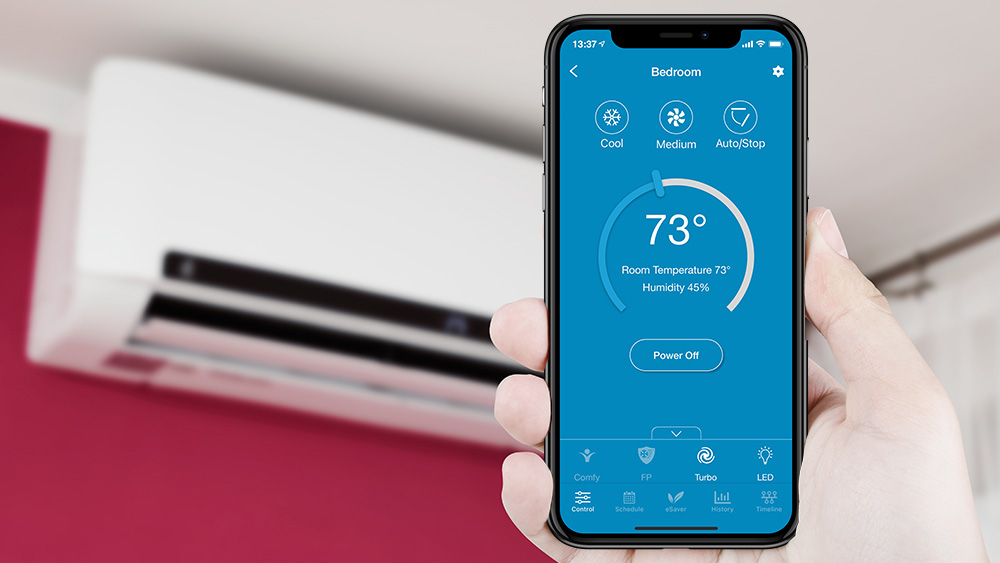 Another way you can control your AC through WiFi is by buying a smart AC. These Air conditioners do not need a separate third-party controller as the WiFi capabilities are built-in by the manufacturer. All you need to do is download your smart AC's mobile app and start controlling it using your phone.
These are never a hassle, no separate equipment is required and you can easily start enjoying the full benefits of smart air conditioning without the need of buying anything else separately.
But there are some drawbacks to smart air conditioners. First of all, they can be very expensive to buy. If you already own a fully functional standard air conditioner, then there is no need to replace it with something very expensive. With a device such as Cielo Breez Plus, you can have all the WiFi air conditioner features in under 2 minutes on your current air conditioner!
The second drawback is that smart ACs often do not provide the same level of features that a smart AC controller does. They only provide basic features such as turning the AC on or off, temperature and mode changes, and swing position depending on the manufacturer. Other features such as location controls and trigger-based modes are often not available, therefore do in-depth research on the model and features before your purchase!
Mobile Apps to Control Your AC With WiFi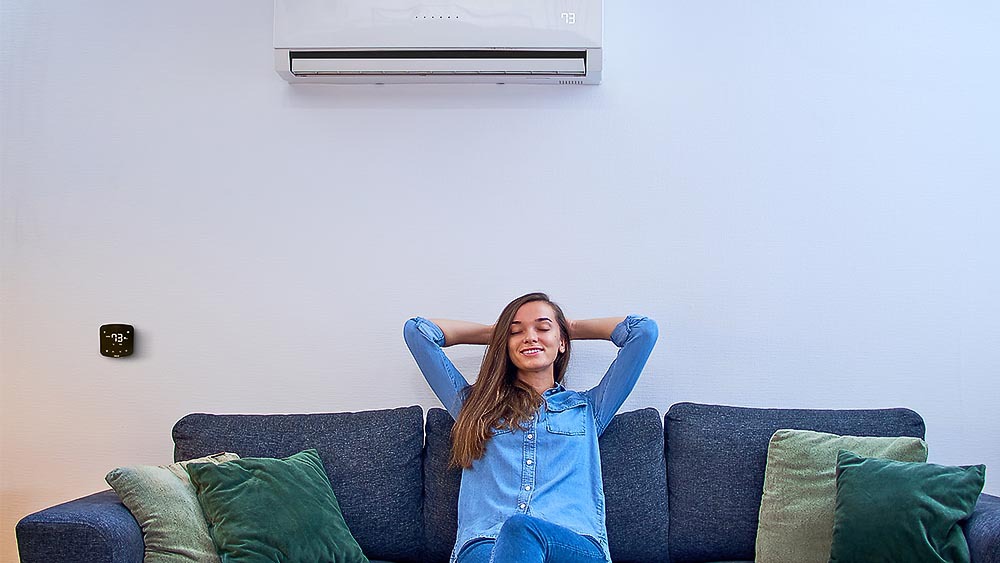 Once your air conditioner has the capability to be connected to and controlled with WiFi, you need a mobile app to make this happen! Have a look at the Cielo Home app that provides numerous functionalities and control options for a smart experience.
The mobile app is the mainstay of WiFi air conditioner control and the answer to the question of how to connect an air conditioner to WiFi. Your entire air conditioning control is performed through the app, and it makes sense that the app should be as ergonomic and easy to use as possible. Unfortunately, that is not always the case. Some apps can be cumbersome and difficult to use, putting off the customer from the smart experience.
Some apps on the other hand provide you the best smart air conditioning experience there is. With only a few taps on the screen, the full set of engaging features can be utilized to provide the ultimate smart home experience. With the Cielo Home app, multiple air conditioners can be controlled by the same app, leaving you in total control of your whole home. The app is the gateway to achieving complete control of your air conditioner using your phone from anywhere and at any time to achieve the next level in smart air conditioning.
What Are the Benefits of a WiFi Air Conditioner?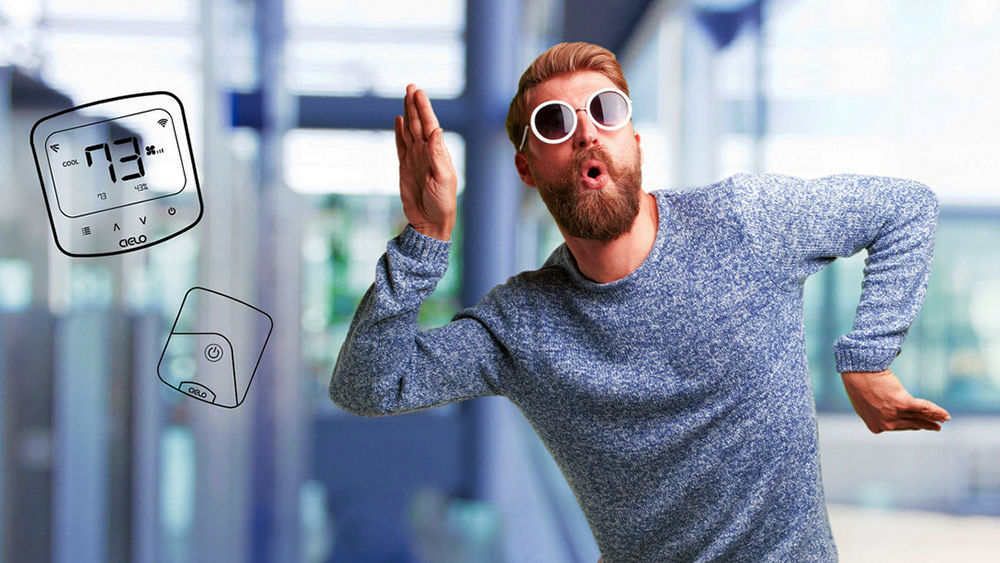 Do you even need to equip your AC with WiFi? Have a look at the features and capabilities that you can access with WiFi air conditioner!
Control Your Climate From Anywhere
Whether you are vacationing in the summers or having a late day at work, you are still in control of your AC at home, through the mobile app. This is the biggest benefit that the mobile app for a smart AC provides. You can command your AC from anywhere, anytime, as long as you have internet access. The effect is near-instantaneous, no matter the distance between you and your AC.
This is especially useful if you have pets at home, and you want to keep a comfortable environment for them at all times. When you see the temperature getting a bit too cold or hot, you can make the necessary adjustments so that your pets at home are at ease. This is just one example of where global controls come in handy using the WiFi air conditioner.
Intelligent Triggers
A WiFi air conditioner is able to have a variety of intelligent trigger modes. The same is the case with a smart AC controller like the Cielo Breez Plus (Comfy Mode). With this mode, you can set a temperature or humidity range within which you want the AC to operate. If the current conditions are below the range, the AC will turn on at the desired settings and try to maintain that level. Once it is achieved, the AC will switch off, not only maintaining the required levels but also saving energy.
These modes help you keep your climate within comfortable ranges of temperature and humidity. Humidity is particularly important since maintaining humidity levels allows you to go easy on your temperature modes and set your AC a few degrees higher than usual if cooling.
Schedule Your Cooling
Weekly schedules can be put in place, so you do not have to even touch your AC remote or mobile app throughout the week. Now that is the ultimate convenience. Set your AC modes and temperatures, and assign them specific times throughout the day. Have a different profile for the morning when you wake up, for the afternoon when it gets hot, for the evening when you return from work, and for the night when you need a good sleep. Once set, you are free from all worries of constantly fidgeting with the controls and trying to maintain the perfect conditions. Scheduling can also be coupled with intelligent triggers to provide the complete smart air conditioning experience.
Geofencing
Through the mobile phone app, the AC or controller knows where you are at any time. The AC can then turn on or off according to your location.
For instance, you get out of your house in a hurry and forgot to turn the AC off. The mobile app detects that you have traveled a pre-set distance away from your home, and then automatically turns the AC off. When it senses that you are again close to your home, the AC will turn on at the pre-defined operating mode and temperature. The distance at which these functions trigger can be modified according to your needs.
Improved Energy Efficiency
As discussed before, smart air conditioning through WiFi can provide energy savings of up to 25%. This is achieved only through the careful management of AC operating modes and temperatures. By looking at past usage history, you can get an idea about how you used your air conditioner throughout the day. And then set up schedules to better manage AC operation. For example, if you wake up at 7, you can set up a schedule for the AC to turn on at a specific temperature 15 minutes before waking up. This temperature can then be a few degrees higher than what you normally set immediately after waking up.
Another way energy can be saved is through temperature range control, where the allowable temperature range can be defined within a narrow window, so no one can select the minimum or maximum temperatures. Moreover, smart AC controllers can notify you when to change your air filter. A dirty air filter can lead to the AC working at a higher power mode as compared to when there is a clean air filter.
All of these minor adjustments contribute in the end to a hefty saving in energy bills.
Zone Controls
Another major feature of a WiFi-enabled smart AC controller is the ability to create multiple zones within a home. These air conditioning zones can then be controlled from the app, and multiples air conditioners can be turned on or off at once. This feature comes in use specifically for hotels, or large areas with multiple air conditioners.
For more information on zones, check out this in-depth piece on HVAC zoning.
Smart Home Integration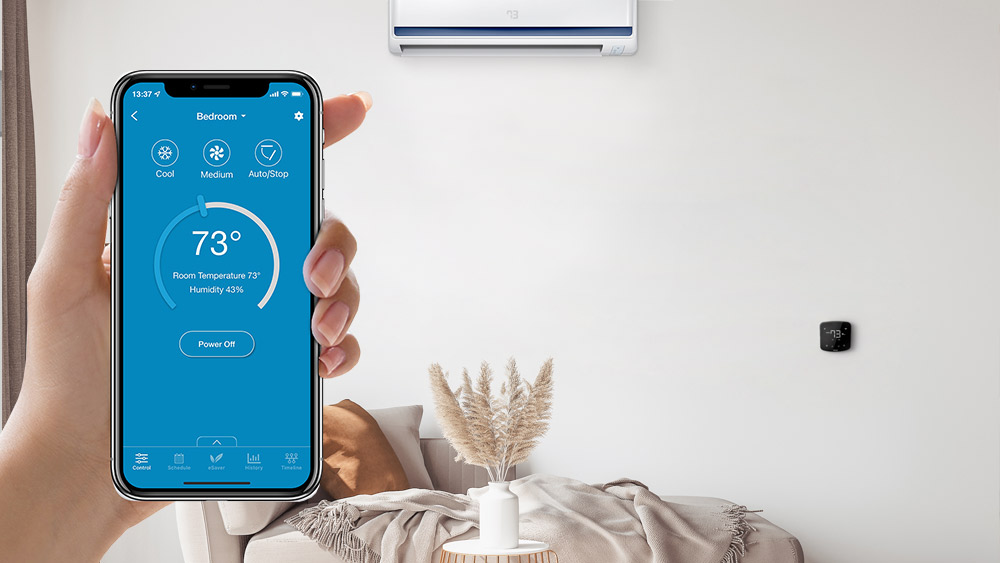 Smart air conditioners in general and smart AC controllers specifically give users the flexibility to use voice commands to control their air conditioning. This is done through connecting your smart controller or smart AC with Amazon Alexa, or Google Home through WiFi. Now, with a simple "Good Morning" command the AC can be turned on at a pre-set temperature and mode. Moreover, temperature and operating modes can be adjusted as well.
Smart air conditioning is the way of the future, and it is best to adopt it now. There are a few ways of going about achieving WiFi air conditioner control. You can either buy a brand-new air conditioner with built-in smart capabilities or go for a third-party smart AC controller.